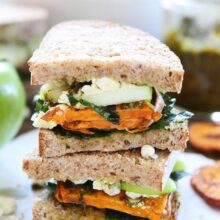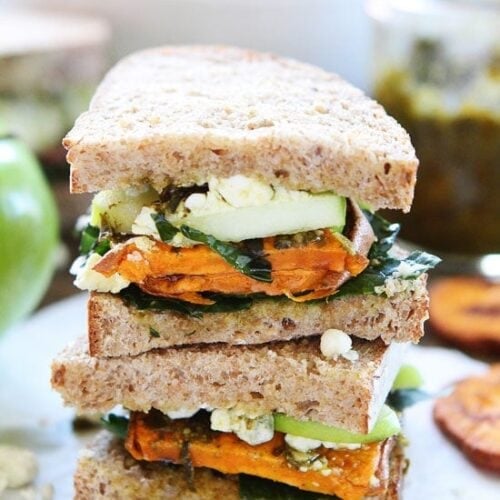 Roasted Sweet Potato Sandwich with Apples, Pesto, Kale, and Blue Cheese
This vegetarian sandwich was inspired by a sandwich I had in Boston at Flour Bakery. It is loaded with flavor and SO good!
Recipe from Two Peas & Their Pod
Preheat the oven to 400 degrees F. Place the sweet potato rounds in a medium bowl. Drizzle with olive oil and toss to coat. Place the sweet potatoes on a large baking sheet, in a single layer. Season with salt and pepper, to taste. Bake until the rounds are browned and tender, 20 to 25 minutes. Remove from the oven and let cool.

To assemble the sandwiches, lay two pieces of bread on the counter. First, add the kale. Top with sweet potato rounds. Drizzle the pesto over the sweet potatoes. Next, add the apple slices. Top with blue cheese and the second slice of bread. Cut in half, if desired, and serve!