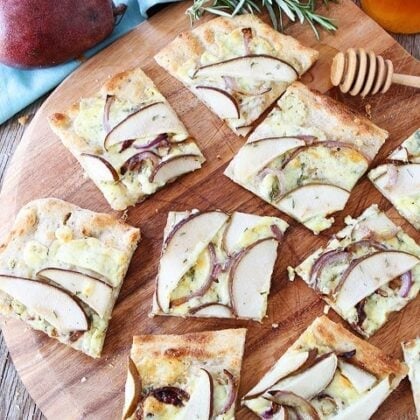 Print Recipe
Pear and Blue Cheese Flatbread
This quick and easy flatbread only takes 20 minutes to make and is great as an appetizer or main dish!
Preheat oven to 400 degrees F.

In a small skillet, heat 1 tablespoon olive oil over medium-high heat. Place the red onion in the skillet and sauté until tender, about 3-5 minutes. Set aside to cool.

Brush the flatbread with remaining 1 tablespoon of olive oil. Top with blue cheese crumbles and red onion. Arrange pear slices over the flatbread. Sprinkle with fresh rosemary.

Place flatbread on a pizza pan or baking sheet and bake for 10 minutes or until cheese is melted and flatbread is crisp around the edges. Remove from oven and drizzle with honey. Cut into slices and serve.