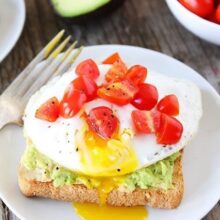 Hummus, Avocado, and Egg Toasts
Recipe from Two Peas & Their Pod
1. Cook one egg at a time. Spray a small skillet with non-stick cooking spray. Crack an egg into the pan and cook over medium heat. Josh likes his eggs over easy, with a runny yolk. I like my eggs over hard, with no runny yolk. Cook your eggs to your liking.

2. Using a fork, smash the avocado. Sprinkle with sea salt and black pepper, to taste.

3. Spread hummus on each piece of toast. Add a layer of smashed avocado. Top with cooked eggs. Sprinkle chopped tomatoes on top. Season with additional salt and pepper, if desired. Serve immediately.