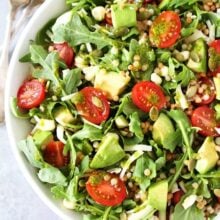 Summer Arugula Salad with Basil Vinaigrette
This fresh and simple summer arugula salad is filled with all of my favorite ingredients: couscous, avocado, corn, tomatoes, cheese, pepitas, and a simple basil vinaigrette. Serve with any summer meal or make it your summer meal!
In a large bowl, combine arugula, cooked Israeli couscous, tomatoes, avocado, corn, white cheddar cheese, and pepitas. Drizzle the salad with basil vinaigrette and toss until combined. Serve immediately.