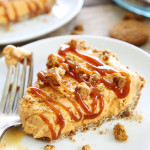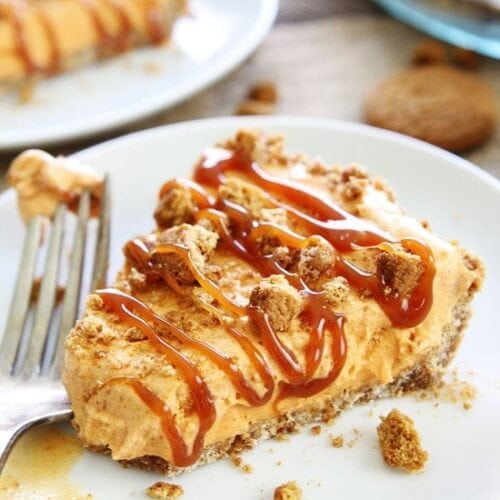 Print Recipe
5-Ingredient Pumpkin Ice Cream Pie
You only need 5 ingredients to make this pumpkin pie! It the perfect fall pie!
Preheat oven to 350 degrees F. In a medium bowl, combine gingersnap cookie crumbs and sugar. Add melted butter and stir until mixture is evenly moistened. Transfer crumb mixture to 9-inch-diameter glass pie dish; press crumbs firmly and evenly onto bottom and up sides to top of dish. Bake for 10 minutes or until crust is firm. Cool crust completely.

 Carefully spoon softened ice cream into the cooled crust. Spread with a spatula until ice cream is even. Garnish with gingersnap cookie crumbles. Cover with plastic wrap and freeze for 2 hours or until firm.

When ready to serve, remove the pie from the freezer. Cut into slices and drizzle with salted caramel sauce.

Note-to make the gingersnap cookie crumbs, you can use a food processor or put the cookies in a large Ziploc bag and pound the cookies with a rolling pin until crushed. The pie will keep in the freezer for a week.