jump to recipe
Salted Caramel Sauce
You only need four ingredients to make this easy homemade salted caramel sauce recipe. It is the BEST and good on just about everything! 
A few weeks ago we made Salted Caramel Sauce and I shared a photo of it on Instagram. The photo went wild and we got several requests for the recipe. The recipe is on our site, but combined with other recipes-Salted Caramel Apple Crumb Bars and Brown Butter Pumpkin Cupcakes with Salted Caramel Frosting.
I guess the recipe was sort of in hiding.I decided it was time to give our Salted Caramel Sauce it's own post. Today, I am going to teach you how to make Salted Caramel Sauce! It is SO easy! You only need 4 ingredients!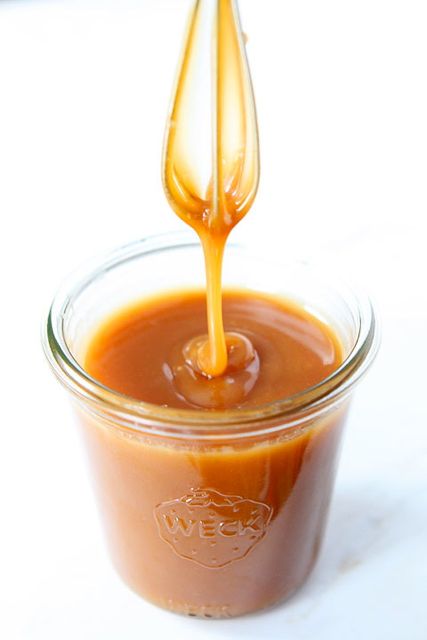 OTHER RECIPES
If you haven't made caramel sauce before, don't be scared. It really is easy, you just have to pay close attention to the caramel. With a little tender love and care, you can create the most amazing Salted Caramel Sauce.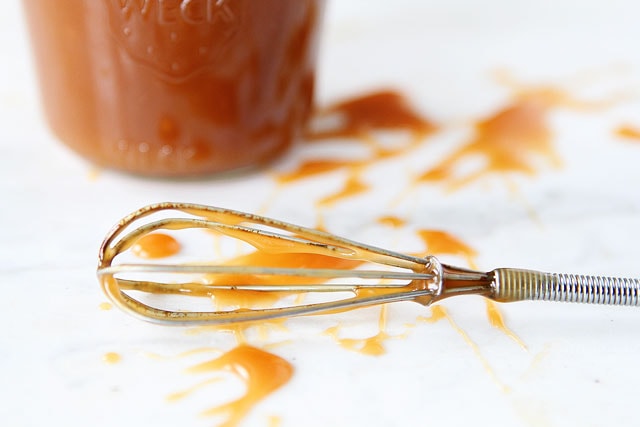 How to make Salted Caramel Sauce
There are only four ingredients needed: sugar, butter, heavy cream, and salt. Simple as can be and with those four ingredients, you know it's going to be good!
We use fleur de sel, "flower of salt," because the salt crystals are fine, delicate, and have a high concentration of minerals, making them the perfect finishing salt. They dissolve instantly when sprinkled into the caramel, adding the perfect touch of salt without interfering with the smooth caramel texture. And if for some reason you don't like salt in your caramel, you can omit it, but it's pretty amazing:)
This recipe makes about two cups of Salted Caramel Sauce. It will keep in the fridge for about a month…ours never lasts that long:) So what do we do with it? I am always tempted to drink it straight from the jar, it's that good, but I usually stop myself. Notice I said usually:)
This Salted Caramel Sauce is great drizzled over ice cream, cookies, brownies, bars, cake, pie, etc. I think I would eat anything that had this salted caramel sauce drizzled all over it. We also use it to make frostings and glazes. For an afternoon snack, I like to dip my apple slices into a bowl of Salted Caramel Sauce. An apple a day keeps the doctor away-the doctor never said I couldn't add caramel:)
Everyone needs this Salted Caramel Sauce recipe. It can be used for so many things. It's a keeper for sure!
If you like this salted caramel, you might also like: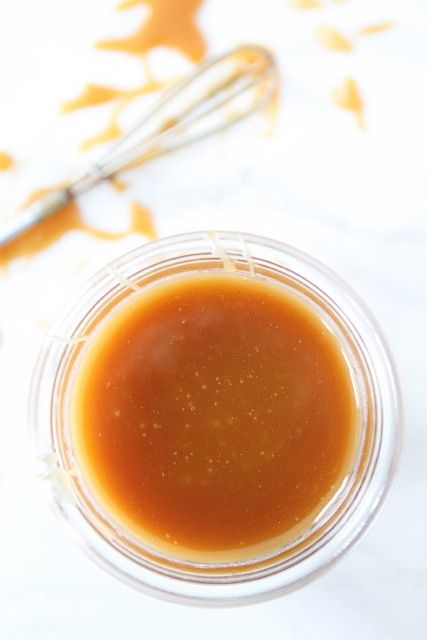 Salted Caramel Sauce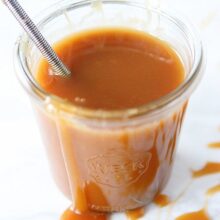 The BEST salted caramel sauce! It's easy to make and is great drizzled over ice cream, cake, cookies, cupcakes, cheesecake…and anything else you can think of!
Yield: 2 cups
Prep Time: 5 minutes
Cook Time: 10 minutes
Ingredients:
2 cups granulated sugar
12 tablespoons unsalted butter, at room temperature, cut into pieces
1 cup heavy cream, at room temperature
1 tablespoon fleur de sel or Maldon sea salt flakes
Directions:
First, make sure you have all of the ingredients ready. Once you start the caramel sauce you have to pay close attention so you don't burn it. To begin, heat the sugar over medium high-heat in the bottom of a heavy 2-3 quart saucepan. When the sugar starts to melt, start whisking the sugar. The sugar will clump up, but keep whisking. It will continue to melt. When the sugar is melted, stop whisking. You can swirl the pan to move the sugar around.
Continue cooking the sugar until it reaches a deep amber color. Make sure you watch the pan very closely. This is where it is easy to burn the caramel.
As soon as the sugar reaches the dark amber color, carefully add the butter. Whisk until butter is melted. If the sugar gets stuck to the whisk, you can switch to a wooden spoon.
Remove the pan from the heat and slowly pour in the heavy cream. Whisk until cream is incorporated and caramel is smooth. Whisk in the fleur de sel or Maldon sea salt flakes.
Let the caramel sauce cool for about 10 minutes in the pan. Pour the caramel into a large jar and cool to room temperature. Put the salted caramel sauce in the refrigerator. Store the salted caramel sauce in the refrigerator for about a month.
All images and text ©
.
Follow twopeasandpod on Instagram and show us what recipes you are making from our blog! Use the hashtag #twopeasandtheirpod! We want to see what you are making in your kitchen!