On Friday, I spent the afternoon in the kitchen with one of my good friends, Becky, of Vintage Mixer. Fridays are my day off and I always try to cook and bake, but I usually do it alone. It was nice having some company in the kitchen. We made a couple of recipes, but my favorite was the almond torte.
A torte is a cake that is made with primarily eggs, sugar, butter, and ground nuts instead of flour. This recipe uses almond paste instead of ground nuts. We chose a torte recipe because we've never made one and thought it would be fun to try something new.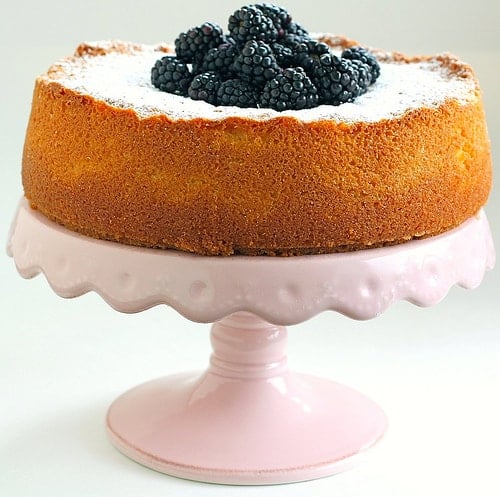 We used the food processor to make the torte, starting with the sugar and almond paste. Next, we added in lots of butter, vanilla, and six eggs. I thought I was going to have a heart attack after looking at the rich ingredients:) At the same time, I knew this torte was going to be really, really good.
There is only one cup of flour in this torte. It was really easy to put together, just make sure you use a large enough food processor. We used my 9 cup bowl and it was the perfect size. We baked the torte in a 9 inch springform pan. The recipe said to bake the torte for over an hour, but ours was done at about 50 minutes.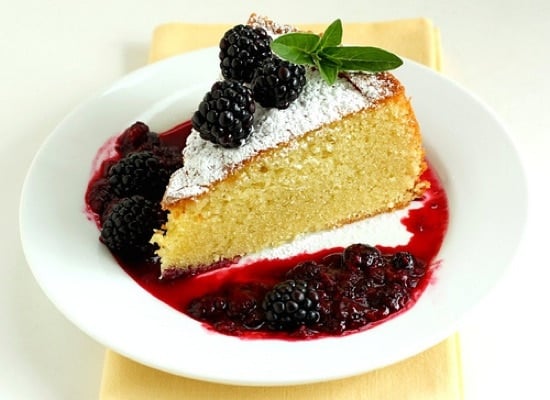 Since this was our first adventure making a torte, we weren't sure what to expect. I didn't think the torte would rise so much. It ended up looking like a thick cake. I was a little disappointed at first. The torte looked really plain. We let the torte cool and then we decorated it with powdered sugar and blackberries. We had fun food styling and taking photos together. We ended up making a quick berry sauce to jazz up our photos. Two food bloggers in one kitchen-talk about a fun and tasty afternoon!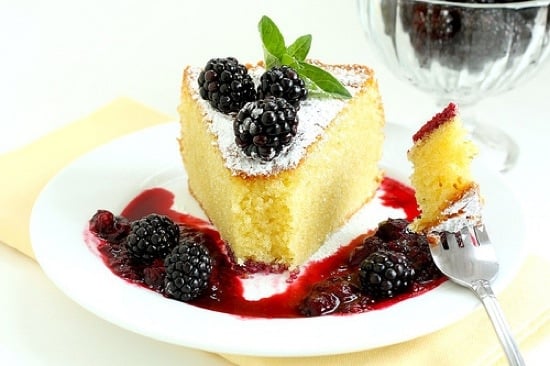 The final, polished torte was beautiful. Of course we had to sample our work-we both loved it. I thought the torte would be really dense because of the massive amount of butter, sugar, and eggs, but it was really light and moist. It practically melted in my mouth. The almond flavor was present, but not over powering. I sent the torte home with Becky because Josh is allergic to nuts and I knew I would be tempted to eat it all by myself. It is heavenly!
This almond torte is the perfect dessert to make with and for friends. Good food and friends is what life is all about. I am glad I was able to share my first torte baking experience with one of my good friends. It made my day a little sweeter in more ways than one.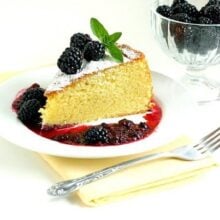 Almond Torte
Instructions
1. Preaheat oven to 325 degrees F. Butter and flour a 9 inch springform pan. Set aside.

2. In the bowl of a food processor, process the sugar and almond paste until paste is crumbly and in small pieces. Add the butter and vanilla extract and process until the mixture is smooth.

3. Add eggs, one at a time, mixing until each is incorporated. Process until the mixture is smooth, this will take 2-3 minutes.

4. In a small bowl, combine the flour, baking powder, and salt. Whisk together. Sprinkle flour mixture over the almond and butter mixture. Pulse just until the flour is combined. Don't over mix.

5. Pour the batter into the prepared springform pan. Smooth the batter and place pan in preheated oven. Bake for 45 minutes to an hour, or until a toothpick comes out clean and the torte springs back when lightly touched.

6. Cool torte on a cooling rack. When cool, sprinkle with powdered sugar and berries, if desired.

*Note-make sure you use a large food processor-9 cup or larger.
Have you tried this recipe?
Leave a comment below and share a photo on Instagram. Tag @twopeasandpod and hashtag it with #twopeasandtheirpod
If you like this torte recipe, you might also like:
Peach Almond Cake from Two Peas and Their Pod
Sour Cream Coffee Cake from Two Peas and Their Pod
Almond-Lemon Torte with Fresh Strawberry Puree from Sassy Radish
Lemon Torte from Baking Bites
Chocolate Hazelnut Torte from Use Real Butter