Banana Cupcakes with Cream Cheese Frosting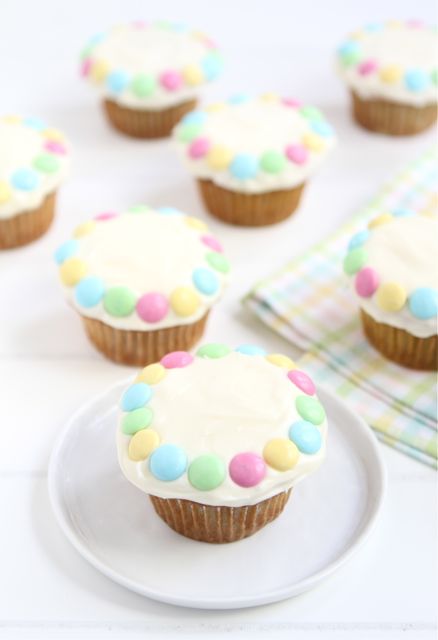 Today is an exciting day! Amy Atlas's book,  Sweet Designs, hits the book shelves. I got my book last week and I am in love! Amy's book is filled with over 175 recipes and dessert displays that are easy to create at home. There are so many fun and creative ideas in Sweet Designs, I want to have a party every day! Amy's dessert tables are fabulous! I didn't have time to create an entire table yet, but soon! I couldn't wait to try one of Amy's recipes though-the book is filled with lots and lots of sugary sweets. My kind of book:) I made Amy's Banana Cupcakes with Cream Cheese Frosting, one of the recipes included in the Pastel Pretty party. I love all things pastel and Amy's Pastel Pretty Party is perfection…and so are the Banana Cupcakes with Cream Cheese Frosting.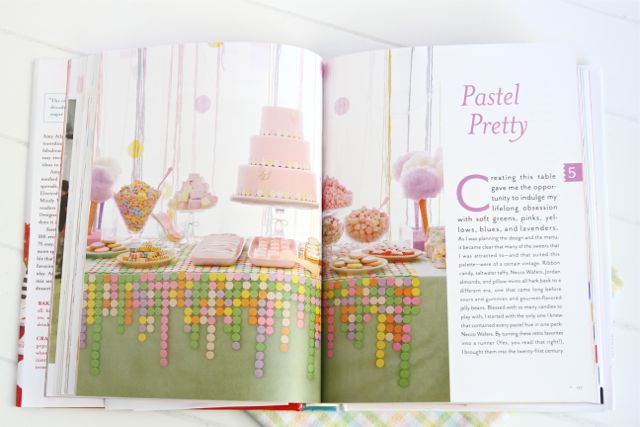 The banana cupcakes are simple to make, which makes them perfect party food. The banana cupcakes are super moist thanks to the bananas and sour cream and are topped with cream cheese frosting. These classic cupcakes are sure to be a hit at any party. Amy jazzes the cupcakes up with licorice pastel candies. Since I still have multiple bags of Easter M&M's lying around the house, I used Easter M&M's. I knew loading up on the after Easter candy sales would come in handy:)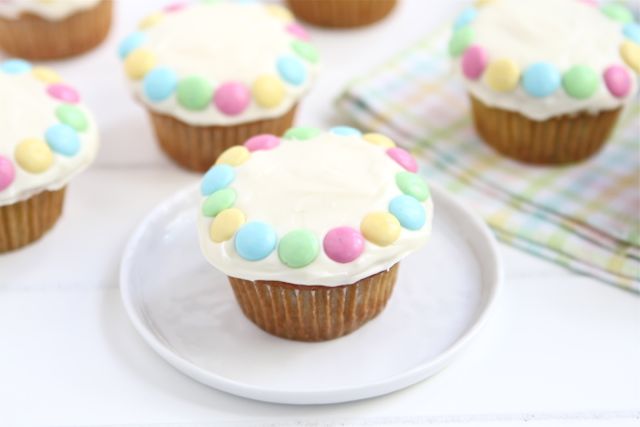 The Banana Cupcakes with Cream Cheese Frosting are a reason to have a party on their own, but Amy's Pastel Pretty table is filled with pretty pastel treats. A few of the sweets include: vanilla cake, pound cake bites, sugar cookies, eclairs, and cotton candy sticks. Oh, and did I mention Amy created a tablecloth made with Necco Wafers? Genius! I can't wait to have my own Pastel Pretty party!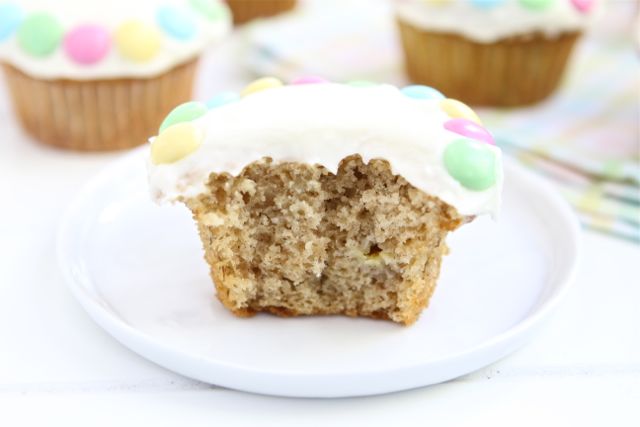 Sweet Designs is filled with lots of party planning ideas, crafts,  recipes, and tips. All of the dessert tables are spectacular! And don't worry if you are not crafty or creative, Amy makes party planning easy! So before you plan your next party, pick up a copy of Sweet Designs. Amy will help make your party a smashing success!
We loved these Banana Cupcakes with Cream Cheese Frosting and we think you will too! They are perfect for any party or just because! Enjoy!