Today we have a special treat, a guest post from my dear blogging friend, Michelle, of Brown Eyed Baker. If you don't already follow her delicious blog, check it out. You will be hooked! Thanks Michelle for being our first guest post ever and sharing your banana-nut oat bran muffin recipe. Enjoy friends!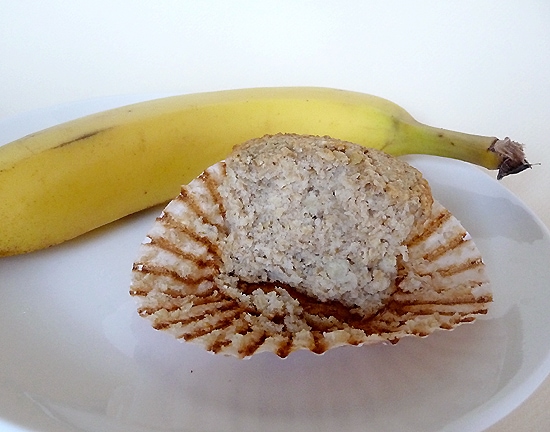 I want to thank Maria for inviting me to do a guest post over here on Two Peas and Their Pod. Maria has become a great friend and is one of the kindest bloggers I've ever met. As far as food goes, I feel like we're perfect complements – I stuff myself full of sugar, chocolate and peanut butter and she pulls me back from the edge with awesome recipes like edamame guacamole, zucchini cookies, and bright melon salads. And she definitely cemented a place in my heart with her Fluffernutter Cookies. I love the style of her blog, the simple and mouth-watering recipes she creates, and I especially love that her and her husband have such a great time in the kitchen together!
When Maria asked me to do a post over here I asked if she had any specific type of recipe in mind. She said I could choose whatever I wanted, and so I did some brainstorming. I ended up choosing a recipe that pays homage to Maria's healthy lifestyle and to my baking roots: Banana-Nut Oat Bran Muffins.
These muffins were the very first thing that I ever helped to bake in the kitchen. Back when I was in elementary school my dad was told he had slightly high cholesterol and that he could improve it through diet. My mom received this recipe from my aunt, who had been making these muffins for my uncle, who had previously suffered a heart attack. I'm not sure where the recipe originally came from, but they soon became a weekly staple at our house. Every Sunday night my mom would make a batch, and let me help with the mixing. They are so easy that after awhile I had the recipe almost memorized myself! This was also the recipe that enabled me to learn how to separate eggs. Thanks to my mom for teaching me, it has certainly come in handy with all of the egg yolks I use when making homemade ice cream!
Like almost all muffins, these are very quick to get together and get baked; we're talking mixed, baked and out of the oven in 30 minutes. It's hard to beat that! You'll notice that the batter is very thin once it's mixed together, but that's okay – the oat bran soaks up a lot of that in the baking process and keeps the muffins nice and moist.
The original recipe calls for corn syrup, which I have substituted with agave nectar and you could also use honey. These muffins lend themselves well to a lot of adaptations – I like to add some cinnamon, you can switch up the nuts, add some dried fruit, etc. It's a great base recipe for letting your creative juices flow. My dad, who was a faithful devotee to Snickers and ice cream (I think we all know where I got my palate from!), loved these so much that even after his cholesterol returned to normal he still requested that my mom make them. I hope you enjoy them as much as he did!
Thanks again to Maria and Josh for allowing me to share this old family recipe with you, I hope you enjoy it!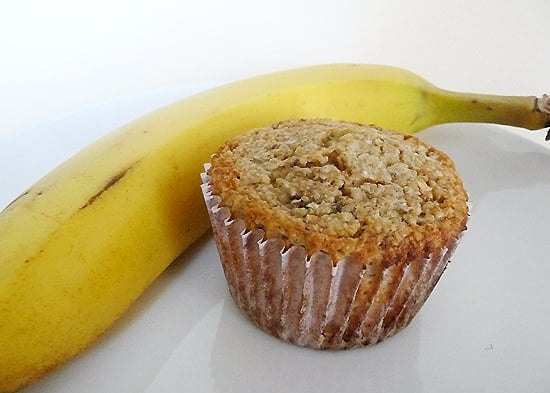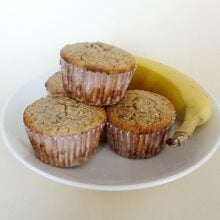 Banana-Nut Oat Bran Muffins
Ingredients
2-1/4

cups

oat bran

1

tablespoon

baking powder

1/4

cup

brown sugar

1 1/4

cups

milk

2

bananas

mashed

2

egg whites

2

tablespoons

agave nectar or honey

1/4

cup

walnuts

chopped
Instructions
1. Preheat oven to 425 degrees F. Line a standard muffin tin with paper cups.

2. In a large bowl, whisk together the oat bran, baking powder and brown sugar. In a separate medium bowl, mix together the milk, mashed bananas, egg whites and agave nectar.

3. Add the wet ingredients into the dry ingredients and whisk until combined. Fold in the walnuts. Divide the batter evenly between the 12 muffin cups. Bake until the muffins are lightly browned and a knife inserted in the center comes out clean, about 12 to 15 minutes.

4. Cool the muffins in the pan for 5 minutes, then remove to a wire rack to cool completely. Store in an airtight container at room temperature. Serve at room temperature or reheat in the microwave and top with your favorite jam, butter or even peanut butter.
Have you tried this recipe?
Leave a comment below and share a photo on Instagram. Tag @twopeasandpod and hashtag it with #twopeasandtheirpod
If you like these banana muffins, you might also like:
Banana Cinnamon Chip Cake from Two Peas and Their Pod
Banana Fosters Bread from Brown Eyed Baker
Banana Nut Muffins from Simply Recipes