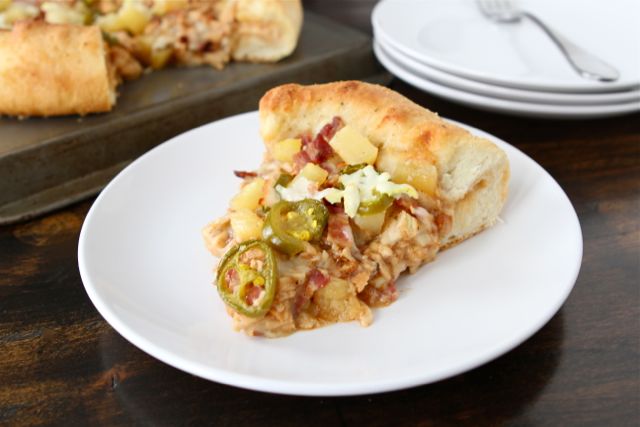 Josh loves pizza and is excited to share his all-time favorite pizza recipe with you today. When he first started making this BBQ Chicken Deluxe Pan Pizza I thought he was weird. The pizza has BBQ sauce and is topped with BBQ chicken, bacon, pineapple, and jalapeño slices. Sounded kind of odd to me, but it is always a hit. I guess Josh knows his pizza:) We host pizza parties at our house with the neighborhood kids and it is always the first pizza to go. Kids and adults love Josh's special BBQ Chicken pizza.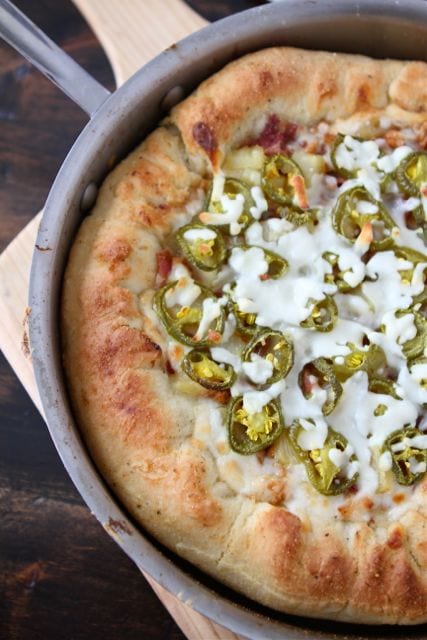 Josh makes the pizza in a sauté pan or a cast iron skillet to give the pizza a thick crust. The dough takes about two hours to rise, so make sure you plan ahead. I promise, it is worth the wait. It is the best pan pizza crust! He rolls out the dough and places it in the pan. He fits the dough to the pan and then cuts off the excess dough. Josh usually makes me a veggie pizza with the leftover dough (yea, he loves me), but you can freeze the dough for later if you wish. The dough freezes well.
Josh evenly spreads BBQ sauce on the bottom of the dough and tops the sauce with mozzarella cheese, BBQ chicken, bacon, pineapple, and jalapeño slices. Don't worry, he buys the tamed jalapeño slices so no one burns their taste buds:) Bake the pizza until golden brown and let it sit for about 10 minutes before slicing. We use a bread knife to cut the pizza because the crust is so thick, a pizza cutter just doesn't cut it:)
This BBQ Chicken pizza is perfect for the upcoming Super Bowl. It has game day food written all over it. Josh's BBQ Chicken Deluxe Pan Pizza is popular at all of our pizza parties and is sure to be a hit at your Super Bowl Party. Grab a slice and enjoy the game!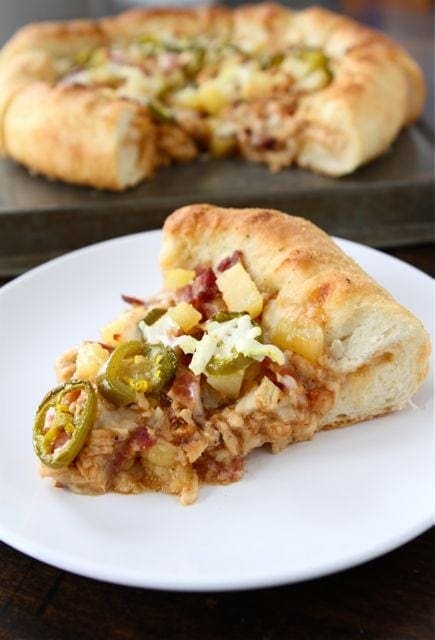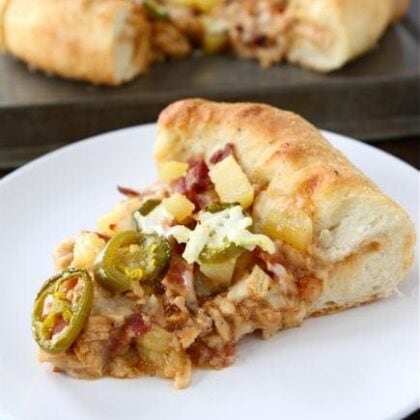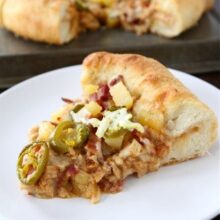 BBQ Chicken Deluxe Pizza
Josh's all-time favorite pizza! This BBQ Chicken Pizza is made in a pan to create a thick crust and is loaded with BBQ chicken, bacon, pineapple, jalapeño slices, and mozzarella cheese.
Ingredients
For the dough:

1

cup

milk

we use skim

1

tablespoon

butter

1

tablespoon

granulated sugar

1

teaspoon

salt

1

package instant dry yeast

5

cups

all-purpose flour

may need additional flour, depending on dough texture

About 1 cup of water-add a little at a time until you get the right dough consistency

For the pizza toppings/sauce:

1

large

6 ounce boneless chicken breast, defrosted

2

tablespoons

Honey BBQ Sauce

for the chicken

1/2

cup

Honey BBQ Sauce

for the pizza

2 1/4

cups

shredded mozzarella cheese

divided

3

pieces

cooked bacon

chopped

1/2

cup

diced pineapple

1/2

cup

jarred sliced tamed jalapeño peppers
Instructions
1. In a small saucepan, scald the milk over medium heat. Add butter, sugar and salt. Allow milk mixture to cool to warm. Add yeast and mix thoroughly. Let sit for 5 minutes.

2. In the bowl of a stand mixer, add milk/yeast mixture. Slowly add flour, one cup at a time, until the dough pulls away from the side of the bowl and forms a ball. Add water, a little at a time, until the dough combines. If the dough is still wet, add a little more flour. Knead dough for 5-10 minutes using the dough hook. Place dough in a large greased bowl. Cover and allow dough to rise for 2 hours or until dough has doubled in size.

3. While the dough is rising, brush the chicken breast with 2 tablespoons of BBQ sauce and grill. Chop cooked BBQ chicken into small pieces and set aside.

4. Preheat the oven to 400 degrees F. When the dough is ready, punch down the dough, knead briefly on a floured surface. Roll out the pizza dough, using a rolling pin. You want the dough to be about a ½ inch thick. Place dough in a buttered 10-inch sauté' pan or cast iron skillet. Push dough in the bottom and up the sides of the pan. Pinch off excess dough. You can save this dough to make another pizza or breadsticks. We usually stick it in the freezer for later.

5. Evenly spread ½ cup BBQ sauce on the bottom of the pizza dough. Top sauce with 2 cups of the shredded mozzarella cheese. Roll the pizza dough that is on the side of the pan down, about one inch, and pinch to form a thick crust. Add the BBQ chicken, bacon, pineapple, and jalapeño slices. Sprinkle pizza toppings with the additional ¼ cup of cheese.

6. Place pizza in the oven and bake for 25-30 minutes, or until crust is golden brown. Remove pizza from oven and let sit for 10 minutes. Slice pizza with a bread knife and serve warm.
Have you tried this recipe?
Leave a comment below and share a photo on Instagram. Tag @twopeasandpod and hashtag it with #twopeasandtheirpod
If you like this BBQ Chicken Deluxe Pan Pizza, you might also like: