Last week one of my dreams came true. I stayed at the famous Beverly Wilshire Hotel, Beverly Hills (A Four Seasons Hotel). My favorite movie of all-time is Pretty Woman and I have been dreaming of staying at the Beverly Wilshire since I was probably 10. When I walked into the lobby I told Josh to pinch me. He did so I knew I wasn't dreaming, but I certainly felt like it. The Beverly Wilshire is exquisite! I fell in love the very second I walked through the doors. The gorgeous chandelier and beautiful display of white hydrangeas were the perfect welcome.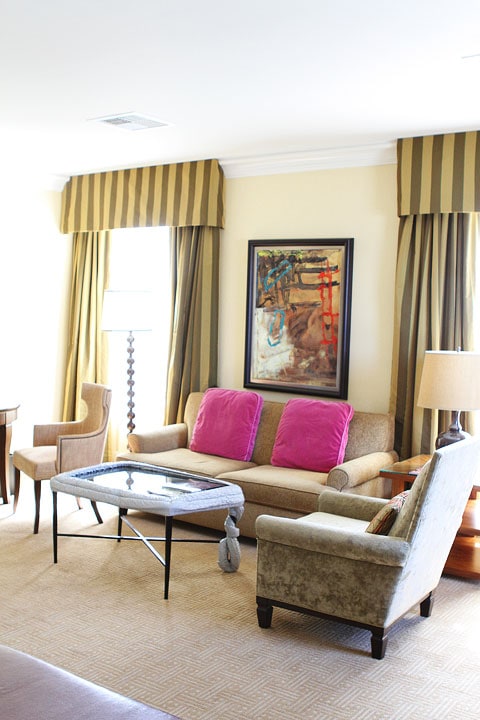 Our Rodeo Studio had a spacious living room and a comfortable king bed. Loved the pink pillows! Great splash of color.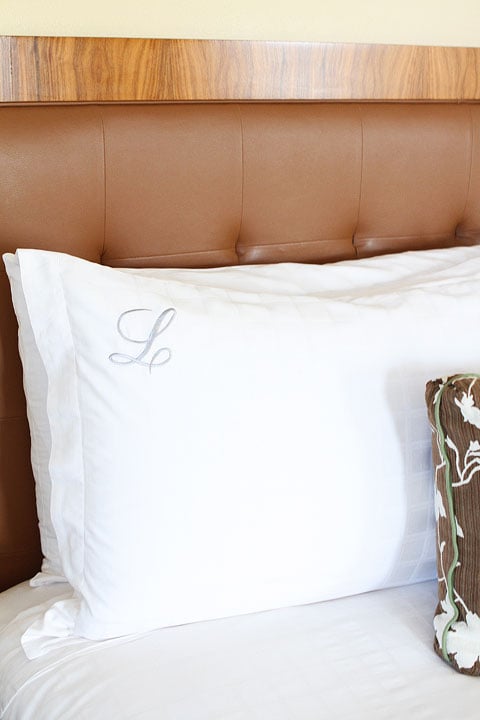 Notice the "L" on the pillow for Lichty. I loved the attention to detail.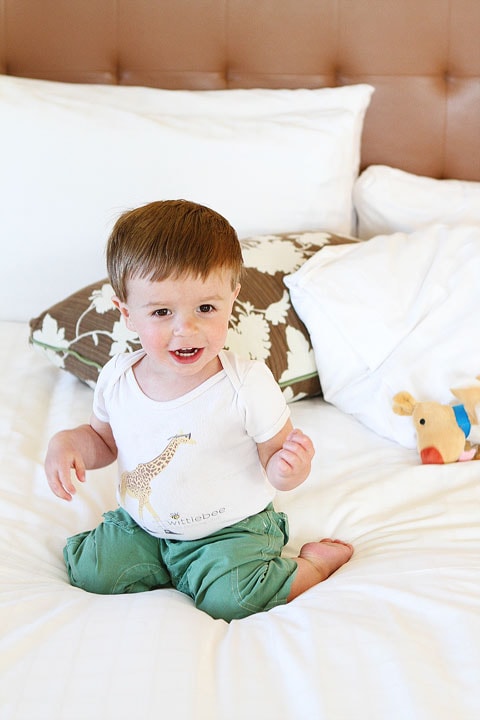 Caleb loves big hotel beds and he didn't waste any time jumping on our bed. The Beverly Wilshire gave Caleb a stuffed puppy dog named Larry when we checked in. He hasn't stopped talking about his new best friend Larry the puppy. They had fun playing together.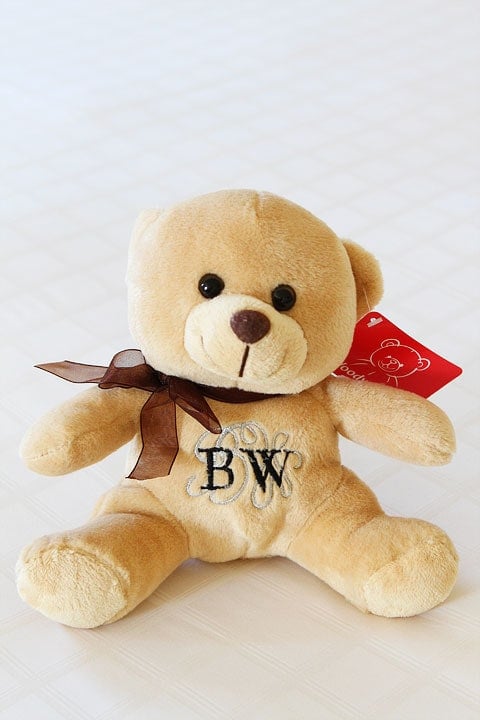 The Beverly Wilshire also provided Caleb with a crib, bath set, and a soft teddy bear. Caleb felt right at home. I love hotels that are kid friendly! It makes traveling much easier for us.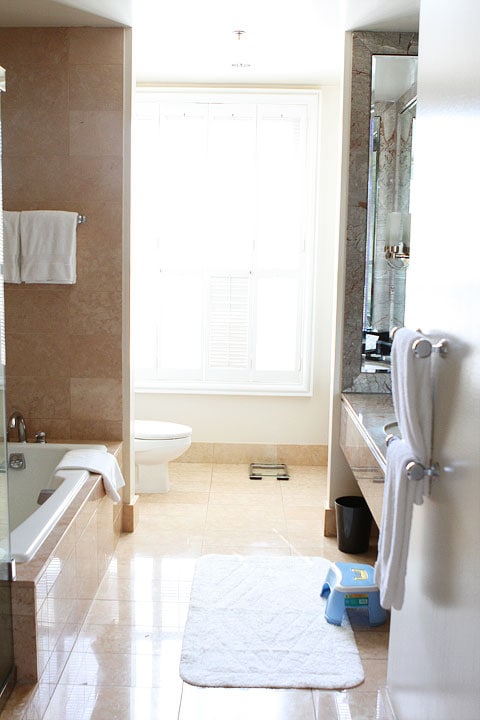 Our large bathroom had a deep soaking tub, a glass enclosed shower, and vanity area. They also provided a step stool for Caleb. He was still too short to reach the sink, but he enjoyed stepping up and down on his special stool:) And I may have sung a little Prince in the bath tub:) I had to!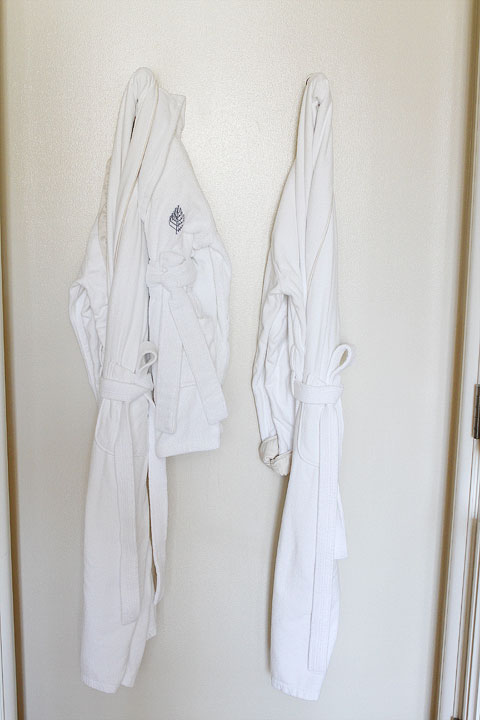 Soft white bath robes, just like Julia wore in the movie. They even had a kids robe for Caleb.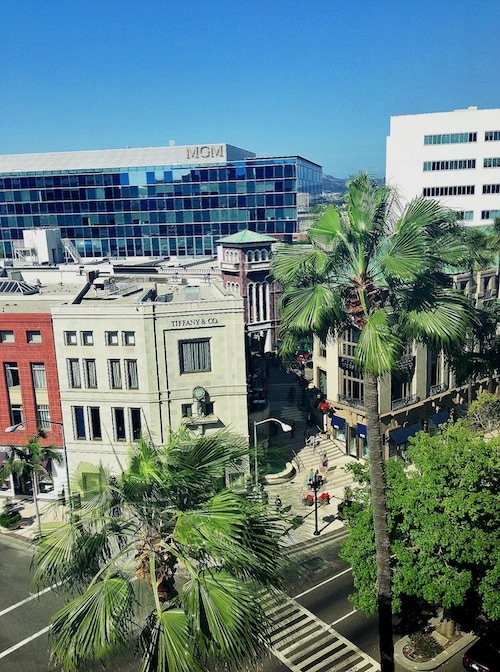 Our studio also had a fantastic view of Rodeo Drive. Shopping anyone?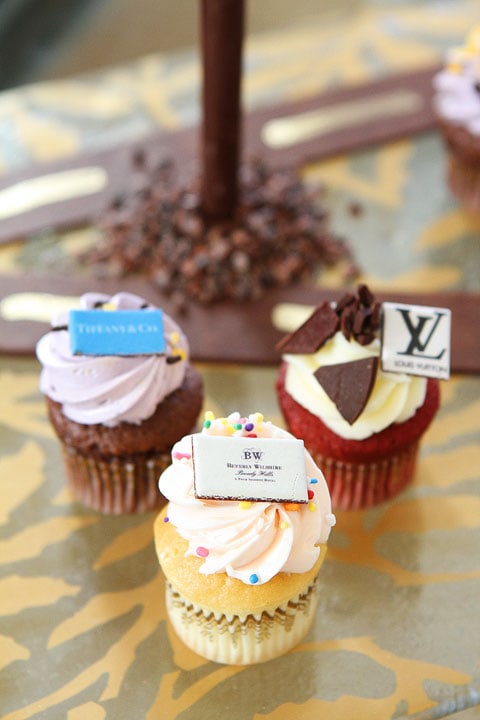 We were spoiled with the cutest little cupcakes!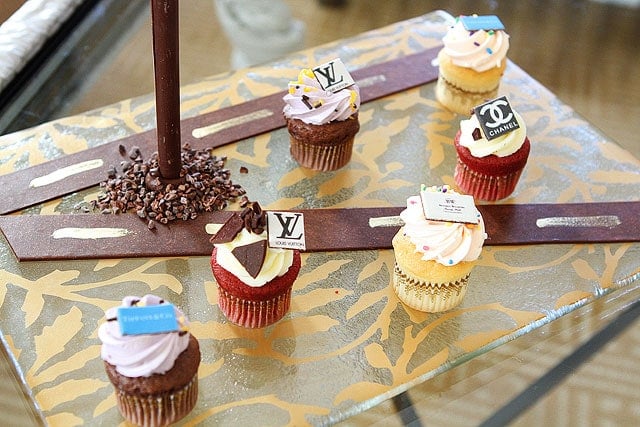 I loved the Rodeo Drive theme! Too fun!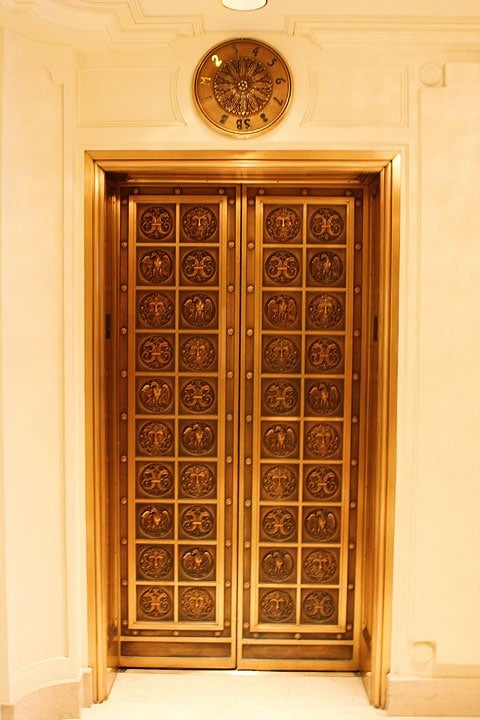 The famous elevator!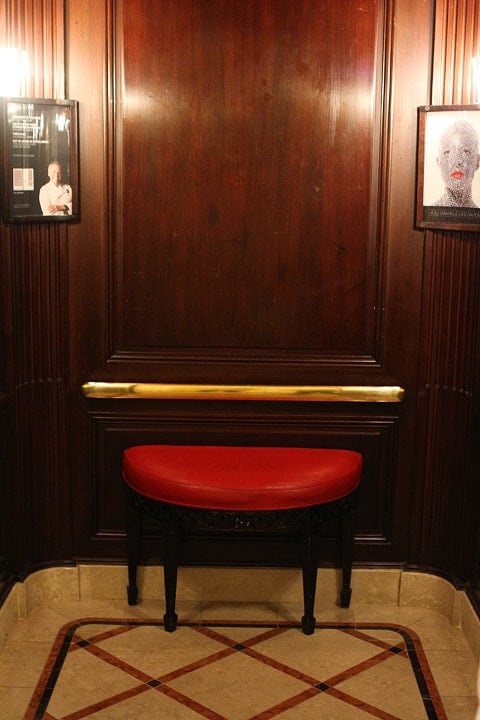 I had to snap a few photos. "Well, color me happy there's a sofa in here for two!" Oh, how I love that movie:)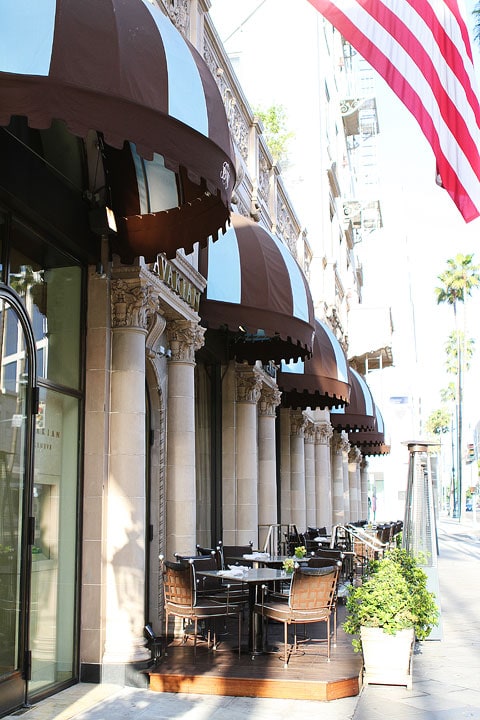 The hotel is gorgeous inside and out!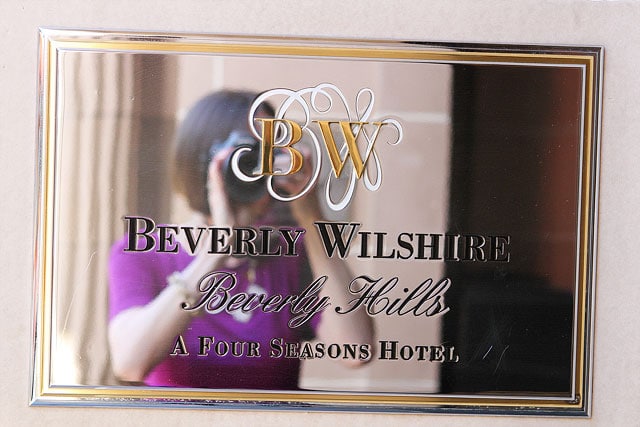 Documenting my stay! 🙂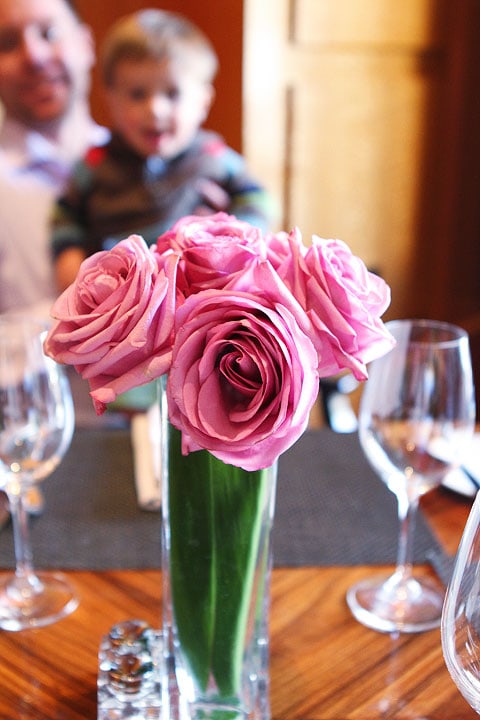 We were treated to a wonderful meal at THE Blvd, which is located inside the hotel. Pretty roses and two handsome dinner dates! Our meal was off to a great start!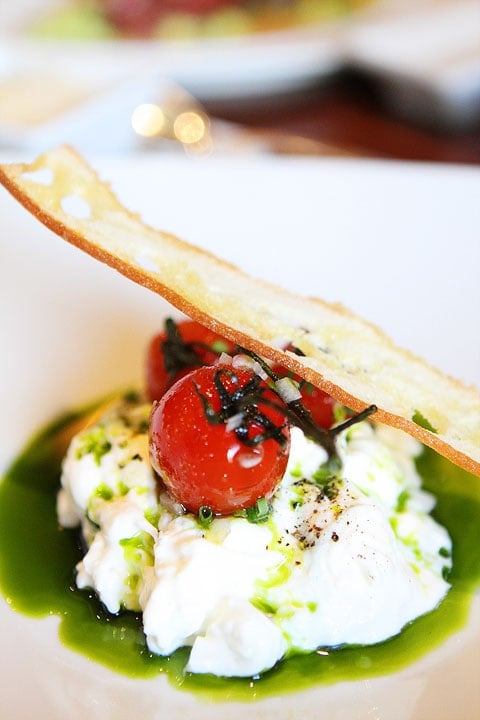 We started with Burrata with Sun Gold Tomato Confit. Perfection!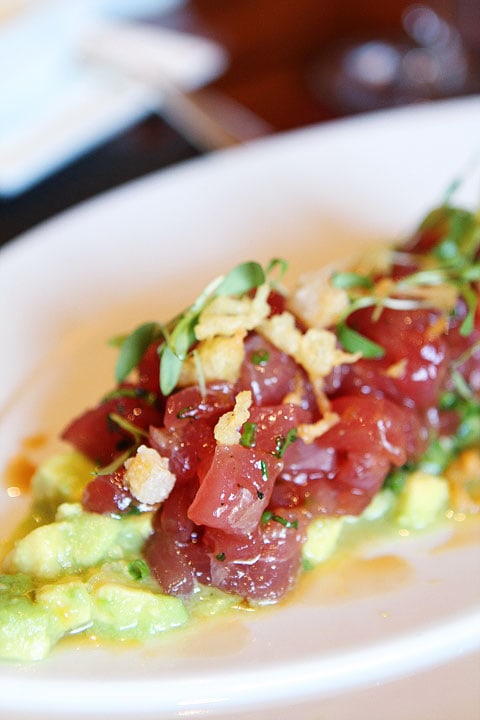 Josh had the Classic Tuna Tartar with avocado, ponzu, and soy vinaigrette.
The Braised Artichokes with Pickled Mushrooms and Black Truffles were delicious!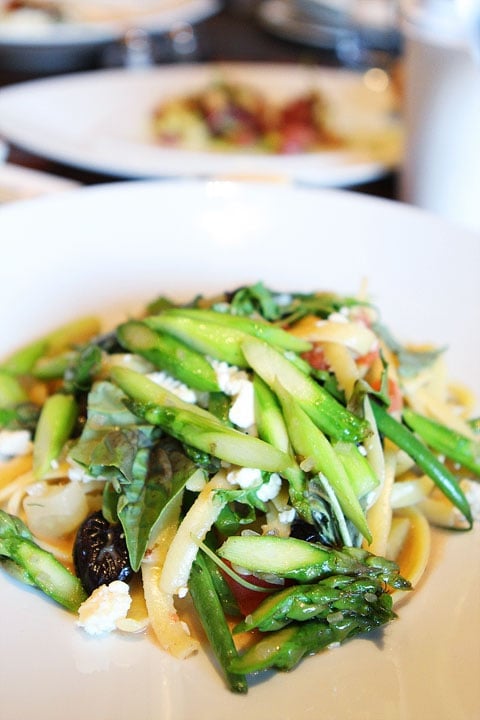 For my entree, I ordered the vegetarian pasta dish. The pasta was cooked to perfection and I loved all of the veggies.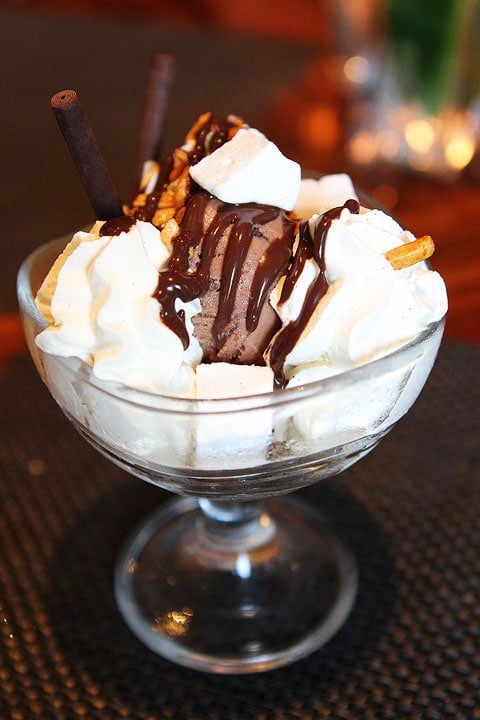 The dessert menu was out of this world. I wanted to try them all! We finally narrowed it down to three:) I had to try the "Rocky Rodeo" sundae-chocolate ice cream with homemade marshmallows, almonds, whipped cream, and chocolate sauce. Wow is right! Loved it!
Next up, Salted Caramel Profiteroles. I had to fight Josh for these babies. We both loved them!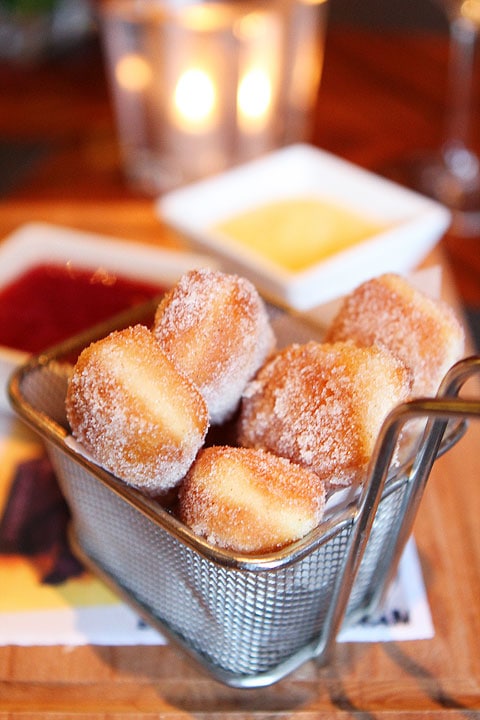 I am usually not a doughnut person, but THE Blvd's doughnuts are life changing. They are served warm with lemon cream and strawberry jam. My mouth is watering just thinking about these heavenly doughnuts.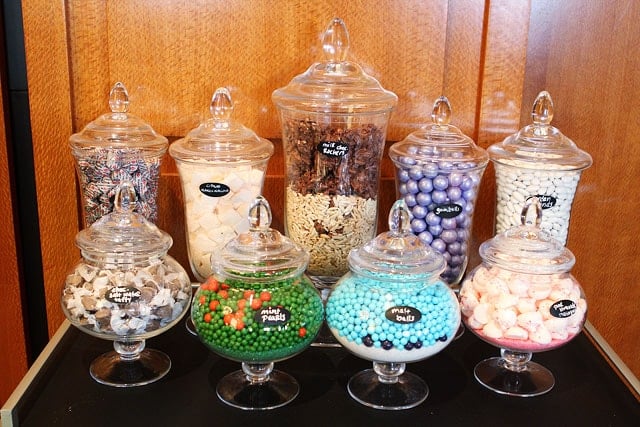 THE Blvd also has a homemade candy station! You can fill a little treat bag with sweets! Love this idea!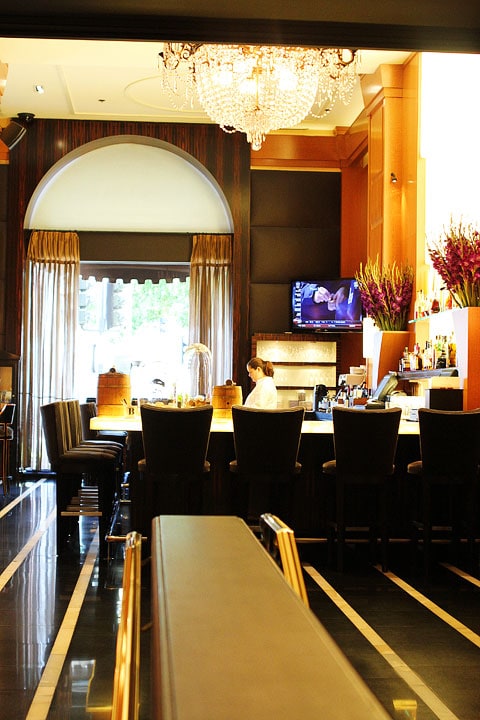 The bar at THE Blvd!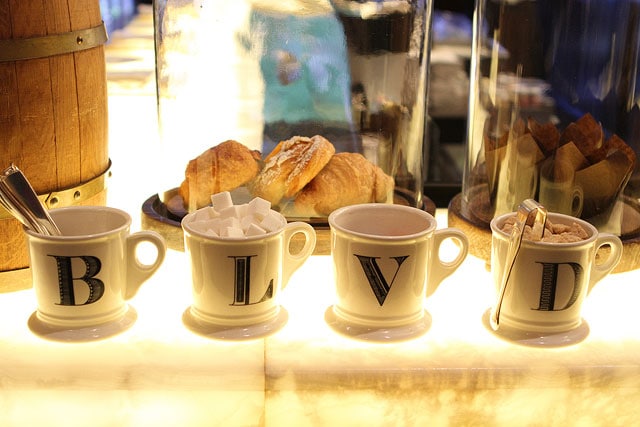 Cute mugs!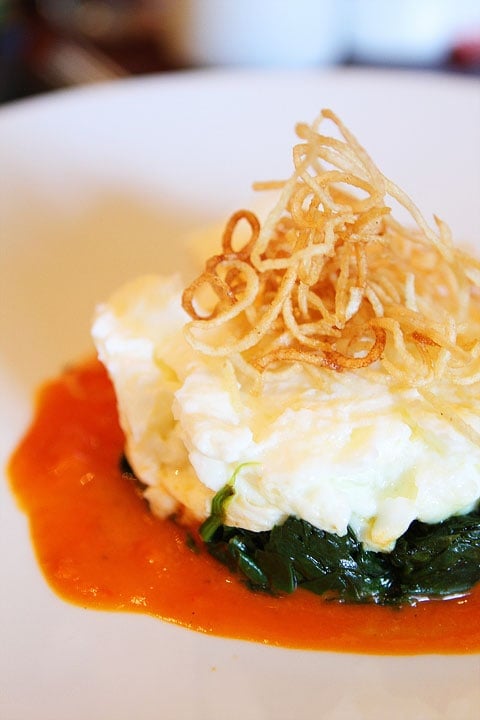 We also ate breakfast at THE Blvd. I was still on a sugar high from our dessert extravaganza, so I ordered the VIP. Scrambled egg whites, wilted spinach, mushrooms, red pepper coulis, and a fun potato swirl on top. It hit the spot.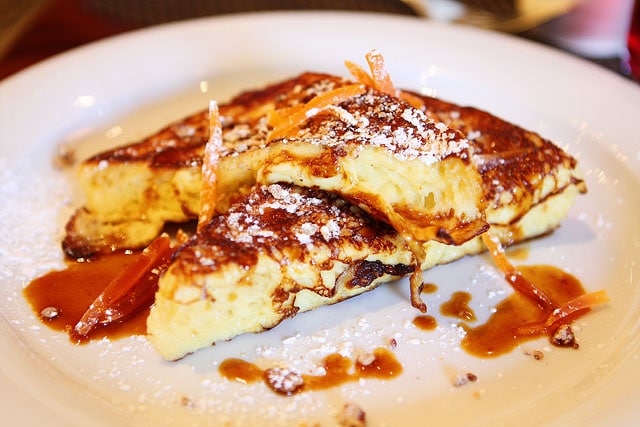 I couldn't get the French toast out of my mind so our kind waiter let me order a side of French toast. I had to try it. I am always on the hunt for the best French toast and THE Blvd's French toast does not disappoint. It is amazing! The bread was soft, sweet, and melted in my mouth. I loved the touch of pecan crumble and candied orange peels. Absolutely fabulous!
We highly recommend dining at THE Blvd. We loved everything. And if you are in the Beverly Hills area for Mother's Day they are hosting a special Mother's Day brunch and lunch. Check it out!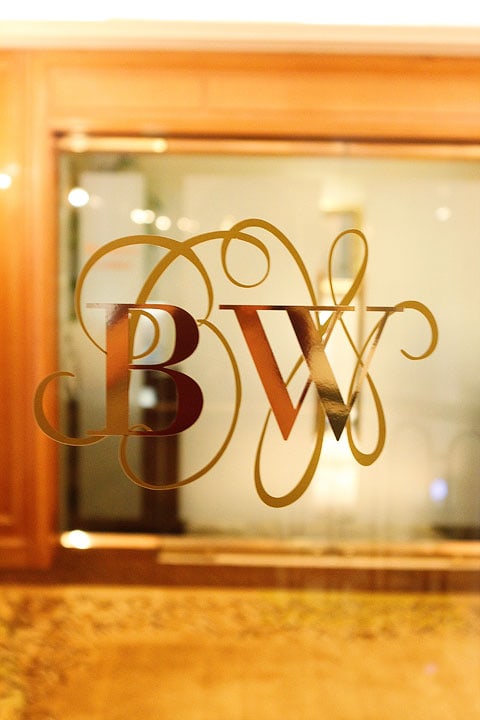 Thank you to the Beverly Wilshire, Beverly Hills for hosting us and making my dream come true. Our stay exceeded my expectations. I really did feel like Julia Roberts in Pretty Woman!
Discolosure: The Beverly Wilshire hosted us, but our opinions are our own.