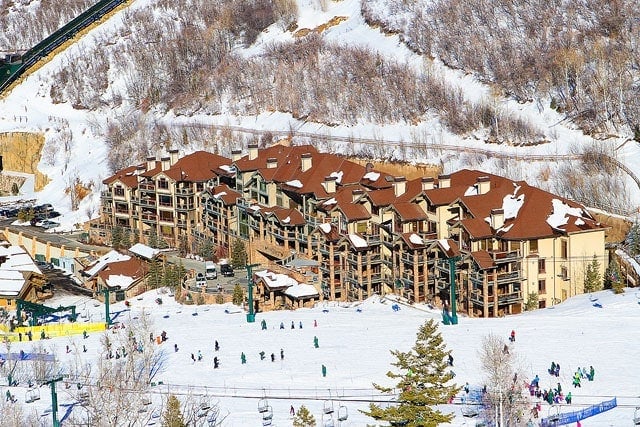 Last week we went to Deer Valley Resort for a dream ski vacation with Kevin and Amanda. We go to Deer Valley every summer for the outdoor concerts and after every concert I tell Josh I want to stay at the Black Diamond Lodge, well, we finally had our chance. It was everything I dreamed of…and much much more.
The Black Diamond Lodge, is located slope-side at the Snow Park base of Deer Valley Resort. It is the prime location for skiing. Our three bedroom condominium was a ski-in/ski-out residence with a beautiful view of the mountains.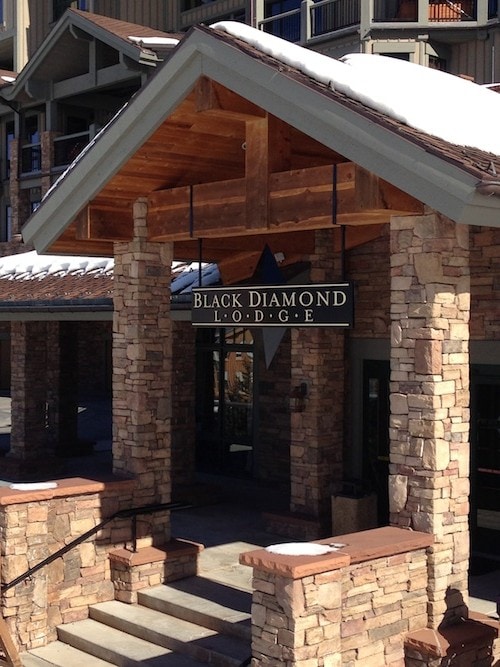 The Black Diamond Lodge is inviting and offers the perfect mountain ambience for a ski vacation. The lodge provides complimentary underground heated parking, ski valet services, ski locker room, fitness center, steam room, sauna, and game room. They also provide a continental breakfast and complimentary après-ski snacks in the afternoon.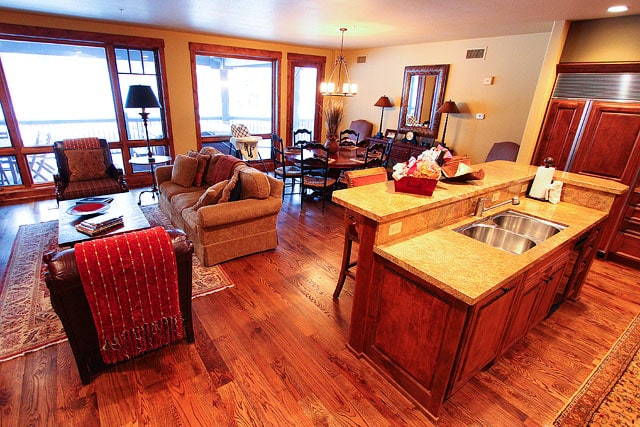 photo via Amanda
Our condo had a huge open living room, dining area, and kitchen. I think this one area was bigger than our entire house:) The pictures don't do it justice. I posted a Vine video (TwoPeasandPod) to try and capture the fabulousness of our condo, but that is still just a glimpse. I've never stayed in such a grande place!
We loved the spacious great room lined with windows. The mountain scenery was gorgeous!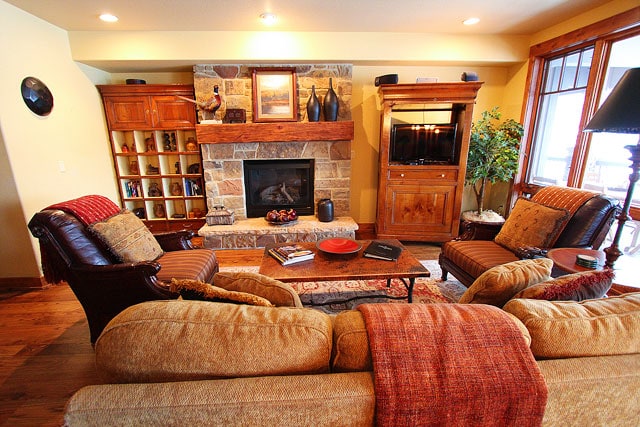 photo via Amanda
The couches and chairs were so cozy! We sat and talked by the fire while Caleb watched cartoons and ran around.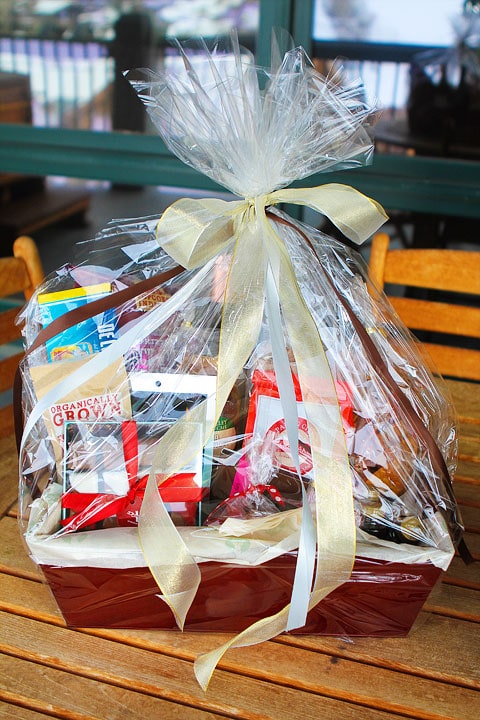 Deer Valley also spoiled us with a basket of goodies-chocoaltes, popcorn, chips, pasta, candy, and more! The perfect foods for a snowy ski vacation.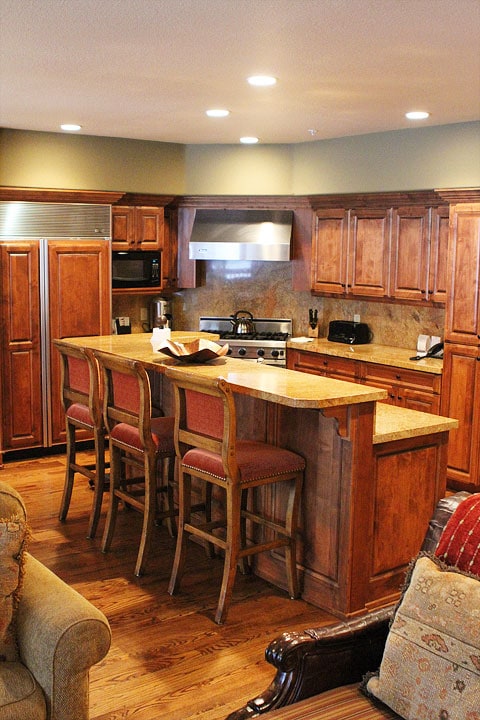 The kitchen was amazing! It was fully equipped and had everything we needed. We could have whipped up a fancy meal, but we were on vacation and not in the mood to cook:)
Luckily, Deer Valley provided us with us with a few fabulous prepared meals from the Deer Valley Grocery Cafe. All we had to do was turn on the oven to warm up our delicious meal. I loved the vegetarian lasagna. And the best part, we didn't have to do any dishes. Oh, how I love vacation:)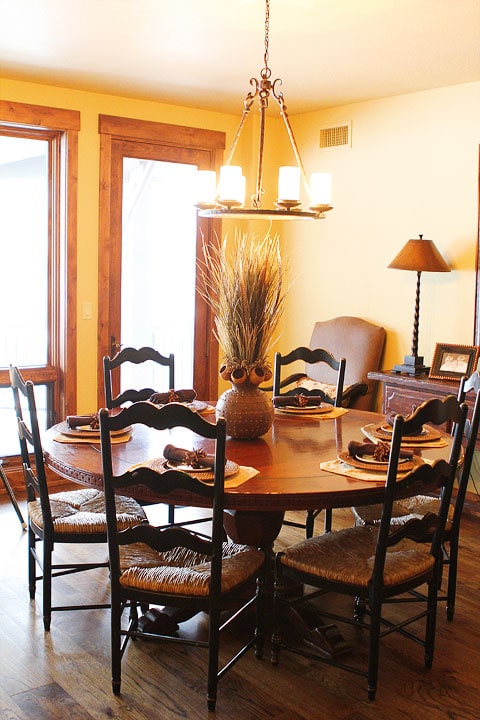 Every morning we brought our complimentary continental breakfast upstairs so we could eat together. The dining table was large enough to fit us all and they even provided a high chair for Caleb.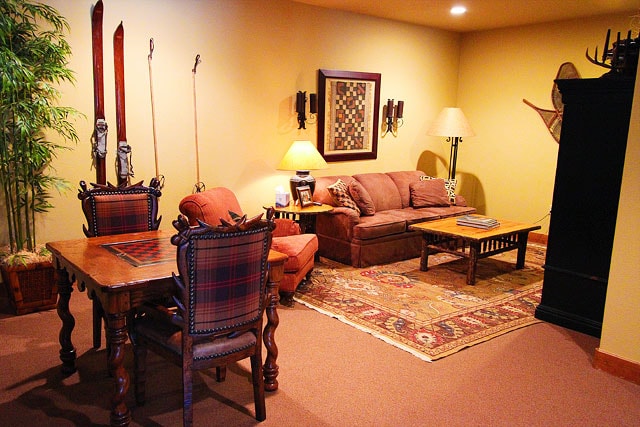 photo via Amanda
Our condo also had a second living room with a television and game table. I loved that they used skis and snowshoes as decor. So fun and fitting for a ski condo.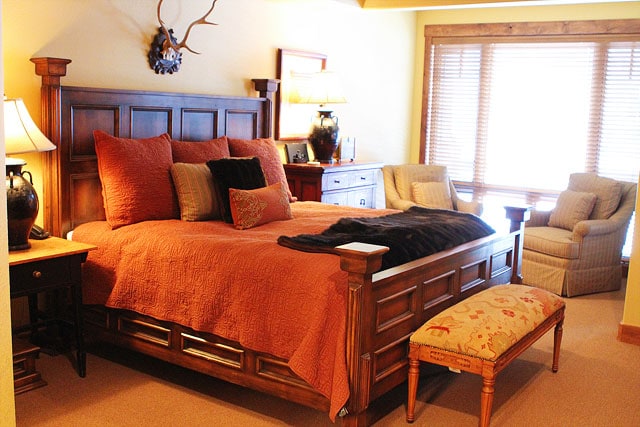 Our bedroom had a king bed with a corner sitting area. There was also a door that opened to the large balcony. It was cold, but we still enjoyed walking outside to breathe in the fresh mountain air.
Our room also had a gigantic walk in closet. We put Caleb's crib in the closet. Don't feel bad for Caleb, his "room" was plenty big…and we were still close by if he needed us. He slept like a champ!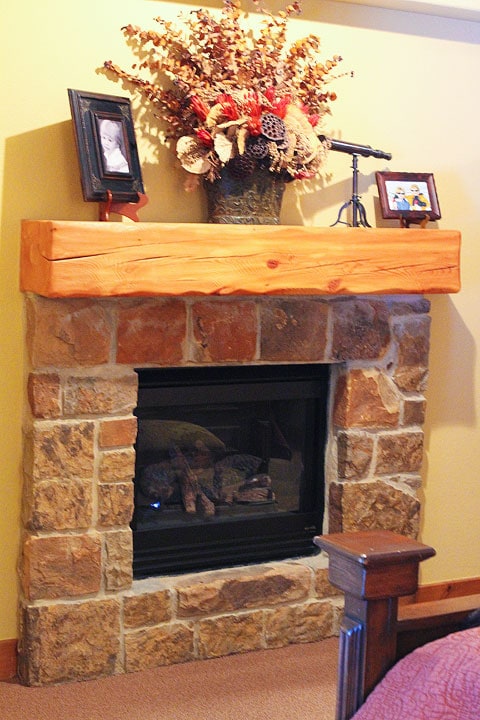 The stone fireplace in our room might have kept me in bed a little longer than usual. I loved waking up to a toasty fire! I could have laid in bed all day if we didn't have to hit the slopes.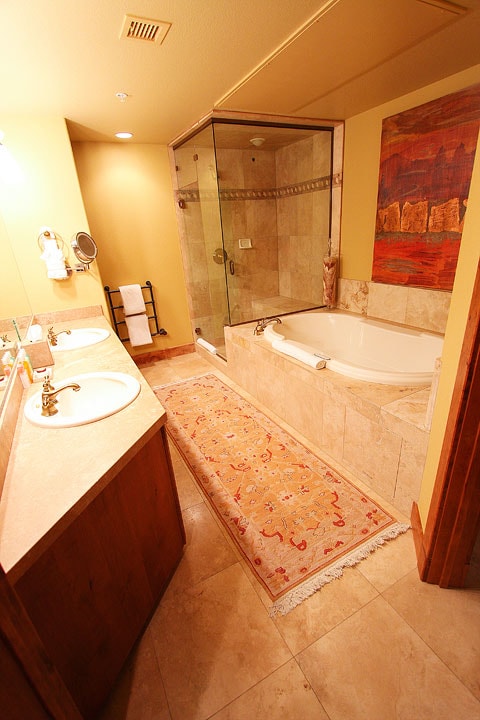 photo via Amanda
Our bathroom had a huge tub, shower, and dual sinks. It also had a heated towel rack. I loved getting out of the shower and wrapping myself in a warm fluffy towel.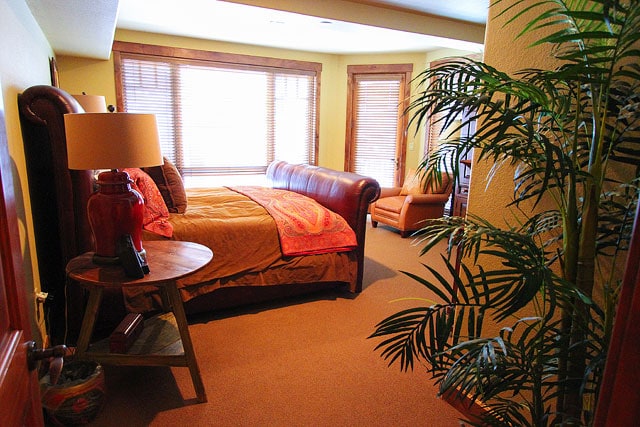 photo via Amanda
The second bedroom had a king bed and private bathroom.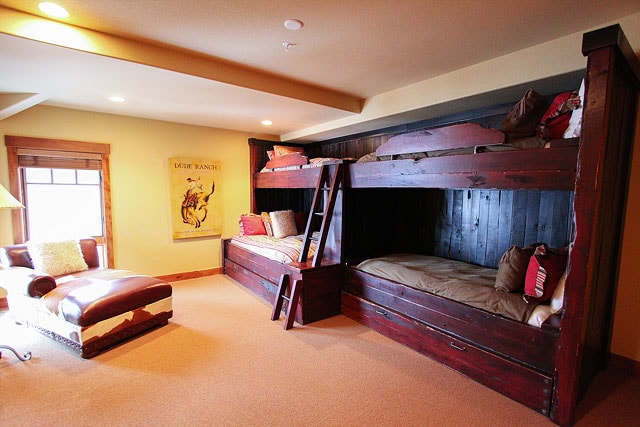 photo via Amanda
The third bedroom was a fun one-bunk beds! There was one queen bed and three twin beds. There were also trundle beds that pulled out. This room would be perfect for a bunch of kiddos.
Caleb certainly loved this room. He loved the horse picture, cow chair, and climbing the ladder. Don't worry we helped him up and down:)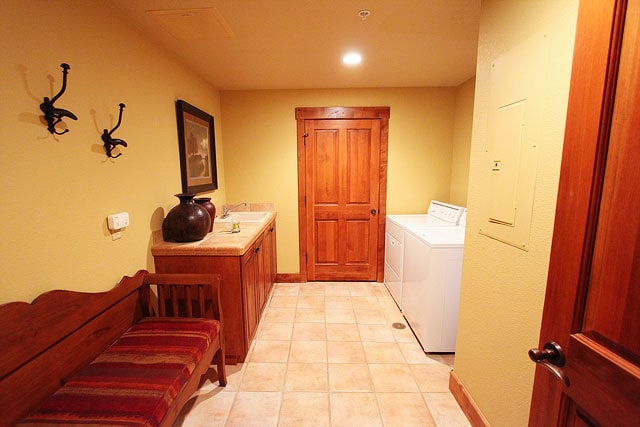 photo via Amanda
There was even a laundry room in our condo. We put the washer and dryer to good use after our first day of skiing. It was nice having it right in our own condo. No need to visit the laundry mat on vacation!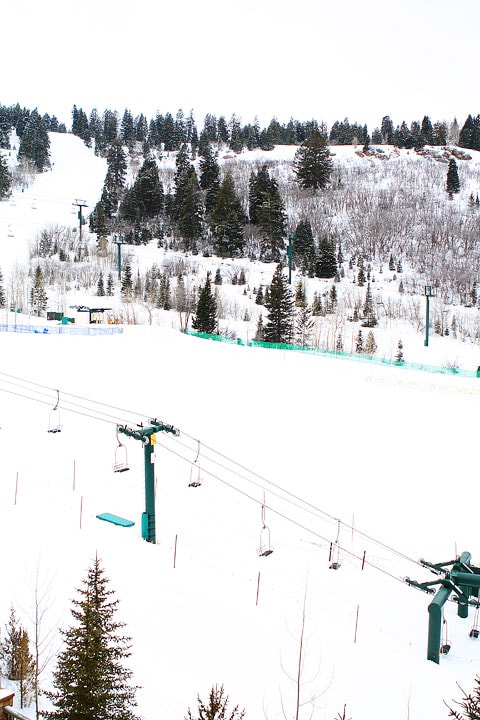 We had the best view! We loved watching the ski lifts from our condo windows.
photo via Amanda
Our balcony had a dining table with a hot tub. You better believe we used the hot tub! It was cold getting in, but so worth it! Talk about relaxation!
The accommodations at the Black Diamond Lodge were amazing…and you can't beat the location. We loved being right on the mountain. The staff was also super helpful and friendly. We couldn't have asked for a better place to stay!
I will be sharing two more posts about Deer Valley-one about our ski adventures and one all about the food, so stay tuned! You don't want to miss out! We had so much fun at Deer Valley Resort!
Thank you Deer Valley Resort for hosting us, of course all of our opinions are our own.