Blackberry Chia Seed Jam-this simple jam recipe only takes 20 minutes to make! No canning involved!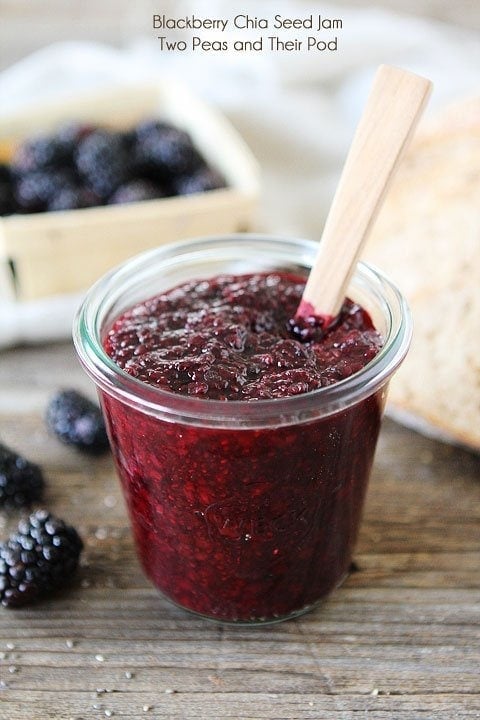 Cha-cha-cha-CHIA! No, we are not talking about chia pets today, although that could be fun. Did you ever have a chia pet or chia head? I wanted to call in to the infomercial and order one when I was younger, but my dad would never let me. I missed out on all the fun! I am not missing out on chia seeds though. They are all the rage and I am hooked!
My latest obsession is chia seed jam. I made a batch of Blackberry Chia Seed Jam this week and it is seriously the BEST jam! It only takes 20 minutes to make and there is no canning involved. This jam is magic!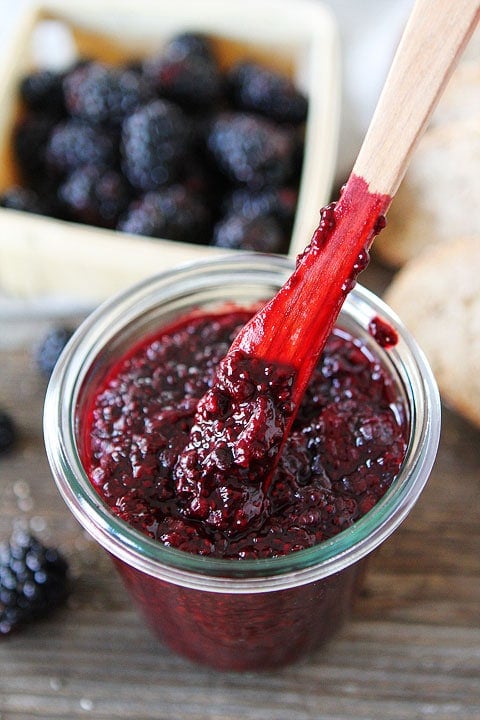 So what are these magic seeds? Chia seeds deliver the maximum amount of nutrients with minimum calories. The nutritional benefits of chia seeds include fiber, omega fatty acids, calcium, antioxidants and even protein! I have been adding chia seeds to my yogurt, smoothies, and oatmeal on a daily basis. And now I am even making jam!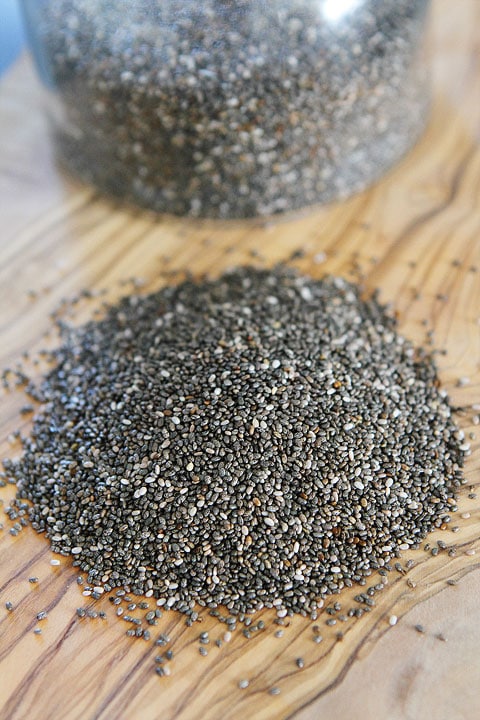 You can find chia seeds at most grocery stores. We buy them in bulk from Whole Foods. I saw a chia seed jam recipe on A House in the Hills and was inspired to create my own recipe. Blackberry jam has always been my favorite jam, so I decided to start with a batch of Blackberry Chia Seed Jam.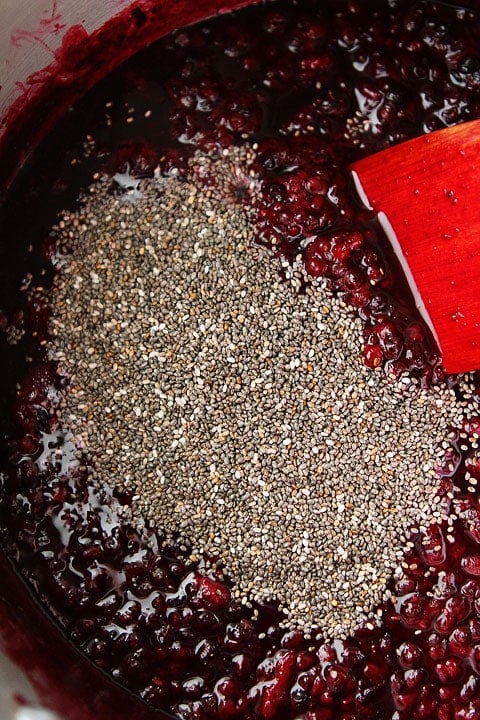 Our house in Illinois was surrounded by wild blackberries. Every summer we would pick buckets and buckets of blackberries. My brother, sister, and I sold them on the road side to make a little spending money, but we made sure we saved some for ourselves too. We used to make blackberry pie, cobbler, jam, and eat them by the handful. Homemade blackberry jam was always my favorite. I miss the days of wild blackberries and homemade blackberry jam.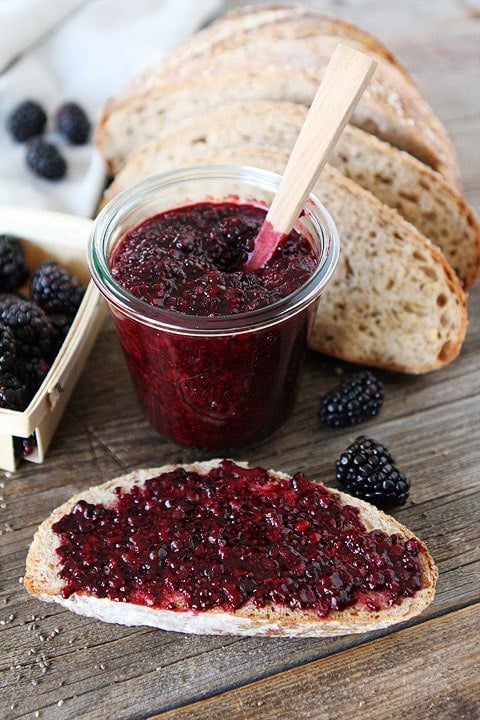 Well, my homemade blackberry jam days are back because this chia seed jam couldn't be any easier to make. I am not a canner and haven't made jam in years, but I promise this jam is super simple to make. If you don't think you are a jam maker, think again. You can have homemade jam in 20 minutes and it is SO good! Plus, I love the added health benefits from the chia seeds.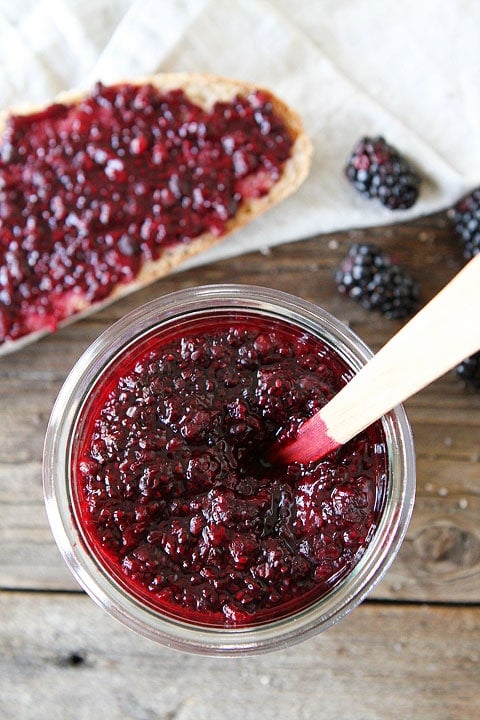 You can use fresh or frozen blackberries. Heat the berries over the stove, mash them up, and add maple syrup and the chia seeds. The chia seeds thicken the jam in minutes! I like to stir in a little vanilla extract for flavor. That is it! Pour the jam in a glass jar and keep it in the fridge for up to 2 weeks. The jam is great on toast, pancakes, waffles, stirred into oatmeal, yogurt, ice cream, or for the classic PB&J!
If you want to feel domestic and productive, make a batch of Blackberry Chia Seed Jam. It will only take you 20 minutes, but everyone will be super impressed with your homemade jam making skills. This jam makes a great gift too, if you can part with it. I suggest making a few batches:)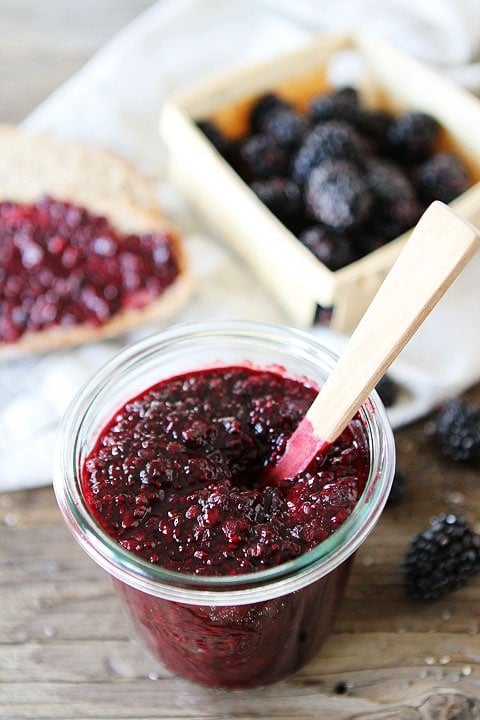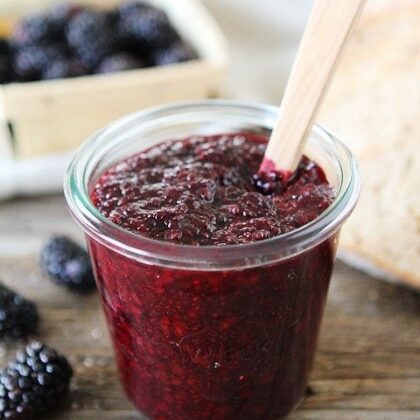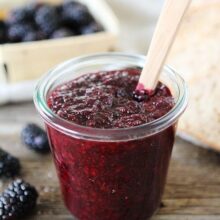 Blackberry Chia Seed Jam
A batch of Blackberry Chia Seed jam only takes 20 minutes to make and tastes amazing! This will be your new favorite jam recipe!
Ingredients
1

lb

blackberries

I used frozen berries

2-3

tablespoons

pure maple syrup

depending on how sweet you like your jam

3

tablespoons

chia seeds

1/2

teaspoon

vanilla extract
Instructions
In a medium-sized pot, bring the blackberries to a low boil, stirring frequently. Reduce heat to low and simmer until the berries soften, about 5 minutes. Lightly mash the blackberries with a potato masher or fork. Leave some berries in chunks for texture.

Stir in the maple syrup and chia seeds. Cook the jam on low until it thickens, about 5-7 minutes. Make sure you stir the jam so it doesn't sitck.

Remove the jam from heat and stir in the vanilla extract. Let jam cool to room temperature. Pour in a glass jar or air-tight container and store in the refrigerator. The jam will keep in the fridge for up to 2 weeks.

Note-you can sweeten the jam with honey, agave, or another sweetener if you wish. You can find chia seeds at most grocery stores. We buy them in bulk from Whole Foods. You can freeze the jam in an air-tight container.
Have you tried this recipe?
Leave a comment below and share a photo on Instagram. Tag @twopeasandpod and hashtag it with #twopeasandtheirpod