Blueberry Coffee Cake-this moist coffee cake is loaded with plump blueberries and topped off with a sweet streusel topping. It is great for breakfast or dessert!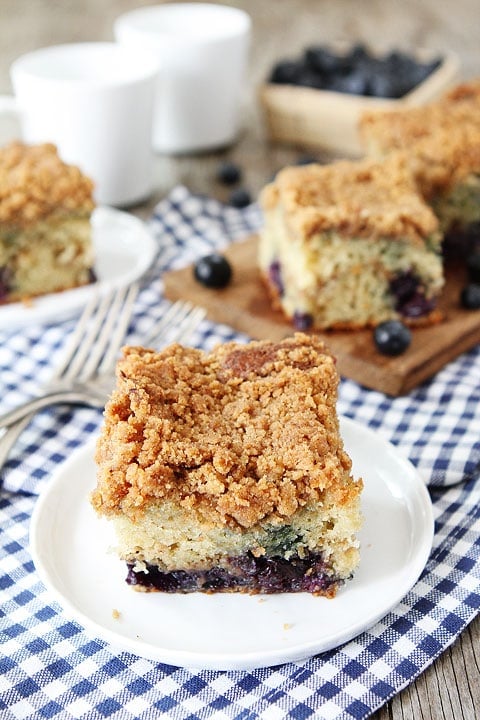 The Best Coffee Cake
I am so happy blueberries are back in season and finally a reasonable price. Our grocery bill was suffering because of Caleb's blueberry addiction. He eats blueberries by the handfuls. I am glad I can buy a big container that doesn't hurt our bank account. And since blueberries have been on sale lately, I have even buying extra blueberries to bake with. I don't dare steal from Caleb's stash, I buy my own. He is pretty protective of his blueberries:)
I used my beautiful blueberries to make a Blueberry Coffee Cake. I love coffee cake and this one is extra special because of the plump blueberries inside. It the perfect coffee cake for summertime!
How to Make Blueberry Coffee Cake
I really don't know why coffee cake is called coffee cake because there is no coffee involved. I am guessing maybe because people like to eat coffee cake with their coffee? Anyone know the history behind this delicious cake? I don't know how coffee cake got it's name, but that didn't stop me from baking a Blueberry Coffee Cake.
This cake is not complicated. You probably have all of the ingredients in your kitchen right now…as long as you have blueberries. If you don't, hurry to the store, they are probably on sale! If they aren't and you don't want to splurge, frozen blueberries will work too!
The cake is moist, tender and dotted with plump juicy blueberries. The cinnamon streusel topping is really the icing on the cake. Who needs icing when you have a crunchy streusel topping? I am such a sucker for streusel.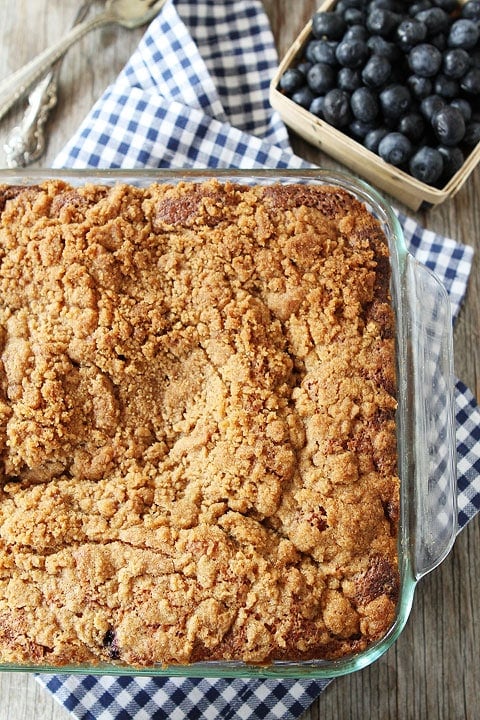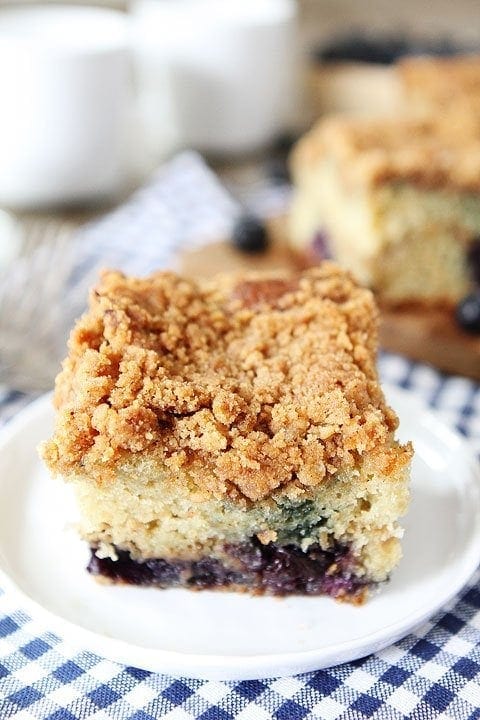 Blueberry Surprise
I made this cake on a Sunday morning and we enjoyed it for breakfast. Caleb was thrilled we were having cake for breakfast and he was even more excited when he discovered there were blueberries inside. It was a good morning!
Take advantage of blueberry season and make this delightful Blueberry Coffee Cake. It is great for breakfast, dessert…or anytime of the day! I might have snuck a second piece as an afternoon snack:) And if you are looking for something special to make for your 4th of July breakfast, I highly recommend this Blueberry Coffee Cake! It is the perfect way to celebrate the holiday!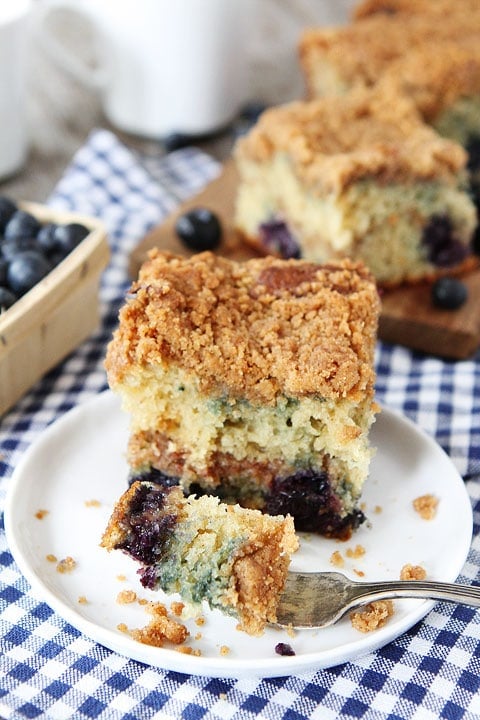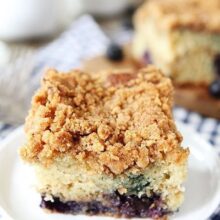 Blueberry Coffee Cake
This blueberry coffee cake is a favorite at our house. It is great for breakfast or dessert!
Ingredients
Streusel Filling and Topping:
Instructions
Preheat the oven to 350°F. Grease an 8-inch square baking pan and set aside.

In a medium bowl, whisk together the flour, baking powder, baking soda, salt, and cinnamon. Set aside.

In a small bowl, combine granulated sugar and lemon zest. Rub together with your fingers until fragrant. Using an stand mixer, cream together the butter and sugar mixture until fluffy, about 3 minutes. Add in the eggs, one at a time, beat until smooth. Beat in the vanilla extract and Greek yogurt. Mix until well combined.

Slowly add in the dry ingredients. Mix until just combined. Gently fold in the blueberries.

To make the streusel topping and filling, place the flour, brown sugar, and cinnamon in a medium bowl and stir well with a wooden spoon. Work the butter into the mixture with your fingertips until evenly distributed.

Pour half of the coffee cake batter into the prepared cake pan, the batter will be thick. Sprinkle half of the streusel topping/filling over the cake batter. Spoon the remaining batter over the filling, spreading gently. Sprinkle with the remaining streusel.

Bake until golden and a toothpick inserted in the center comes out clean, about 45 minutes. Cool to room temperature. Cut into squares and serve.

Note-you can replace the Greek yogurt with sour cream, if desired. Fresh or frozen blueberries work well in this recipe.
Have you tried this recipe?
Leave a comment below and share a photo on Instagram. Tag @twopeasandpod and hashtag it with #twopeasandtheirpod