I have always been a grapefruit lover. My grandpa lives in Arizona and used to send us big boxes of grapefruit. They were the best! My grandpa kept sending me boxes until I graduated college, so not only do I love eating grapefruit, but they also remind me of my grandpa. I love how food intertwines with special people, events, and memories.
Last week we bought a ton of grapefruit-it was on sale 8 for $1.00. I made a pink grapefruit yogurt cake, but still had grapefruit to use up. I love eating them plain, I peel grapefruit like an orange-it is easier to eat that way:) I wanted to try something new though, so I broiled a grapefruit for a special mid morning snack.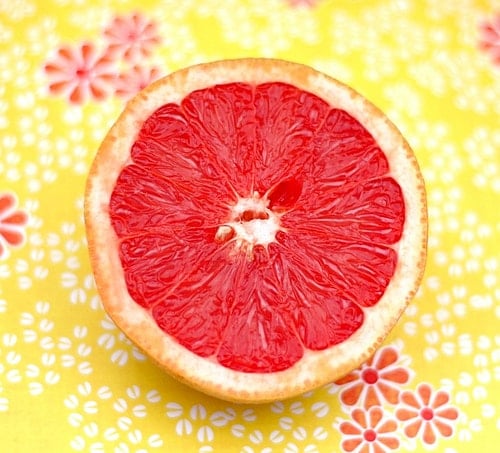 I cut the grapefruit in half and drizzled the tops with a little bit of agave nectar. I also sprinkled on some turbinado sugar. I placed the grapefruit halves under the broiler for a couple of minutes, until the sugars crystallized.
I normally don't put sugar on my grapefruit, so this was a special treat. I loved the sugary crust on top. I was worried I wouldn't like the grapefruit warm, but it was actually quite enjoyable. I gave one of the halves to Josh and he enjoyed it too! If you are looking for a new way to enjoy your grapefruit, give broiled grapefruit a try.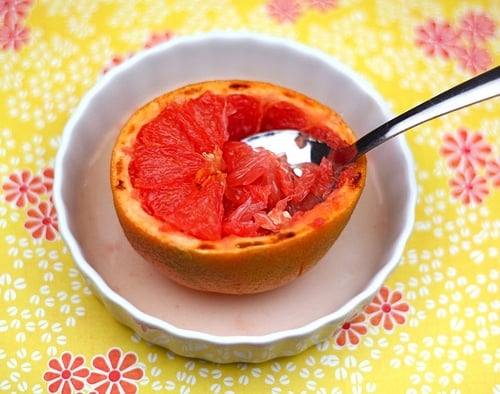 Broiled Grapefruit
Ingredients
1

large pink grapefruit

cut in half

Drizzle of agave nectar

Sprinkling of turbinado sugar
Instructions
1. Turn on the oven broiler. I set mine at high temperature.

2. Using a pairing knife, cut all the way around the grapefruit and between the fruit and the rind. Try not to cut all the way through the bottom rind, you want to keep the juices. Drizzle agave nectar lightly over the grapefruit halves. Sprinkle with turbinado sugar.

3. Place the grapefruit halves on a baking sheet. Put in the oven, under the broiler for 2-3 minutes, just until the sugar is bubbling and crystallized.

4. Serve warm.

*Note-you can use honey instead of agave or brown sugar instead of turbinado sugar.*
Have you tried this recipe?
Leave a comment below and share a photo on Instagram. Tag @twopeasandpod and hashtag it with #twopeasandtheirpod