Brown Butter Toffee Milkshake-the brown butter takes this toffee milkshake to a whole new level!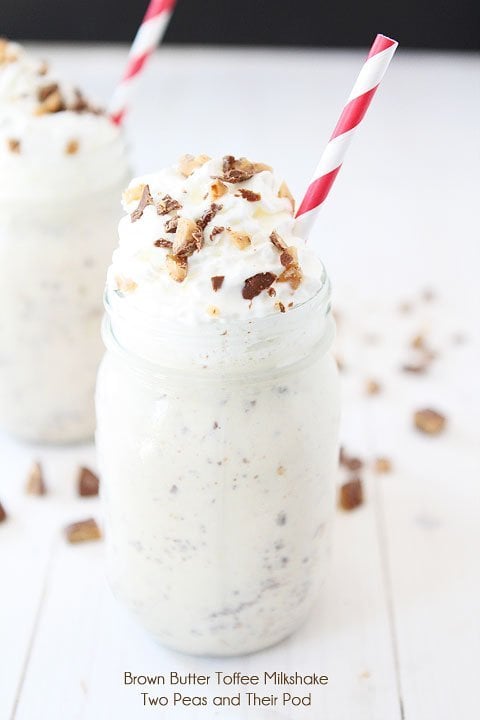 It's the last week of National Ice Cream Month and we are going out with a bang! We made Brown Butter Toffee Milkshakes and you need to make them too! Yes, we added BUTTER to a milkshake. Not just any butter, but brown butter. I am telling you, it takes this toffee milkshake to good to the best milkshake that has ever touched my lips! I am seriously in love with this shake!
When I told Josh my idea to add brown butter to a toffee milkshake he said ok, but I could tell he was skeptical. I am sure he just thought it was another pregnancy craving:) Well, we made the shake and guess who kept wanting more sips? Yep, Josh LOVED my milkshake creation! Never doubt a pregnant lady:)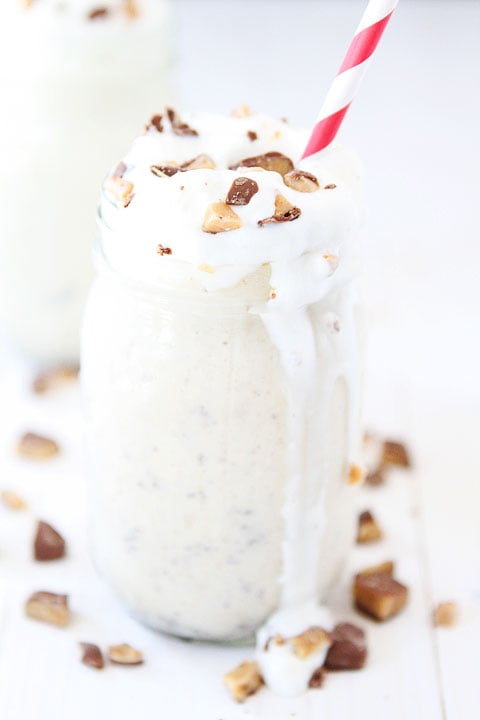 The brown butter adds the most amazing flavor to the shake and it compliments the toffee perfectly! Just make sure you cool the brown butter to room temperature before adding it to your shake. Otherwise, your shake will melt super fast.
We topped the shake with whipped cream and extra toffee chunks. We sipped away until we sucked the shake dry! It was a sad day when the shake was all gone!
We will definitely be making Brown Butter Toffee Milkshakes again…and soon! This milkshake is the perfect summer treat!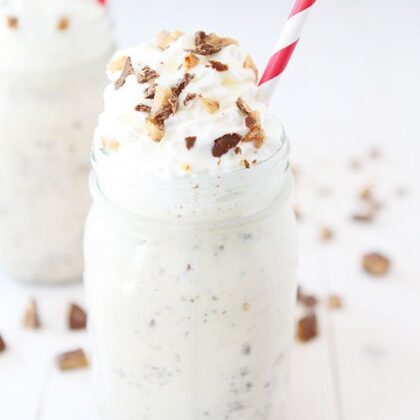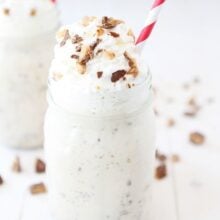 Brown Butter Toffee Milkshake
The brown butter makes this milkshake an extra special treat!
Ingredients
Instructions
1. In a small saucepan, melt the butter over medium-low heat and continue to cook, swirling occasionally, until butter turns golden brown and has a nutty aroma. Remove from heat. Pour into a bowl to stop the cooking, leaving any burned sediment behind; let cool completely.

2. In blender combine the vanilla ice cream, milk, toffee and cooled brown butter. Blend until smooth. Pour into glass and garnish with whipped cream and toffee, if desired. Serve immediately.
Have you tried this recipe?
Leave a comment below and share a photo on Instagram. Tag @twopeasandpod and hashtag it with #twopeasandtheirpod
Disclosure: This post is in partnership with the Dairy Council of Utah, but all of our opinions are our own. "For more dairy & nutrition information visit: www.dairyutnv.com and to get to know more about your local dairy farmers visit www.thecowlocale.com."