Bunny Tails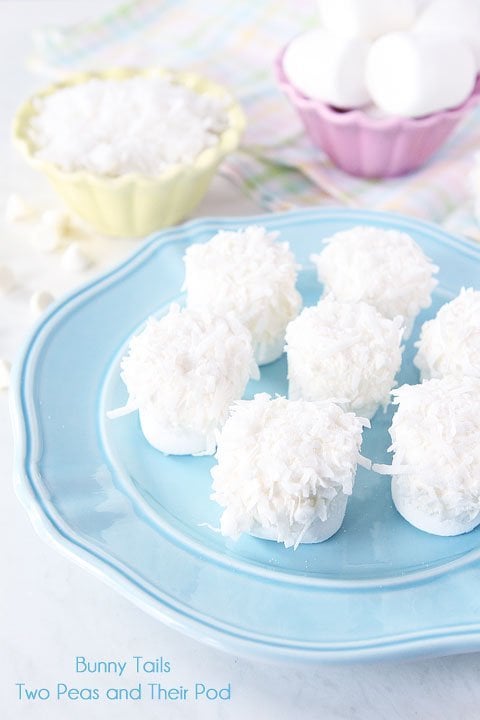 Easter has always been one of my favorite holidays. Dying eggs, baskets, candy, Easter dresses, bonnets…what's not to love? We used to dye eggs every year. My sister is the artistic one in our family and would make the prettiest eggs. Mine never turned out so great so I would always have her finish my eggs. I would try to take the credit, but I am not a very good liar:)
We used to make Bunny Tails every year too. These were my favorite because even I could make them look good. You don't need to be an artist to make Bunny Tails. They are easy to make and so stinkin' cute!

OTHER RECIPES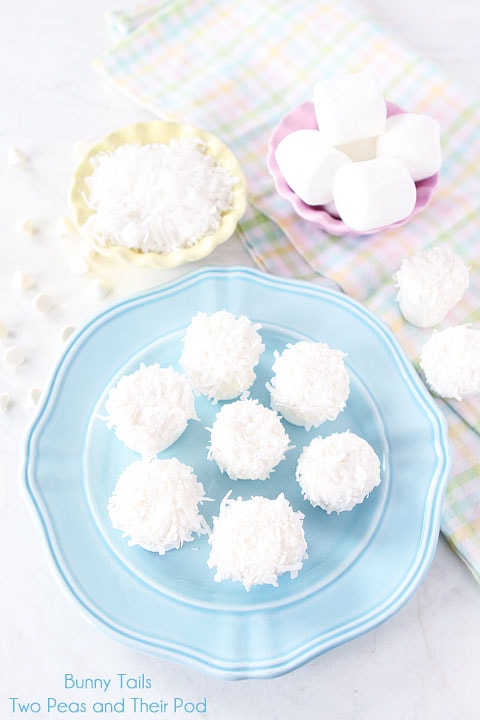 To make Bunny Tails you only need three ingredients-marshmallows, white chocolate, and coconut. I told you they were easy! And of course they taste good too! You can't go wrong with combining sugar, chocolate, and coconut.
All you have to do to make a Bunny Tail is dip the marshmallows in melted white chocolate and sprinkle them with coconut. Let them dry and you are good to go!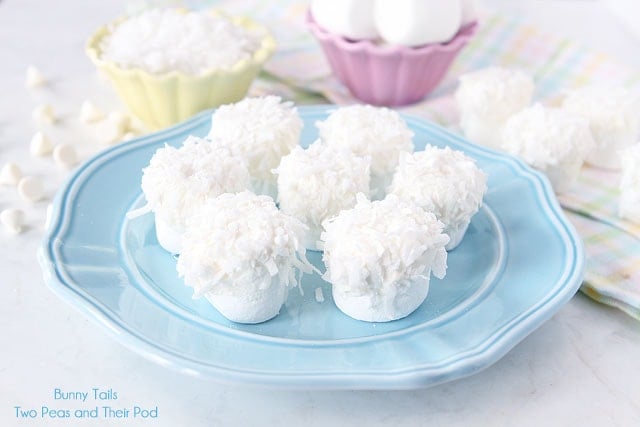 Bunny Tails are so fun to make with the kiddos. I tried to have Caleb help me, but he got distracted. Caleb and Josh (my other child) started playing catch with the marshmallows. Caleb thought they were balls:) Marshmallows were flying everywhere! I guess they the boys didn't appreciate the cute little bunny tails. Where was my sister when I needed her? 🙂
Set aside some time to make Bunny Tails for Easter this year! They are a fun and easy treat! You can package them up and add these cute and free Bunny Tail tags and give them as gifts. They would also be a great addition to an Easter basket!
These Bunny Tails are adorable. I think Peter Rabbit will even be jealous of these bushy bunny tails! 🙂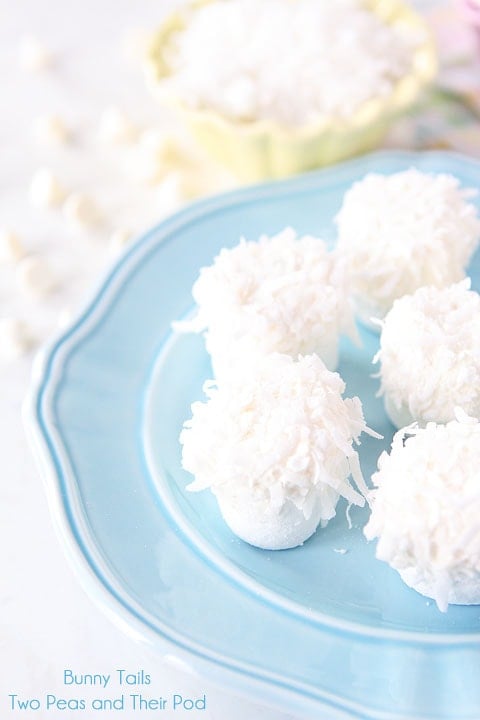 Bunny Tails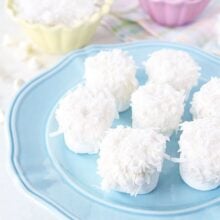 Only 3 ingredients are needed to make these fun and delicious bunny tails-marshmallows, white chocolate, and coconut!
Yield: 12 bunny tails
Prep Time: 10 minutes
Total Time: 10 minutes
Ingredients:
12 Large marshmallows
1 cup white chocolate chips, melted
1 cup sweetened coconut flakes
Directions:
Dip half of a marshmallow into the melted white chocolate. Sprinkle coconut over the chocolate. Place the marshmallow chocolate side up to dry.
Note-bunny tails can be stored in an air-tight container for 3-4 days.
All images and text ©
.
Follow twopeasandpod on Instagram and show us what recipes you are making from our blog! Use the hashtag #twopeasandtheirpod! We want to see what you are making in your kitchen!