Butternut Squash, Sausage, and Kale Gnocchi
Butternut Squash, Sausage, and Kale Gnocchi-gnocchi with roasted butternut squash, sausage, kale, dried cranberries, rosemary, and Parmigiano Reggiano cheese. The perfect fall meal!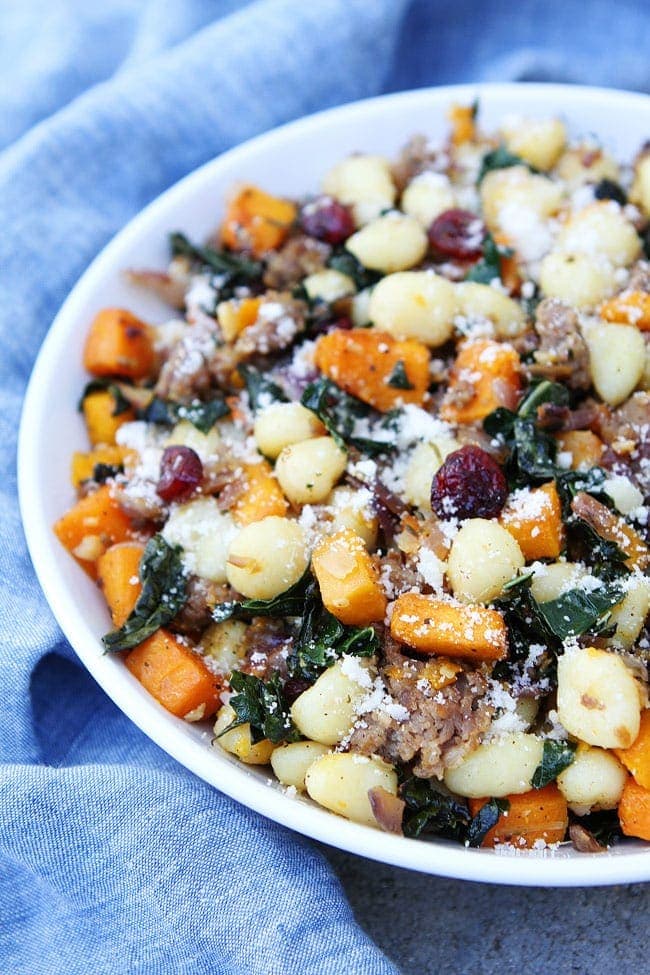 This post is sponsored by DeLallo. 
Are you looking for an easy fall meal that will impress your family, friends, and even yourself? Then, you have to try this Butternut Squash, Sausage, and Kale Gnocchi recipe. It is super easy to make and has all of the BEST fall flavors in one dish!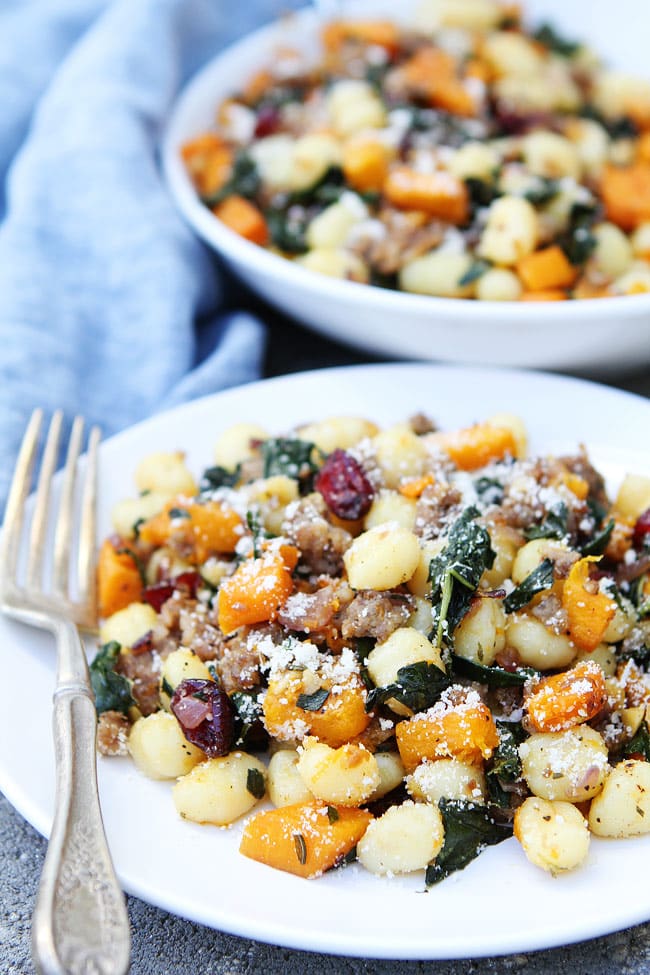 If I want our boys to eat a good dinner without any complaining or whining, I know I can always count on DeLallo's gnocchi. They LOVE it and I love it because it is so easy! For this recipe, I used DeLallo's mini gnocchi. The mini gnocchi is the perfect size for our little guys and it is so cute!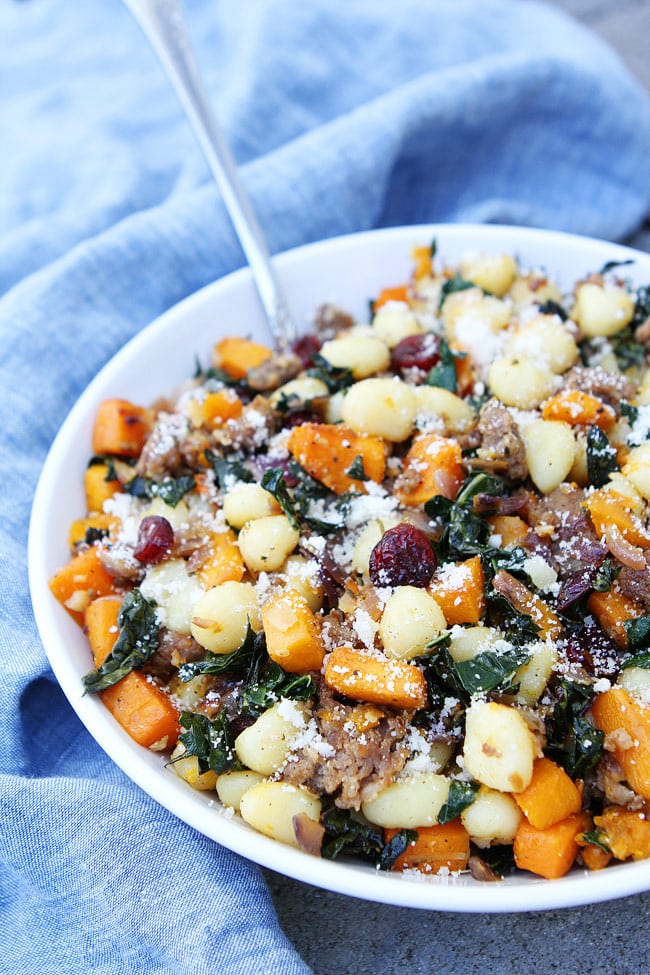 Sausage is another winner with our boys, so I used sausage in this gnocchi dish. I also added in roasted butternut squash, red onion, kale, garlic, rosemary, dried cranberries, and Parmigiano Reggiano cheese. There are lots of fabulous fall flavors going on and the colors are beautiful too! Fall comfort food at it's finest…and easiest!
Our boys love this Butternut Squash, Sausage, and Kale Gnocchi and I think you will love it too! It is a great quick and easy fall meal. Make it today!
Butternut Squash, Sausage, and Kale Gnocchi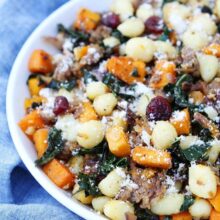 This easy gnocchi dish is perfect for fall!
Yield: Serves 4-6
Prep Time: 10 miutes
Cook Time: 40 mintues
Total Time: 50 minutes
Ingredients:
1 small butternut squash, peeled, seeded and cut into 1/2-inch cubes (about 2 cups)
2 tablespoons olive oil, divided
Kosher salt and black pepper, to taste
1 lb DeLallo Potato Gnocchi (mini or regular)
1/3 cup diced red onion
8 oz loose Italian sausage
3 cups finely chopped kale, ribs removed
3 cloves garlic, minced
1 teaspoon finely chopped fresh rosemary
1/3 cup dried cranberries
1/3 cup grated Parmigiano Reggiano
Directions:
Preheat oven to 400 degrees F. Place butternut squash on a large baking sheet and drizzle with 1 tablespoon of the olive oil. Season with salt and pepper, to taste. Place in the oven and roast until butternut squash is tender, about 25 minutes. Remove from oven and set aside.
Meanwhile, bring a large pot of water to a boil and cook the gnocchi according to the package directions. Drain the gnocchi and set aside.
Heat the remaining 1 tablespoon of olive oil in a large skillet over medium heat. Add the onion and cook until softened, about 3 minutes. Add the sausage and cook, crumbling it with a spoon, until browned, 5 to 7 minutes. Stir in the kale, garlic, rosemary, and dried cranberries. Cook until the kale is wilted, about 4-5 minutes. Add the butternut squash and drained gnocchi. Finish with grated Parmigiano Reggiano cheese, season with salt and pepper, and serve immediately.
Note-if you need the dish to be gluten free, use DeLallo's gluten-free gnocchi.
All images and text ©
.
Follow twopeasandpod on Instagram and show us what recipes you are making from our blog! Use the hashtag #twopeasandtheirpod! We want to see what you are making in your kitchen!
This post is sponsored by DeLallo, but our opinions are our own. Thank you for supporting the brands that continue to make Two Peas and Their Pod possible.