Cherry Almond Streusel Muffins
Cherry Almond Streusel Muffins-cherry muffins with an almond streusel topping and sweet almond glaze! 
This post is sponsored by Blue Diamond Almonds.
It is Wednesday, right? My week is all messed up because of the holiday. I am having a hard time getting back into the swing of things. It still feels like Monday. But, hey, hey it's Wednesday! That is great news! We are half way through the week! YAY! And it is JUNE! Crazy!
I am ready for another weekend so I can make Cherry Almond Streusel Muffins. I love baking up something special on the weekends and these muffins are VERY special!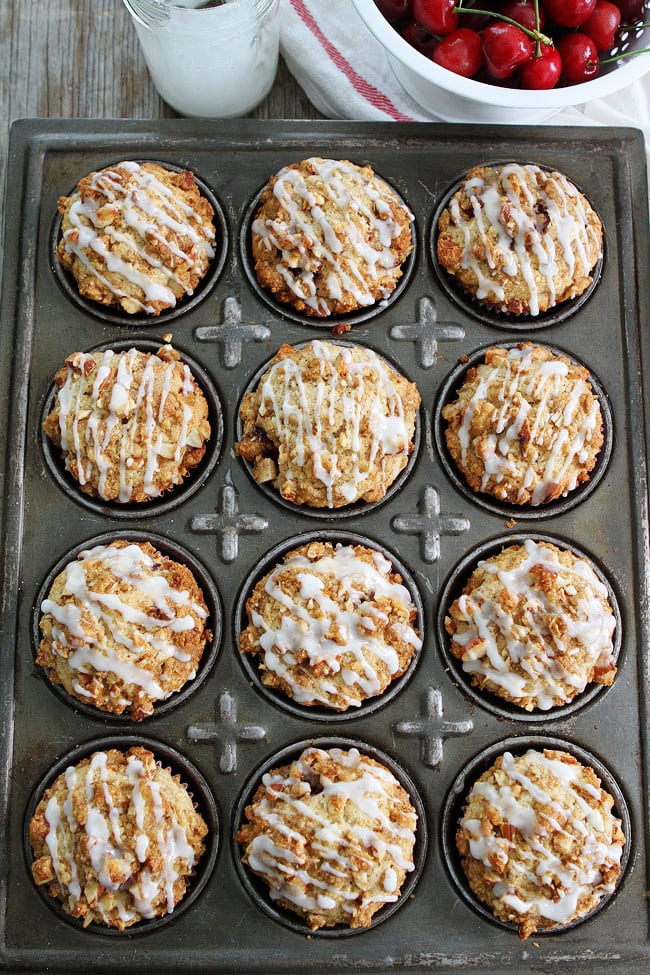 My boys love muffins so I usually bake up a batch every weekend. I am always creating new muffin recipes so the boys don't get bored…and so I can play around in the kitchen:)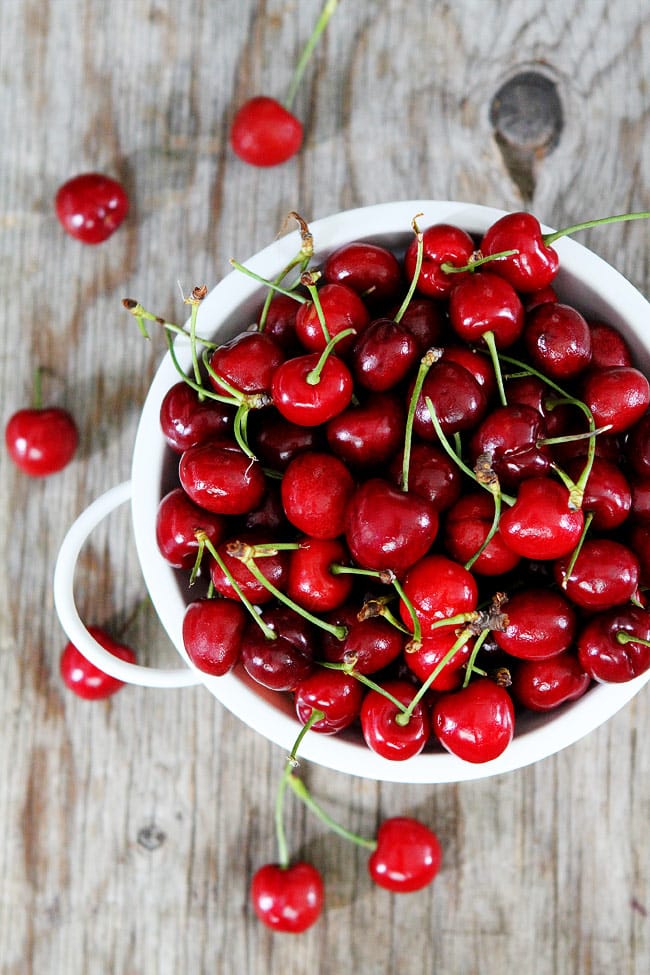 This beautiful bowl of cherries was my inspiration for these muffins! I snacked on a few, but decided they belonged in muffins.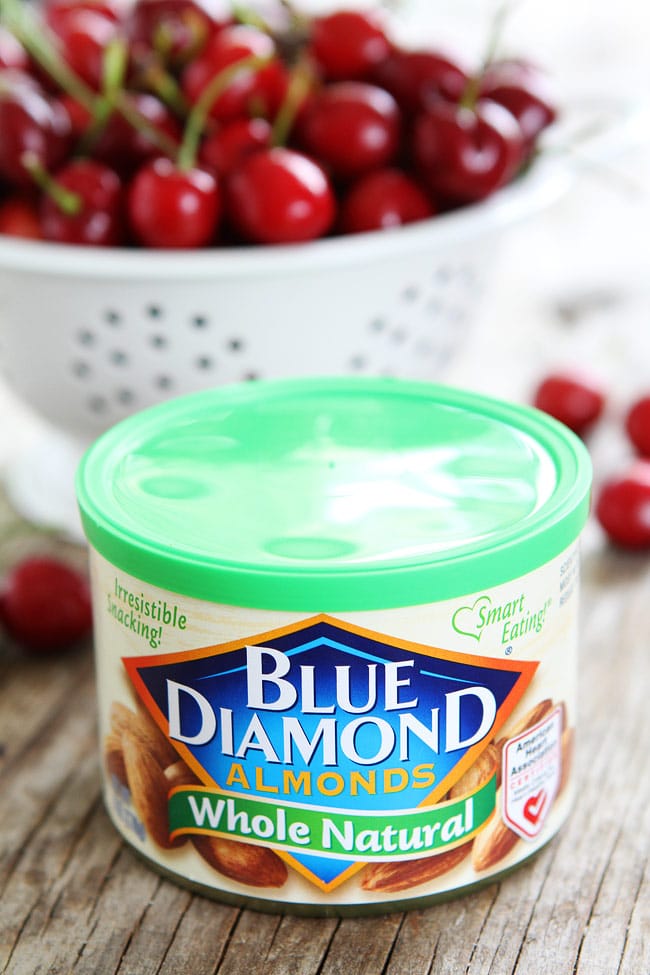 I love cherry and almonds together so I chopped up Blue Diamond Whole Natural Almonds to mix into the muffins. I also used almond extract and created a killer almond streusel topping.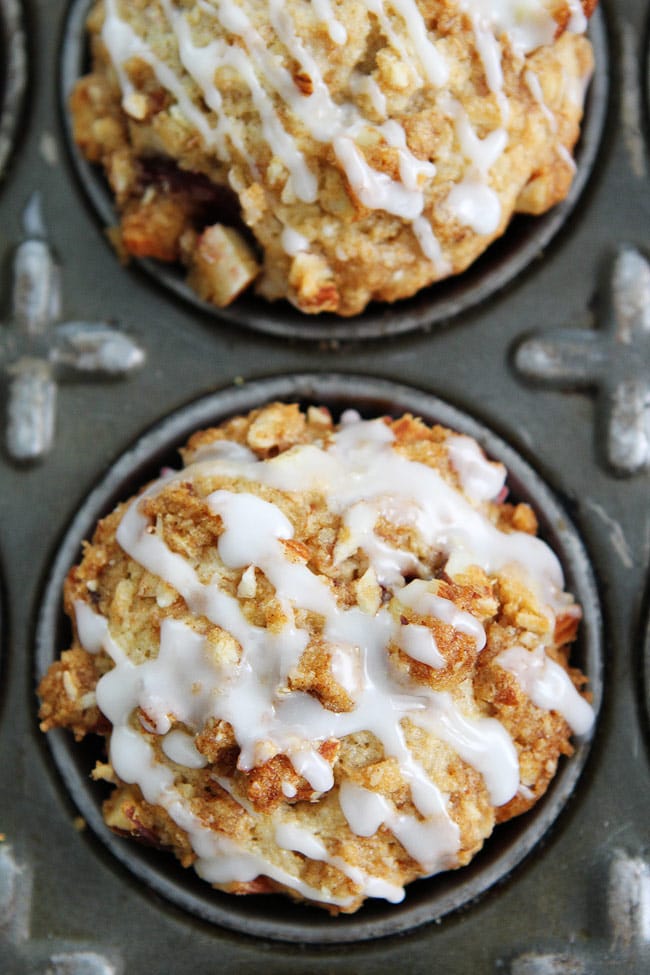 I was going to stop there, but Caleb asked if I could make a frosting for the muffins. I told him muffins don't typically have frosting and he got the biggest frown on his face so I told him I would whisk up a special almond glaze. He was all smiles!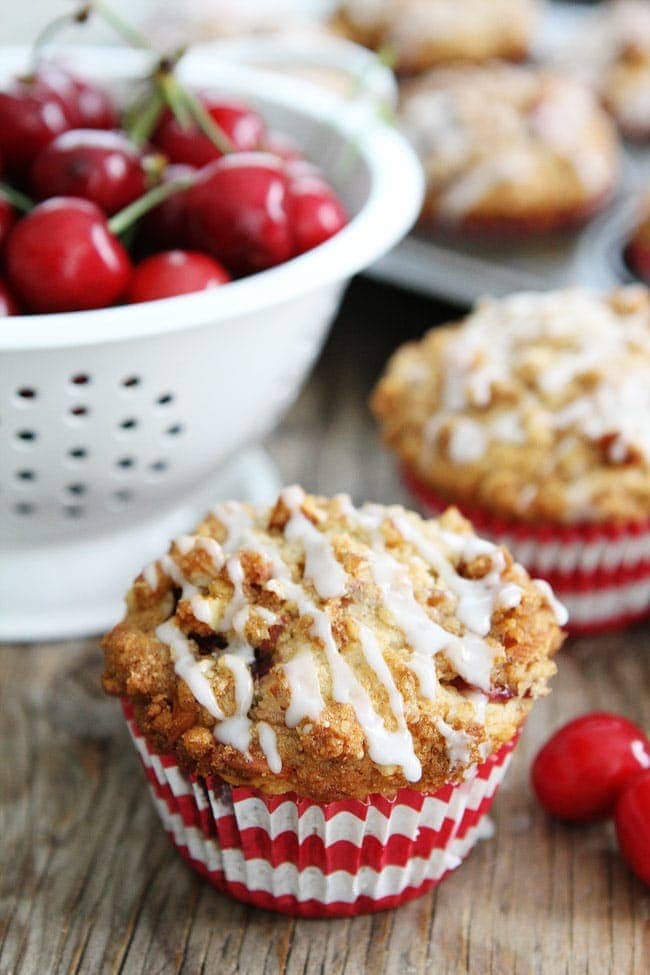 The almond glaze was the perfect finishing touch! Caleb is a smart boy:)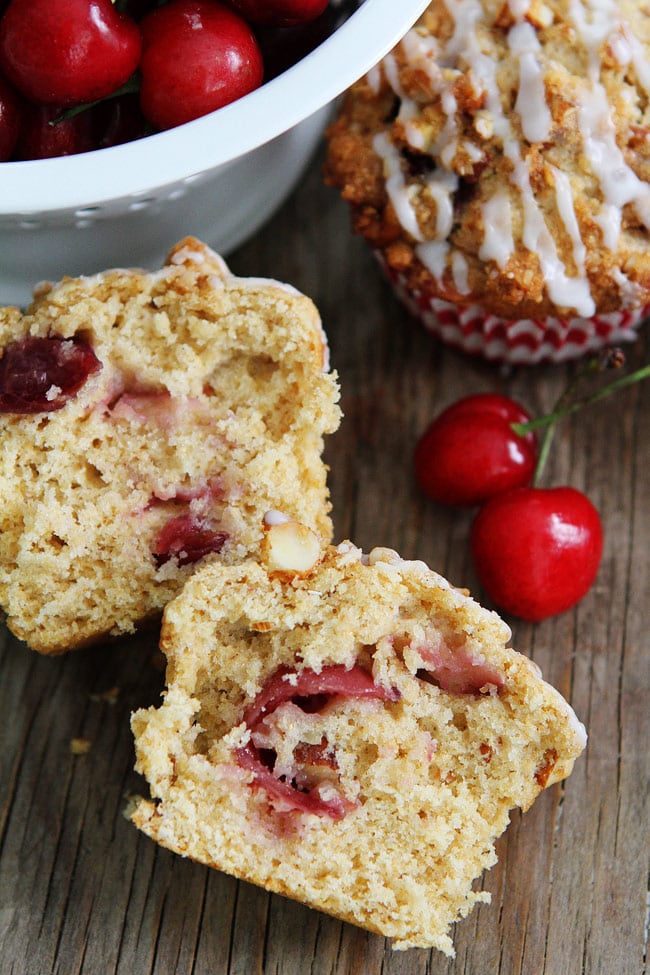 The muffins are soft, tender, with juicy cherries and almonds on the inside. The almond streusel topping and almond glaze take the muffins from good to GREAT. These are the kind of muffins you will dream about for days.
Pick up some fresh cherries and make Cherry Almond Streusel Muffins this weekend. We are almost there! And if you can't wait until the weekend, you can make them right now. I don't know if I can wait either:)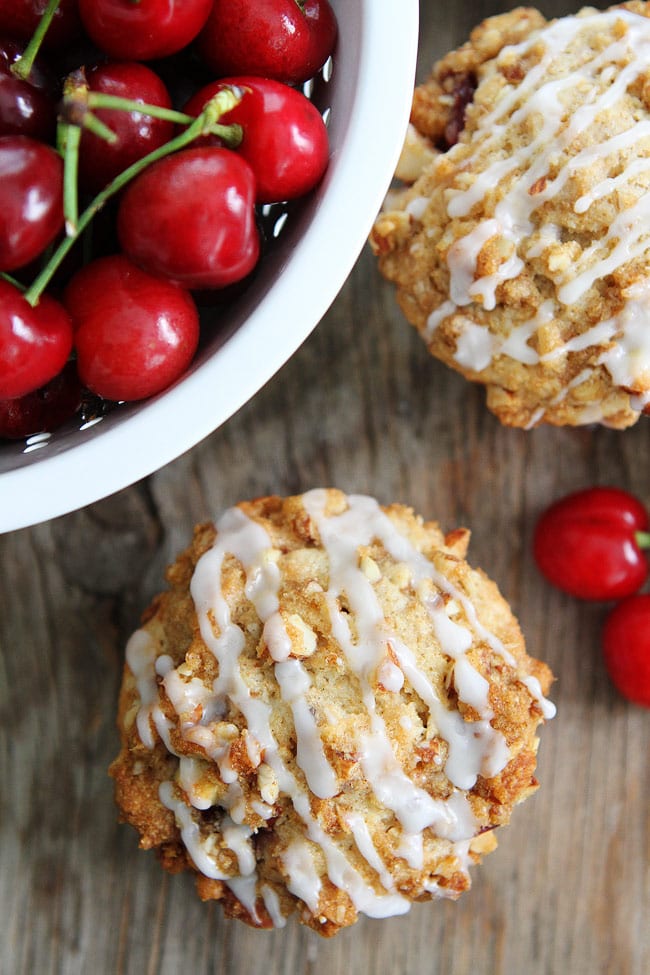 Cherry Almond Streusel Muffins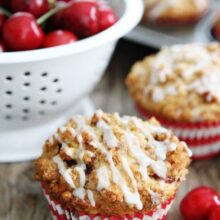 The BEST cherry muffins you will ever eat. They are perfect for breakfast or brunch!
Yield: 12 muffins
Prep Time: 15 minutes
Cook Time: 22-24 minutes
Total Time: 40 minutes
Ingredients:
For the muffins:
2 cups white whole wheat flour or all-purpose flour
1 1/2 teaspoons baking powder
1/2 teaspoon salt
1/2 cup unsalted butter, at room temperature
1 cup granulated sugar
2 large eggs, at room temperature
1 teaspoon vanilla extract
1 teaspoon almond extract
1/2 cup vanilla almond milk
1/3 cup chopped Blue Diamond Whole Natural Almonds
1 cup fresh cherries, pits removed and halved
For the almond streusel topping:
1/2 cup chopped Blue Diamond Whole Natrual Almonds
1/4 cup packed brown sugar
2 tablspoons white whole wheat flour or all-purpose flour
1/2 teaspoon ground cinnamon
2 tablespoons cold unsalted butter
For the almond glaze:
1 cup powdered sugar
3 tablespoons vanilla almond milk
1/4 teaspoon almond extract
Directions:
Preheat oven to 350 degrees F. Lightly grease a muffin tin with nonstick cooking spray or line with paper muffin liners.
In a small bowl, whisk together flour, baking powder and salt. Set aside.
In the bowl of a stand mixer, beat butter and sugar together until light and fluffy. Add eggs, vanilla, almond extract, and almond milk. Mix until combined. Add flour mixture and mix on low until just combined. Gently stir in the almonds and cherries.
In a small bowl, combine the almonds, brown sugar, flour, cinnamon, and butter. Mix together with your hands until crumbly.
Divide batter evenly into muffin cups. Sprinkle muffins with the almond streusel topping. Bake for 22 to 24 minutes, or until a toothpick inserted into the center comes out clean. Remove from oven and let muffins cool on a wire rack.
While the muffins are cooling, make the almond glaze. In a small bowl, whisk together the powdered sugar, milk, and almond extract. Drizzle the glaze over the muffins and serve!
Note-muffins will keep in an airtight container on the counter for up to 2 days. You can freeze the muffins for up to 1 month, but don't freeze with the glaze. Thaw the muffins and then add the glaze.
All images and text ©
Two Peas & Their Pod
.
Follow twopeasandpod on Instagram and show us what recipes you are making from our blog! Use the hashtag #twopeasandtheirpod! We want to see what you are making in your kitchen!