Chocolate Chip Cookie Bars
Chocolate Chip Cookie Bars-chocolate chip cookies are made in ONE pan! These easy cookie bars are a family favorite dessert!
Chocolate Chip Cookies Made in ONE Pan
Chocolate chip cookies are my favorite dessert. You can't beat a chocolate chip cookie, unless the chocolate chip cookies are made in ONE pan. Have you made Chocolate Chip Cookie BARS? If you like chocolate chip cookies, you are going to LOVE chocolate chip cookie bars because they are SO easy to make. You press all of the chocolate chip cookie dough into one pan. You don't have to scoop the dough into individual cookies and bake pan after pan, you just put the one pan in the oven and voila, chocolate chip cookie bars magically come out of the oven.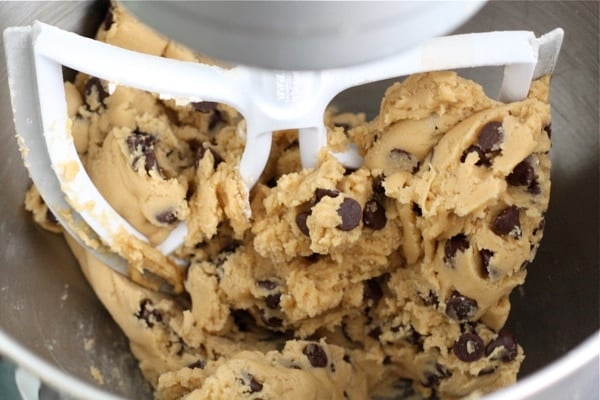 How to Make Chocolate Chip Cookie Bars
The cookie dough is easy to make, you should have all of the ingredients at home.
For this cookie bar recipe, you melt the butter so you don't have to wait for the butter to soften at room temperature, which is nice. You just melt the butter in a pan on the stovetop or in the microwave.
Use more brown sugar than regular sugar for a chewy cookie bar. Make sure you pack the brown sugar in the cup.
I use one large egg and one large egg yolk. The egg yolk makes the bars extra chewy.
 Feel free to use whatever chocolate chips you like. I usually use semi-sweet chocolate chips, but I have made them with milk chocolate chips and white chocolate chips. If you are a butterscotch lover, feel free to throw those in as well.
I love that you don't have to form the cookies into dough balls, you just press the cookie dough right into a greased 9×13 pan, the joy of bar treats.
Before baking, I like to sprinkle the cookie bars with flaked sea salt. I love the hint of sea salt in my cookies.
The chocolate chip cookie bars bake up in about 30 minutes. They are done when the cookie bars are golden brown and the edges are puffed against the side of the pan.
Let the bars cool completely before cutting them into squares.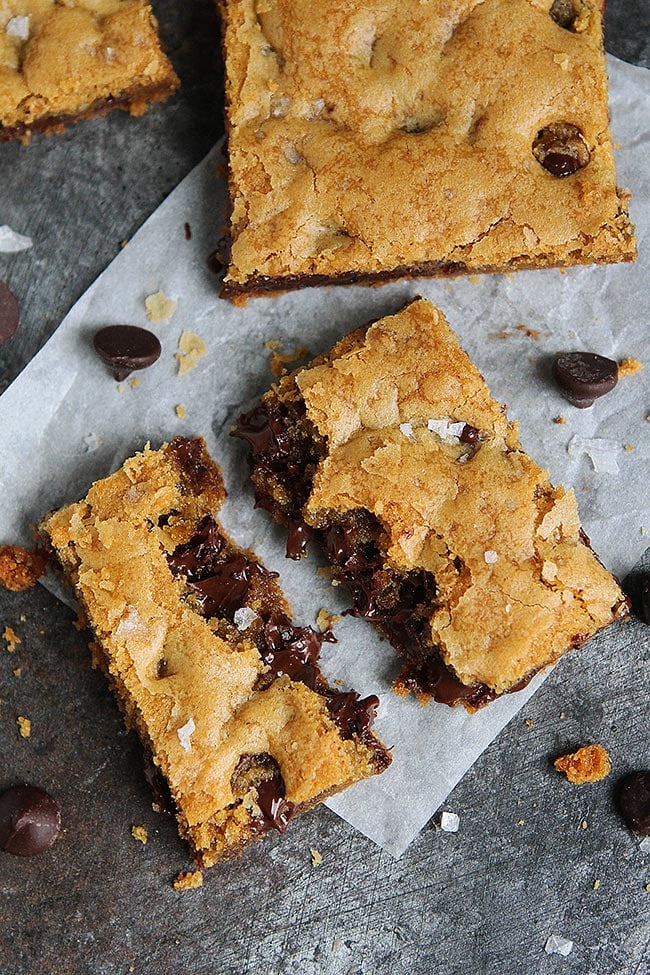 Family Favorite Dessert
I've been making these bars since I was a kid. My brother, sister, and I liked to whip these up when we were allowed to make a mess in the kitchen. I was craving them the other day and made them for my boys. They love them just as much as I do. They are the perfect dessert for any occasion. They are perfect for taking to a party or potluck because the pan of cookies is easy to transport and everyone LOVES them. They are also good served warm with a big scoop of vanilla ice cream.
If you are a chocolate chip cookie fan, you will love these chocolate chip cookie bars. The bars are thick, chewy, and loaded with chocolate chips. Our family loves them and I am sure yours will too.
If you like these Chocolate Chip Cookie Bars, check out: