The Oscars are on Sunday and I can't wait. We don't have a party, but we always tune in. I love checking out the fashion and finding out what movies are must sees. We usually try and watch most of the movies before the Oscars, but going to the theatre is a rare occasion these days. Caleb doesn't like to sit still for movies-only Despicable Me:) We have seen Les Miserables and Argo and loved them both.
If you are having an Oscar party and need an easy treat to munch on while you watch the show, make Chocolate Coconut Chex Mix. I know we will be snacking away!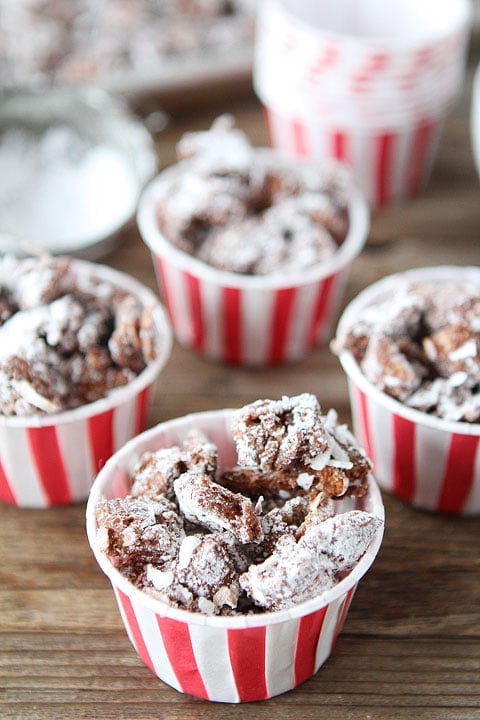 I love Muddy Buddies (Puppy Chow) but Josh can't eat it because he is allergic to peanut butter. So I always make him Chocolate Coconut Chex Mix. I was kind of hoping I wouldn't like it the first time I made it, but unfortunately it is just as addicting as Muddy Buddies. One bite and I am a goner. I can never keep my hands out of it!
And don't try to lie if someone accuses you of eating all of the Chocolate Coconut Chex Mix. Josh asked me if I started eating the treat I made for him and I said Noooooo, but he caught me. I had powdered sugar all over my face and hands-oops:)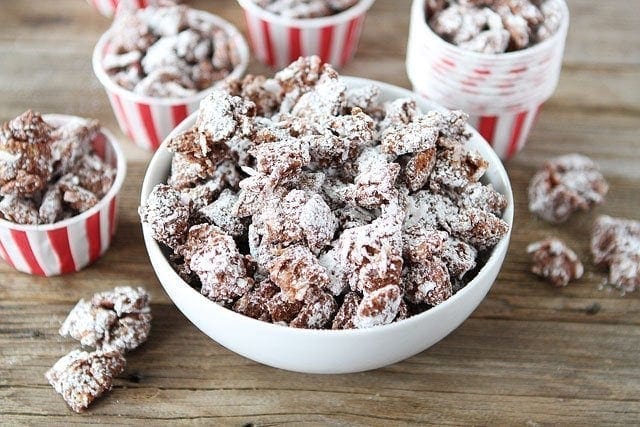 This recipe is super simple to make. All you have to do is melt chocolate chips, add a little coconut extract to the melted chocolate, and pour the chocolate over Chex cereal. Stir in coconut and make sure the cereal is evenly coated with chocolate and coconut. Pour the Chex mix onto two large baking sheets and cover with powdered sugar.
We usually use Rice Chex for this recipe, but Corn Chex would also work. Use whatever you have in your cupboard. Our cupboard is always stocked with all kinds of Chex. I think we have over 100 boxes of Chex cereal in our cereal storage right now. It was on sale and we never pass up a cereal deal. We love Chex, especially in sugary dessert form:)
Make a batch of Chocolate Coconut Chex Mix and turn on the Oscars this Sunday! And if you didn't see any of the movies, don't worry. You can always rent them later. Movie marathon nights are always fun, just don't forget the Chocolate Coconut Chex Mix. It's always a good snack to have around.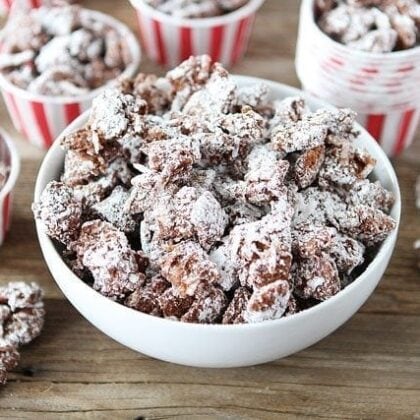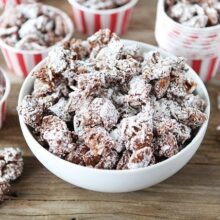 Chocolate Coconut Chex Mix
Chex cereal coated with chocolate, coconut, and powdered sugar. This snack is easy to make and too easy to eat!
Ingredients
9

cups

Rice Chex cereal

Corn Chex will work too

3

cups

chocolate chips

3/4

teaspoon

coconut extract

1 1/2

cups

shredded sweetened coconut

1/3

cup

powdered sugar
Instructions
Pour the Chex cereal into a large bowl. Set aside.

In a medium microwavable bowl, melt the chocolate chips. Heat for 1 minute then stir. Heat for an additional 30 seconds and stir again. Continue with additional 30 seconds until completely melted and chocolate is smooth. Stir in the coconut extract. Pour the chocolate over the Chex cereal. Gently stir until cereal is well coated. Stir in the shredded coconut until the cereal is evenly coated.

Pour the cereal onto two large baking sheets. Sprinkle cereal with powdered sugar until well coated. Let the Chocolate Coconut Chex Mix sit until chocolate is dry, about 15 minutes. Serve and enjoy!

Note-you can store the Chocolate Coconut Chex Mix in an air tight container for 3-4 days. It never lasts long in our house:)
Have you tried this recipe?
Leave a comment below and share a photo on Instagram. Tag @twopeasandpod and hashtag it with #twopeasandtheirpod
If you like Chocolate Coconut Chex Mix, you might also like: