My brother, sister in law, and their adorable one year old girl, Ramona, were visiting us for the past week. We had so much fun. I loved playing with my little niece, she is such a doll. My brother and his wife are culinary experts, so we spent a lot of time in the kitchen. It was fun having a couple to cook and eat with. One of my favorite recipes from the week was David Lebovitz's Gianduja Gelato.
My brother lived in Italy for a couple of years. He used to write home and brag about the outstanding gelato. I had never tasted gelato before, but really wanted to after reading his letters. Luckily, when we graduated collage my dad sent us on a trip to Europe. My brother was my personal tour guide. We visited Milan, Como, Venice, Pisa, Cinque Terre, Biella, and Rome. It was an amazing vacation. I fell in love with Italy's gorgeous scenery, the people, and of course the food.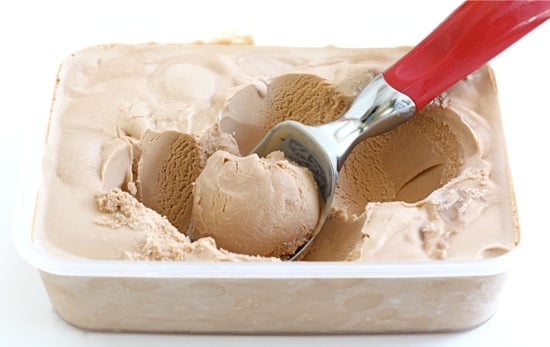 I still remember my first gelateria experience in Milan. It was one of our first stops after we got off the plane. My eyes lit up as soon as I saw the never ending choices of fresh, creamy gelato. I had to ask my brother to translate some of the flavors, there were so many! I think I stood and stared at the gelato case for at least ten minutes. I was in awe and couldn't decide on what flavors to get. My brother told me to hurry up and not to worry because I would have time to eventually sample them all.
We were in Italy for two weeks and enjoyed gelato every single day. I loved it. The gelato we made this past week placed me back into that first gelateria in Milan. Gianduja is an Italian candy made of hazelnuts and milk chocolate. If you are a chocolate hazelnut fan, this is the glato for you. It is rich, creamy, smooth, and divine. It is the best!
*You do need an ice cream maker for this recipe. We used our Cuisinart ice cream machine to make this gelato-it works like magic.*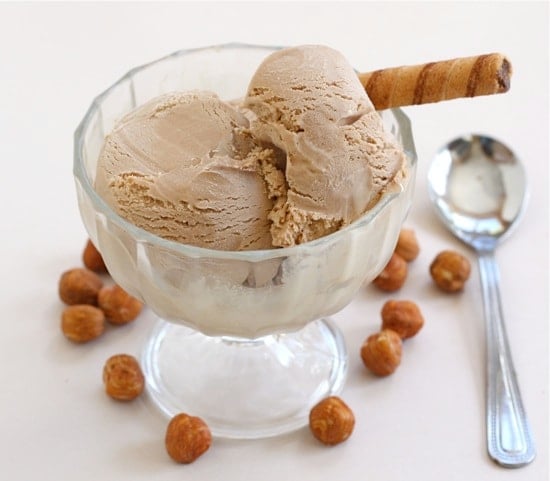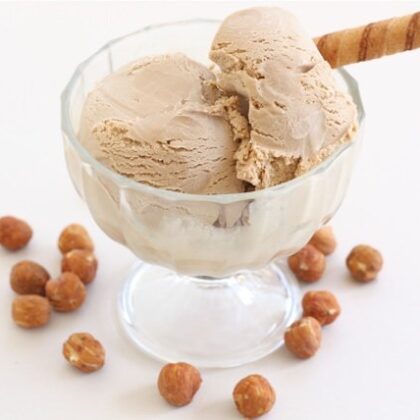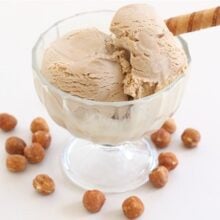 Gianduja Gelato
Ingredients
1-1/2

cups

185 grams toasted hazelnuts

1

cup

250 ml whole milk

2

cups

500 ml heavy cream

3/4

cup

170g sugar

1/4

tsp

coarse salt

4

oz

milk chocolate

at least 30% cacao solids, chopped

5

large egg yolks

1/8

tsp

vanilla extract
Instructions
1. Rub the toasted hazelnuts in a kitchen towel after roasting to remove as much of the papery skin as possible. Discard the skins. Chop the hazelnuts in a food processor or blender until finely chopped.

2. Warm the milk with 1 cup of the cream, sugar, and salt in a saucepan. Once warm, remove from heat and add the chopped toasted hazelnuts. Cover and let steep for 1-½ hours.

3. Put the milk chocolate pieces in a large bowl. Heat the remaining 1 cup of cream in a medium saucepan until it begins to boil. Pour the cream over the milk chocolate pieces and stir until the chocolate is completely melted and smooth. Set a mesh strainer over the top of the bowl.

4. Pour the hazelnut-infused milk through a strainer into a medium saucepan. Squeeze the nuts with your hands to etract as much of the flavorful liquid as possible. Discard the hazelnuts.

5. Rewarm the halzenut-infused mixture. In a separate bowl, whisk together the egg yolks. If you don't have a rubber bottomed bowl, place it on a rubber glove or moistened kitchen towel for the next step. Slowly pour the warm hazelnut mixture into the egg yolks, whisking constanly, then scrape the warmed egg yolks back into the saucepan.

6. Stir the mixture constanly over medium heat with a wooden or heatproof plastic spatula, scraping the bottom as you stir, until the mixture thickens and coats the spatula. Pour the custard through the straner and stir it into the melted milk chocolate. Add the vanilla and stir until cool over an ice bath.

7. Chill mixture thoroughly in the refrigerator, then freeze in your ice cream maker according to the manufacturer's instructions.

8. Serve immediately for a soft, smooth gelato. Place gelato in a container and freeze for a firmer gelato.

Note-to toast hazelnuts-place hazelnuts in a 350 degree oven for ten minutes. Stir once while roasting. Remove from oven and let cool and then remove skins.
Have you tried this recipe?
Leave a comment below and share a photo on Instagram. Tag @twopeasandpod and hashtag it with #twopeasandtheirpod
If you like this gelato, you might also like:
Apricot Sorbet from Two Peas and Their Pod
Red Beauty Plum and Muscat Gelato from White On Rice Couple
Homemade Strawberry Gelato from bell' alimento
Malted Milk Gelato from Andrea's Recipes