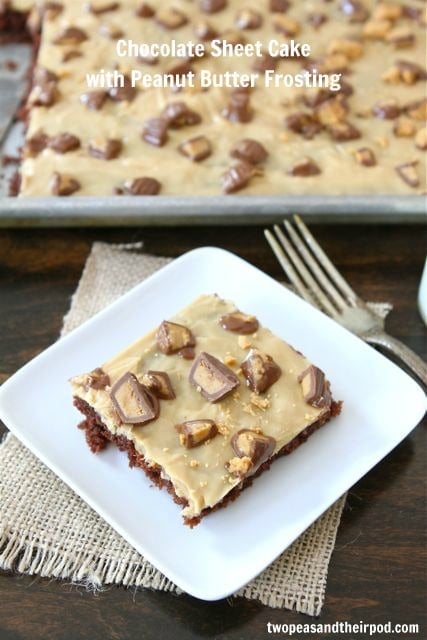 I started making this Chocolate Sheet Cake recipe when I was in high school. It always came in handy when I needed a dessert to take to school sports banquets or when my friends were coming over. It has been one of my "go to" cakes for years. I usually make a chocolate frosting, but I recently switched things up and made a creamy peanut butter frosting to top the cake. Best decision ever! This Chocolate Sheet Cake with Peanut Butter Frosting is my new favorite cake.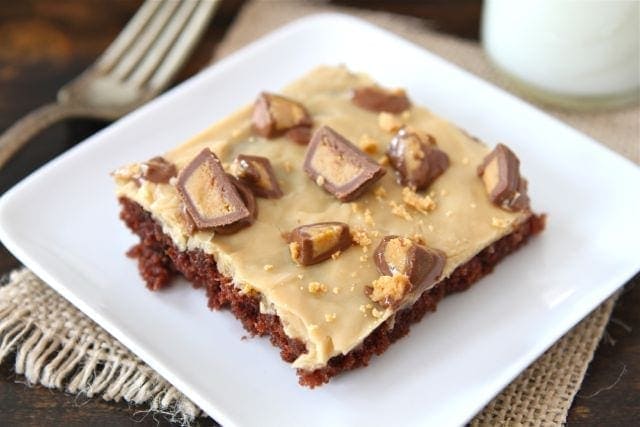 I made this cake because we were having friends over for dessert. It is the perfect cake for entertaining and sharing. It is so easy to make-you probably have all of the ingredients in your kitchen right now. Hint, hint-as soon as you finish reading this post, you better get baking:) The cake is rich, chocolaty, and incredibly moist. Everything you've dreamed about in a chocolate cake.
The peanut butter frosting really is the icing on the cake:) I like to frost the cake when it is still warm so the frosting spreads easily and melts over the chocolate cake. I also like to chop up Reese's Peanut Butter Cups and sprinkle them generously over the peanut butter frosting. The candy adds decoration with almost no effort and ties the chocolate cake and peanut butter frosting together.
Our friends loved this Chocolate Sheet Cake with Peanut Butter Frosting. I sent pieces of cake home with them, but we still had some cake leftover. It is a big cake! I was forced to eat the rest of the cake all by myself since Josh is allergic to peanut butter. Every time I walked by the sheet pan I had to have a bite. I couldn't let the cake go to waste. Sometimes it is rough taking one for the team:)
Make this Chocolate Sheet Cake with Peanut Butter Frosting…and be prepared to share! It feeds a crowd! Or you can just let the cake sit on the counter and it will magically disappear. I bet you can't walk by without taking a bite, or two, or a gigantic piece. It is so good!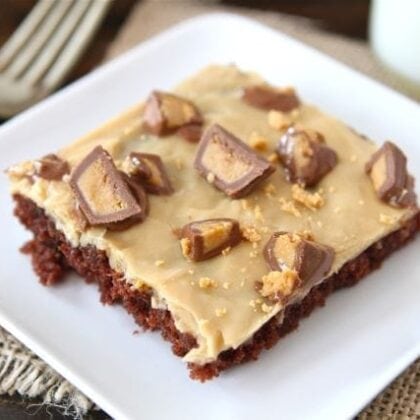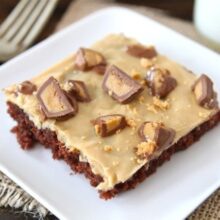 Chocolate Sheet Cake with Peanut Butter Frosting
Rich chocolate sheet cake with peanut butter frosting. This easy and decadent cake will feed a crowd.
Ingredients
For the Chocolate Sheet Cake:
For the Peanut Butter Frosting:
Instructions
To make the sheet cake: Preheat oven to 350 degrees. Grease a sheet pan with cooking spray and set aside. I use an 11 x 17 jelly roll pan.

In a large mixing bowl, whisk together sugar, flour, baking soda, and salt. In a separate bowl, whisk together eggs, buttermilk, and vanilla extract. Set aside.

In a small sauce pan, melt the butter on medium-low heat. Whisk in the cocoa powder and hot water. Turn up the heat to medium-high and bring the mixture to a boil. Add the melted butter mixture to the dry ingredients and mix until smooth. Stir in the egg mixture and mix until ingredients are combined.

Pour the batter into the prepared sheet pan and tap on the counter a few times to distribute the cake batter evenly. Bake the cake for 18 minutes, or until a toothpick comes out clean when inserted in the center.

While the cake is baking, make the peanut butter frosting. In the bowl of a stand mixer, combine the sifted powdered sugar, milk, peanut butter, and vanilla extract. Beat with the beater blade until smooth. Frost the chocolate sheet cake after the cake has cooled. Sprinkle chopped up Reese's Peanut Butter Cups over the frosting, if desired. Let the frosted cake cool to room temperature. Cut into squares and serve.
Have you tried this recipe?
Leave a comment below and share a photo on Instagram. Tag @twopeasandpod and hashtag it with #twopeasandtheirpod
If you like this Chocolate Sheet Cake with Peanut Butter Frosting, you might also like: