Cinnamon Toast PB&J-two classics team up to create one amazing sandwich! Kids and adults will love this peanut butter and jelly sandwich!
Peanut butter and jelly sandwiches and cinnamon toast are two of my favorite childhood foods. Well, I guess I shouldn't call them childhood foods because I still enjoy them today. They are classics and will never go out of style, especially when you combine the two to make a Cinnamon Toast PB&J sandwich. This is the BEST PB&J I have ever had!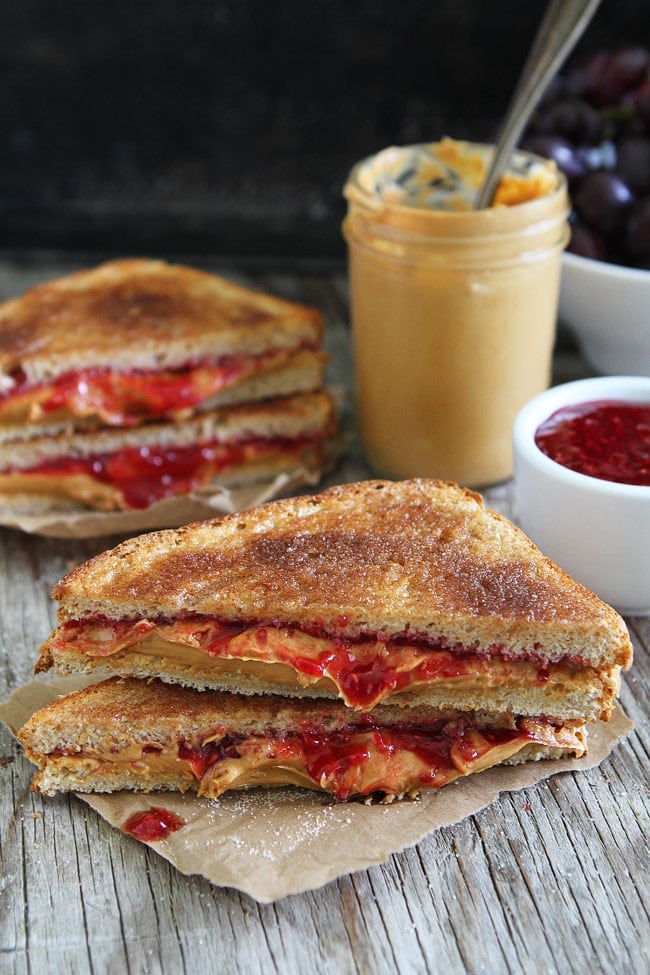 I introduced cinnamon toast and PB&J to our boys and they are big fans as well. They are actually the reason I created this sandwich. One day, I was making peanut butter and jelly sandwiches for lunch and Caleb started whining because he wanted cinnamon toast. I told him I already had the peanut butter and jam out and that is what I was making for lunch. Being the smart 4-year old that he is, he said, what if I have cinnamon toast AND PB&J?
A cinnamon toast PB&J sounded good to me, so I made my boys a special PB&J. Of course, Maxwell wanted the same sandwich, he has to have everything big brother has.
To make the sandwiches, I used Dave's Killer Bread. I used the White Bread Done Right bread because it is my boy's favorite and I like the nutritional label. It has the most whole grains of any organic white bread. It is made with five super grains, 10 grams of whole grains and no artificial anything. With a golden color and perfect texture it is the perfect bread for sandwiches!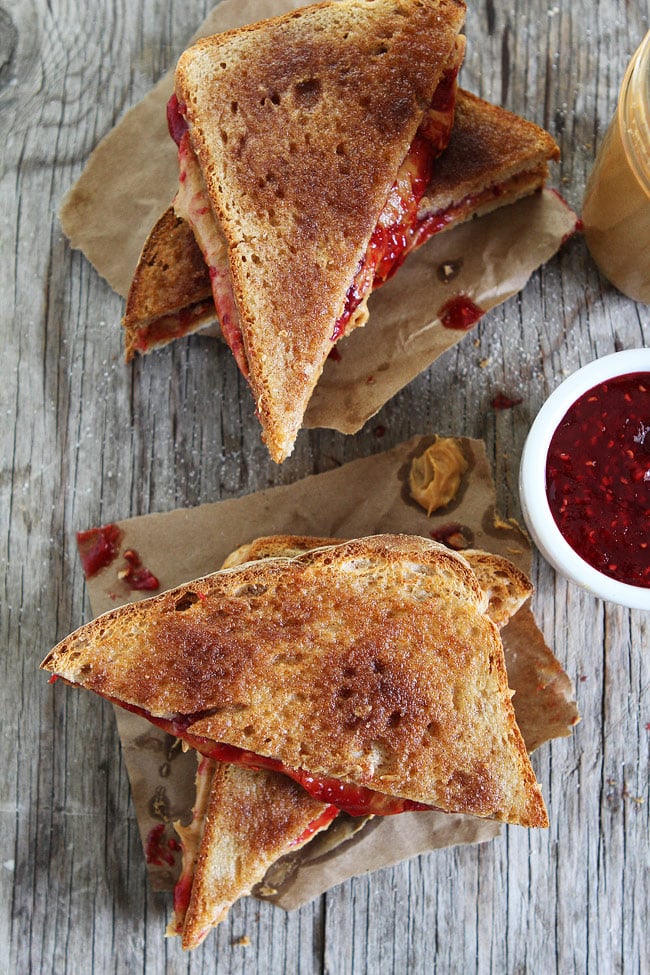 First, I made cinnamon toast. I spread softened butter on the bread slices and toasted them up in the oven with cinnamon and sugar. When the bread came out of the oven, I slathered on creamy peanut butter and raspberry jam. The toast was still warm so the peanut butter got a little melty…and messy! Trust me, it is SO worth the mess!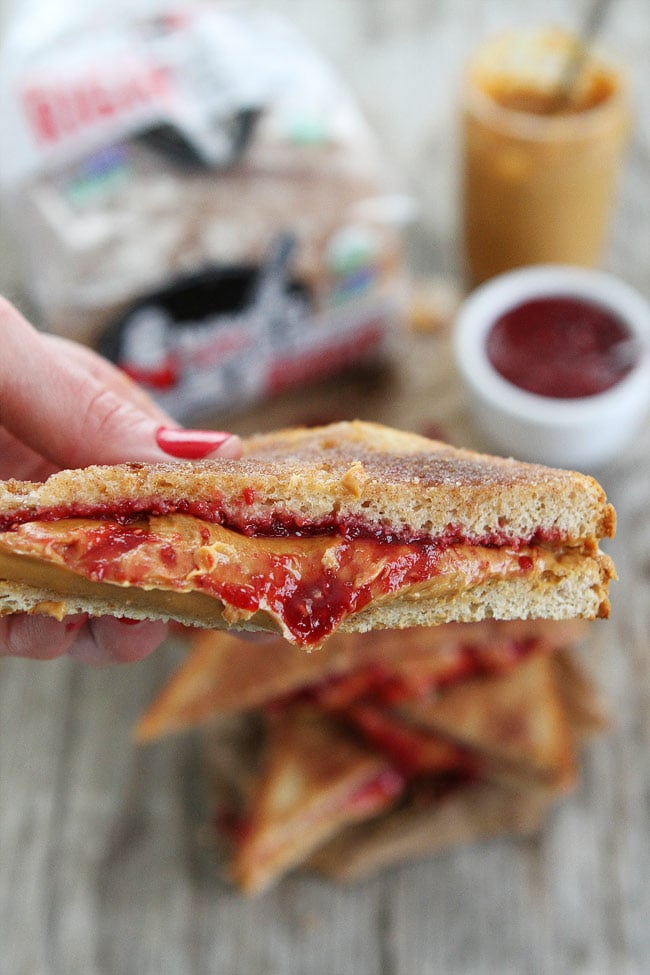 Caleb's idea was genius! The boys loved their lunch special Cinnamon Toast PB&J sandwiches! And I was so jealous of their sandwiches, I had to make one for myself. I asked the boys to share, but they wouldn't even let me have a bite. They were that good:)
You have to try this Cinnamon Toast PB&J! The combo of two classics is amazing! You might not have a regular PB&J again!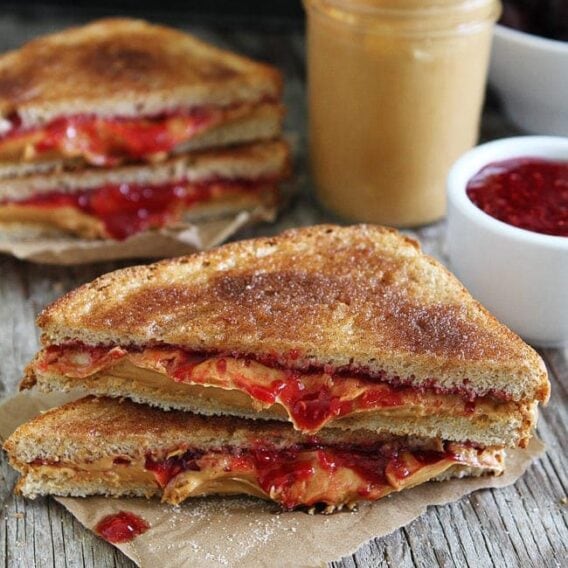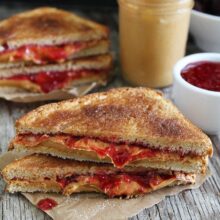 Cinnamon Toast PB&J
Two classics come together to create the BEST PB&J sandwich!
Instructions
Preheat the oven to 350 degrees F. In a small bowl, combine the sugar and cinnamon. Butter one side of the bread slices and sprinkle generously with the cinnamon sugar mixture. Put the bread on a baking sheet and place in the oven. Bake for 8-10 minutes. Turn the oven to broil and and broil until the sugar has melted and starts to bubble. This won't take long, so don't walk away, watch it closely. Remove from oven.

Spread the inside pieces of bread with peanut butter and jam. Make a sandwich and cut in half. Serve immediately.

Note-you can make cinnamon toast using a toaster, but I prefer the oven method. Use your favorite jam or jelly.
Have you tried this recipe?
Leave a comment below and share a photo on Instagram. Tag @twopeasandpod and hashtag it with #twopeasandtheirpod
This post is sponsored by Dave's Killer Bread, but our opinions are our own. Thank you for supporting the brands that continue to make Two Peas and Their Pod possible.