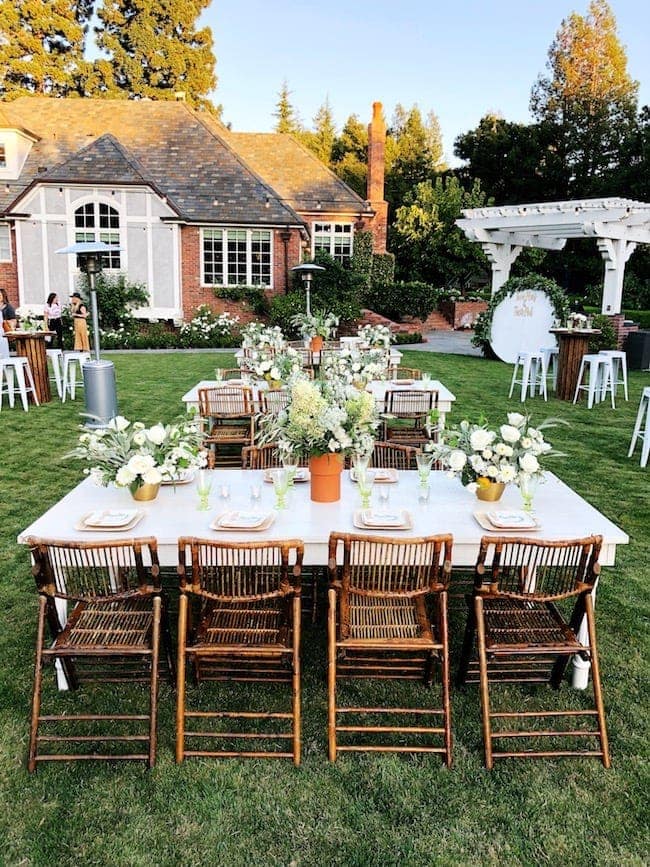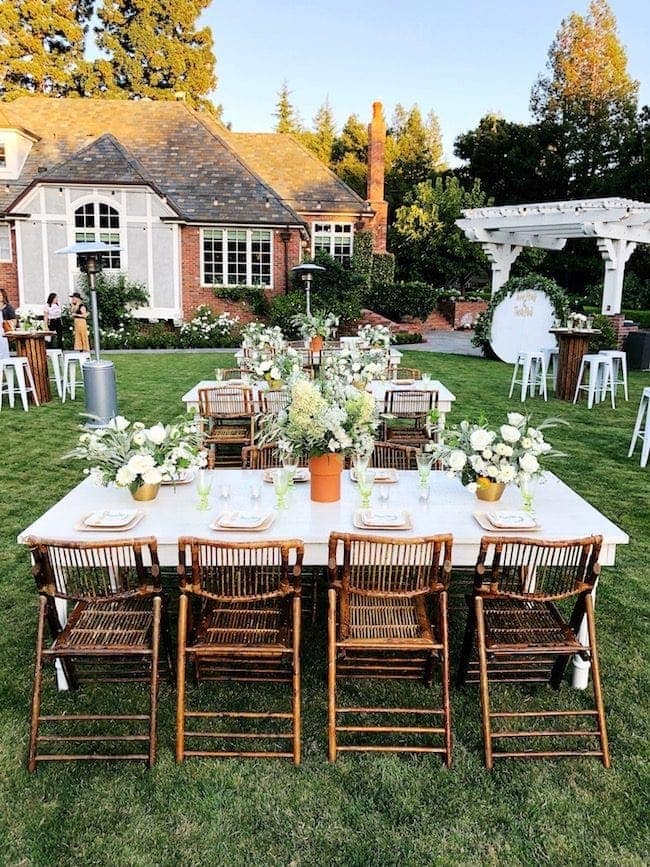 Last week, I was in California because my friends (Dawn, Emi, and Rachel) threw me a cookbook club party to celebrate my cookbook! It was so much fun! My friend, Dawn, is the party QUEEN and went all out to create the perfect party! I was blown away by all of the details.
Today, I am sharing photos from the party and tips on how you can host your own cookbook club. Let's PARTY!!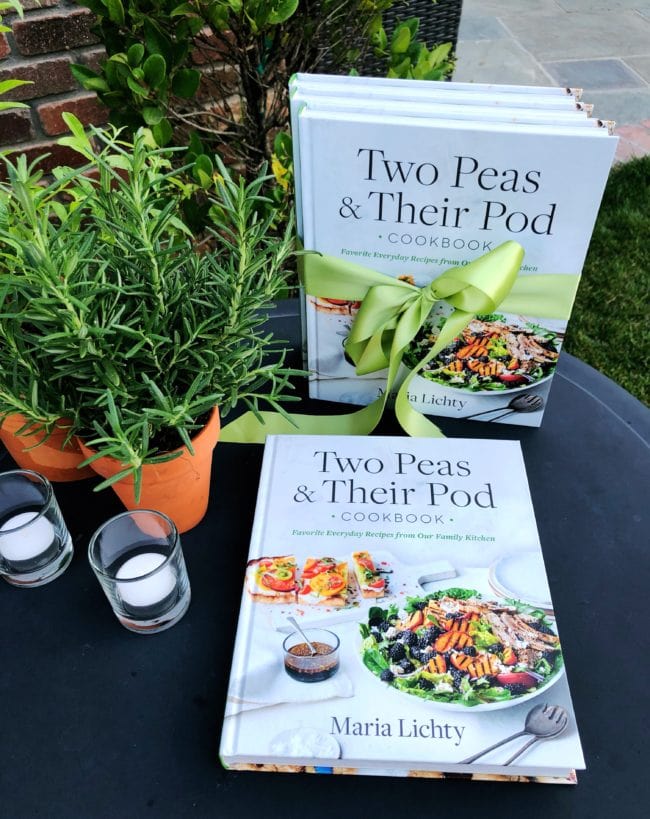 Two Peas & Their Pod Cookbook was the star of the evening. Everyone brought a dish from the cookbook to share. More on the food later…I am still full, but oddly craving another cookie..ha!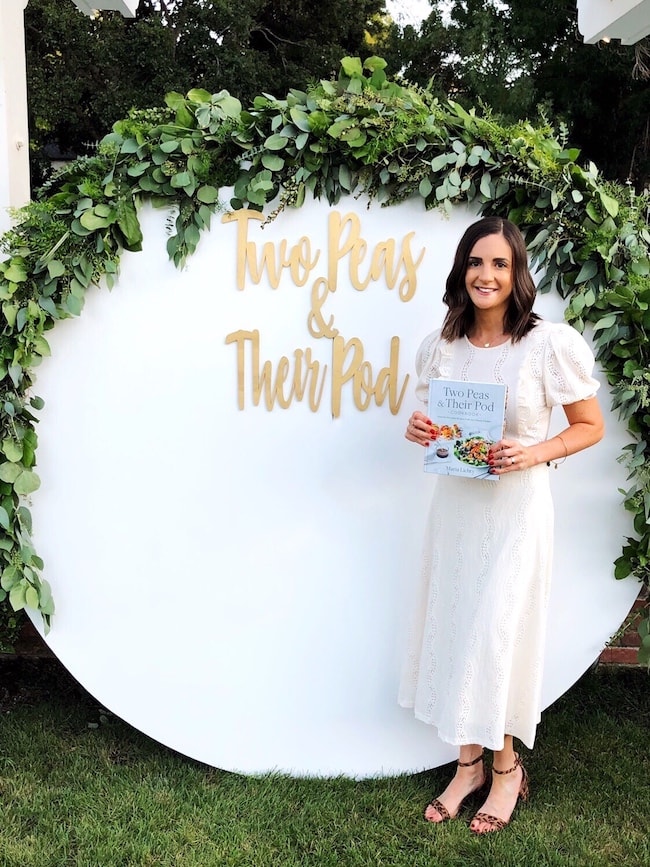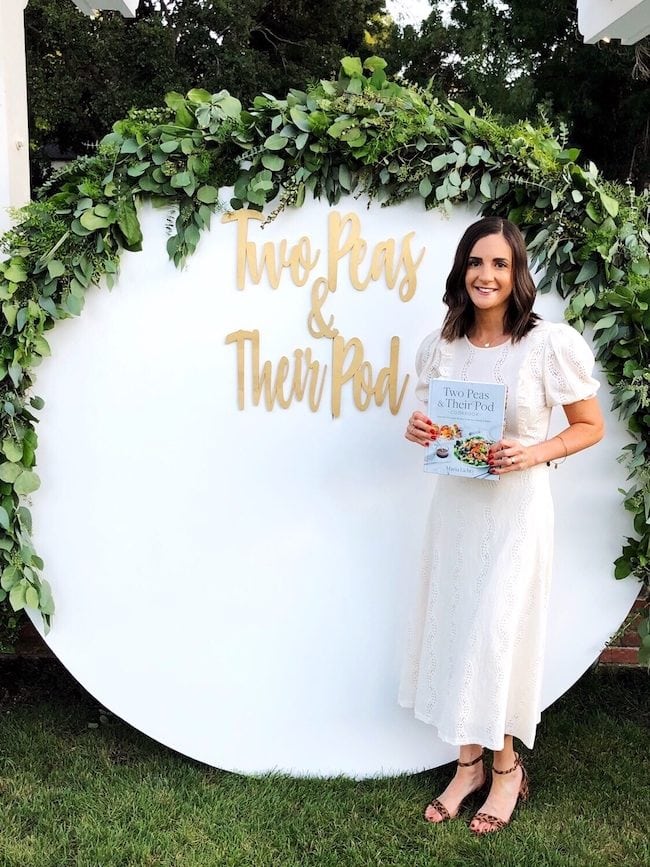 Dawn worked with Nari's Events to create a fun photo backdrop!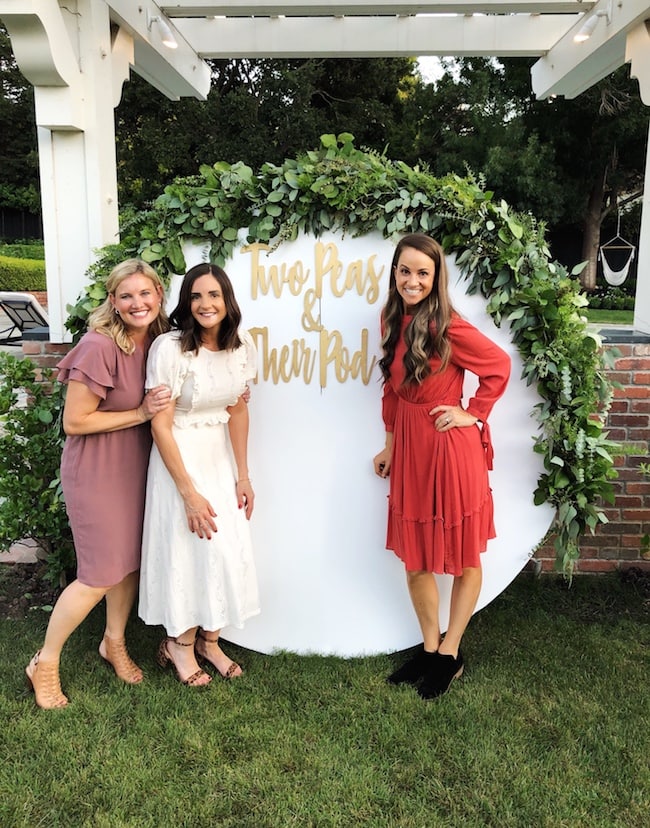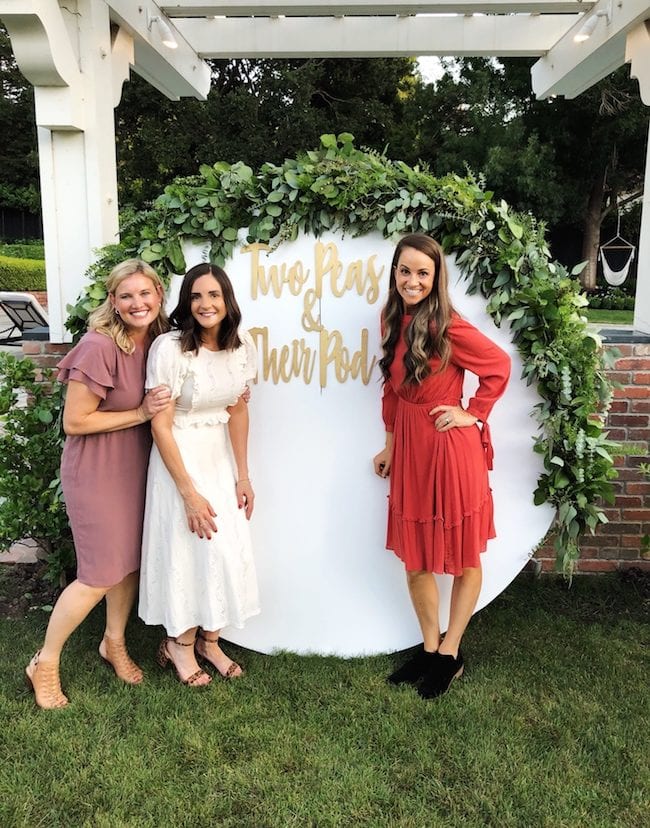 Love these sweet friends!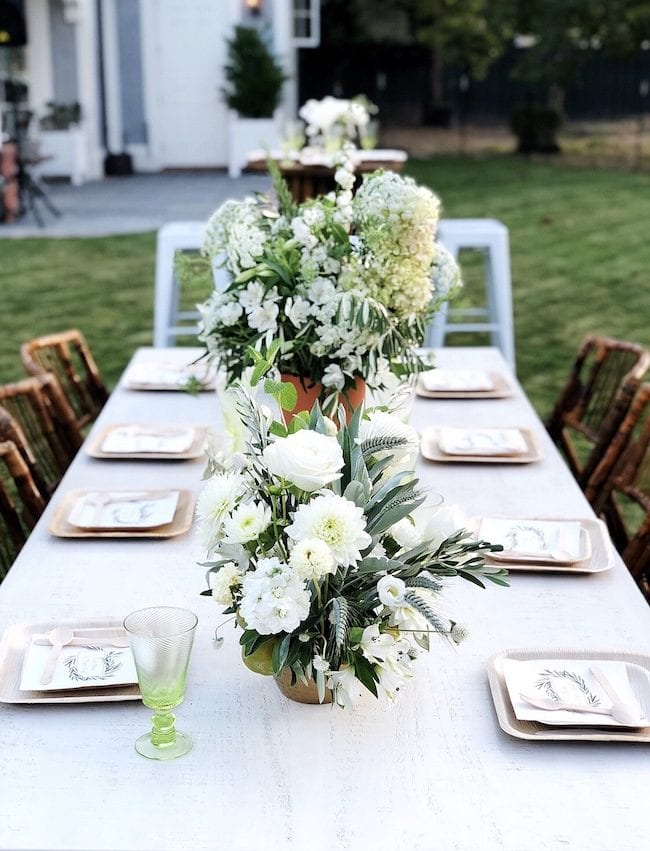 The tables were DREAMY and the flowers were GORGEOUS! I loved the greens, whites, and herbs mixed in. Flowers by Flora and Spice.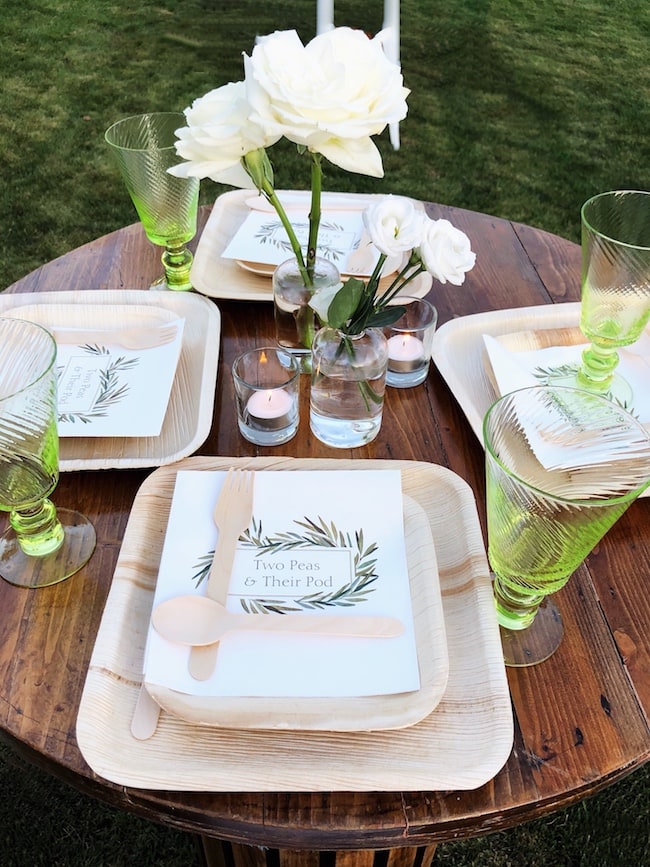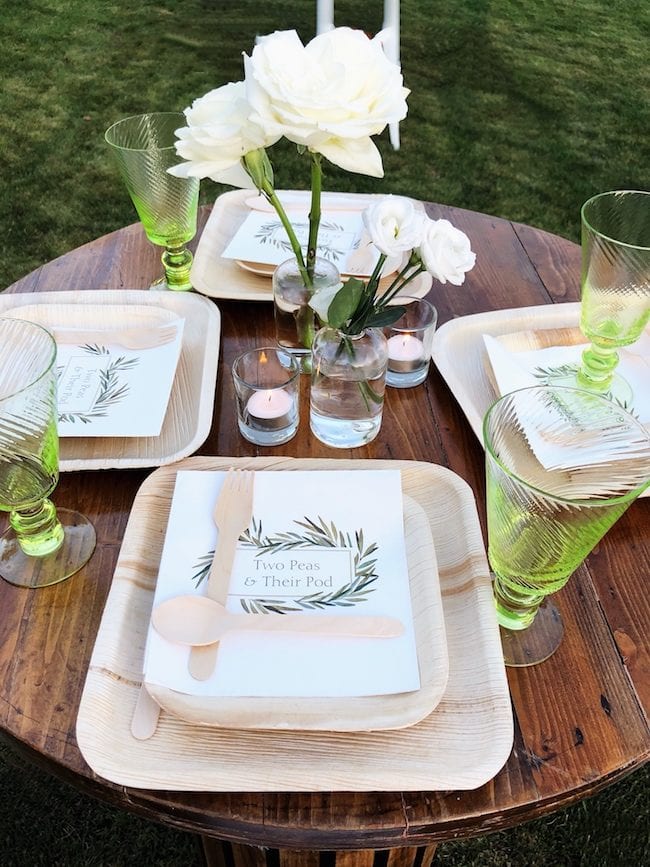 Dawn nailed it with the Two Peas & Their Pod napkins and green glasses.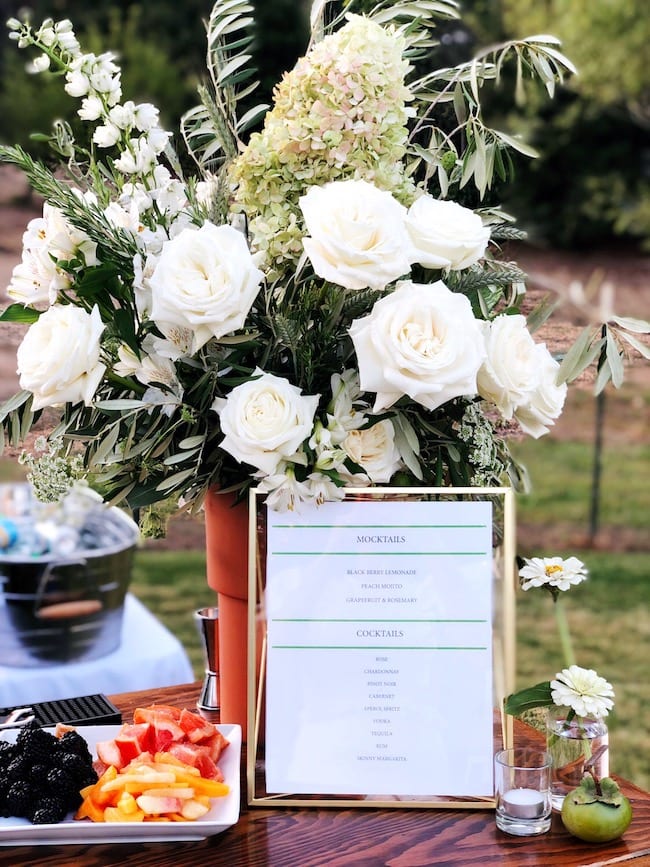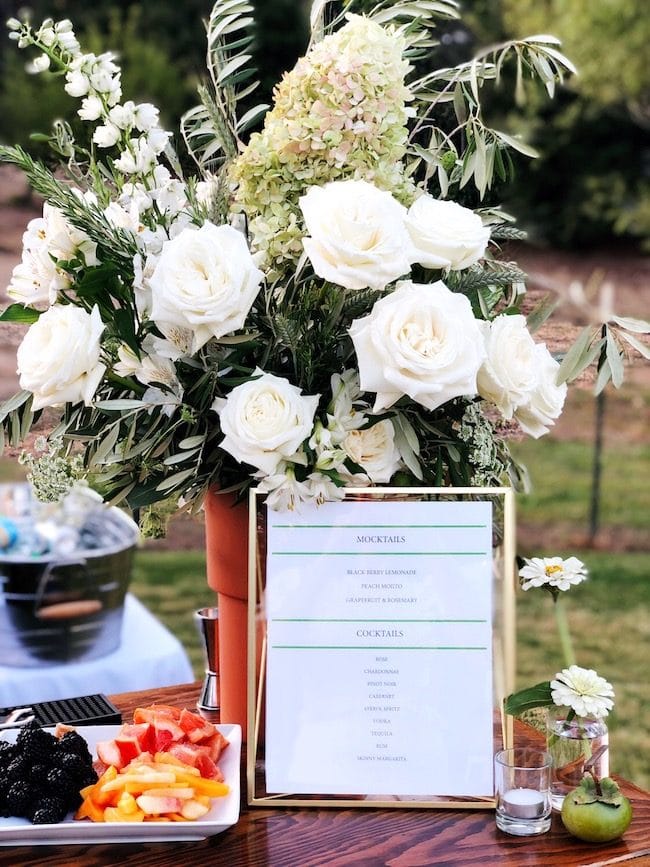 Dawn created a fancy mocktail menu for the evening! The peach mojito was the favorite!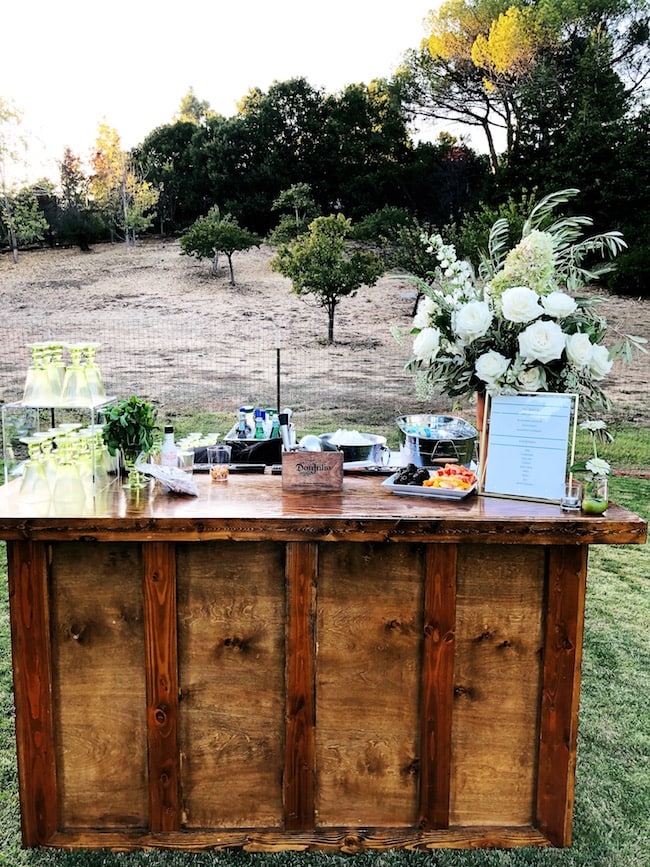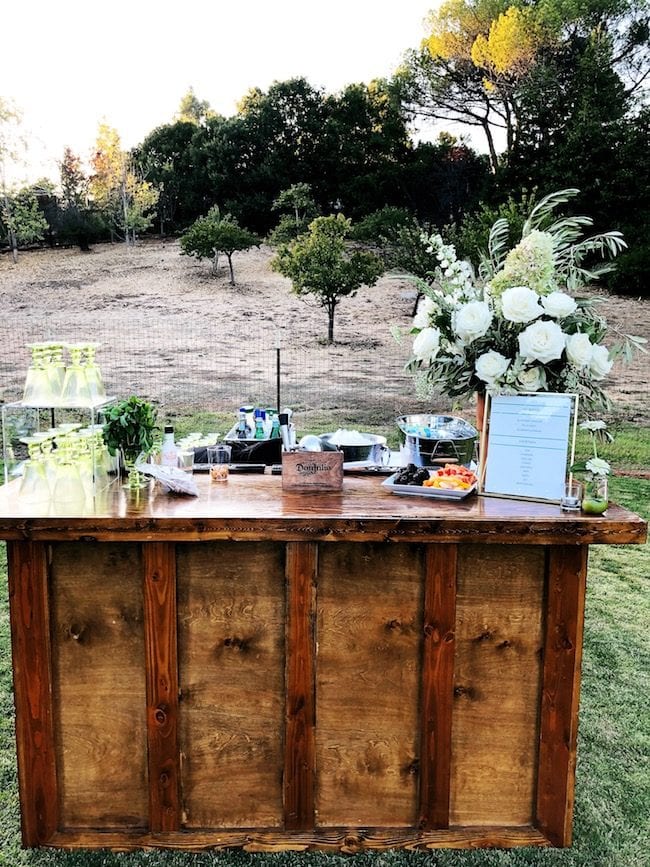 Loved the pretty bar scene!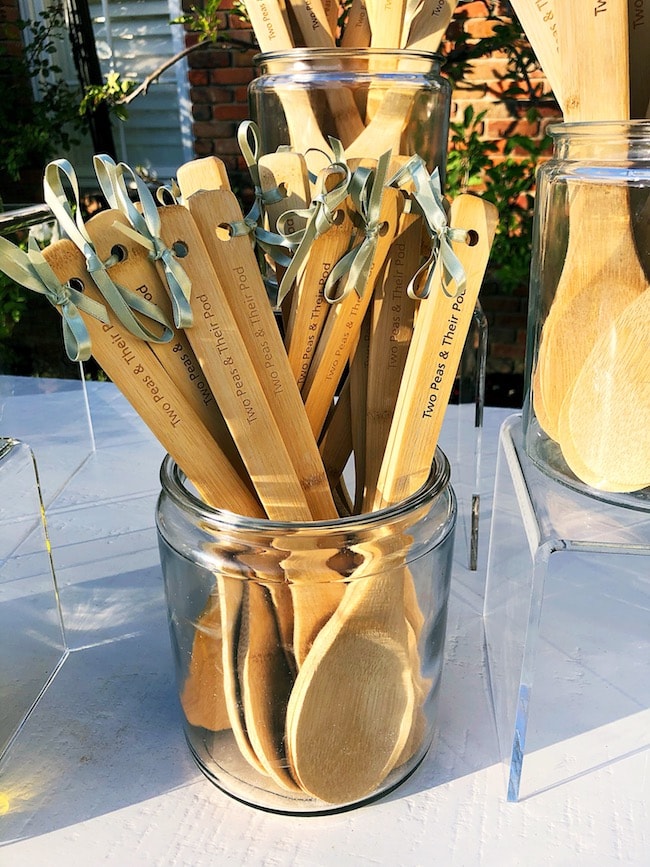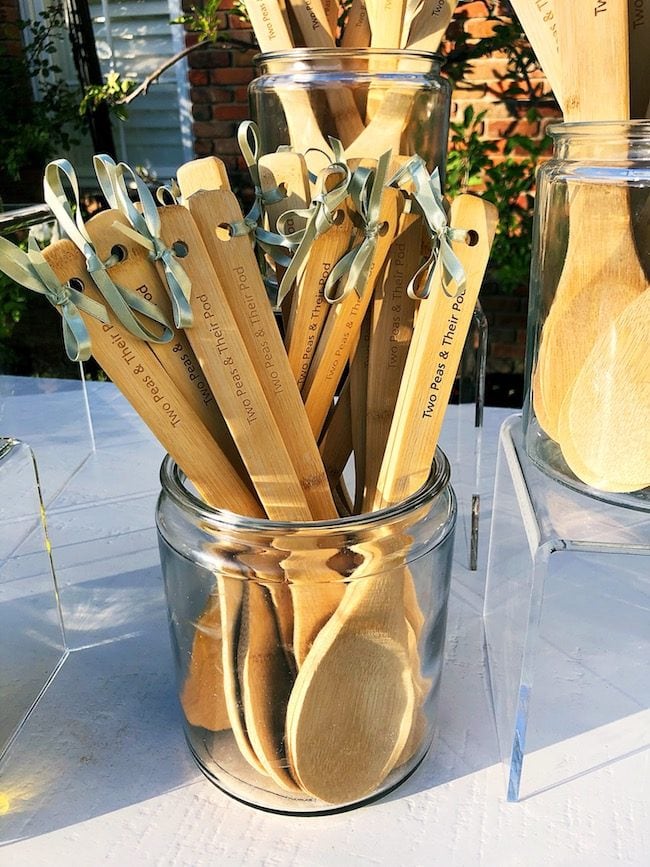 Dawn really didn't miss a detail. For party favors, she had wooden spoons made with Two Peas & Their Pod engraved on them. She also gave everyone cute little bottles of olive oil with herbs. SO perfect!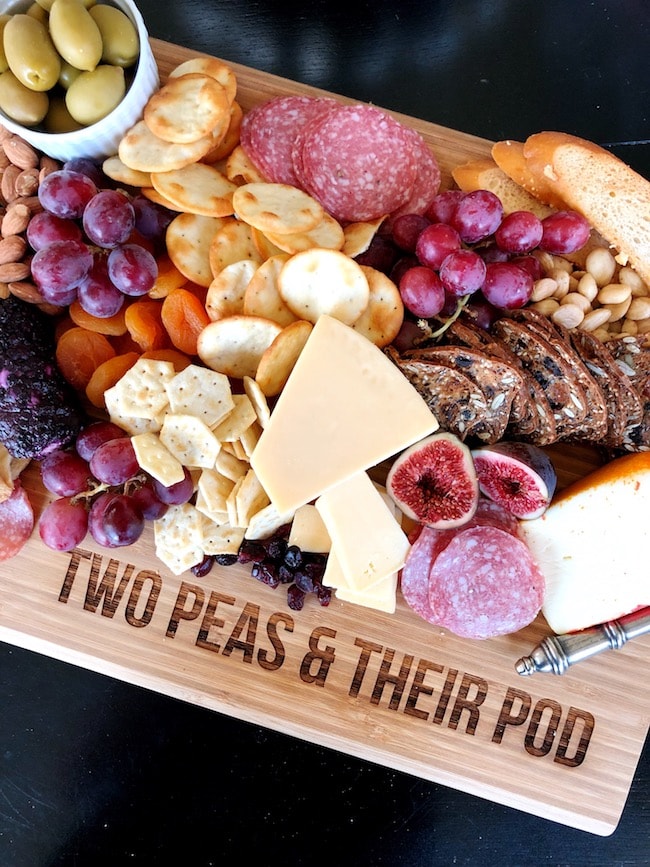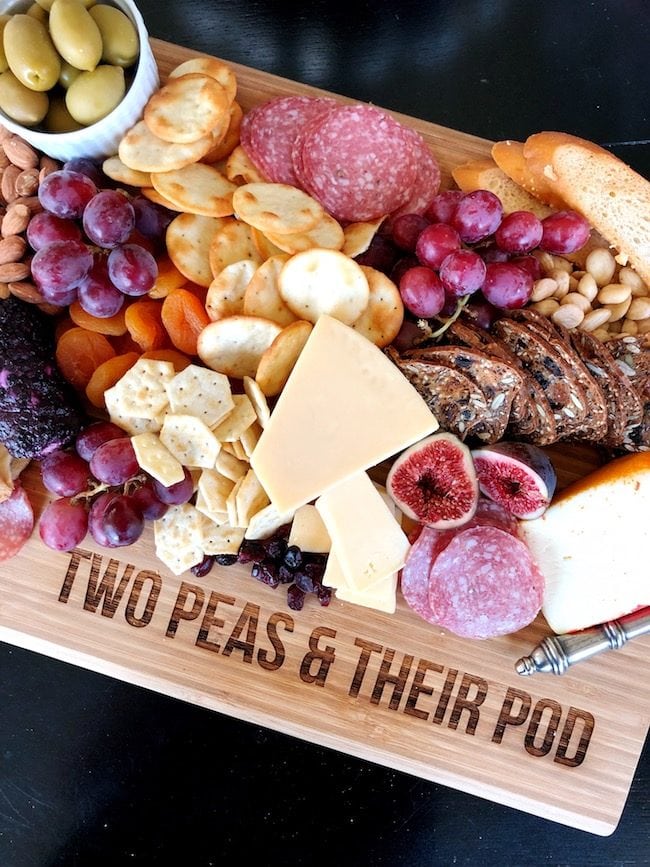 AND she had cheese boards made with Two Peas & Their Pod. I about died!! I am going to use this board all of the time. FYI-she ordered the board from here.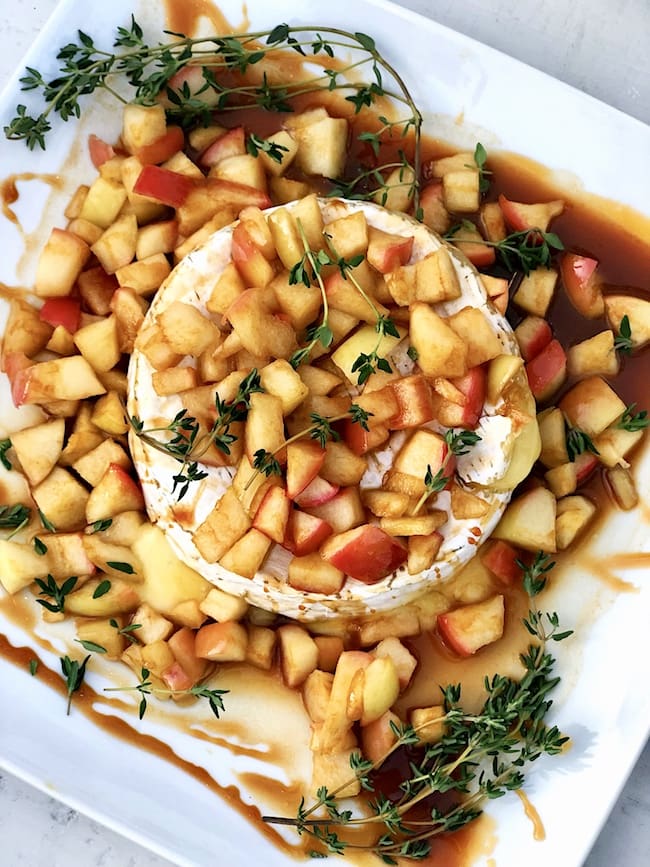 And now let's talk FOOD. Like I mentioned, everyone brought a dish from my cookbook and everyone nailed the recipes. The spread was AMAZING and all of the dishes were so delicious…and I am not just saying that because they were from cookbook, I promise. The food was out of this world!!
Everyone at the party was loving the food and commenting on how easy the recipes were to make. That made me feel good because that was our goal! The recipes in our cookbook are easy, approachable, made with everyday ingredients, but still so delicious that you will want to make them over and over.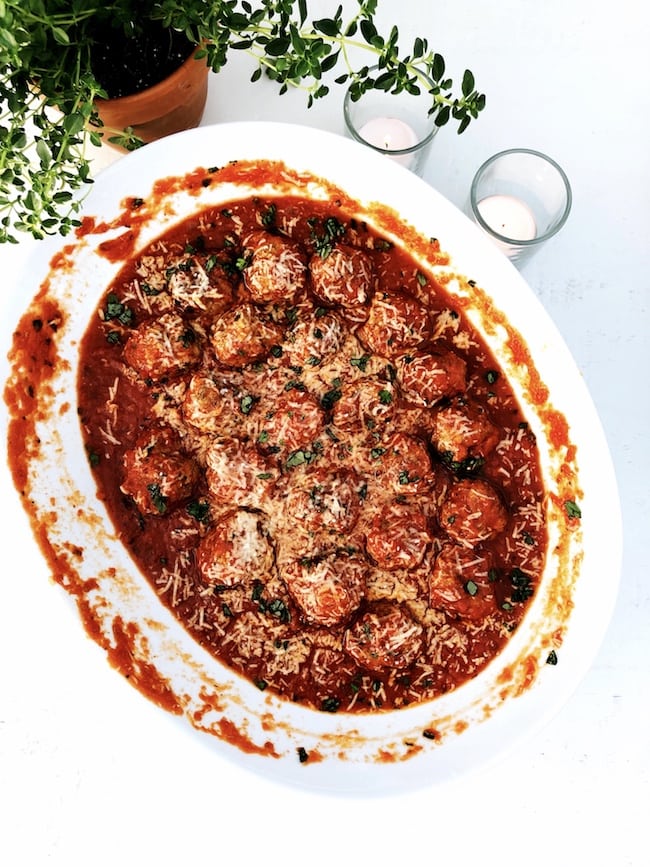 Josh's slow cooker meatballs were a huge hit!!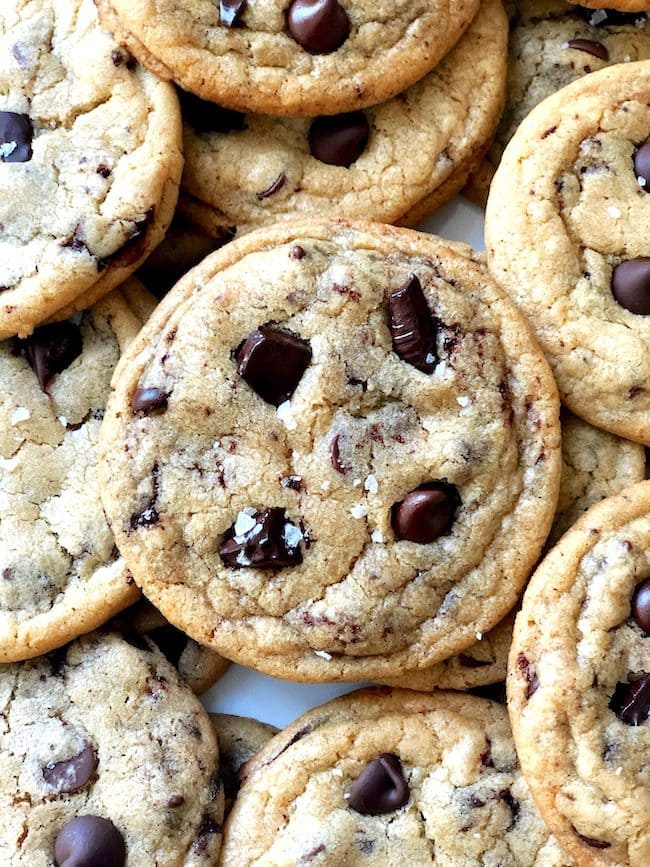 My only contribution the party, COOKIES. Are you surprised? 🙂 The BEST chocolate chip cookies, recipe is in our cookbook:)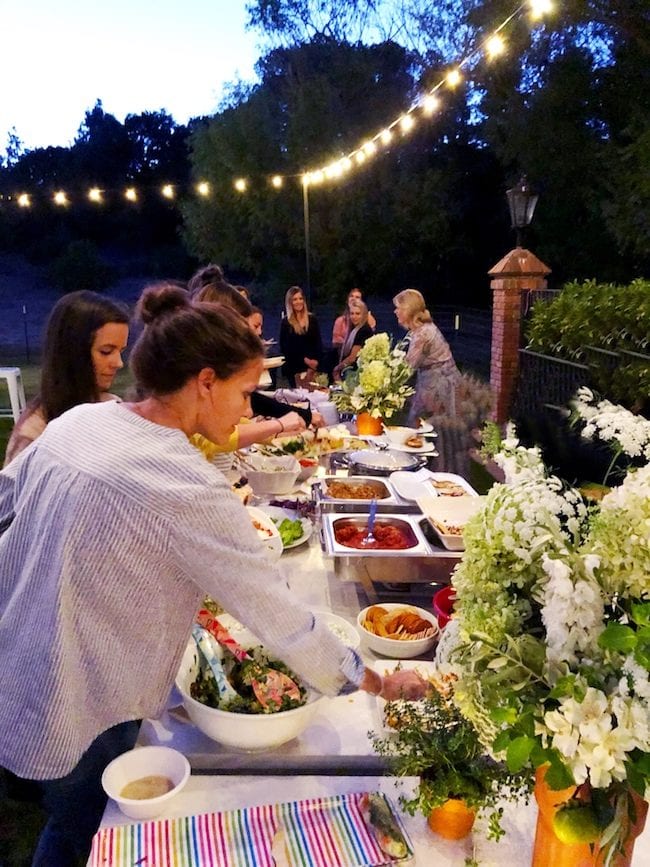 I wish I would have taken more food pictures, but I was too busy eating and talking! Look at that spread! I think they made almost the entire cookbook, which was so fun because everyone got to try so many recipes from the book. It was like Thanksgiving, but in my opinion WAY better:)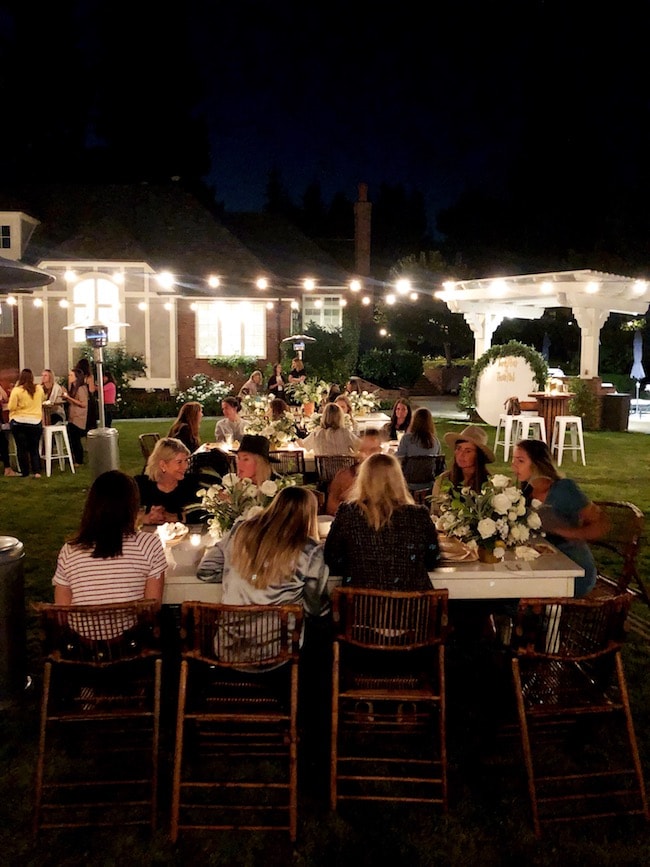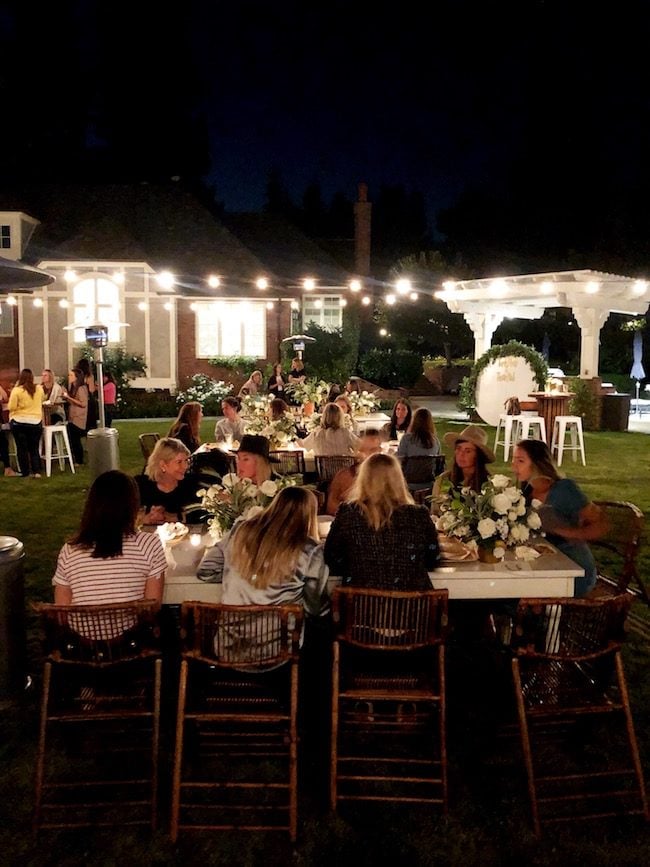 Tips for Starting a Cookbook Club
A cookbook club is my kind of club. Think book club, but with FOOD…and you don't have to read a long book:)
I am sure we all have cookbooks on our shelves that we haven't cooked out of. We have good intentions, but never get around to making very many recipes in them. Well, with a cookbook club, you can try lots of recipes in one night! A cookbook club doesn't have to be fancy, it can be super simple, a group of friends gathering to eat and enjoy each other's company!
Here are a few tips for starting a cookbook club:
Guest List-Invite friends who like to cook or who want to learn to cook. Decide how many people you want to include, five to 12 people is a good number. If there are only two or three of you, you won't get to try very many recipes and if there are too many people, you won't get to visit and it will become a lot more work and you will need a big space. Note-my cookbook club party was large because it was a party:) Determine how often you will meet so everyone can plan on attending. You don't want the club to fizzle out after one time.
Pick a Cookbook-Once you have your group, discuss what cookbooks you want to cook from. You can take turns picking or draw a cookbook title from a hat. Make sure everyone has the cookbook or has access to the cookbook. You can share copies, check books out at the library, or purchase books. I highly recommend you start with Two Peas & Their Pod Cookbook🙂
Pick the Recipes-Have everyone sign up for a recipe to bring. Make sure there is a variety. For example, someone brings an appetizer, salad, main dish, dessert, etc. If the cookbook is a dessert book, you can have a dessert night. My cookbook club party was a large party and not your normal cookbook club size, but it still worked because my friend Emi is extremely organized and coordinated who was bringing what. She created a Google Doc that everyone had access to, so everyone could see who was bringing what and make changes.
Location-Who is hosting? Pick someone that has enough space for the group. I recommend rotating hosts so one person doesn't have to do it every time. It is always fun to mix it up!
Come Prepared-Make sure you show up on time with your recipe FINISHED. Don't ask the host to use their oven, grill, stove, etc. Come prepared with your dish plated and ready to go so you can enjoy the evening.
Conversation-Discuss the cookbook and talk about your favorite recipes and recipes you want to try! Ask questions about the dishes people brought! Have sticky notes available so people can bookmark recipes and make notes.
Make a Plan-Before everyone leaves, make a plan for the next cookbook club. Pick the cookbook, date, and time so everyone is on the same page!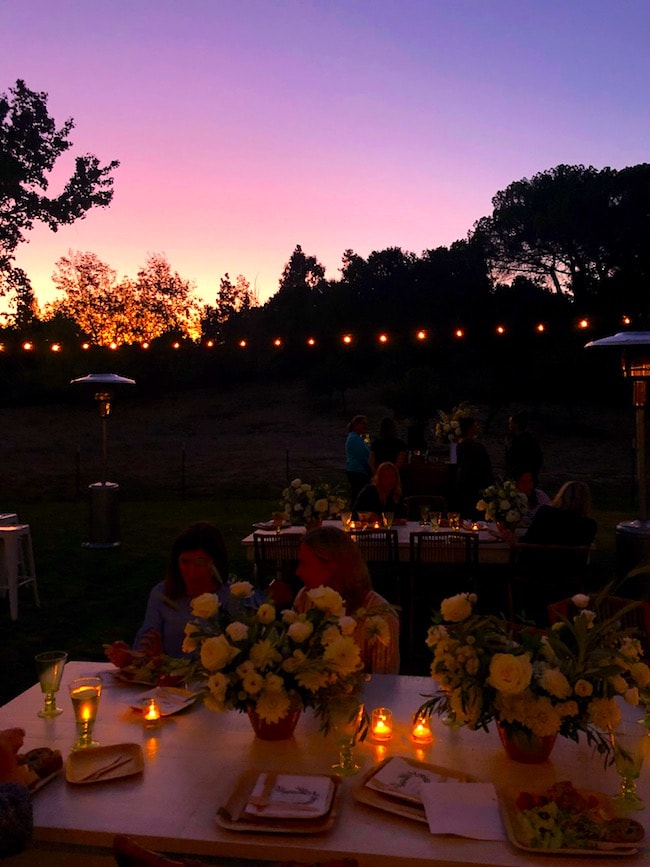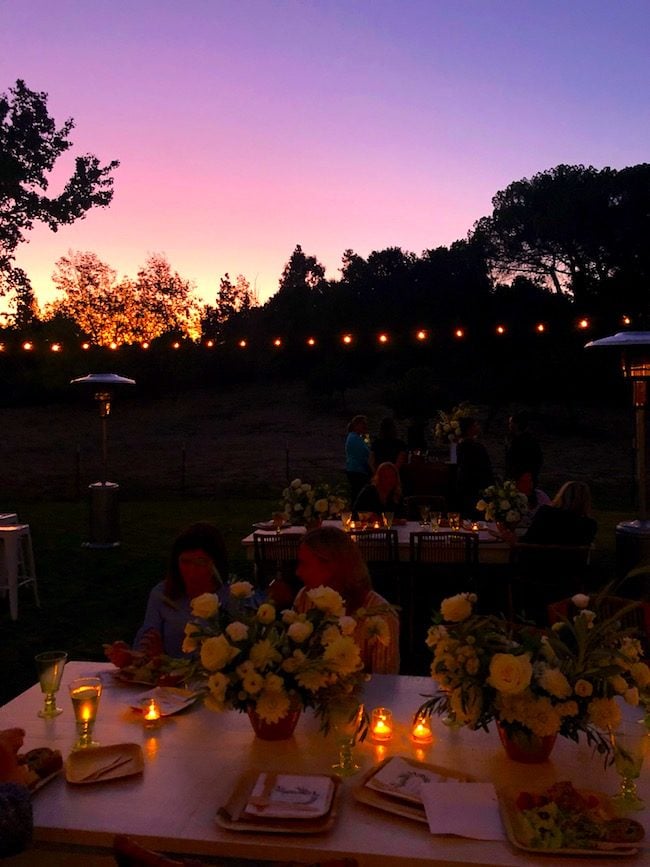 I had SO much fun at my cookbook club party and can't wait to start up a cookbook club! Who wants to join me?
Thanks again to Dawn, Emi, and Rachel for throwing me the ULTIMATE cookbook club!! It was a special night, one I will never forget.
Make sure you checkout the Two Peas & Their Pod Cookbook! Happy cooking!