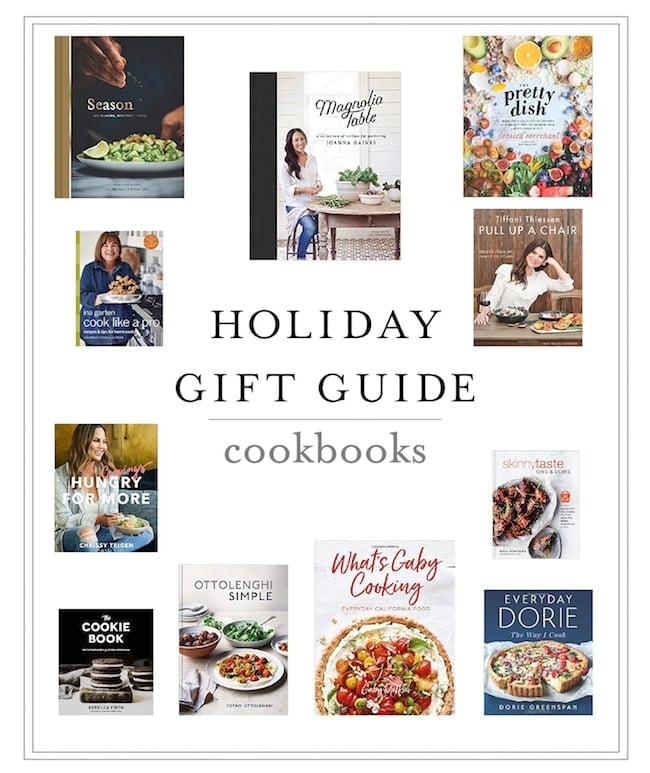 Every year, I like to share my favorite cookbooks from the year. 2018 was a DELICIOUS year! There were SO many good cookbooks. I am still working on cooking my way through them all.
Cookbooks make a great gift for anyone and if you are looking to update your cookbook library, I highly recommend all of these. Enjoy!
The Pretty Dish-this book is filled with creative and delicious recipes, plus lots of fun DIY beauty recipes! It's one of my all-time favorites!
Cravings: Hungry for More-The recipes in Chrissy's new cookbook really will leave you craving ALL of the things!
Everyday Dorie-Dorie is my one of my favorite people on the planet. I love her and her recipes. Her latest cookbook is filled with approachable recipes that are perfect for any night of the week! And don't worry, there is a dessert chapter too:)
Magnolia Table-You can't go wrong with anything by Joanna. Love this book!
Skinnytaste One and Done-If you need help getting dinner on the table, this book is for you. All of the recipes are for dinnertime and they are all made in one pot, skillet, air fryer, sheet pan, etc. It's a dinner lifesaver!
What's Gaby Cooking-Gaby's cookbook is filled with fresh and fabulous recipes that will make you wish you were a true California girl.
Season-this cookbook is GORGEOUS and the flavors are so good!
Ottolenghi Simple-I love all of the Ottolenghi cookbooks and this one is awesome because it focuses on simplicity!
Pull Up a Chair-This cookbook is filled with lots of family friendly recipes…and if you are a Saved by the Bell fan, you just have to own this book because Kelly Kapowski!:)
Eat a Little Better-Eating better has never tasted SO good!
The Cookie Book-You know I love a good cookie and Rebecca knows her cookies. Bring on the cookies!
Cook Like a Pro-If Ina has a new book, you better believe I am buying it. She is the queen!
Chloe Flavor-If you are looking for vegan recipes that are FANTASTIC, this is the book. Chloe's recipes are legit!
The Staub Cookbook-I have so many recipes bookmarked in this cookbook. It is gorgeous too!
The Minimalist Kitchen-Melissa makes me want to become a minimalist! Her house is gorgeous and her recipes are easy to make and so good!