Cornmeal Waffles with Blackberry Compote-the cornmeal adds a slight crunch and sweetness to these delicate waffles. Top with blackberry compote and whipped cream and you are in for a real breakfast treat!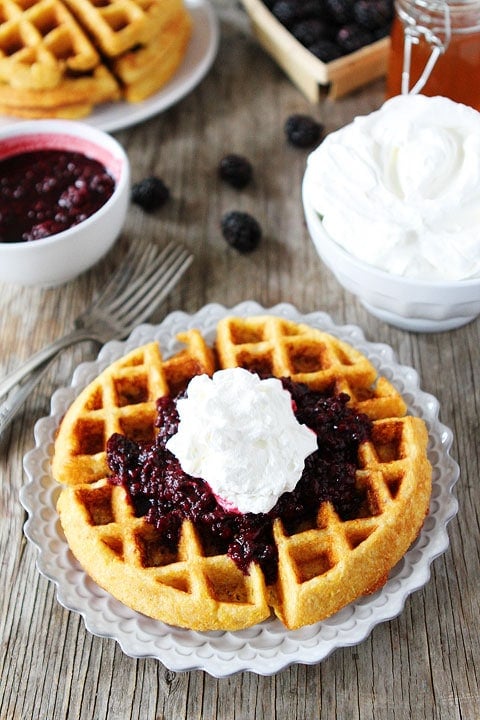 The last week of my life was a whirlwind! I flew to NYC to do the TODAY show and then I went straight to Florida for a beach weekend with some of my blogging friends. I got back late last night and I feel like I need another vacation. I am exhausted…but a good exhausted! Both trips were super fun! I am thrilled to be home with my favorite guys. I missed them like mad! And don't worry, I will be sharing my travel adventures on the blog soon!
I know I should be unpacking, doing laundry, and catching up on emails this morning, but I just want to snuggle in bed with Josh and Caleb. Work can wait! Breakfast in bed would also be nice. We made Cornmeal Waffles with Blackberry Compote before I left for my crazy travels and I could really good go for a plate of hot waffles this morning. Good thing, I put some in the freezer. I think I will bust them out and stay in my pj's all day! Sounds like a good Monday to me!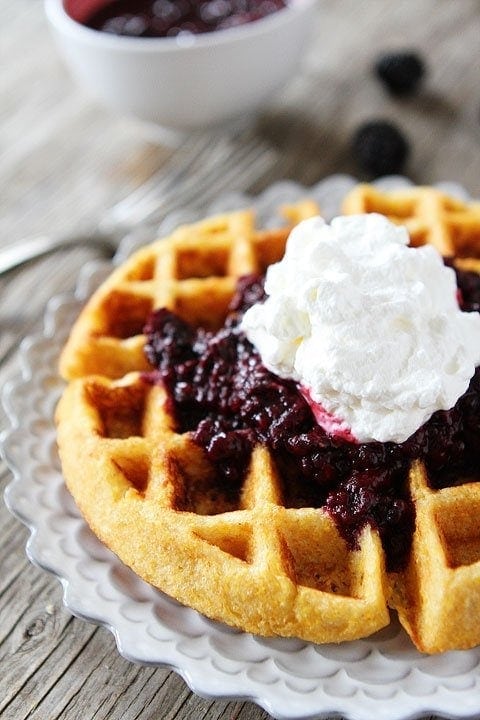 Caleb is a huge waffle fan so we make them on a regular basis. He is already a waffle connoisseur, he won't eat any old waffle. His waffles have to have berries and whipped cream. He knows what makes a good waffle:)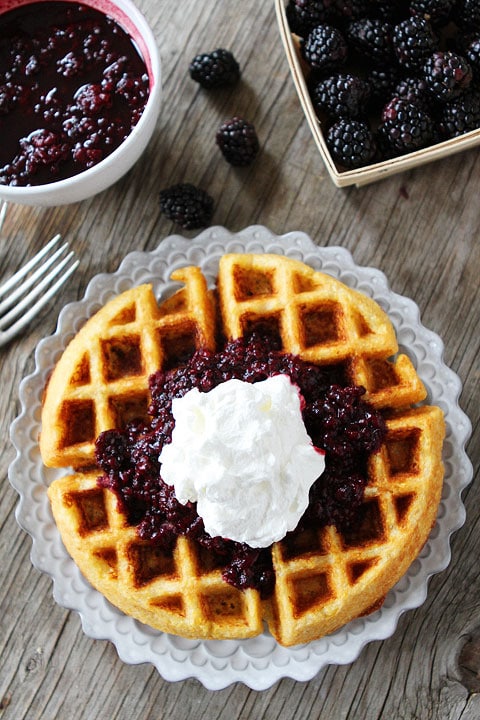 We try to mix up our waffle recipes and berry toppings so he doesn't get bored. Last time we made Cornmeal Waffles with Blackberry Compote and they were a huge hit!
The cornmeal adds a slight crunch to the fluffy waffles. I loved the texture! We used our favorite waffle baker. The waffles were golden brown and cooked perfectly every time. I love that we can make two waffles at a time! The faster we make waffles, the sooner we can eat them:)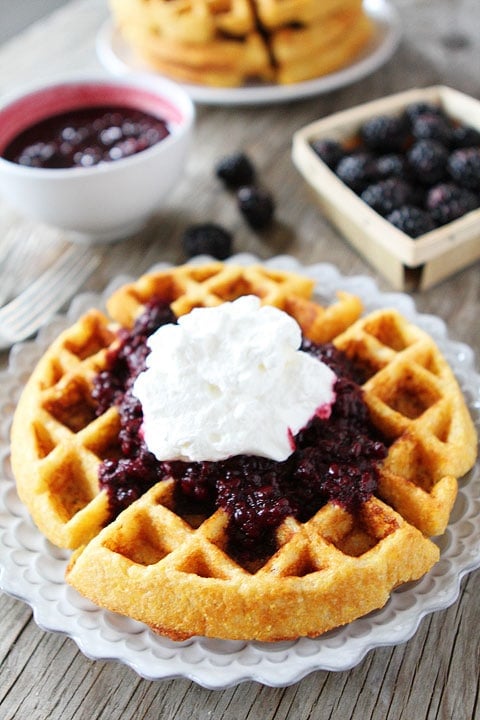 I made a simple blackberry compote to go with our waffles. I wanted to make sure Caleb would eat them…and I love berries on my waffles too. Especially blackberries, they are my favorite!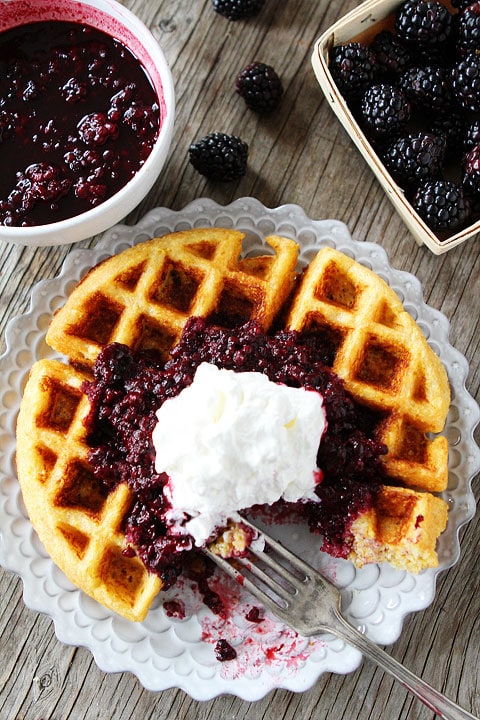 I topped our fresh waffles with warm blackberry compote and a big dollop of whipped cream. The waffles were fit for a king…and Caleb:) He gave the waffles two thumbs up! Josh and I enjoyed them too! And I am SO glad I saved a few waffles for the freezer. I am going to pull out a few this morning so we can enjoy a delicious breakfast with no work!
Cornmeal Waffles with Blackberry Compote are a real treat! Make them for a special occasion, like Mother's Day…your mom will love you forever if she wakes up to a plate of warm waffles! And make sure you make extra so you can put a few in the freezer! You will love having a secret stash for those lazy days!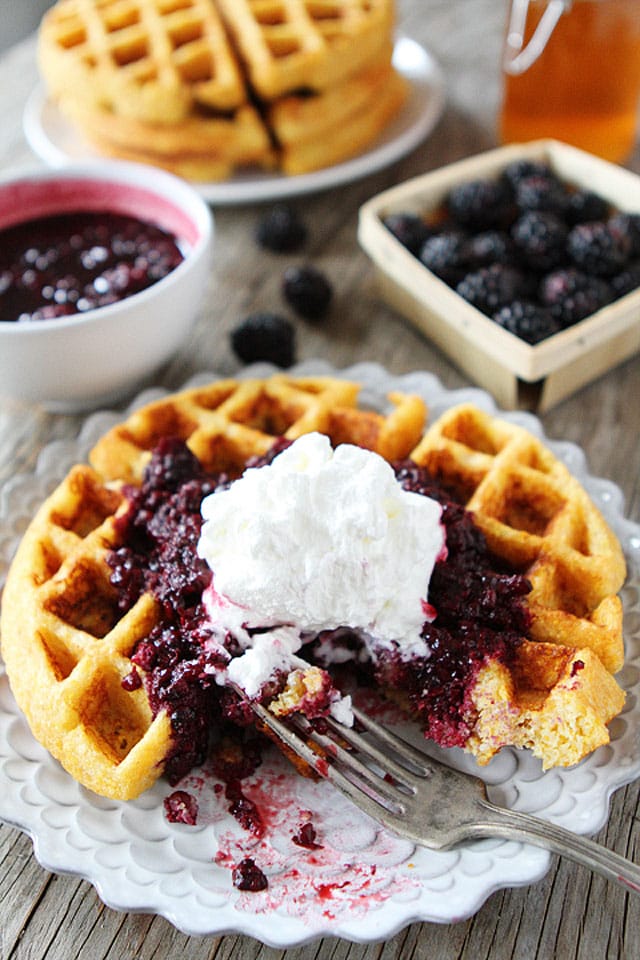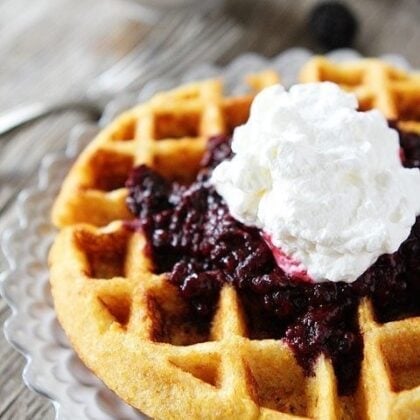 Cornmeal Waffles with Blackberry Compote
Light and fluffy cornmeal waffles served with warm blackberry compote and whipped cream. These waffles freeze well so make sure you put a few in the freezer for a rainy day!
Ingredients
For the Blackberry Compote:
16

ounces

fresh or frozen blackberries

2

tablespoons

sugar

1

tablespoon

water

if using fresh berries
Instructions
Preheat your waffle iron.

In a large bowl, whisk together flour, cornmeal, baking powder, baking soda and salt.

In a medium bowl, combine the buttermilk, eggs, honey, and vanilla extract. Pour the liquid ingredients over the dry ingredients and stir until the ingredients are just combined. Stir in the melted butter.

Grease the hot waffle iron with nonstick cooking spray. Spoon out ½ cup of batter (or the amount recommended by the manufacturer's instructions) onto the hot iron. Use a spoon to smooth the batter almost to the edge of the grids. Close the lid and bake until browned and crisp.

In the meantime, make the blackberry compote. In a small saucepan, place blackberries, sugar, and 1 tablespoon water (if using fresh berries). Cook over medium high heat, stirring occasionally, until the berries become soft and juicy, about 4 to 5 minutes. Remove from heat.

Serve waffles with blackberry compote and whipped cream, if desired.

Note-the waffles freeze well. Place cooled waffles in a freezer bag and freeze. To reheat, place waffles in the toaster.
Have you tried this recipe?
Leave a comment below and share a photo on Instagram. Tag @twopeasandpod and hashtag it with #twopeasandtheirpod