It's been a rough week. I hurt my neck and have been in extreme pain. I think it was a combination of sleeping on my neck wrong and too much Body Pump. I have been resting, using ice/heat, pain meds, etc. but it still hurts. Luckily, Josh has been pampering me. He broke his neck a few years ago, so he understands neck pain. It is not fun.I hope to rest all weekend long and be 100% again.
This week we had one of our good friends over for dinner to celebrate his birthday. Josh suggested some kind of chicken dish, but really didn't have any ideas. So I did some searching and decided to go with Food Finery's Creamy Lemon Chicken and Rice.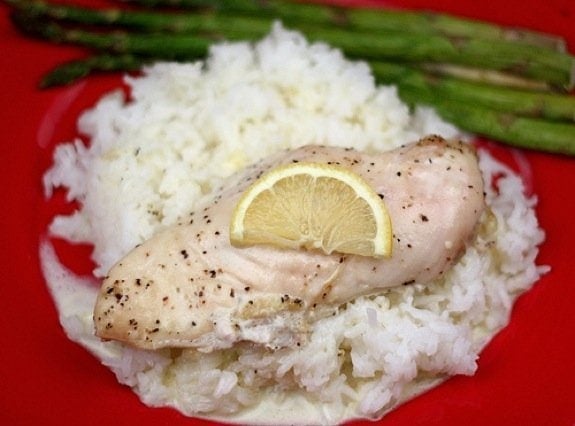 Josh volunteered to be in charge of the dinner so I could rest. He did the grocery shopping, cleaned the house, and made the dinner. What a guy:) He baked the chicken in the oven with olive oil and lemon. He made the sauce and rice while the chicken was baking.
Josh poured the sauce over a bed or rice and added a piece of chicken. He also roasted asparagus to go with. He created a pretty plate-even with ugly chicken..ha! The guys loved the meal-especially the sauce. If you are looking for a good "go to" chicken meal, give this one a try. Thanks Tiffany for a fabulous recipe.
Oh, and of course we had birthday cake for our friend-I will post an outstanding grapefruit cake recipe on Monday. It's a winner! Happy weekend everyone.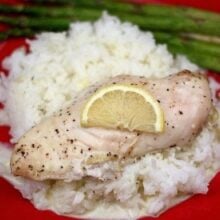 Creamy Lemon Chicken and Rice
Ingredients
4

boneless skinless chicken breasts

2

tablespoons

olive oil

4

tablespoons

butter

2

garlic cloves

minced

2

lemons

1

cup

heavy cream

Salt and pepper to taste

Cooked Rice
Instructions
Preheat the oven to 350 degrees. Clean chicken, arrange in a 9 by 13 baking dish, drizzle with olive oil and the juice of half of one lemon. Season with salt and pepper. Bake for 30 minutes or until the chicken is no longer pink.

While the chicken is baking, cook the rice of your choice.

Heat a medium skillet and melt butter until it starts to brown. Add the garlic and saute for one minute. Add the juice of half of a lemon and simmer for one minute. Add half of the cream and season with salt and pepper. Stir to combine. Simmer the sauce for a couple of minutes and then add the remaining lemon juice. Stir and add the remaining cream. Simmer for 5 minutes, stirring occasionally. Remove chicken from oven and allow to rest 5 minutes.

Divide rice among four plates, place chicken on top of rice and pour sauce over each serving.
Have you tried this recipe?
Leave a comment below and share a photo on Instagram. Tag @twopeasandpod and hashtag it with #twopeasandtheirpod