I don't bake cupcakes very often, but today is a special occasion. Today we are celebrating our good friend Kristan! Kristan, who blogs at Confessions of a Cookbook Queen, is due to have a sweet baby girl any day now and today is her virtual baby shower! Yay!
Kristan loves cupcakes and the color pink…and since she is having a baby girl, I figured Dark Chocolate Cupcakes with Raspberry Buttercream Frosting would be the perfect treat to bring to her baby shower. Yes, I know we are not actually attending her baby shower since it's a virtual shower, but maybe if I close my eyes and tap my ruby red slippers we will magically appear at Kristan's house with our cupcakes. And it would be nice if all of our friends and their food could come too:) Come on ruby red slippers, work your magic today!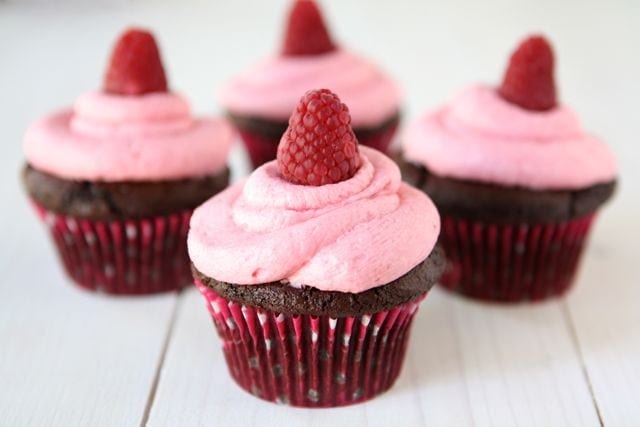 I love dark chocolate and raspberry together and the combo works beautifully in these cupcakes. The cupcakes are rich, rich, rich! If you are a dark chocolate lover, these are the cupcakes for you! And good news, they are super easy to make, you don't even need a mixer!
To make the cupcakes, you melt chopped chocolate, butter, and cocoa together. Almost like making brownies. I used bittersweet chocolate and dutch processed cocoa to create the dark chocolate flavor. Chocolate, glorious chocolate!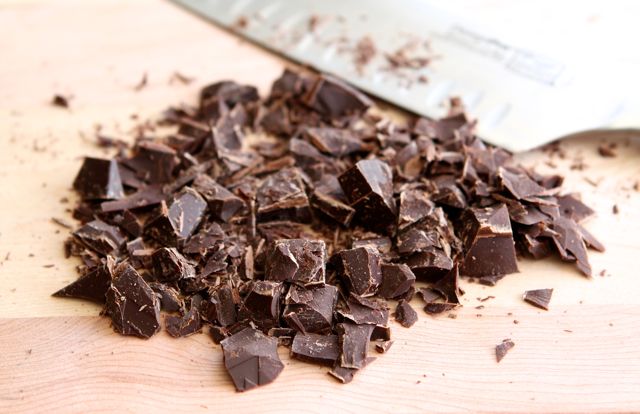 The raspberry buttercream is sweet and tastes just like fresh raspberries. I usually don't like a lot of frosting, but I am surprised the frosting made it to these cupcakes. I wanted to eat the entire bowl. I knew these cupcakes were for Kristan though, so I stopped myself and piped the pretty pink raspberry frosting on the dark chocolate cupcakes. I topped each cupcake with a fresh raspberry-the perfect finishing touch!
Congratulations Kristan! We are so excited for you and your family. We can't wait until precious little Lucy arrives! And hopefully the ruby red slippers will work today so we can show up with a platter of Dark Chocolate Cupcakes with Raspberry Buttercream Frosting. If not, I guess we will have to eat them all by ourselves…in honor of you of course!
Make sure you check out what everyone else made for Kristan's shower!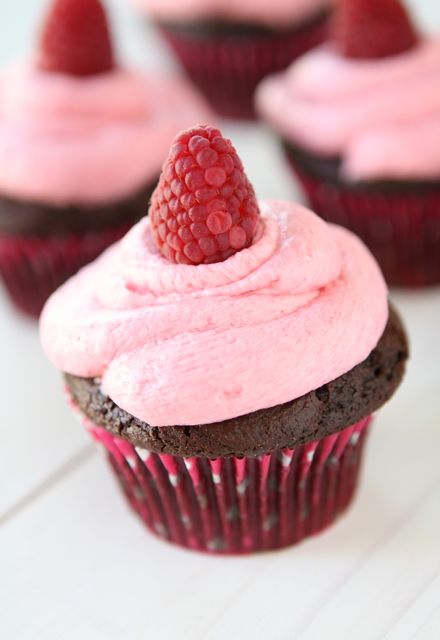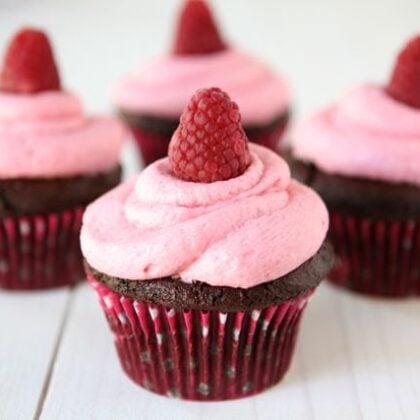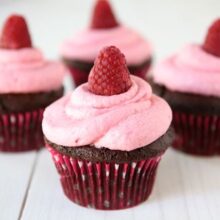 Dark Chocolate Cupcakes with Raspberry Buttercream Frosting
Dark chocolate cupcakes with a smooth and creamy raspberry buttercream frosting.
Instructions
1. To make the cupcakes: preheat the oven to 350 degrees F. Line a 12-cup muffin tin with paper liners. Set aside.

2. Place butter, chocolate and cocoa powder in a medium heatproof bowl. Microwave in 30 second spurts on 50% power, stirring in between, until the butter and chocolate are melted and the mixture is smooth. (Alternatively, you could do this step in a double boiler.) Set the mixture aside to cool until it is warm to the touch.

3. In a small bowl, whisk together the flour, baking soda, and baking powder. Whisk the eggs in a medium bowl to combine, then add the sugar, vanilla and salt and continue whisking until fully incorporated. Add the cooled chocolate mixture to the bowl and whisk to combine. Sift one-third of the flour mixture into the bowl and whisk gently to combine. Add the Greek yogurt or sour cream and whisk to combine. Finally, sift the the rest of the flour mixture into the bowl and whisk until everything is well combined. The cupcake batter will be thick.

4. Divide the batter evenly among the muffin tins, filling each about 2/3 full. Bake until a toothpick inserted into the center of the cupcakes comes out clean, about 18-20 minutes. Remove the pan to a wire rack and let the cupcakes cool for a few minutes before removing them to the rack to cool completely.

5. While the cupcakes are cooling, make the raspberry buttercream frosting. In a food processor or blender, puree the raspberries. Pour raspberries through a fine sieve into a bowl, pressing on solids, to eliminate the seeds. Place butter, half of the powdered sugar, and raspberry puree into mixing bowl. Beat over low speed until well-blended. Add the other half of the sugar, increase speed to medium. Mix until light and fluffy.

6. Frost cooled cupcakes with the raspberry buttercream and top each cupcake with a fresh raspberry, if desired.
Have you tried this recipe?
Leave a comment below and share a photo on Instagram. Tag @twopeasandpod and hashtag it with #twopeasandtheirpod