Dulce de Leche Brownies-serve with a scoop of ice cream and an extra drizzle of dulce de leche for an extra special dessert!
Today we are celebrating our dear friend, Ree's, new cookbook, The Pioneer Woman Cooks: A Year of Holidays. We are celebrating with Dulce De Leche Brownies, because there is no better way to celebrate than by eating dessert. And let me tell you, Ree knows how to do dessert. The Dulce De Leche Brownie recipe comes from Ree's new cookbook and let me tell you, they are divine!
**Keep reading for the recipe and for a chance to win a copy of Ree's new book!**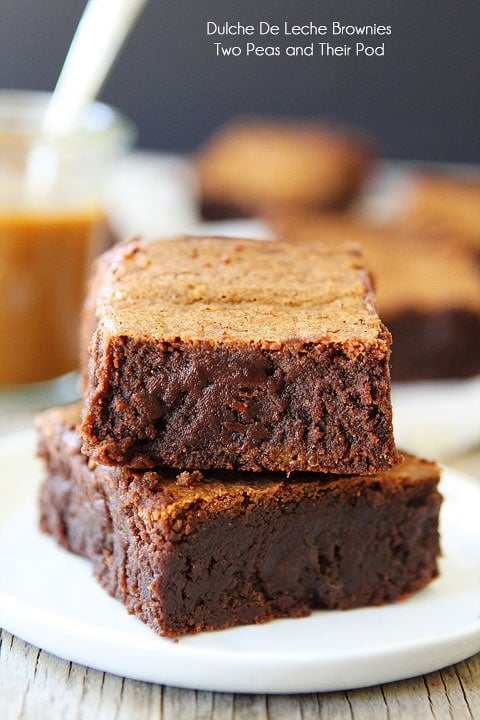 I don't know if I should love Ree for these brownies or be mad at her for these brownies. Chocolate, 2 sticks of butter, sugar, AND dulce de leche. Yeah, Ree wasn't messing around with these brownies. They are the real deal!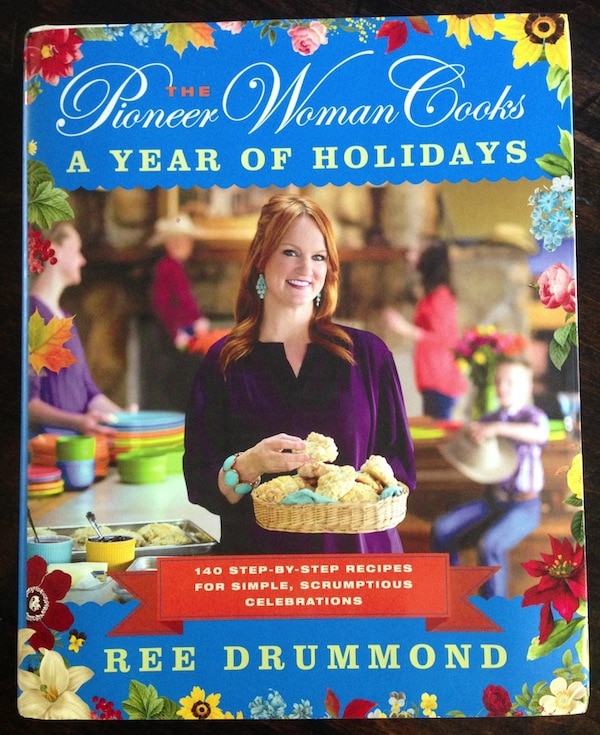 Ree shares her Dulce De Leche Brownies in her Fiesta chapter, which is filled with mouth-watering Mexican food. Our family is always in the mood for Mexican so I decided that these brownies are perfect for any day and every day! No special holiday needed. I couldn't wait until Cinco de Mayo to make them.
The Pioneer Woman Cooks: A Year of Holidays will help you plan all of your holiday menus. Ree shows you how to celebrate your favorite holidays with inspired menus from New Year's Day to New Year's Eve. Ree also shares fun family stories and step-by-step photos for every recipe.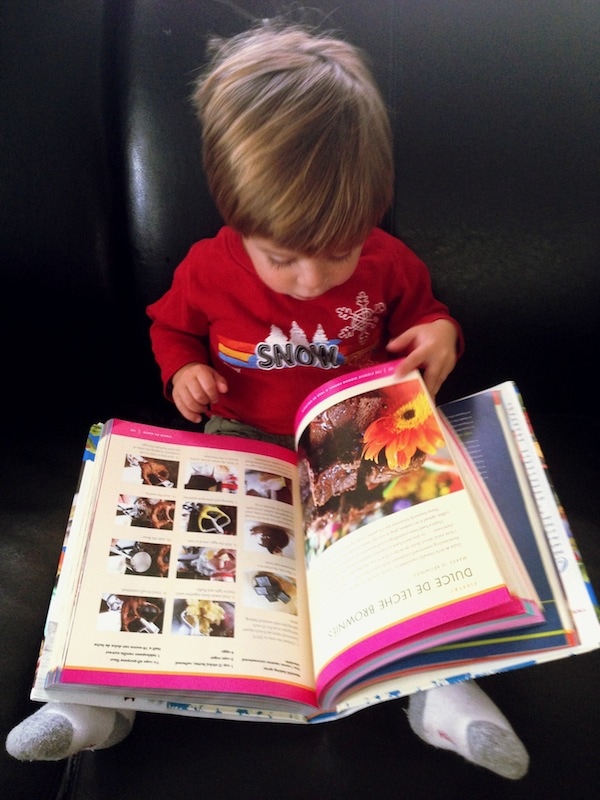 Caleb LOVES Auntie Ree's new book. I have to arm wrestle him to look at it and since he usually wins, I rarely get a turn to read it. He loves looking at Ree's gorgeous photography. He loves all of the horse, dog, cowboy, and food photos. Caleb asked to be a cowboy for Halloween. I think he is jealous of Ree's life on the ranch. Aren't we all:)
He did let me borrow the book so I could bake brownies. He's a smart boy, he knew that if he shared the book, I would share dessert.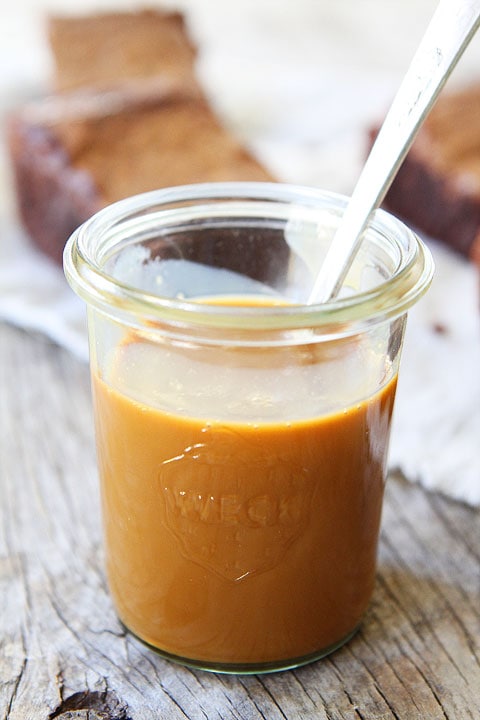 Dulce de leche is the magic ingredient that gets swirled into the brownies. Dulce de Leche means "candy of milk" in Spanish. Oh, and candy it is! It is a rich and decadent sauce similar in flavor to caramel, but not in texture. Dulce de leche is smooth and silky and not chewy, like caramel.
If you haven't tried dulce de leche, start with these brownies. I guarantee you will be hooked!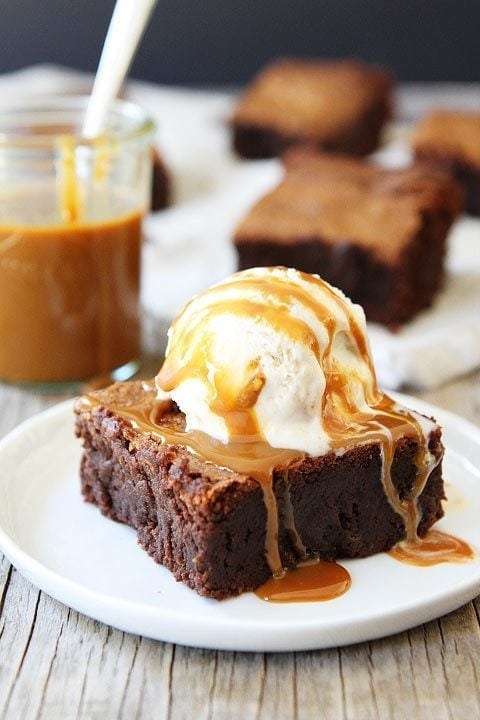 The Dulce De Leche Brownies are perfect on their own, but I went all out and added a scoop of ice cream and extra dulce de leche. I don't think Ree would object:) We devoured our brownies…and licked the dulce de leche off our plates! Thanks Ree for a fabulous recipe and for another amazing book!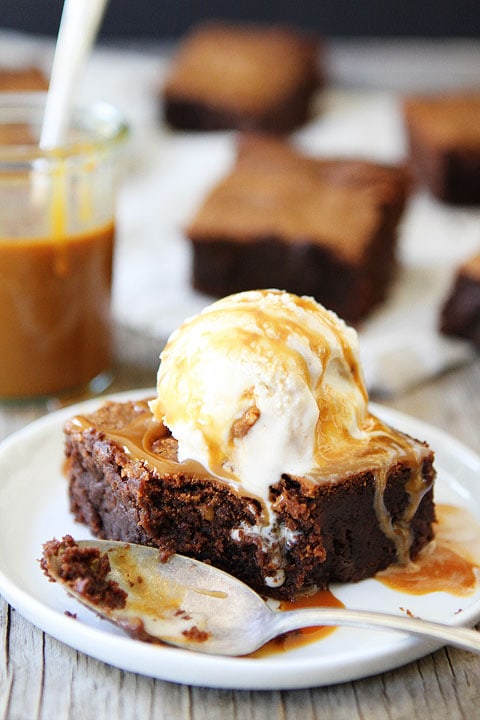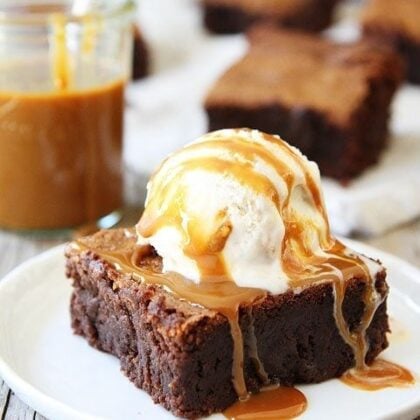 Dulce De Leche Brownies
Thick and fudgy brownies with dulce de leche! Top with ice cream and an extra drizzle of ducle de leche for a divine dessert!
Instructions
Preheat the oven to 325 degrees F. Generously spray an 8-inch square baking pan or an 8 x 10-inch baking pan with nonstick baking spray.

Place chocolate in a microwave-safe bowl and heat it in about 45-second intervals, stirring each time, until it's completely melted. Set it aside to cool for 20 minutes or so.

Add the butter and sugar to the bowl of an electric mixer fitted with the paddle attachment. Cream together until light and fluffy.

Add the eggs, one at a time, beating well after each addition. With the mixer on low, slowly drizzle in the melted chocolate. Mix until combined.

Add the flour and vanilla extract. Mix until combined, scraping down the sides of the bowl halfway through. Spread the batter into the greased pan.

Place the dulce de leche in a glass bowl. Warm it in the microwave for 30-45 seconds. Drop large dollops of dulce de leche on the surface of the brownie batter. Use a knife to slowly swirl it through the brownie batter. Don't drag the knife sideways through the batter, hold it so the thin side of the knife leads the way.

Bake brownies for 45-50 minutes, or until the center is almost totally set. Let the brownies cool in the pan for 15 minutes. Carefully turn them out of the pan and let them cool completely. Cut the brownies into squares and serve. Top with ice cream and extra dulce de leche, if desired.
Have you tried this recipe?
Leave a comment below and share a photo on Instagram. Tag @twopeasandpod and hashtag it with #twopeasandtheirpod