Eggnog Coffee Cake Muffins-a wonderful breakfast treat for the holidays!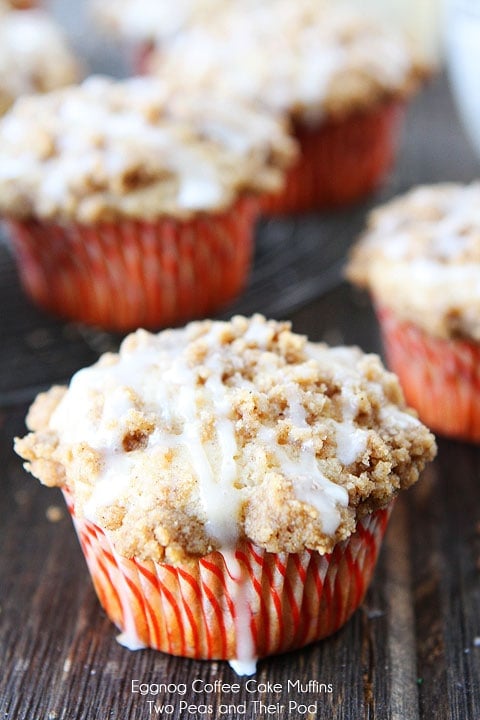 Josh and Caleb are milk chuggers. We go through gallons and gallons of milk every week. The other day we were running low so I ran up to the store to grab milk. I was only going in for milk, but the eggnog caught my eye. I decided to grab a carton. Eggnog season doesn't last very long so I figured I better get on the eggnog train before it's too late!
While I was waiting in the checkout line my mind was racing with eggnog ideas. I looked up and noticed that the person in front of me had one of those boxed coffee cakes in their basket. That boxed coffee cake gave me the idea to make Eggnog Coffee Cake Muffins. I couldn't wait to get home so I could start baking!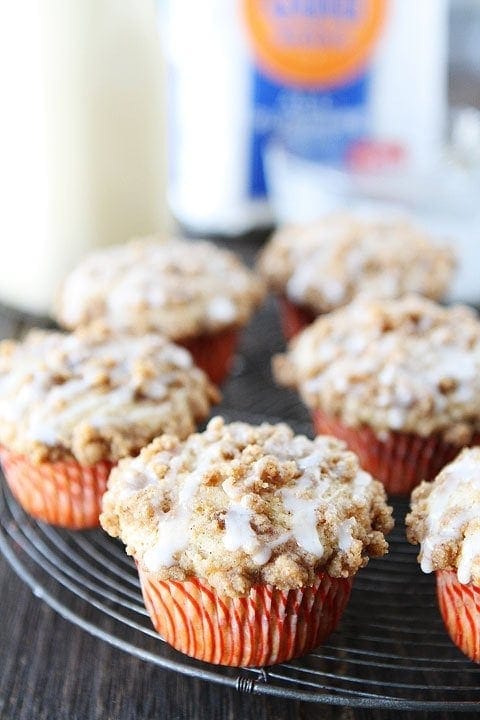 Josh was in the kitchen when I got home, so I sweet talked him in to helping me make the muffins. Four hands are better than two:) And it really didn't take much sweet talking since Josh knew he would get to sample the muffins when they came out of the oven.
Josh got out our favorite Gold Medal flour while I gathered the rest of ingredients. Josh really wasn't sure what other ingredients we would need, but he know Gold Medal Flour was a must. We always use Gold Medal Flour in our baking adventures.
I put Josh in charge of making the streusel. A muffin with streusel is music to my ears and this recipe has streusel in the middle of the muffin AND on top!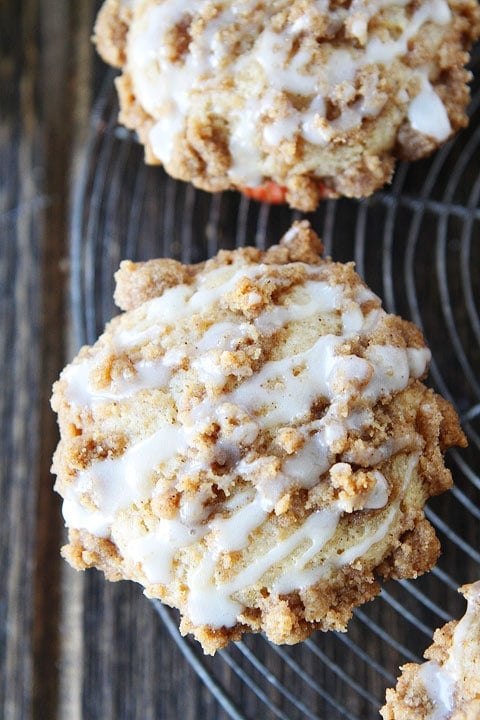 The muffins also get a double dose of eggnog! There is eggnog in the muffin batter and I whisked up an eggnog glaze to finish off the muffins. Eggnog fans are going to go crazy for these muffins.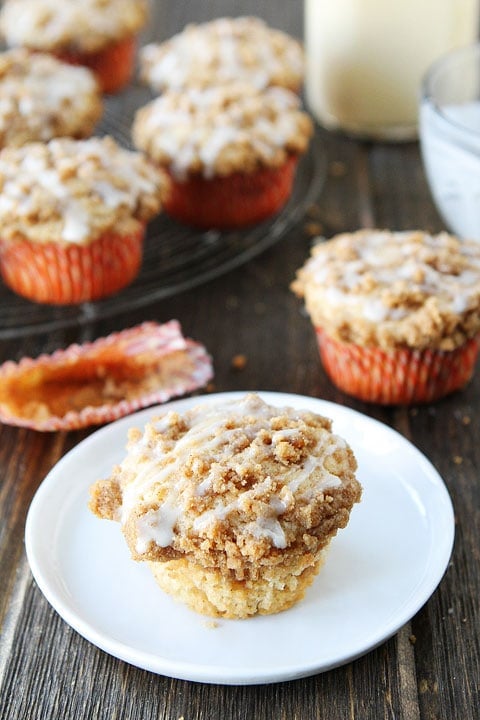 And speaking of eggnog fans, my dad is coming to visit for Christmas and he LOVES eggnog. He drinks it like it's going out of style. I can't wait to make my dad Eggnog Coffee Cake Muffins. They will be the perfect breakfast treat on Christmas morning! And I am sure my dad will wash his muffin down with a tall glass of eggnog. He seriously loves the stuff!
Make your Christmas morning extra special by baking a batch of Eggnog Coffee Cake Muffins! And I don't blame you if you can't wait until Christmas morning to make these muffins. They are almost too good to be true! Go ahead and make a batch now, just make sure you pick up extra eggnog at the store. You don't want to wake up Christmas morning and realize you are out of eggnog! Eggnog Coffee Cake Muffins are a must! Enjoy!
Eggnog Coffee Cake Muffins
Eggnog Coffee Cake Muffins-the streusel and eggnog glaze make these muffins extra special! They are perfect for Christmas morning!
Instructions
Preheat the oven to 350 degrees F. Line a muffin pan with paper liners or spray with cooking spray. The recipe makes 10 muffins. Set aside.

First make the streusel topping. In a small bowl, combine flour, brown sugar, cinnamon, and nutmeg. Add the butter and rub together with your fingers until mixture looks like coarse crumbs. Set aside.

In a large bowl, whisk together flour, sugar, baking powder, cinnamon, nutmeg, and salt. Set aside.

In a medium bowl, combine eggnog, egg, melted butter, and vanilla extract. Whisk until smooth. Pour the liquid ingredients over the dry ingredients and stir until just combined. Don't over mix.

Place 1 tablespoon of muffin batter in each prepared muffin cup. Top with 1 teaspoon of streusel. Add more batter to cover the streusel, about a heaping teaspoon. Top muffins with remaining streusel.

Bake muffins for 20 minutes, or until a toothpick inserted in the center comes out clean. Remove from oven and let muffins cool to room temperature.

While the muffins are cooking, make the eggnog glaze. In a medium bowl, whisk together powdered sugar, eggnog, and pinch of nutmeg. Whisk until smooth. Drizzle glaze over the muffins. Serve and enjoy!
Have you tried this recipe?
Leave a comment below and share a photo on Instagram. Tag @twopeasandpod and hashtag it with #twopeasandtheirpod
Disclosure-this recipe is in partnership with Gold Medal Flour, but our opinions are our own.