We are excited to share a recap of our recent family vacation to Maui. We partnered with American Express and Hilton HHonors and had the BEST time! Hawaii is hands down our favorite vacation spot. We took Caleb to Maui when he was little, and Josh and I went to the Big Island before Maxwell was born for our babymoon. Hawaii really is paradise! We were thrilled to go back to Maui for a family vacation.
Today, we are going to share where we stayed, our favorite eats, favorite things to do, travel tips, and lots of fun photos! Are you ready for a little trip to Maui? Let's do this!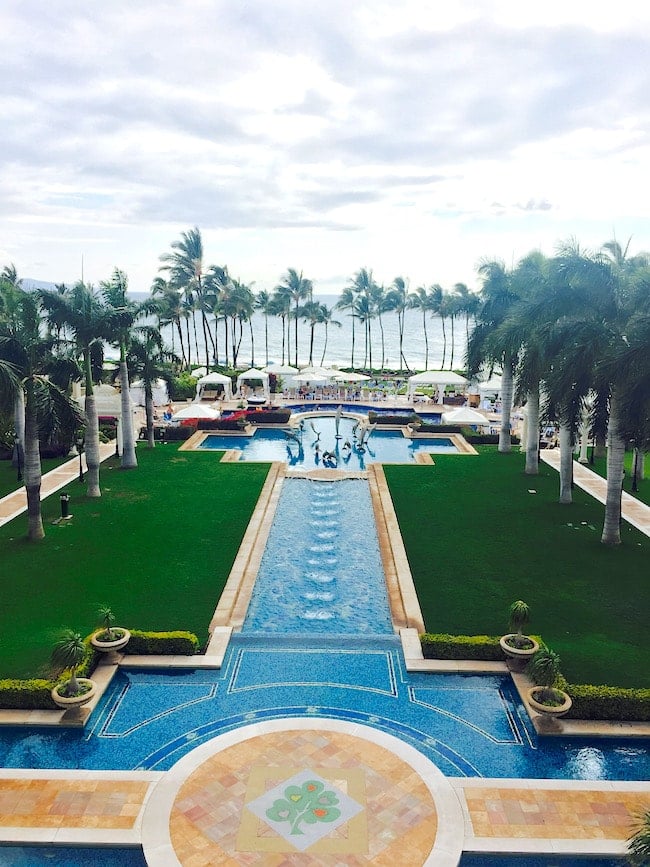 WHERE TO STAY:
We stayed at the Ho'olei Villas at the Grand Wailea, a Waldorf Astoria Resort. The villas are across the street from the main resort, but we had access to the pools, beach, fitness center, restaurants, etc. They have a shuttle service that takes you back and forth so you don't even have to walk. It's not far, but we were on vacation, so it was nice to ask for a ride and be lazy:) The pools at the Grand Wailea were so fun for the kids. They have a lazy river and tons of water slides!
Our villa was amazing! It had three bedrooms, a full kitchen, laundry room, and a covered lanai that had a spectacular view of the ocean. We loved having lots of space so the boys could run around and so we could all sleep:)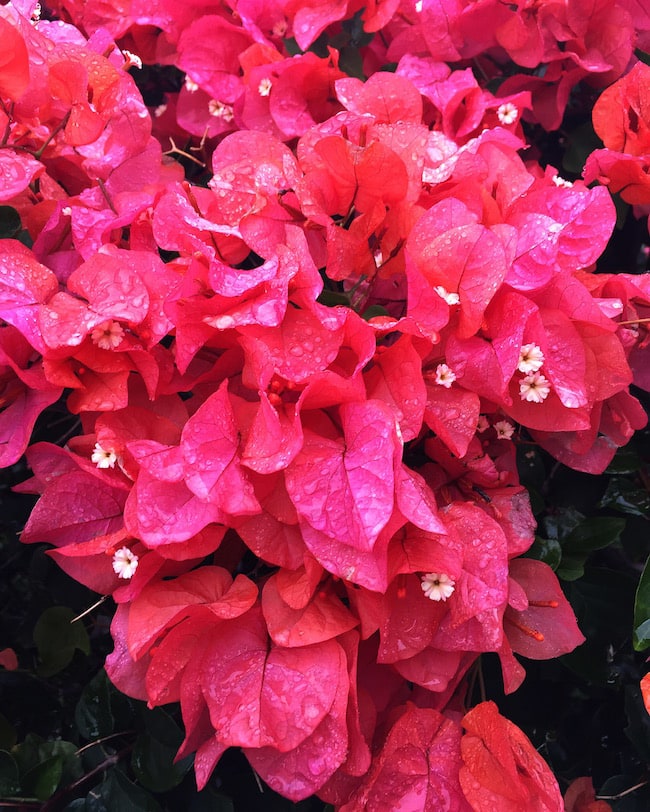 THINGS TO DO:
Ali' i Kula Lavender Farm-We visited the lavender farm on our first trip to Maui and wanted to go back. It is so pretty, and the lavender and flowers smell amazing!
We went on a lavender tour and learned about the different types of lavender. The boys loved running around the farm.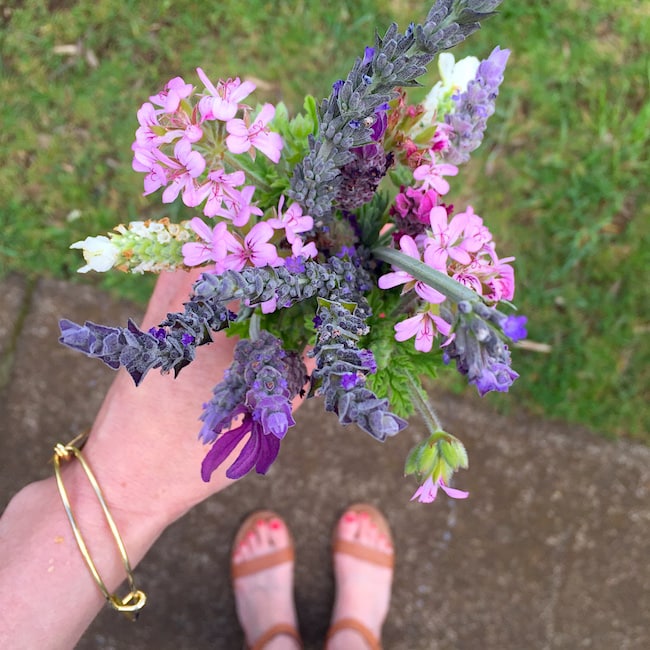 By the end of the tour I had my own little lavender bouquet! We also got to enjoy fresh lavender scones and tea! They have a cute little gift shop with lavender everything! Everyone is so nice and helpful too! We love the lavender farm!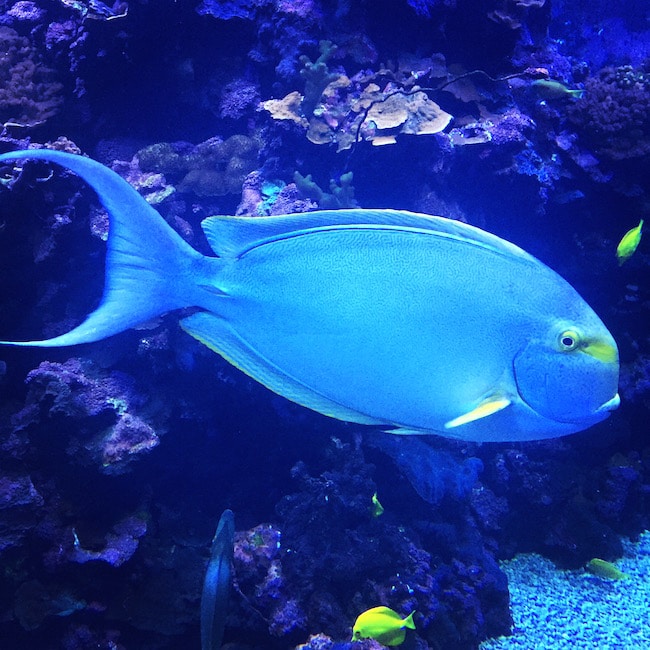 Maui Ocean Center-When we told the boys we were going to Hawaii, Maxwell immediately started asking about fish and turtles, so we knew we had to take him to the Maui Ocean Center. It is the perfect spot for kids! The boys loved seeing all of the ocean exhibits.
We ate lunch at Seascape Ma'alaea Restaurant, which is conveniently located in the Maui Ocean Center. It is a great place for families because the kids can sit by a huge fish tank. There is also a great view of the ocean. The food was good and we all had a fun time!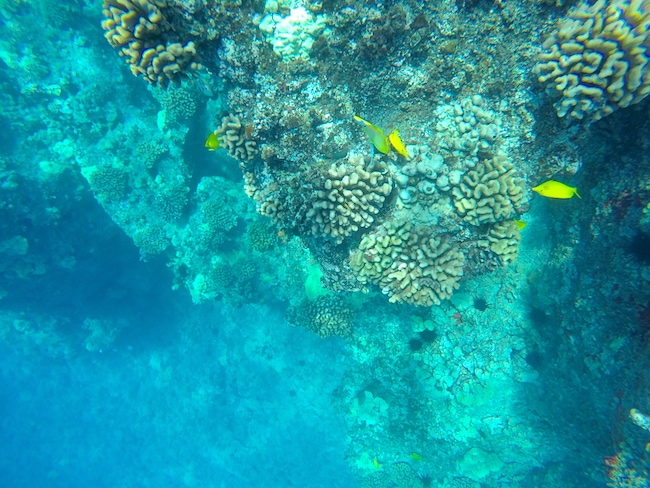 Snorkeling-We snorkeled every day, it was so fun! Our favorite spots were Ulua beach and Maluaka beach. We went early in the morning so we could see the best fish. Josh even saw an octopus.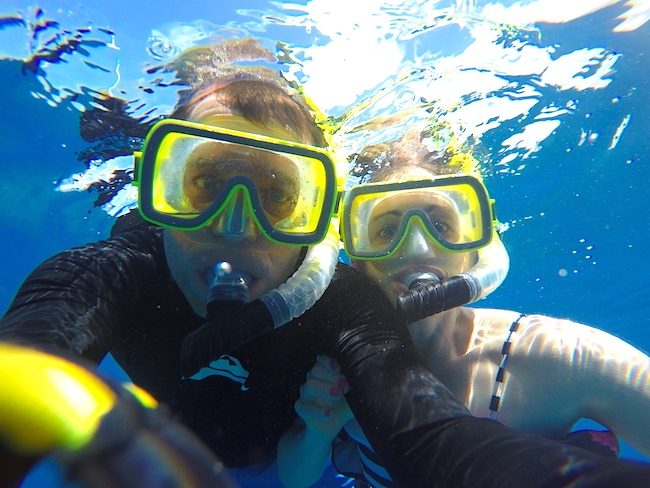 We also went on a snorkeling boat tour with Kai Kanani. The boat took us to the south end of Maui and we were able to snorkel in a couple different spots. We also enjoyed lunch on the boat and the sunshine. Fun fact: David Robinson was on our snorkeling tour and we ate lunch with him. He is a super nice guy!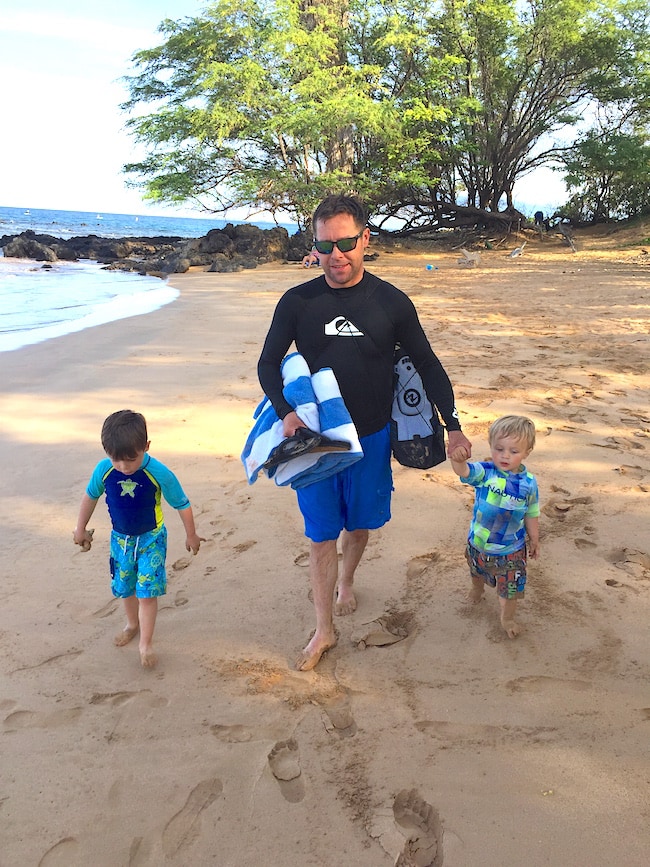 Beach-We went to the beach every single day! You have to when you are in Hawaii! The boys loved the sand and water. Maxwell was a little scared at first, but he got used to the waves after awhile and then fell in love! He kept yelling the water is going to get you! It was so cute!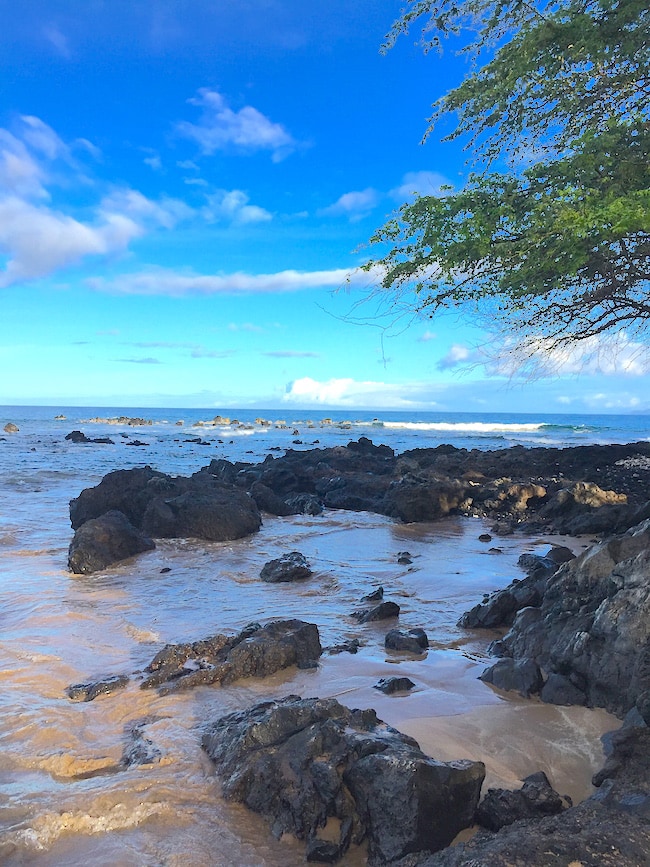 We went for lots of walks on the beach!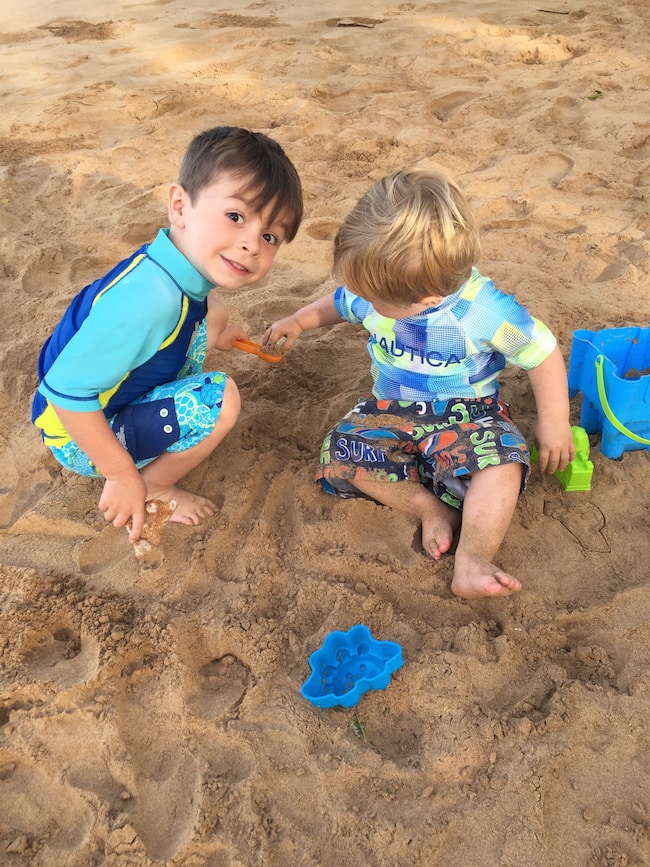 The boys made lots of sand castles too!
WHAT TO EAT: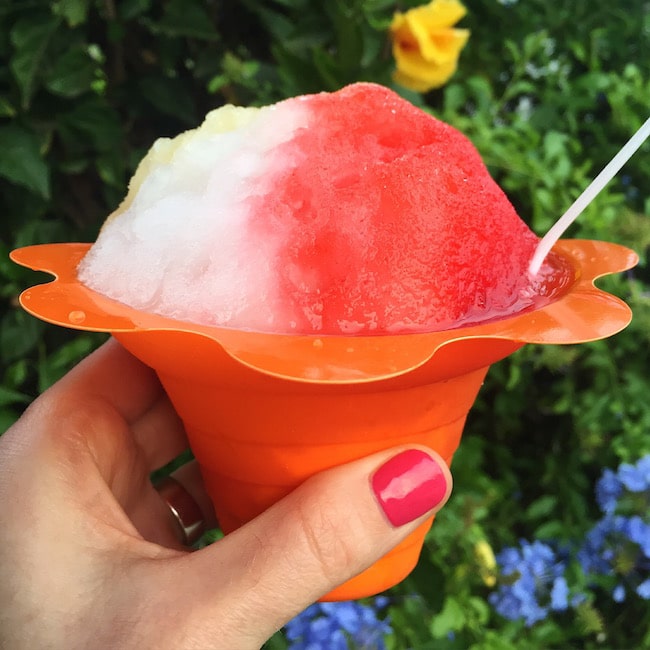 Ululani's Shaved Ice-Shaved ice is a MUST in Hawaii and Ululani's is the best!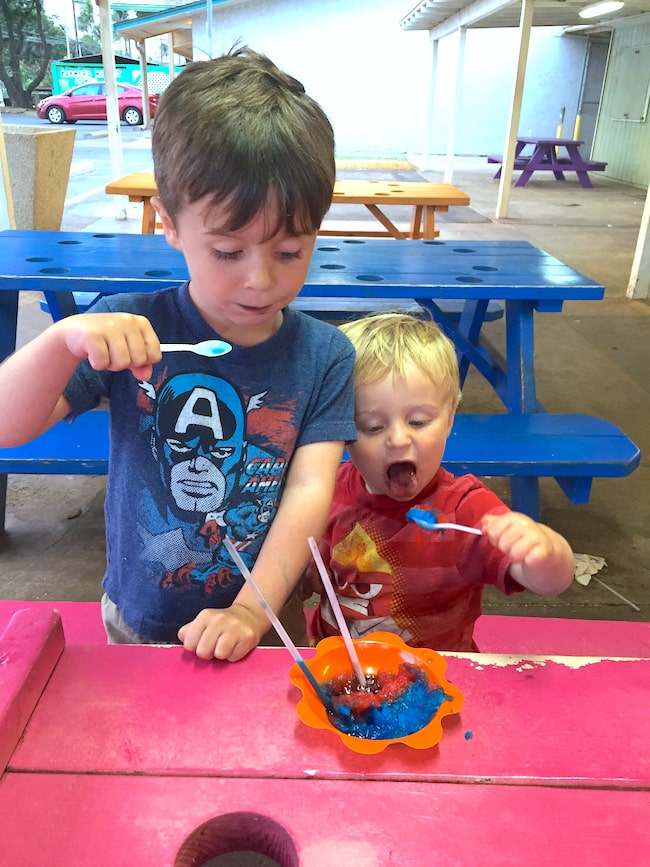 The boys loved it. Look at those faces:) We made sure we got shaved ice with ice cream at the bottom! Such a treat!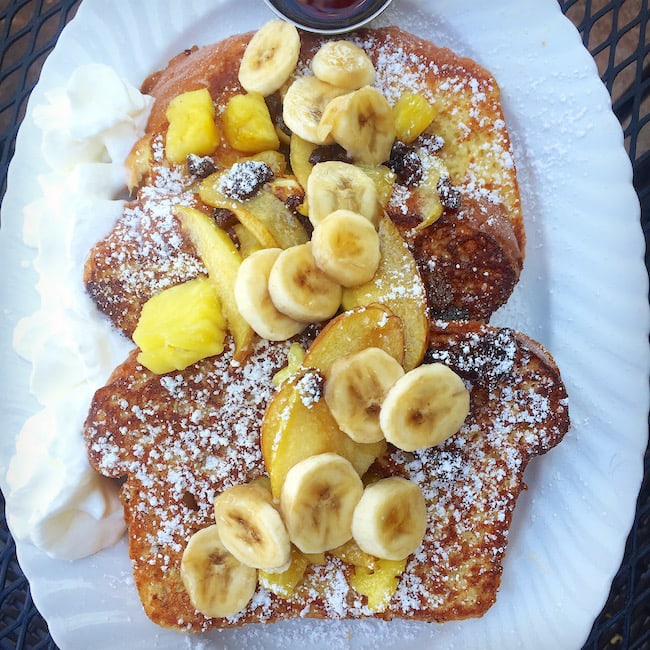 Chez Memme Bistro & Bakery is a great place for breakfast. They make their breads and pastries in-house and the brioche French toast trio is amazing! Some of the best French toast I have ever eaten! The restaurant is quaint, quiet, and the service was great!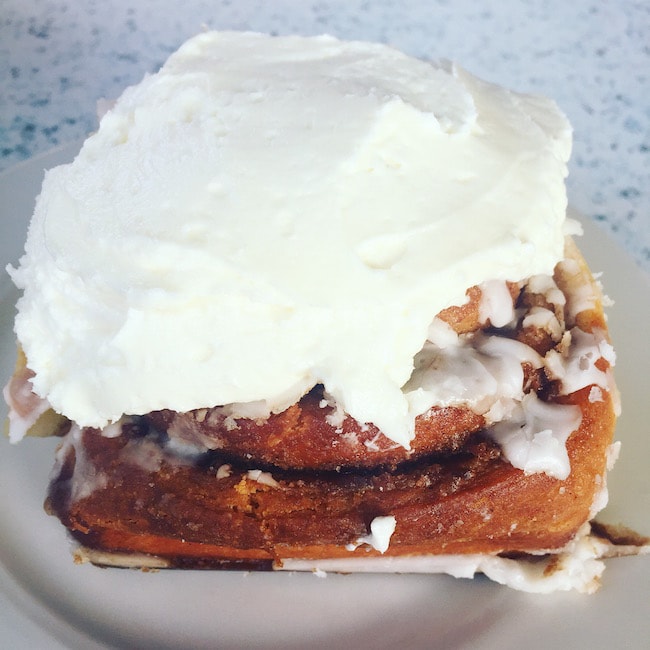 Kihei Caffe is THE place to go for breakfast. There is usually a long line, so get there early. You wait in line, order at the counter, and then find a table. The line moves quickly and we didn't have to wait long for our food. Kihei Caffe has a large menu, offering all of your favorite diner breakfast options, with a few Hawaiian favorites. Make sure you try the massive cinnamon roll with cream cheese frosting. My dad makes the BEST cinnamon rolls, but this one was really good:) The pancakes with coconut syrup were really good too! The pancakes were light and fluffy and the coconut syrup was dreamy! The kids menu has pancakes in the shape of turtles and the boys loved them! Oh, and grab a muffin to go. Their muffins are HUGE and so good! Yes, lots of good carbs at this place:)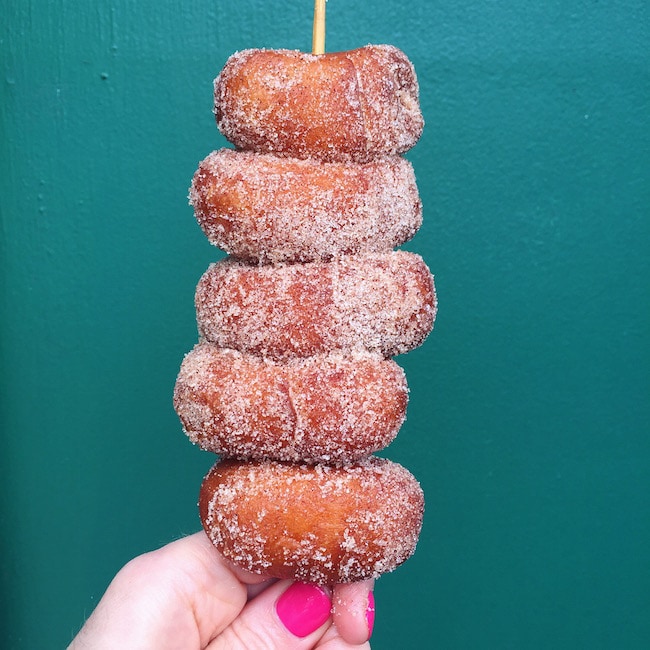 T Komoda Store & Bakery-Donuts on a stick? Yes, please! We tried the cinnamon sugar donuts and the glazed donuts on a stick. Both were fresh and tasty! The store is kind of dark and nothing too special, but the donuts were worth it! A fun place to stop by!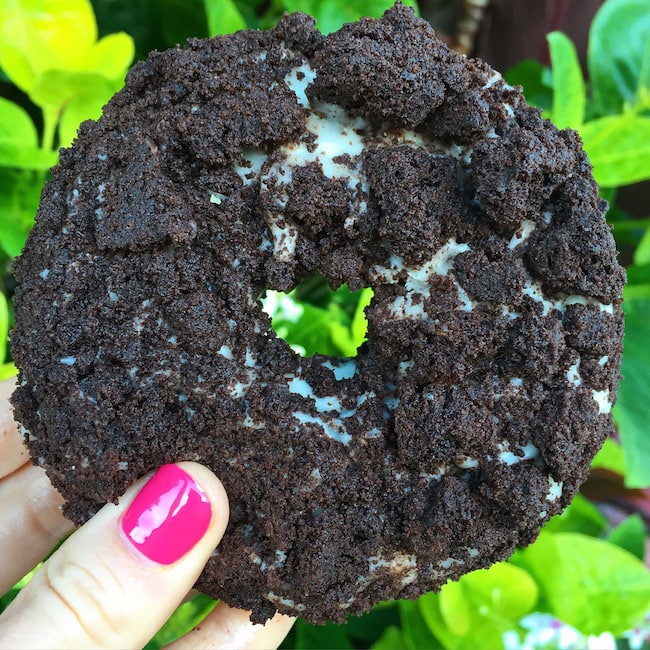 Donut Dynamite-I walked over to Cafe Kula at the Grand Wailea to get donuts from Donut Dynamite one morning. Several people on Instagram told me I HAD to try their donuts and luckily they were sold at the resort. We tried the Oh!Reo Donut and the Samoa Kine Donut. Both were tasty, a real vacation treat!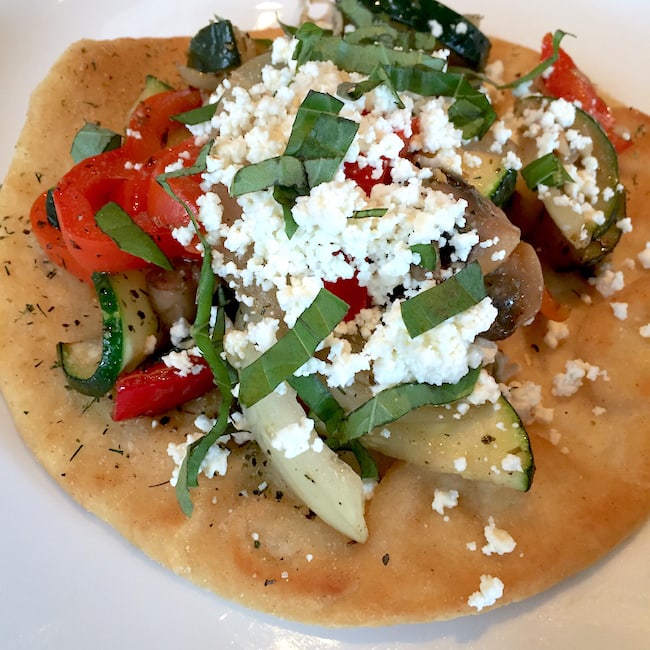 Pita Paradise is a great place for lunch or dinner. Start with hummus and pita bread. The hummus was creamy, flavorful, and the pita bread was soft and warm. I ordered the veggie pita sandwich and Josh had the gyro sandwich. We both loved our meals. They offer grilled pita cheese sandwiches for the kiddos and the boys devoured them!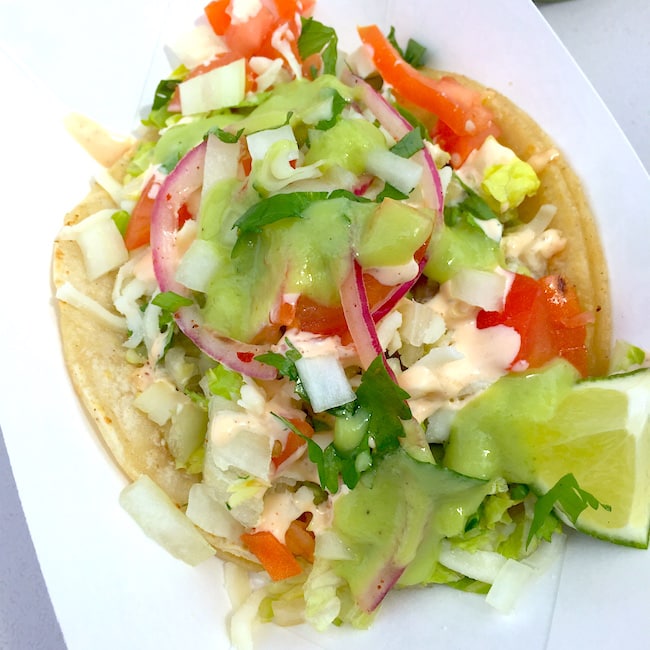 Ono Tacos is a food truck located in Lahaina. It is a great place to stop for a quick and delicious bite. The street tacos are tasty and affordable! I loved my veggie taco with the green avocado salsa, Mmmmm!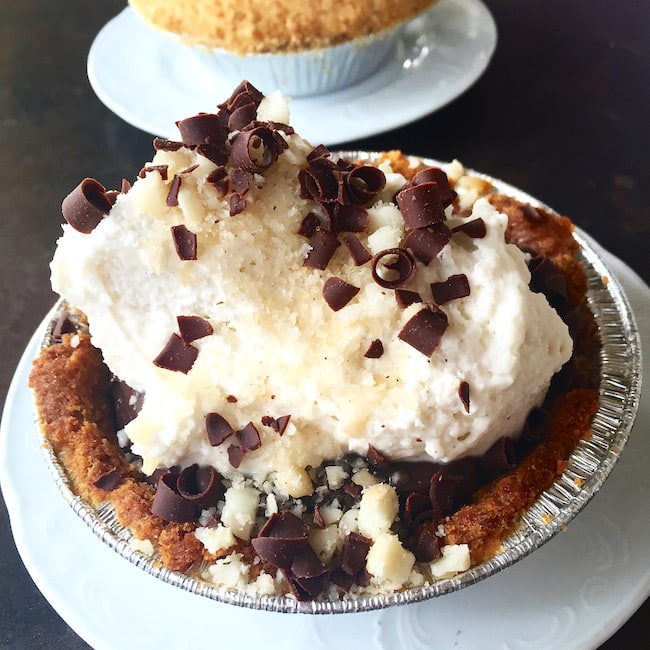 Leoda's Kitchen and Pie Shop-We stopped at Leoda's on our way back from Lahaina. They have a full menu, but we were on a mission for PIE! We tried the banana cream pie and the macadamia nut chocolate praline pie. They are mini pies, but plenty big for sharing. We all grabbed forks and dug in! Both pies were delicious, I don't think there was a crumb left, except for the chocolate crumb mess all over Maxwell and Caleb's faces:)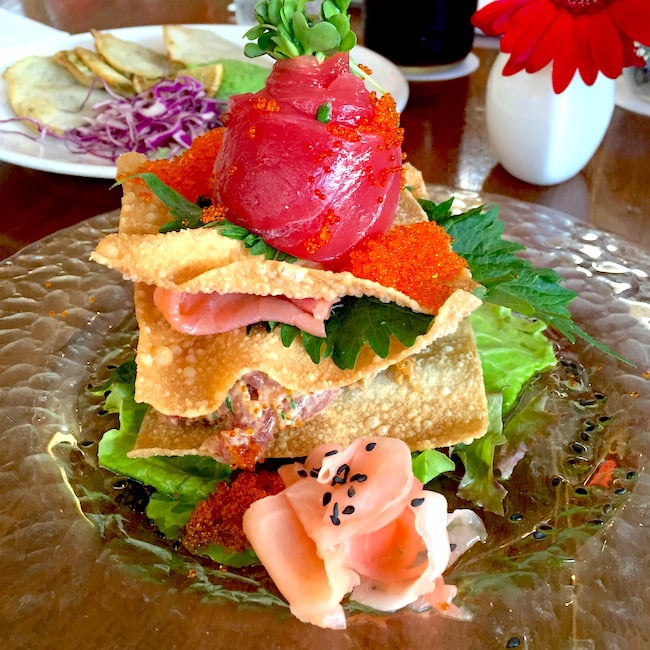 Hali' imaile General Store is Chef Bev Gannon's original and most acclaimed restaurant featuring eclectic American food with Asian overtones. It is a must visit! We loved our meal. Josh is still talking about the Sashimi Napoleon, layers of Ahi tartare, smoked salmon, sashimi ahi, crispy wonton stack, and wasabi vinaigrette. He also loved the ribs. Messy, but worth it!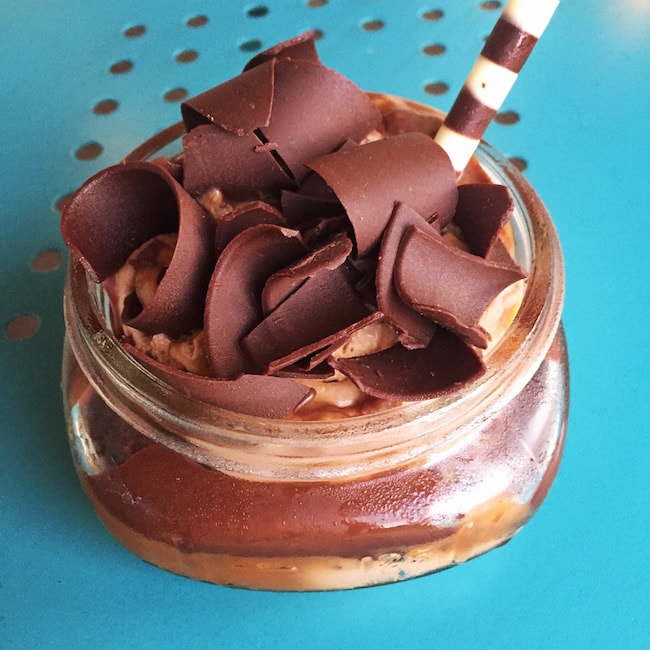 I am still talking about the desserts because you all know I have a sweet tooth and the desserts were off the charts good! Make sure you save room for the lemon bundt cake and "Love in a Jar." The Love in a Jar has layers of salted caramel, dark chocolate mousse, and devil's food chocolate cake. Yep, it's amazing! I licked the jar clean!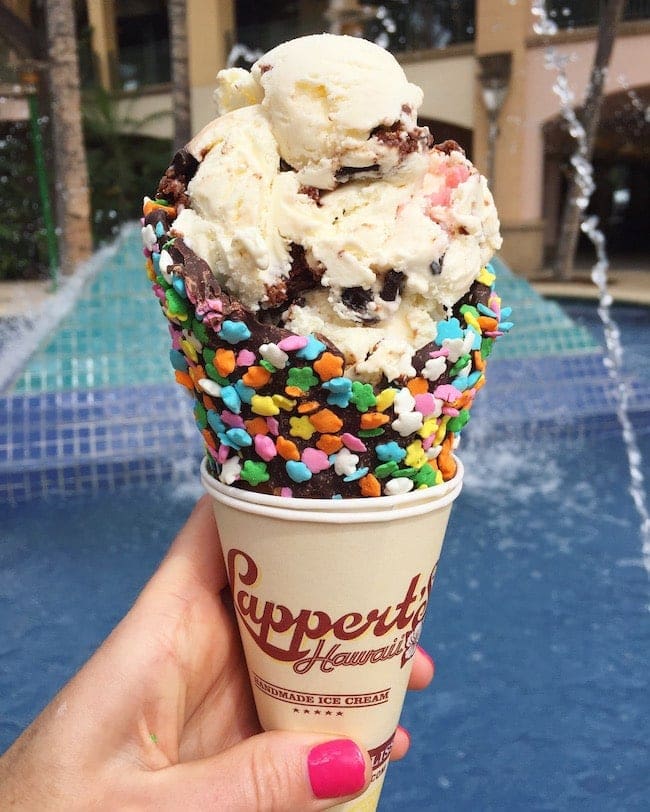 Lappert's Hawaii has amazing ice cream! There are lots of fun flavors so make sure you get a double or triple scoop!
Flatbread Company is a fun and delicious pizza place in Paia. The no boundaries salad with veggies is one of the best salads ever, so start with that. The pizza (flatbread) is amazing too and it is a great place to take the kiddos. They give the kids a ball of pizza dough to play with while they are waiting for the food. The boys had a ton of fun! Sorry I didn't take a picture, it was dark and we were too busy eating:) Trust me, it was good!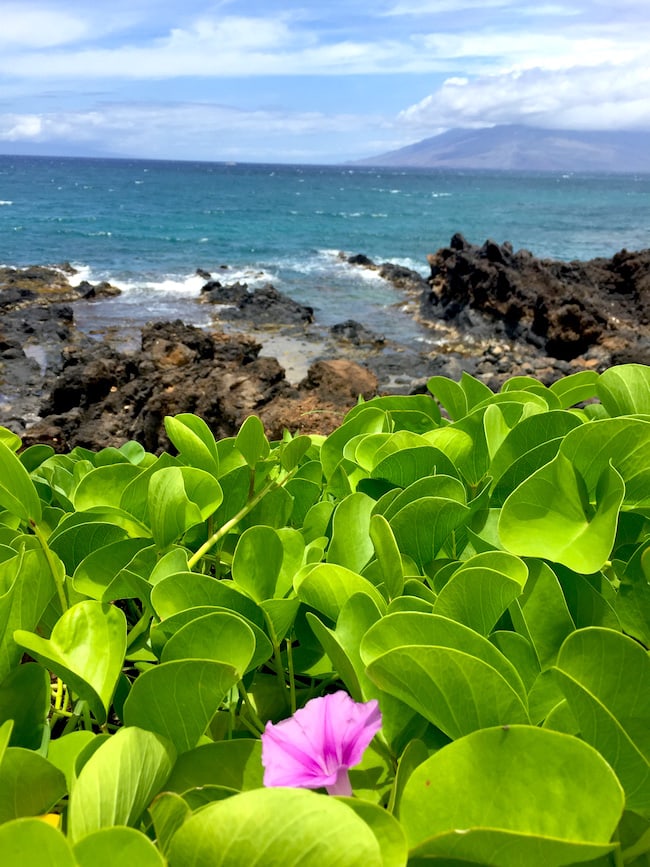 TIPS:
We rented a van so we could drive all over the island. It was nice to have our own vehicle so we could explore. FYI-you can rent car seats from the rental car company so you don't have to bring them along.
After we picked up our rental van at the airport, we went straight to the grocery store. We stocked up on groceries so we wouldn't have to eat out every meal. It was nice to eat some meals in at our villa.
We also bought our own snorkeling gear. We got two sets for $100, which is cheaper than renting gear every day.
By putting our hotel charges on our Hilton HHonors Card from American Express, we were able to earn 7X Hilton HHonors Points, which we can put towards our next trip. We also earned 5X Points at the restaurants above (because you earn 5X Points for each dollar of eligible purchases at U.S. restaurants, U.S. supermarkets and U.S. gas stations).
We had the BEST time. We already want to go back…or maybe we should go somewhere else. Any suggestions? By putting our trip expenses on our Hilton HHonors Card from American Express, we were able to earn Hilton Points, to put toward our next trip! Yay! We can't wait for our next travel adventure!
This post is sponsored by American Express and Hilton HHonors, but our opinions are our own. Thank you for supporting the brands that continue to make Two Peas and Their Pod possible.