Flourless Chocolate Cake
This easy Flourless Chocolate Cake with a silky chocolate ganache glaze is the BEST chocolate cake recipe. It is rich, decadent, and the perfect dessert for any celebration. The cake is gluten-free and super decadent.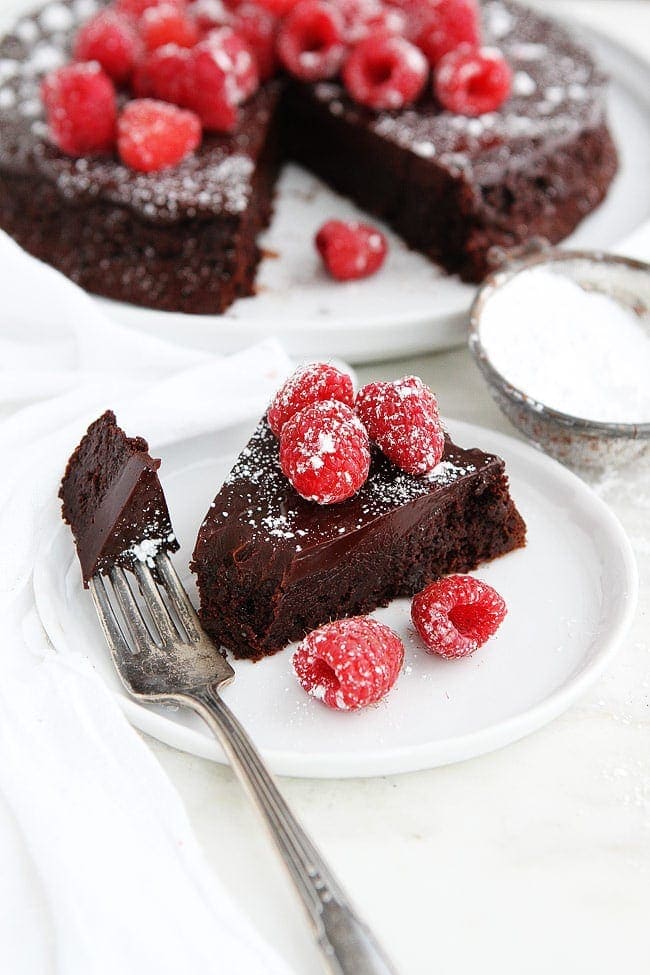 Affiliate links are included below
They say it's MY birthday and because it's my birthday I made YOU a chocolate cake. And it's not just any chocolate cake, it's the BEST chocolate cake. Are you guys ready for this Flourless Chocolate Cake? It is 100% decadent and worth every single bite. If you are a chocolate lover, you are going to fall in love with this rich chocolate cake after one bite. It is so rich you probably only need a bite or two, but it's SO good you will end up eating the entire piece…and you might even want another piece if you are like me. Hey, it's my birthday so calories don't count:)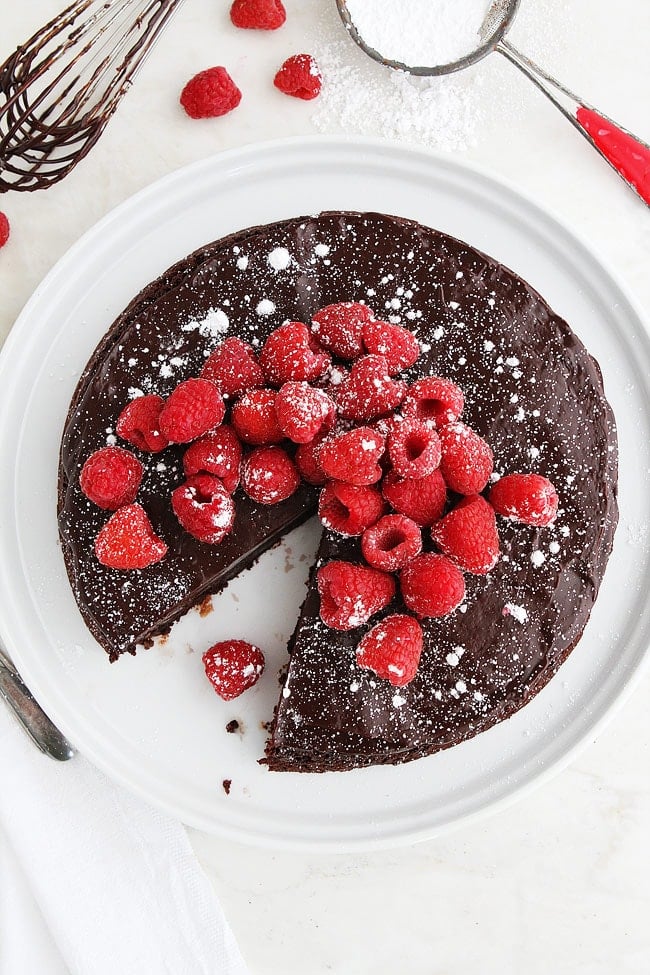 I am normally not a big cake person, I am a cookie gal, but this cake from King Arthur Flour is my FAVORITE! Let's get into the details.
The Best Flourless Chocolate Cake
I love this cake because it is SO easy to make and tastes SO gourmet. You guys are going to die when you make this cake because it tastes like a fancy restaurant or bakery dessert but it's SO easy! Like almost as easy as a box mix. For reals. It is made in ONE bowl and you don't need a mixer! So not only will you love the cake, but you will love the easy clean up too!
The ingredients are standard ingredients, nothing crazy. I bet you have them all in your kitchen right now! The flourless chocolate cake is made of:
chocolate
butter
sugar
eggs
salt
vanilla extract
cocoa powder
Simple! I also add a chocolate ganache glaze to the cake because you can never have too much chocolate, but that is easy too. You only need chocolate and heavy cream.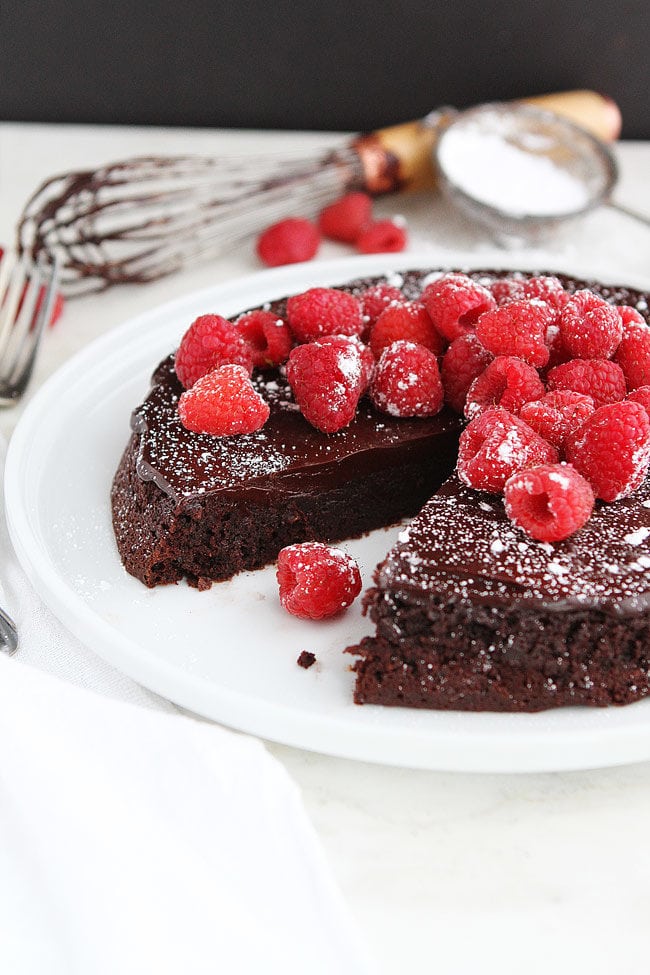 Tips for Making Flourless Chocolate Cake
Bake the cake in an 8-inch round cake pan. Make sure you grease the pan with nonstick cooking AND line it with parchment paper. I also grease the parchment paper after it goes in the pan. You don't want the cake to stick.
Make sure you use the best chocolate for the recipe so you get the best chocolate flavor. You can use chocolate chips or chopped up chocolate.
I use semi-sweet chocolate but if you like darker chocolate, bittersweet would work well too.
I use Dutch process cocoa because it gives the cake a deep, chocolate flavor.
I melt the chocolate and butter in the microwave, but you can melt it on low in a pan using the stove top.
Don't over bake the cake. You want it to be nice and fudgy. It is done when the center reads 200°F on an instant-read thermometer.
Let the cake cool completely before adding the chocolate ganache glaze.
After the cake is glazed, let the glaze set up before cutting. I like to put it in the refrigerator for a few hours so the glaze can set up.
Serve the cake with a dusting of powdered sugar and fresh raspberries. We also like to serve whipped cream or ice cream on the side balance out the rich chocolate cake.
Is this flourless chocolate cake gluten-free? YES, there is no flour in the recipe. And don't let the gluten-free part scare you if you normally don't do gluten-free, this seriously is the BEST chocolate cake. I can't say it enough.
This easy one bowl chocolate cake is dense, fudgy, chocolaty, and OH SO DIVINE! It is the perfect dessert for any occasion-birthdays, Valentine's Day, Passover because there is no flour, really any holiday or any day! Whenever you are craving chocolate like mad, make THIS cake. It will WOW you! And I love serving this cake when we entertain because it is easy to make, pretty to serve, and everyone loves it! You can't go wrong with this flourless chocolate cake. Make it and you will fall in love too!
How to Make Flourless Chocolate Cake
If you like this chocolate cake recipe, you might also like: