Flourless Chocolate Peanut Butter Cookies – you will never know these rich and fudgy chocolate peanut butter cookies are gluten free. They are insanely delicious!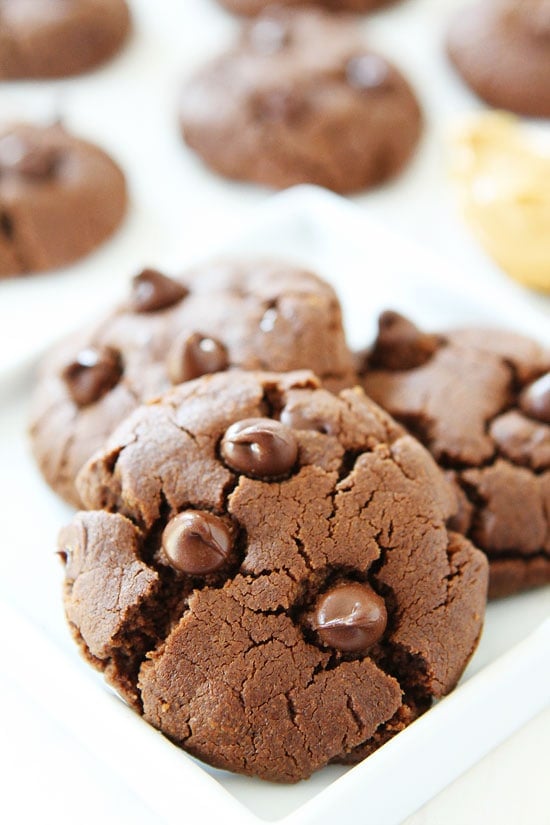 Chocolate Peanut Butter Cravings
I think this is the first year that I didn't buy any Easter candy. Not one bag. I usually stock up before and after the holiday. I love the day after sales. Not this year. I knew Caleb would get plenty of candy at our neighborhood Easter egg hunt, so I bought the boys, I mean the Easter bunny bought the boys, books and clothes instead. I just put his neighborhood candy in new eggs and he didn't have a clue. I am sneaky like that.
It's probably good that we don't have a ton of candy lying around, but I have to tell you, I am bummed I didn't get a Reese's egg this year. I love those eggs! Why are they so good?Instead of driving to the store to dig through the Easter candy sales, I decided to fulfill my chocolate peanut butter craving by making Flourless Chocolate Peanut Butter Cookies. Problem solved!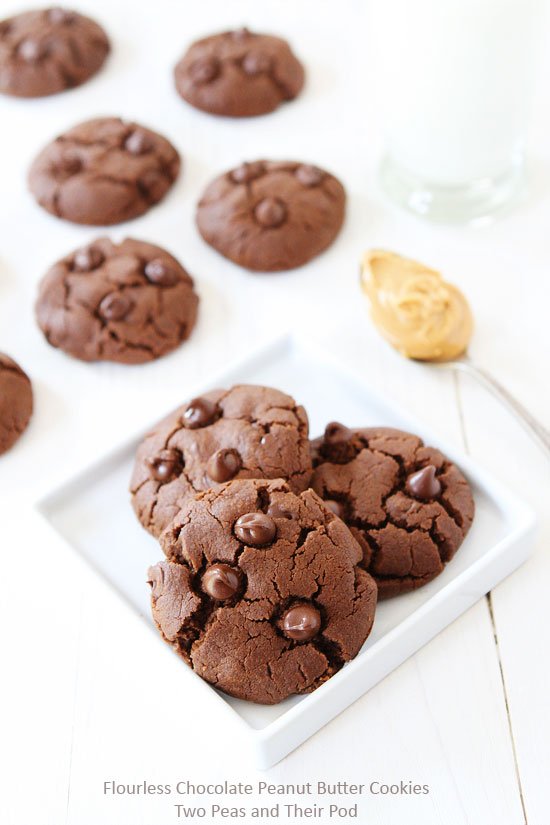 Gluten Free Cookies? Yes, Please!
I love making these chocolate peanut butter cookies with no flour because it makes them so easy to make, and I love seeing the look on people's faces when I tell them that there is no flour in the cookies. They are always shocked! These are gluten free cookies? The looks are priceless! Again, I like being sneaky:)
You Won't Miss the Flour I Promise
You will never know flour is missing in these fudgy chocolate peanut butter cookies! These gluten free chocolate peanut butter cookies are super soft and super rich! They look like plain old chocolate cookies, but after one bite you will get the peanut butter surprise! I added chocolate chips to the cookies because, why not? More chocolate is always a good idea! Sneaky old me:)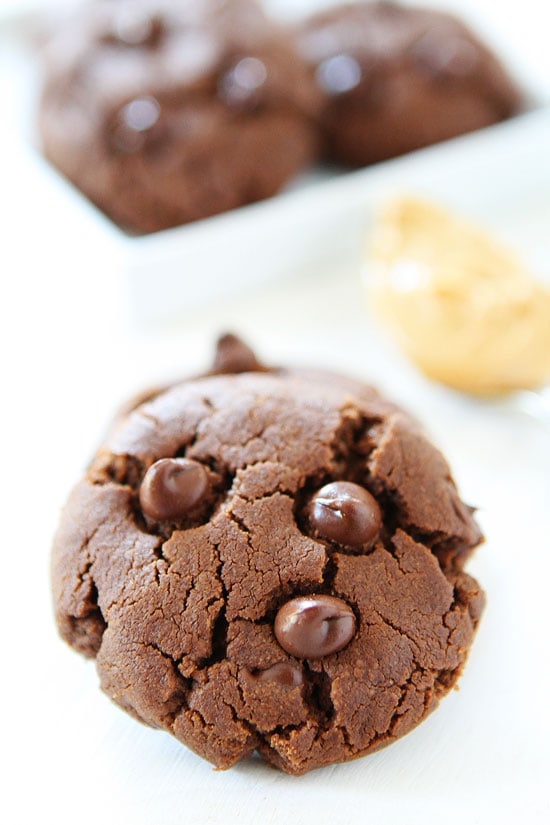 Cure your chocolate peanut butter craving by making these Flourless Chocolate Peanut Butter Cookies. The chocolate peanut butter combo is divine! Do I dare say they are better than Reese's eggs? You decide:)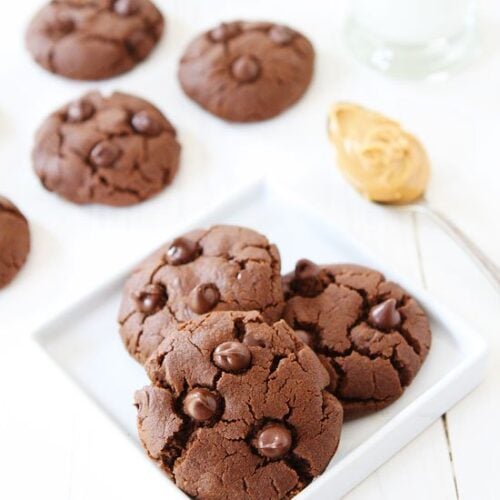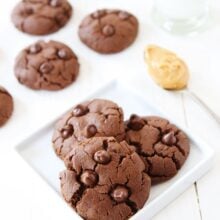 Flourless Chocolate Peanut Butter Cookies
You will never guess that these rich and fudgy chocolate peanut butter cookies are gluten-free! They are SO good!
Instructions
Preheat the oven to 350 degrees F. Line a large baking sheet with a Silpat baking mat or parchment paper and set aside.

In the bowl of a stand mixer, beat the peanut butter and sugar together until creamy and smooth. Add in the egg and vanilla extract. Mix until well combined.

Add the baking soda, salt, and cocoa powder. Mix until just combined. Stir in the milk and mix until combined. Stir in chocolate chips. The dough will be a little crumbly and that is ok. It will press together when you form the balls.

Form the cookies into balls, pressing the dough together, about 1 ½ tablespoons of dough per cookie. Place the cookies onto prepared baking sheet, about 2 inches apart. Gently press down on the dough mounds with the  palm of your hand to flatten. Bake for 10-12 minutes. Remove from oven and allow the cookies to cool for 5 minutes on the baking sheet before transferring to a wire rack to cool completely.

Note-I like to stick a few extra chocolate chips on top of the cookies before baking. Store cookies in an airtight container for up to 3 days on the counter. These cookies also freeze well!
Have you tried this recipe?
Leave a comment below and share a photo on Instagram. Tag @twopeasandpod and hashtag it with #twopeasandtheirpod
Follow twopeasandpod on Instagram and show us what recipes you are making from our blog! Use the hashtag #twopeasandtheirpod! We want to see what you are making in your kitchen!