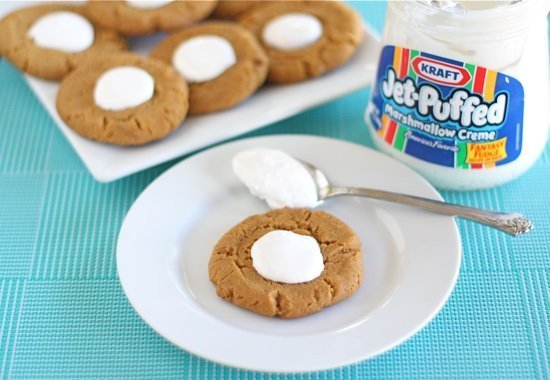 It's almost time for the kids to go back to school for another year of learning, friends, and fun. I always enjoyed the first few weeks of school, but then reality sets in. The days of summer soon fade and play time is replaced with homework time. I was never fond of homework time, but I did enjoy the after school snacks that were left on the table to motivate my mind. If my dad would of left me a plate of these Fluffernutter cookies, I am sure I would of been a model student and breezed right through my assignments.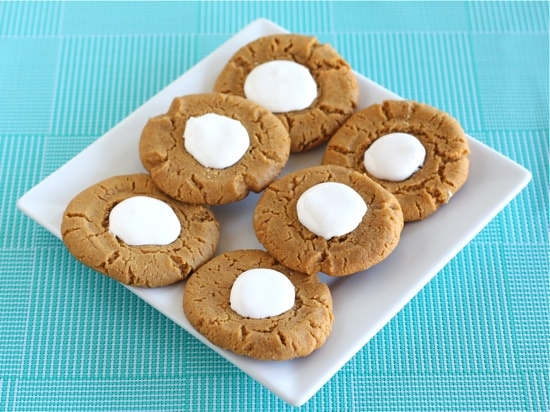 I don't like math and math doesn't like me. I have never been good with numbers. My dad on the other hand is a math whiz. He had to tutor me through years and years of math classes. Even when I was in college, states away, I would call him for help. I didn't get my dad's math genius genes, but I did get his stubborn genes. On multiple occasions, my dad got frustrated with me while trying to teach me a new formula, equation, or the reasoning behind a story problem. I probably was a little slow at learning, but I was also a lot stubborn:) Sometimes I didn't concentrate or focus, just because I hated math. I didn't care to learn at times. I still don't see the point of trying to figure out what time train A or B would arrive at the train station. Who cares? I wasn't traveling on that train:)
My dad would make me sit at the table until all of my math homework was done and done well. I would doodle on my papers and make up excuses on why I wasn't finished. Our homework sessions would drag out forever because I was so stubborn. My dad didn't think I listened to him, but I did. I always got good grades and the torture of doing my math homework paid off. I just wish I would of not been so stubborn, I wasted a lot of hours at the kitchen table when I was a kid.
To make homework time more enjoyable for your kids, make them a batch of Fluffernutter cookies. These cookies are inspired by the famous Fluffernutter sandwich, peanut butter and marshmallow creme smashed by two pieces of bread. If it works in a sandwich, why not a cookie?
I used one of my favorite peanut butter cookie recipes and created a puddle in the center of each cookie by pressing down the dough with my thumb. When the cookies were done baking, I filled each cookie with marshmallow creme. Caution-this part will get sticky but don't worry, it is a good sticky:) The combination of peanut butter and marshmallow creme is classic, just like a Fluffernutter sandwich, maybe even better:)
Start the school year off right with a batch of Fluffernutter cookies. The kids will love them! They are the perfect after school treat.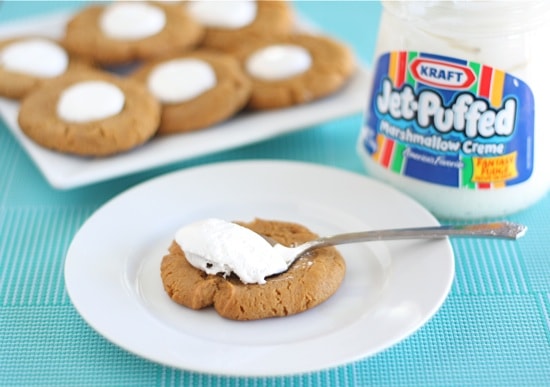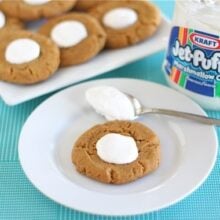 Fluffernutter Cookies
Kids and adults love these Fluffernutter cookies!
Instructions
1. Preheat the oven to 350 degrees. Spray two baking sheet with cooking spray and set aside.

2. In a medium bowl, mix the peanut butter and sugars together until creamy and smooth. I do this by hand.

3. Add in the egg and vanilla extract. Mix until well combined.

4. Add the salt and baking soda. Stir until mixed together.

5. Spoon dough into balls, about 1 Tablespoon of dough for each cookie. Place the cookie dough balls on the greased baking sheets, about two inches apart.

6. With your thumb, press down the dough ball to make a puddle in the middle of each cookie. Bake for 10-12 minutes. Remove baking sheets from the oven. Press down the cookies with your thumb again. Do this quickly because the cookies will be hot. Let the cookies cool on the cookie sheet for two minutes.

7. Move cookies to a wire rack and cool. Once cool, take a spoonful of marshmallow cream and fill the center of the peanut butter cookies. The marshmallow creme will be sticky, but try to smooth it out as best as you can. Fill all of the cookies and serve.
Have you tried this recipe?
Leave a comment below and share a photo on Instagram. Tag @twopeasandpod and hashtag it with #twopeasandtheirpod
If you like these fluffernutter cookies, you might also like:
Flourless Peanut Butter Chocolate Chip Cookies from Two Peas and Their Pod
Peanut Butter Oatmeal Chocolate Chipsters from Two Peas and Their Pod
Peanut Butter Chip Cookies from Two Peas and Their Pod
Fluffernutter Cookies, 3 Ingredients from Picky Palate
Fluffernutter Cupcakes from The Novice Chef Blog