Get Your Greens Salad-this salad is loaded with all things green! It is great for a healthy lunch or dinner!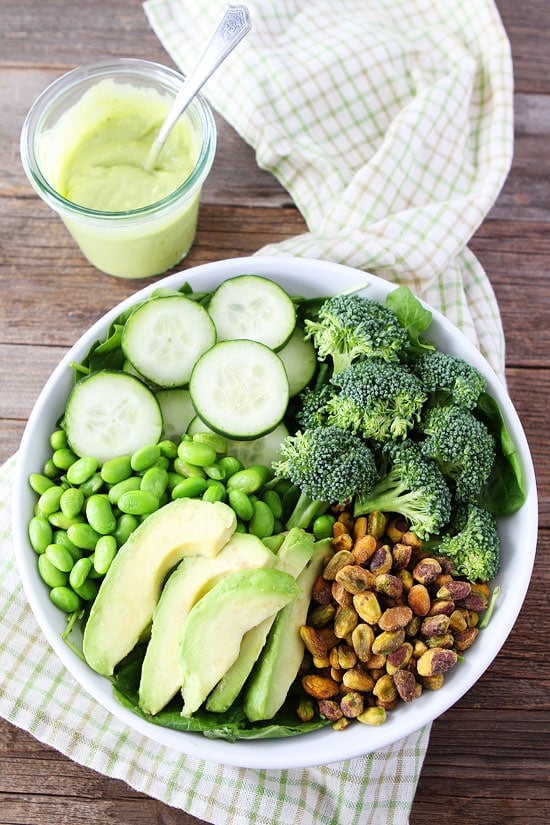 If you made resolutions, how are they going? Still going strong? If you need a recharge or reminder to eat your greens, we have the salad for you today! This Get Your Greens Salad is loaded with all things green and super duper healthy! It has all of my favorite green ingredients: spinach, kale, broccoli, edamame, avocado, pistachios, and cucumber! I also like to top it with a simple Creamy Avocado Dressing for extra green power. You can use whatever dressing you like though. It is a great salad to have for lunch or dinner. It will leave you feeling full, healthy, and happy! And you might even turn into the Hulk, that is what we keep telling Caleb:) He will devour his greens if he thinks he is going to turn into a super hero. Sometimes little lies are worth telling:)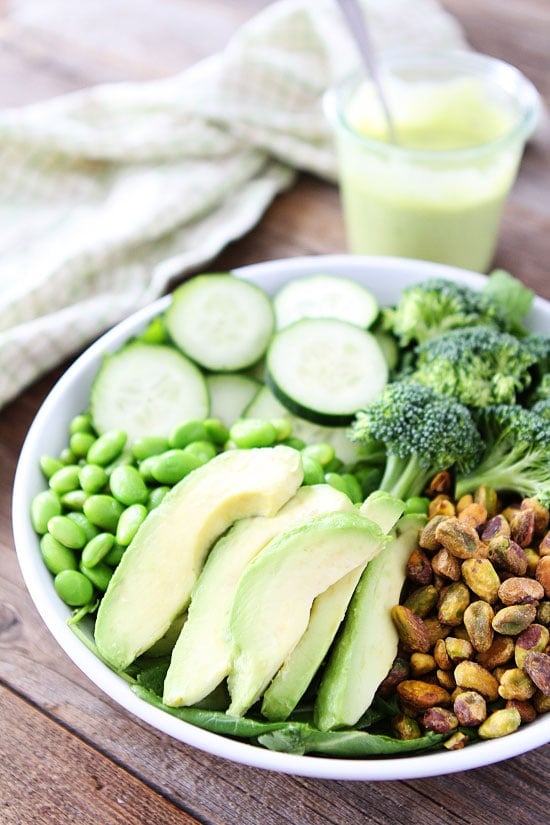 Now, that we have the green salad out of the way, let's really talk about resolutions, goals, and 2015. I sat down at the beginning of the new year, like most of you, and wrote down some goals for myself, our family, and the blog. Nothing too major, but some good goals for the year. I was feeling confident and ready to take on 2015, but now I am just not feeling it. I honestly don't know what my problem is because I have always been a goal setter, planner, and motivated person. I am in a major funk.
But maybe it's not a funk? The more I think about my goals and the year, the more I am ok with NOT having goals. Sure, I will still tackle my daily to do lists, exercise, eat my veggies, etc. but I guess I don't want anything new on my plate. My plate is already plenty full. I would have to get a bigger plate if I added anything new to my year and I don't want a bigger plate. I want a small, cute, and pretty plate!
2015 is going to be a crazy year for us (we will share more later) and I just want to be content. I don't want to feel any additional pressure or stress to be better or to achieve any grand goals. I am not saying I don't want to work hard or be a good person, I do, but I just want to BE. I just want to be happy with who I am, right now, in THIS moment. I want to enjoy being a mom, a wife, a friend, a sister, a neighbor, a blogger. I have a good life and I want to live it! I don't want to always be hoping, wishing, and searching for more, because what I have right now is GOOD!
I want to be ok with skipping a workout, laundry piles, an unmade bed, unread emails, and popcorn for dinner. I want peace of mind and to feel like I am enough…without accomplishing any new goals. I want to relax and enjoy this year, just the way things are. Good, bad, or ugly…I just want to be content no matter what is going on.
I hope this post doesn't come across as negative or an anti-resolutions post, because that is not the intention. I am all for people making great changes and accomplishing goals. So if you are working on something grand this year, good for you! I am here to support you! 100%!! I just need a year to BE. I need a year with no big goals…and if grand things happen, it will just be a nice surprise and icing on the cake! But for now, I am giving myself a break. I am going to be happy with who I am and my life as it is. No changes necessary!
And if you made a resolution to eat healthier in 2015, make this Get Your Greens Salad. See, I am happy to help you achieve your goals…I am just not making any this year:) I am just going to enjoy this salad because it is green and SO good!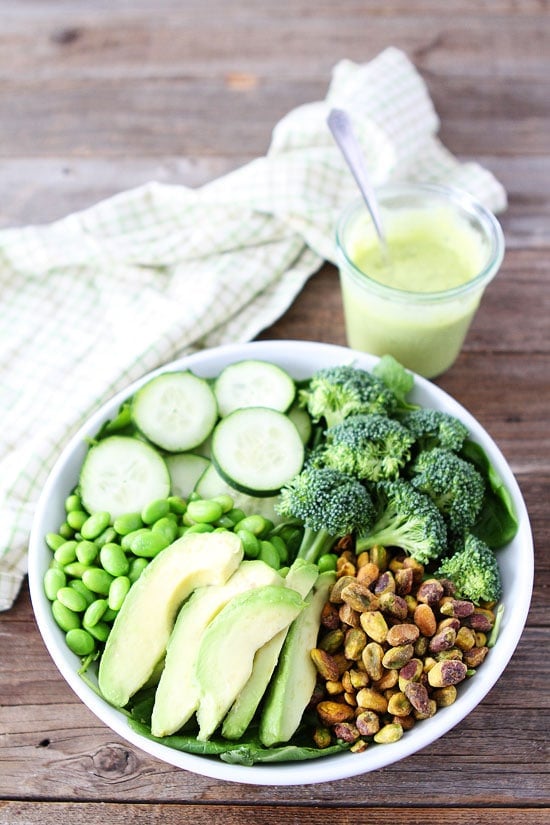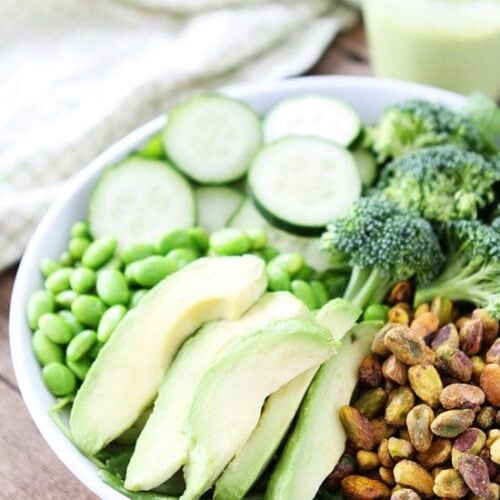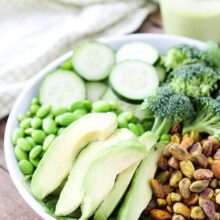 Get Your Greens Salad
This healthy salad is loaded with all things green! It is one of my favorite lunches! You dress the salad with Creamy Avocado Dressing or your favorite salad dressing!
Ingredients
For the Salad:
4

cups

packed spinach

baby kale, or a mix

1/2

cup

shelled pistachios

1

cup

chopped broccoli florets

cut into small, bite-sized pieces

1

cup

shelled and cooked edamame

1

medium cucumber

sliced

1

large avocado

sliced
For the Creamy Avocado Dressing:
1

avocado

1

clove

garlic

minced

1/2

tablespoon

fresh lemon juice

3

tablespoons

olive oil

Water

Salt and black pepper

to taste
Instructions
In a large bowl, combine spinach/kale, pistachios, broccoli, edamame, cucumber, and avocado. Drizzle salad with your choice of dressing. If you want to go green all the way, sever with Creamy Avocado Dressing. Recipe is below.

For the Creamy Avocado Dressing, in a blender, add the minced garlic, avocado, lemon juice, and olive oil. Process until smooth, stopping to scrape down the sides a few times. If the dressing is too thick, you can add a little water until you reach the your desired consistency. Season with salt and black pepper, to taste. Serve with salad! The dressing will keep in the fridge for about a week.
Have you tried this recipe?
Leave a comment below and share a photo on Instagram. Tag @twopeasandpod and hashtag it with #twopeasandtheirpod
Follow twopeasandpod on Instagram and show us what recipes you are making from our blog! Use the hashtag #twopeasandtheirpod! We want to see what you are making in your kitchen!