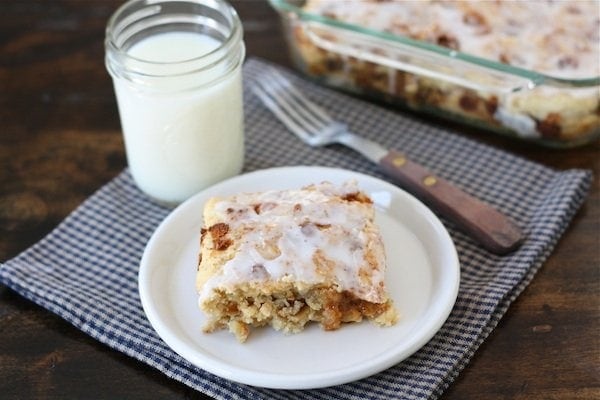 My dad makes the world's best cinnamon rolls. Luckily, he has taught me how to make them so I can enjoy his cinnamon rolls even when he is not around. They are fairly easy to make, but they do take some time. I was craving cinnamon rolls over the weekend, but wasn't in the mood to spend all morning in the kitchen. Instead, I made Gooey Cinnamon Biscuits. These cinnamon layered biscuits taste similar to a gooey pull-apart cinnamon roll, but are super simple to make. Josh and I had these babies in and out of the oven in no time.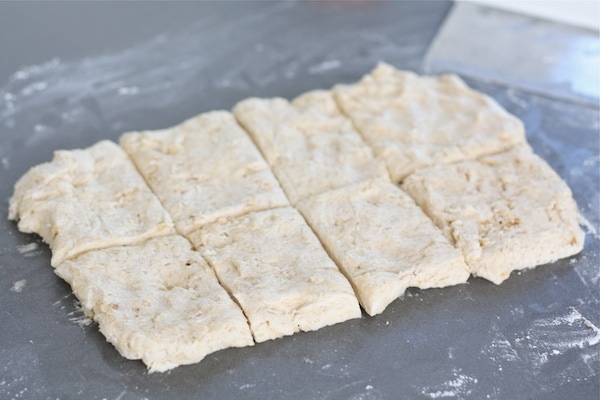 The biscuits are made with heavy cream instead of butter. We cut the biscuit dough into eight large squares and put four of the squares in an 8×8 pan.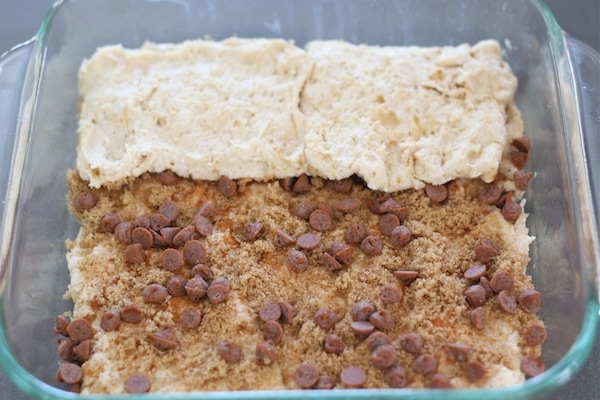 Next, we sprinkled the dough with brown sugar, cinnamon, and cinnamon chips. We put the remaining squares on top of the filling and pressed the edges to seal the biscuits together. We topped the biscuits with more cinnamon chips and let them bake for about 15 minutes.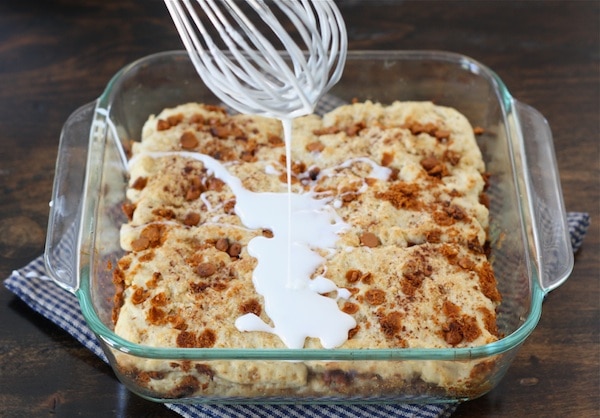 When the biscuits were slightly cooled, we drizzled a creamy glaze over the entire pan. The glaze seeped down into the biscuits adding a dose of extra sweetness to the biscuits. I cut the biscuits into squares and we sat down to indulge in our weekend breakfast treat.
I don't think either of us said a word at the breakfast table. We were too busy devouring our Gooey Cinnamon Biscuits. The biscuit dough is rich, fluffy, and tender. The tunnel of cinnamon sugar goodness along with the sweet cream glaze takes these biscuits to a whole new level.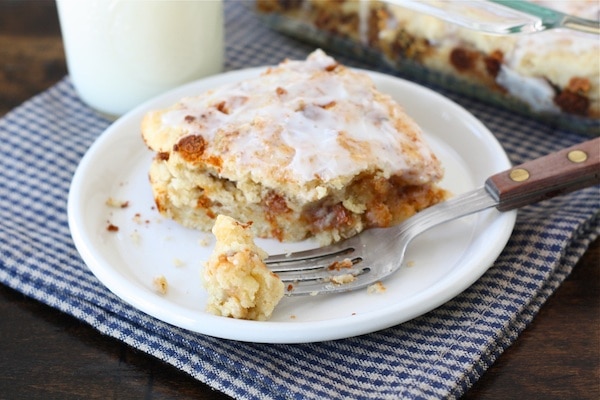 These satiny sweet biscuits melt in your mouth and will make you want seconds. I told myself I was only going to have one biscuit, but I couldn't stay away from the pan. I kept going back to the pan for one more bite. By the end of the day I think my "one more bite" turned into three more biscuits. Oops! 🙂
If you are feeling lazy, but in the mood for a divine breakfast treat-you have to make these Gooey Cinnamon Biscuits. I love my dad's cinnamon rolls, but when I am craving a cinnamon breakfast treat and don't have enough time, this is my new "go to" recipe. These cinnamon biscuits are too easy to make. So easy that I am already thinking about making another pan. I might be in trouble with this recipe:)
Update-I've had a lot of questions about where to buy cinnamon chips. I buy Hershey's Cinnamon Chips and I can usually find them at Dan's Market and Fresh Market in Utah. If you can't find them in a store near you, you can order them online here.
Gooey Cinnamon Biscuits
Ingredients
2

cups

all-purpose flour

3

tablespoons

dark brown sugar

divided

2

teaspoons

baking powder

1 1/2

teaspoons

cinnamon

divided

1/2

teaspoon

salt

2

cups

heavy cream

divided

1/2

cup

cinnamon chips

divided

3/4

cup

confectioner's sugar

1

teaspoon

vanilla extract
Instructions
Heat the oven to 425°F. Lightly grease an 8 x 8-inch baking pan and set aside.

In a large bowl, whisk together the flour, 1 tablespoon brown sugar, baking powder, 1 teaspoon of cinnamon, and salt, breaking up any large clumps in the brown sugar. Pour in 1 ½ cups of the cream and mix just until combined. Dump the dough onto a lightly floured surface and pat into a long, thick rectangle. The dough will be firm, yet wet and sticky.

Slice the rectangle into 8 equally-sized squares. Lay four of the squares in the prepared baking pan. Sprinkle the remaining 2 tablespoons of brown sugar, ½ teaspoon cinnamon, and half of the cinnamon chips over each square. Place the remaining biscuit dough squares on top and lightly press the edges to seal. Top the biscuits with the remaining cinnamon chips.

Bake for 14 to 16 minutes, or until the biscuits are slightly golden brown on the outside and just cooked through. Remove from the oven and use a knife to spread and smear the hot cinnamon chips on top of the biscuits.

Whisk together the remaining ½ cup cream, confectioner's sugar, and vanilla extract. Lightly drizzle the biscuits with this glaze. Serve immediately.
Have you tried this recipe?
Leave a comment below and share a photo on Instagram. Tag @twopeasandpod and hashtag it with #twopeasandtheirpod
If you like these Gooey Cinnamon Biscuits, you might also like:
Buttermilk Biscuit Cinnamon Rolls Recipe from Eating Out Loud
Quick and Easy Cinnamon Butter Buns from Baked Bree
Itty Bitty Cinnamon Roll Bites from Picky Palate
Buttermilk Drop Biscuits from Two Peas and Their Pod