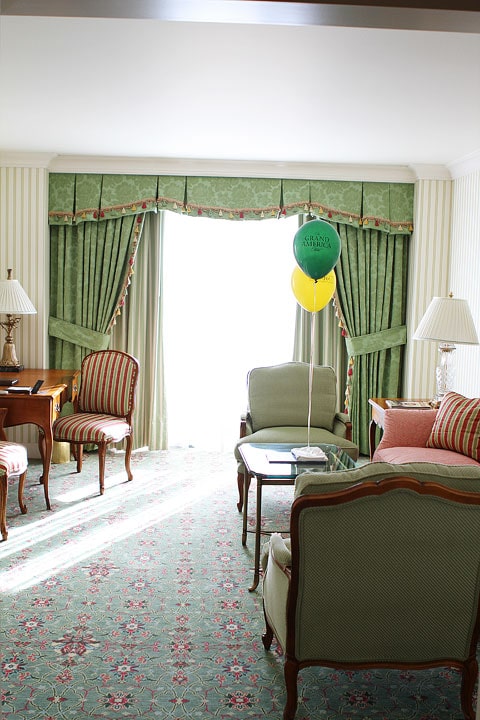 Last weekend we stayed at the Grand America Hotel in Salt Lake City. We live in Salt Lake, but when the Grand America invited us to come and stay, we jumped at the chance. It was nice to enjoy a weekend away from home, even if we were in the same city. Sometimes "staycations" are the best!
Our suite was spacious and elegant. I loved the carpet and detail of the decor. The Grand America put balloons and a t-shirt in the room for Caleb. The balloons kept him entertained for our entire stay. The Grand America also brought up a crib, rocking chair, stroller, bath tub, and diaper genie. The Grand America is a very family friendly hotel. I am so glad they provided all of the baby essentials for us. It made packing for our staycation much easier!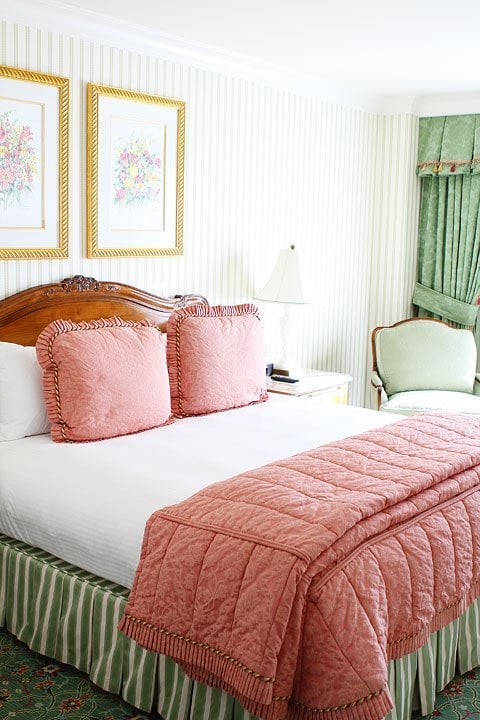 The rooms were divided by French doors. Our room had a comfortable king bed! Loved the green and pink!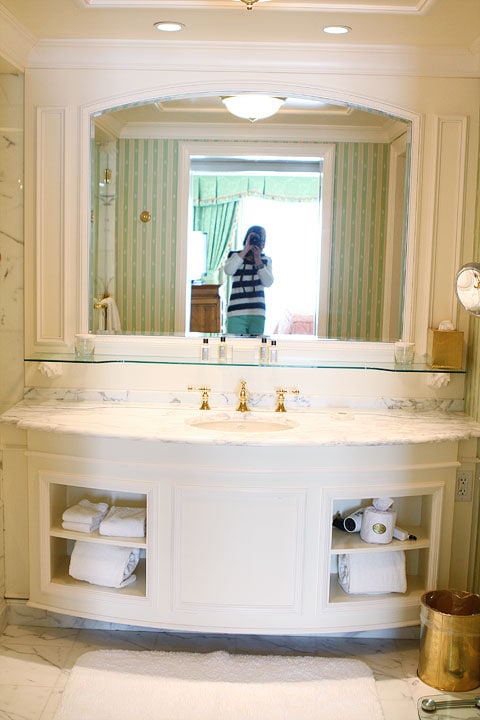 Our bathroom was so pretty. I loved the Italian marble.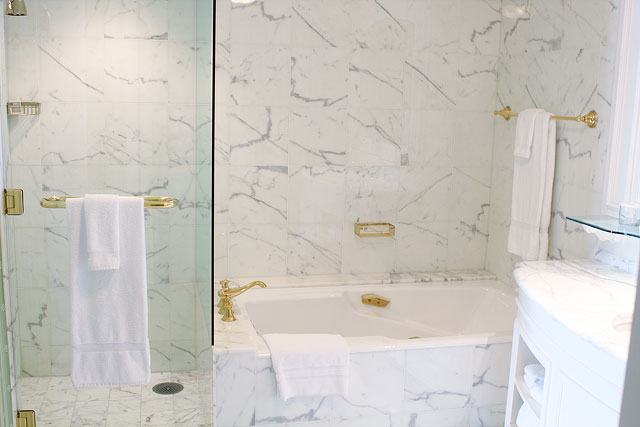 Our suite had a glass enclosed shower and a large soaking tub.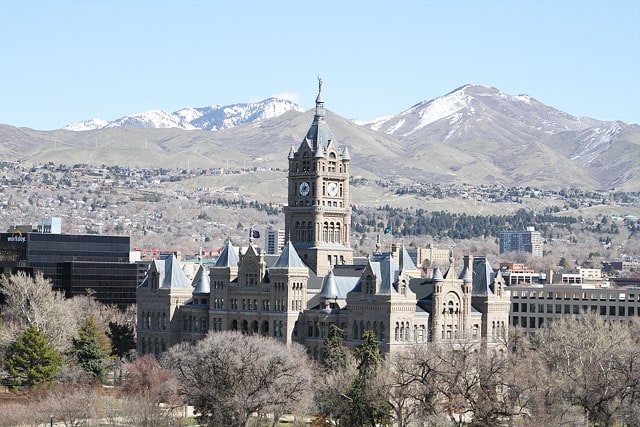 We had a walk out balcony with a fantastic view of downtown Salt Lake City.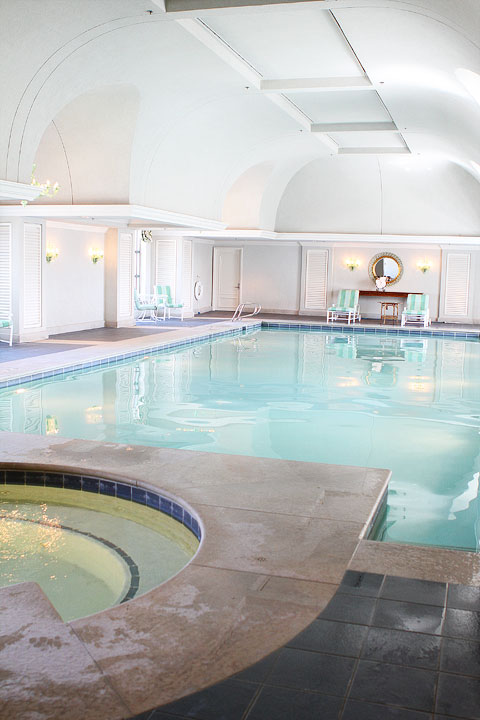 After we got settled, we took a dip in the pool. Caleb had so much fun splashing around. I enjoyed relaxing in the hot tub.
We spent the rest of the day walking around downtown. When we got back to our suite, our room was turned down, the best part of staying at a hotel. I loved the plush bathrobes and slippers.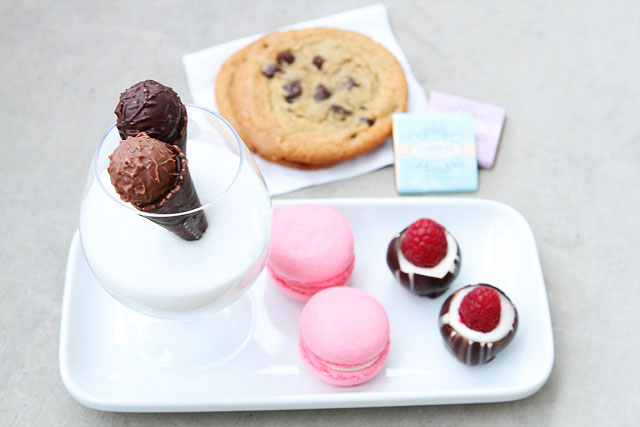 And of course I loved the special treats that were delivered to our room. I didn't want to share with Josh, but I decided to be nice and give him a few bites.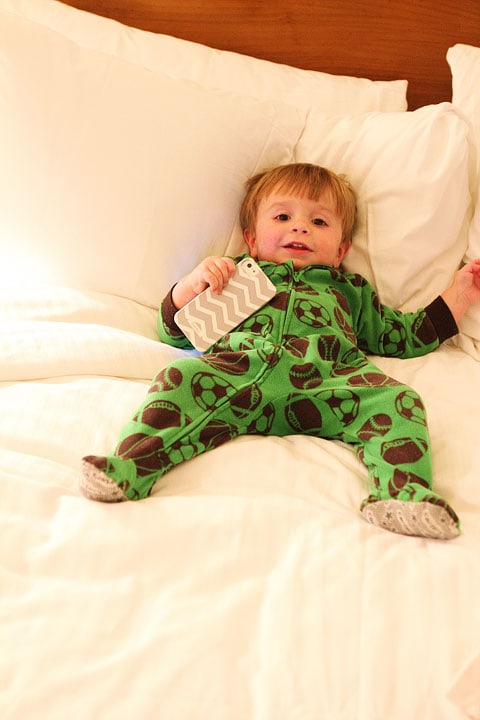 Caleb didn't waste any time getting all cozy in our bed!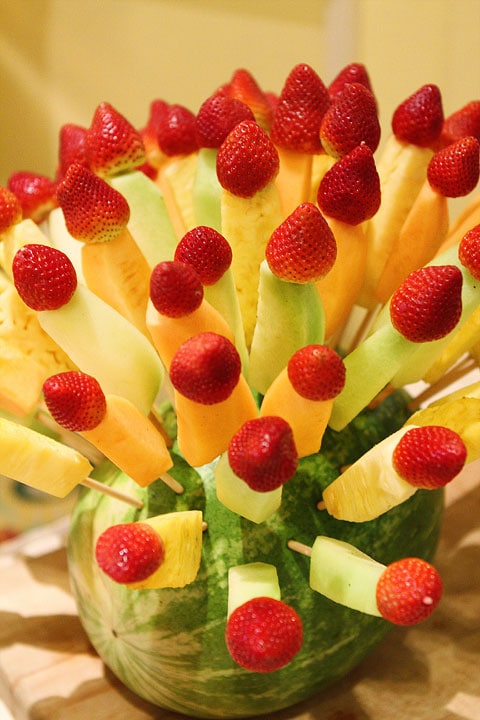 On Sunday morning, we went to the Grand America's Sunday brunch. I am glad we showed up hungry because we were surrounded by amazing food! I had a hard time deciding what to try first.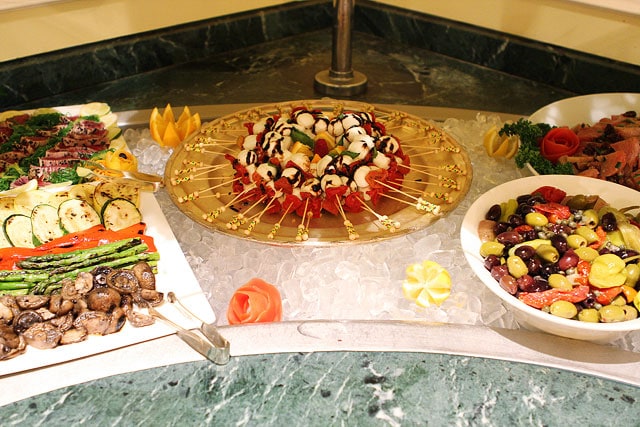 The choices were endless! Salads, cheeses, breads, crepes, fruits, vegetables, lamb, roasts, and much much more! I was in culinary heaven! They even had a special station with kid-friendly foods.
Freshly squeezed juice anyone? Lots of options to choose from!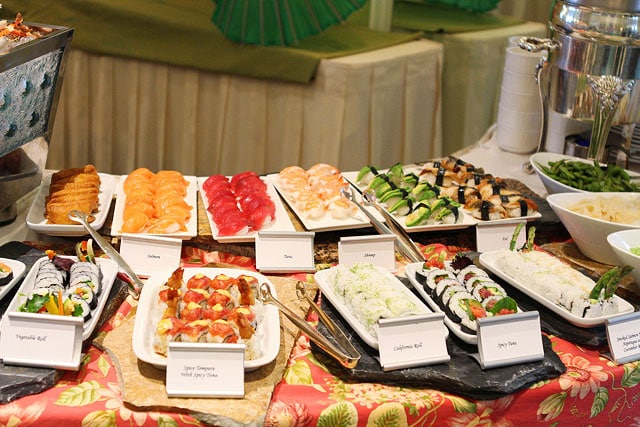 Fresh sushi station!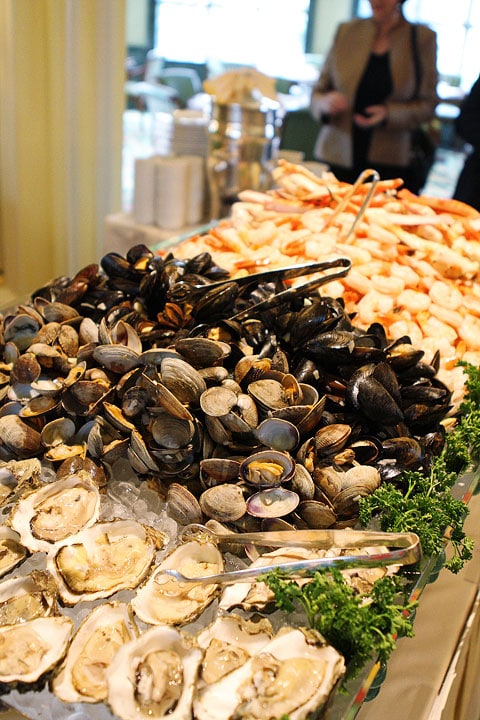 Seafood lovers dream! Josh loved the fresh crab legs.
Pancakes and ebleskivers made to order. Caleb had more than his fair share of berries:)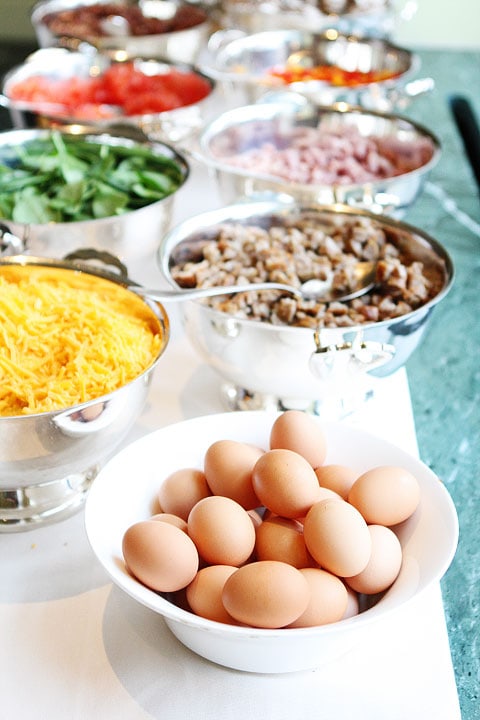 You can have a fresh omelette made right in front of your eyes! I chose an egg white omelette with lots of fresh vegetables. It was tasty!
A chocolate fountain corner! I could have stayed here all day!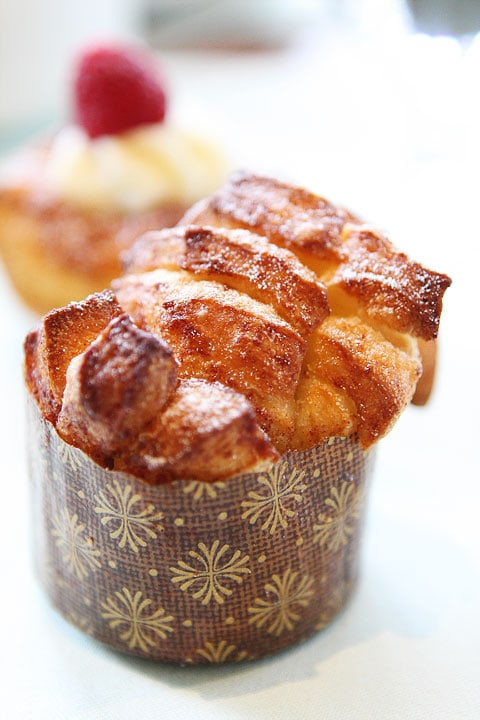 Wow oh wow! The pastries were out of this world-monkey bread, cinnamon rolls, croissants. I had to sample them all:)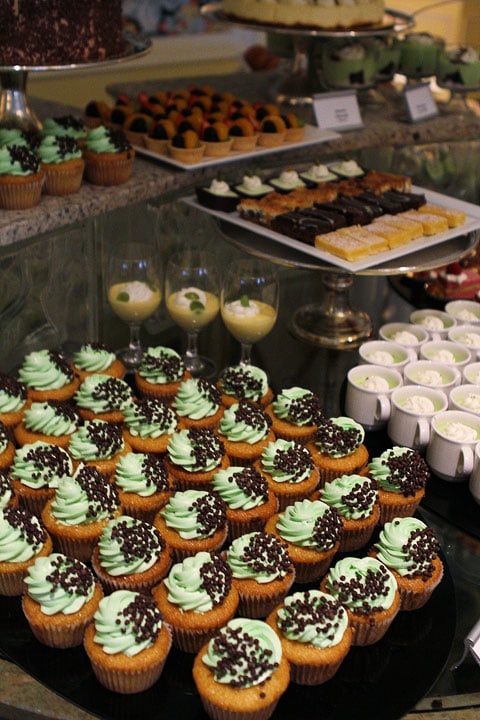 It was St. Patrick's Day so they had some special green desserts! The dessert spread was incredible!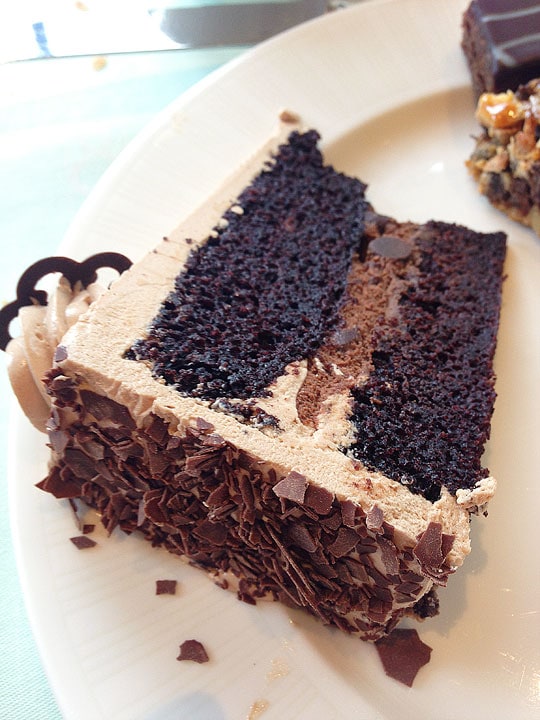 I fell in love with the chocolate cake. Divine!
Sunday brunch at the Grand America is definitely Grand! Everyone needs to experience brunch at the Grand America Hotel at least once in their lifetime. It is such a treat! I know we will be back:)
Sunday brunch at the Grand America is a great way to celebrate! Make a reservation for Easter, Mother's Day, or just because. You will not be disappointed…and you will not leave hungry:)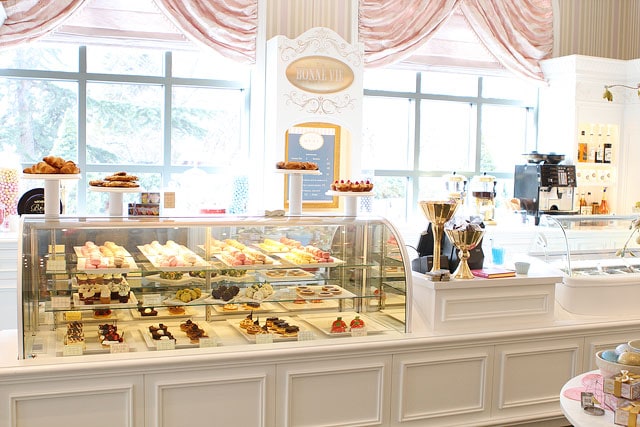 I hope you aren't sugared out yet, because The Grand America Hotel also has an amazing bakery, La Bonne Vie. The bakery is SO pretty! I love the decor and atmosphere.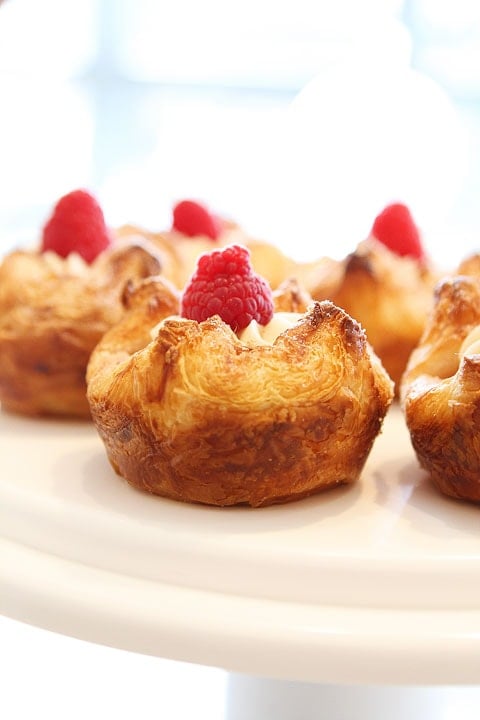 A few weeks ago, I had the opportunity to meet with the talented Executive Pastry Chef, Jeffrey de Leon. He took us on a tour of the kitchen and showed us around the bakery. We got to sample lots and lots of sweet treats!
I am usually not a croissant person, I like them, but I would rather use my calories for cookies or chocolate:) Chef de Leon's croissants are worth every calorie. They are flaky, buttery, and melt in your mouth. They are the best croissants!!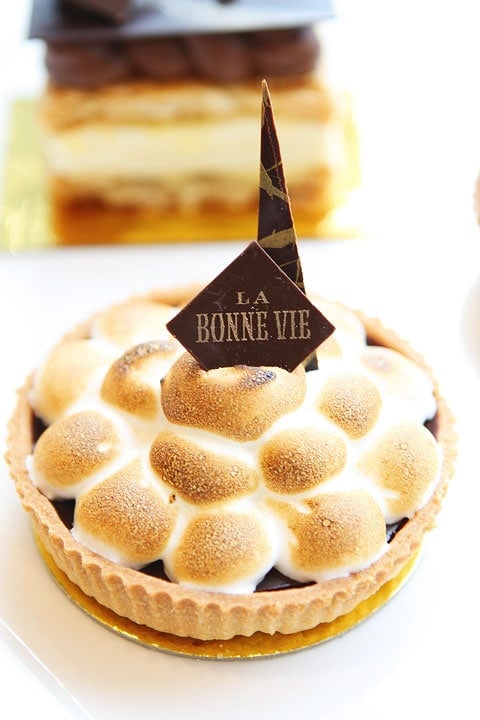 Loved the S'mores tart! Gorgeous and delicious!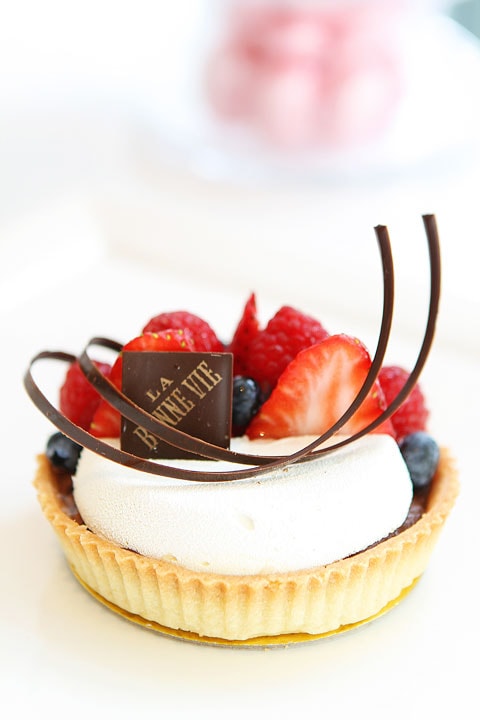 The Black and White Berry Tart was another favorite. Truly a work of art!
Look at all of those gorgeous desserts! It was hard to eat some of them because they were so pretty, but I managed:)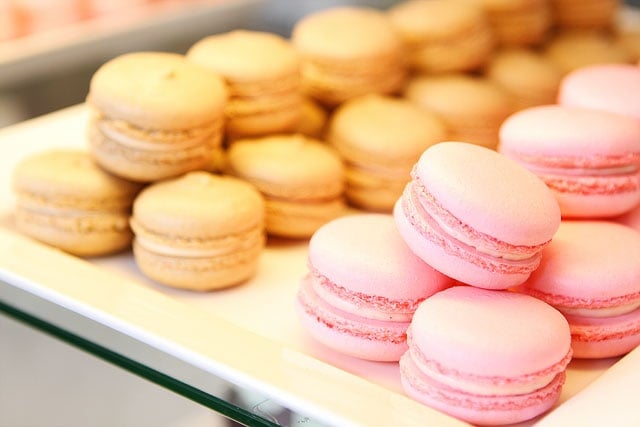 Macarons are always a fun sweet treat! La Bonne Vie bakes up fresh macarons every day! And did I mention they have gelato and sipping chocolate too? It's sugar heaven!
The Grand America Hotel has it all! If you are visiting Salt Lake City or live in Utah, make sure you check it out!
The Grand America Hotel
555 S Main St
Salt Lake City, UT 84111
Thanks Grand America Hotel for a wonderful weekend away!