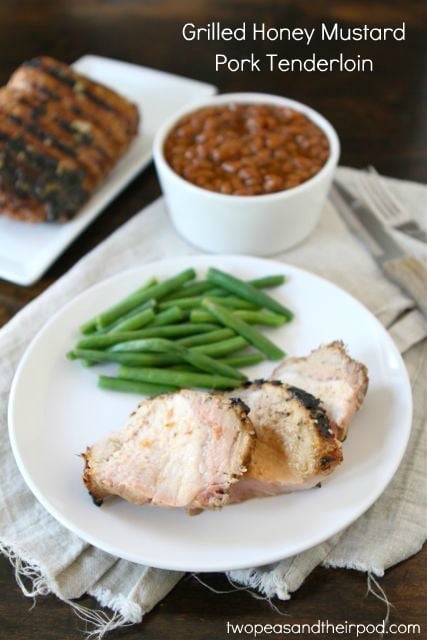 Is anyone else confused on what day it is? My schedule has been messed up because the 4th of July was smack dab in the middle of the week. I am not complaining, we had a great holiday. I am just confused. Well, today is Friday and I am very happy about that. Bring on the weekend!
We had a busy, but fun week. Josh's mom was visiting from California. We also had our neighbors over for dinner. They just had an adorable baby boy. We know what it is like to be sleep deprived parents, so we figured they could use a home cooked meal. Dinner is the last thing on your mind when you have a cute little baby to snuggle. For dinner, Josh fired up the barbecue and made one of his favorite recipes-Grilled Honey Mustard Pork Tenderloin.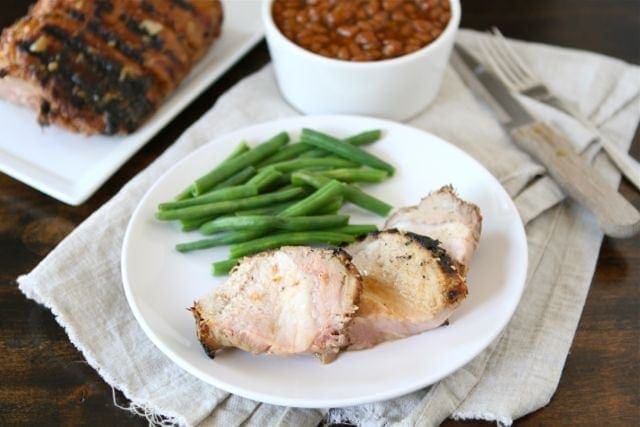 This recipe is perfect for entertaining because it practically requires no work. The honey mustard marinade is easy to whisk up and then you just let the pork and marinade hangout in the fridge overnight. About an hour and a half before chow time, slap the pork on the grill and grill to perfection!
The pork is tender, juicy, with a hint of sweet and spicy.
This easy pork tenderloin recipe is perfect for grilling season. Get out the grill this weekend, invite your family and friends over, and make Grilled Honey Mustard Pork Tenderloin.
And while Josh was busy grilling the pork, I was busy baking a cake for dessert. You will have to come back on Monday for the recipe. I know, I am such a tease. Have a great weekend!!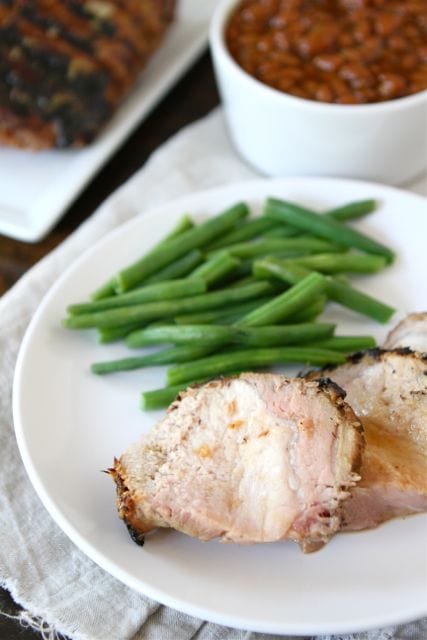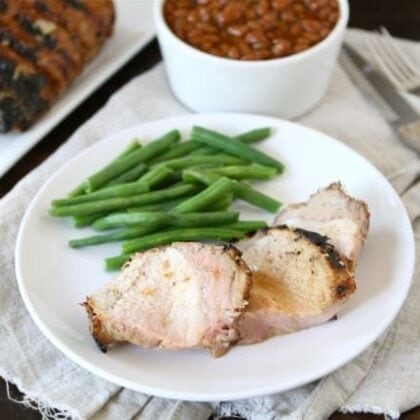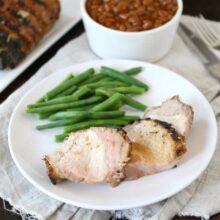 Grilled Honey Mustard Pork Tenderloin
Tender and juicy grilled pork tenderloin with a sweet and spicy honey mustard marinade.
Ingredients
To make the Honey Mustard Marinade:
Honey Mustard Sauce-for serving, optional:
Instructions
1. In a large bowl, whisk together apple cider vinegar, olive oil, honey, mustard, garlic, salt, red pepper flakes, and pepper. Pour mixture into a large zip-top plastic freezer bag. Add the pork tenderloin. Seal the bag and make sure the pork is covered in the marinade. Chill in the refrigerator overnight, turning occasionally.

2. Remove the pork from the refrigerator and let come to room temperature before grilling. Discard marinade. Preheat grill to medium-high heat. Grill tenderloin, covered with grill lid, 8 to 10 minutes on all sides or until a meat thermometer inserted into thickest portion registers 150° to 155°. Remove tenderloin from grill, and let stand 10 minutes before slicing.

3. To make the honey mustard sauce, whisk together honey and Dijon mustard. Slice pork and serve warm with honey mustard sauce, if desired.
Have you tried this recipe?
Leave a comment below and share a photo on Instagram. Tag @twopeasandpod and hashtag it with #twopeasandtheirpod
If you like this Grilled Honey Mustard Pork Tenderloin, you might also like: