This week has been really busy with work and trying to get ready for our trip to San Francisco. I am so excited. I feel like a giddy school girl! We are leaving tomorrow. Yahoo! I am not the biggest fan of road trips, but Josh doesn't mind driving. We have books on cd, good tunes, snacks, and each other. It should be an adventure!
We are going to spend time with Josh's family, explore the city, and enjoy some tasty eats. The highlight is going to be the BlogherFood conference though. I will try to take good notes and lots of photos to share with everyone when we return.
I recently made these brownies for a party at work. They were accepted and devoured with smiles. The brownies are thick, rich, and loaded with chocolate and hazelnut goodness. I love the slight addition of cinnamon too. The crushed hazelnuts on top make add a nice touch too.
If you are a hazelnut/Nutella fan these are going to rock your world!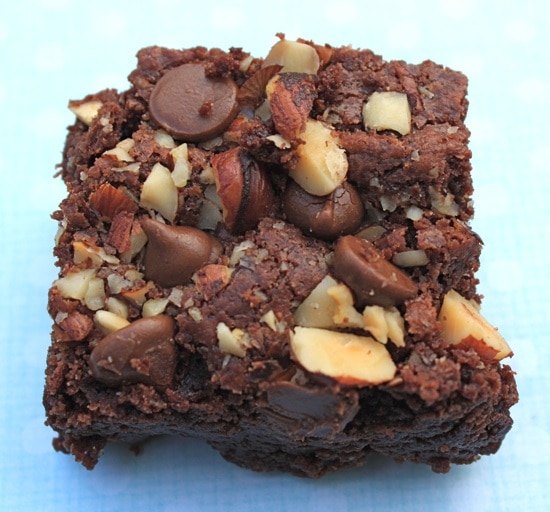 Hazelnut Cinnamon Brownies


Recipe from Sugar Plum
1 cup all-purpose flour
3 tablespoons dark cocoa powder
1 teaspoon ground cinnamon
½ teaspoon baking powder
½ teaspoon salt
½ cup unsalted butter
4 ounces semi-sweet chocolate (I used mini-chips), plus additional for sprinkling on top
1 cup granulated sugar
⅓ cup Nutella
2 large eggs, room temperature
1 teaspoon vanilla extract
½ teaspoon hazelnut extract
¼ cup finely hazelnuts
Preheat oven to 375 degrees F. Line an 8×8-inch square baking dish with foil; grease foil.
In a medium sized mixing bowl, sift together flour, cocoa powder, cinnamon, baking powder and salt; whisk until combined.
Melt the butter in a small saucepan over medium heat; remove pan from heat and stir in chocolate until melted. Beat together melted chocolate and granulated sugar, in a large mixing bowl, using a mixer on high speed, for about 2 minutes. Reduce mixer speed to medium and beat in Nutella, eggs, vanilla, and hazelnut extract. Beat until smooth and well combined. Reduce mixer speed to low and gradually beat in flour mixture until just combined; scrape batter into prepared baking dish. Sprinkle batter with chocolate chips and hazelnuts.
Bake for 23-25 minutes, or until set. Cool completely before lifting foil out of pan and slicing into bars.