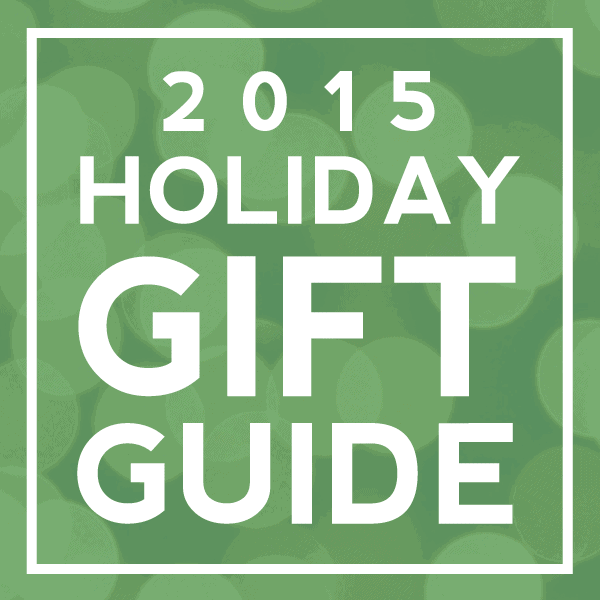 Today, we are sharing our Favorite Gift Ideas for 2015. We love putting together this list. We LOVE everything on it and hope you do too! We have gift ideas for him, her, kids, and even a few family gift ideas! There is something for everyone!
Get out your Christmas list and start shopping-you don't even have to leave your house to fight the crowds. You can shop online in your pajamas, that is my kind of shopping:) And make sure you buy something for yourself…you can tell everyone Santa bought it for you:)
Happy shopping and Happy Holidays!
Gifts for Him
1. Altra Running Shoes-the best running shoes! (A great gift for women too, I recently got a pair and I am hooked).
2. That's a Wrap Cord Case from Sundance Catalog-this artisan-made, leather case will keep all of your cords in one spot. Great gift for the traveler on your list.
3. L'homme Yves Saint Laurent Cologne-cologne always makes a nice gift because most men won't buy cologne for themselves.
4. Otterbox Wallet iPhone Case-Josh has this case for his phone and love it because it is a phone case AND wallet.
5. Roccbox Portable Pizza Oven-take this portable pizza oven anywhere and make a delicious pizza in 90 seconds! Great for camping or tailgating!
6. Marvel's The Avengers: Age of Ultron-the latest Avengers movie! Josh loves these movies!
7. Leather Belt from J Crew-a new belt is always a nice gift!
8. Texting Gloves from Banana Republic-Deerskin gloves with a cashmere/wool lining and a special fingertip fabrication lets you use the gloves on touchscreens.
9. The Ultimate Grilling Rub Collection from Williams Sonoma-a great gift for any grill cook!
10. GoPro Hero 4-great for documenting all of your adventures!
11. Drone-drones are all the rage right now!
12. Arcteryx Jacket-Josh's favorite jacket.
13. Saddle Leather Toiletry Case from Pottery Barn-this bag is monogrammed and a great gift for any traveler.
14. Plaid Pouf-he can put his feet up while he watches football!
Gifts for Her
1. KitchenAid Spiralizer Attachment-we tried KitchenAid's new attachment out in Chicago and loved it! It makes peeling, slicing, coring, and making veggie noodles easy! The perfect gift for anyone that has a KitchenAid Stand Mixer. And the KitchenAid Stand Mixer is always a great gift too. Everyone NEEDS one!
2. Mojave Candle from P.F. Candle Co.-this candle smells so good! A great gift for anyone on your list!
3. Lindt Chocolate-chocolate is always a good gift idea! I love this holiday assortment from Lindt!
4. FashionABLE Tea Towels-I have an obsession with tea towels. I love buying them for myself and others. These are handwoven in Ethiopia and support amazing women!
5. iFit Classic-I love this fitness tracker watch in Frost. The three fitness subdials discreetly keep you in line with your activity and calorie goals, while gentle vibrations remind you to get up and move. This is a great gift for her or him:)
6. Earlywood Long Bread Board-this handmade bread board is gorgeous! Gift it with a loaf of bread!
7. Swing Top and ZigZag Leggings from Albion Fit-I live in Albion Fit clothing and these too are super comfortable and stylish!
8. Mamuye Tote from FashionABLE-this leather tote is my favorite and I think everyone needs one!
9. Stocking-fill a stocking with a few small gifts! It is the perfect packaging, no need to wrap! A few favorite stocking stuffers include: Raised Bloom Whisk, Oatmeal Cookie Candle, Notebook, Gold Pen Set, Nail Polish Set, and HELLO chocolate.
10. I love giving and receiving cookbooks. A few of my favorites this year include: The Pioneer Woman Cooks: Dinnertime, The Complete Vegetarian Cookbook, Sally's Candy Addiction, Happy Cooking, Brunch at Bobby's, Inspiralized, and Grandbaby Cakes.
11. Marble Serving Board from Sundance Catalog-this gorgeous marble board is perfect for serving cheese and hors d'oeuvres. A great gift for the entertainer on your list!
12. Jimmy Choo Perfume or Jo Malone Gift Set-you can't go wrong with good smelling perfume!
13. Cable Knit Knee High Slippers-sooooo cozy!
14. Vintage Lace Plate from Sundance Catalog-fill this pretty plate with your favorite holiday cookies and give to a friend or family member!
15. Emoji Flannel Pajamas-so fun!!
16. philosophy 'sending holiday wishes' gift set-gingerbread cookie shampoo, shower gel & bubble bath, sweet creamy frosting body lotion and sugar sprinkles lip shine.
17. Italian Pantry Collection from DeLallo-stock a loved one's pantry with this fabulous collection of Italian goodies from DeLallo!
18. Jewelry-love this necklace, this bracelet, these earrings, and these rings.
19. Hand Knit Chunky Braided Throw from Williams-Sonoma Home-I want to wrap up in this throw and watch Netflix all day:)
20. Marble and Wood Cake Stand from World Market-you can never have too many cake stands.
21. Hoodie/Jacket-this hoodie is SO cozy! I want to wear it all winter long! The inside is super plush with a velour-like feel.
22. Cheese Serving Utensils from Harp Design Collection-a great hostess gift!
Gifts for Kids
1. Train set and table-this train table can keep the kiddos occupied for hours!
2. Foxpaws shoes-the most adorable shoes ever! I wish my feet could fit into them:)
3. Mega Bloks-kids can build things all day long with these colorful blocks.
4. Teepee-bring adventure inside with a fun Teepee!
5. Books-a few of our favorites: The Day the Crayons Came Home, Dragons Love Tacos, and The Wonderful Things You Will Be.
6. Retro Kitchen-let your kids make you dinner:)
7. Minions the movie-the new Minions movie comes out just in time for Christmas!
8. VTech Touch and Swipe Baby Phone-Maxwell always tries to steal our phones. I think it's time he gets his own play phone!
9. Colored Pencil Set-this set comes with a case and have very color imaginable. Buy some coloring books to go with. I always buy coloring books at the dollar store! They have lots of choices and are cheap!
10. Stuffed Animal-Maxwell loves stuffed animals and this puppy is super soft! It's a lot easier than a real puppy too:)
11. Pajamas-kids can never have too many pairs of pajamas. We let our boys open Christmas pj's on Christmas Eve!
12. VTech Smart Shots Sports Center-perfect for your little sports lover!
13. Stocking stuffer ideas for the kiddos-Silly Putty, Bubble Bath, Hot Wheels, Stickers, Mittens, Socks…and Cuties and candy canes!
Family Gift Ideas
A few ideas for family gifts: a zoo, park, or museum pass, movie tickets, ski passes, bikes for the family, gift baskets with a theme-movie night, pizza night, ice cream sundae night, etc, or go on a family trip. Another idea, focus on service as a family-donate or volunteer at the food bank or pick a Sub for Santa family!
*This is not a sponsored post, but some links are affiliate links!*