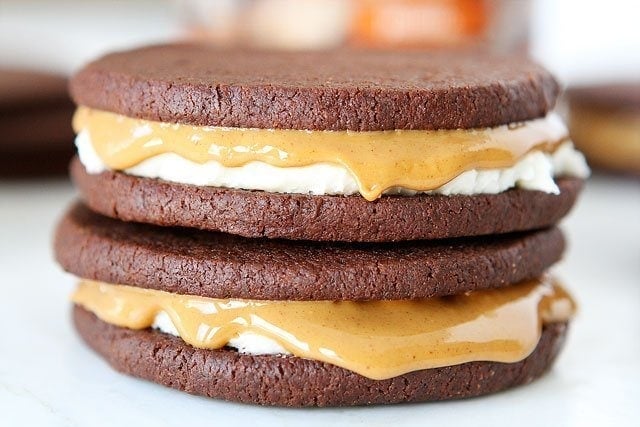 Happy March! It's a new month and it's Friday so I think we need to celebrate with some cookies. How about Homemade Oreos with Peanut Butter? I've made homemade Oreos before and I've always enjoyed them, but adding peanut butter makes them irresistible. I am obsessed!
I've always loved peanut butter, but since Josh is allergic I think I love it even more. Is that weird? I think I double love it, for the both of us. Plus, I don't eat it that often. I can't be kissing my man with peanut butter breath, so I only eat it when he's not around or if I can brush my teeth right away:) So peanut butter is more of a treat for me. When I do eat it, I savor every bite. Well, most of the time. I gobbled up these Homemade Oreos with Peanut Butter pretty quickly.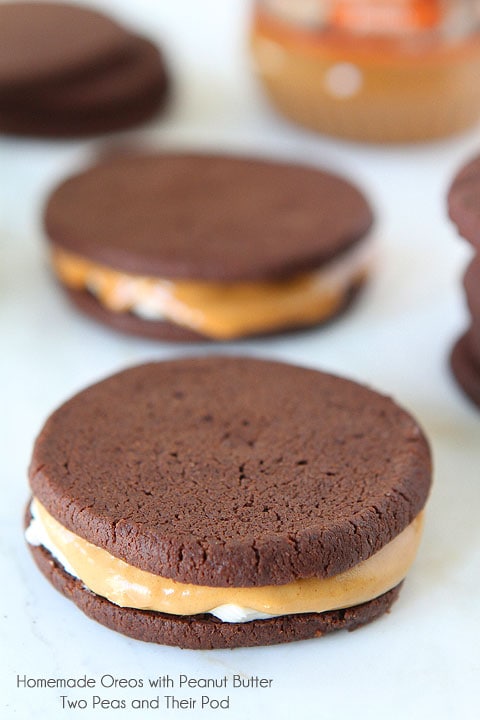 The chocolate cookies are rich, buttery, and crisp. The vanilla filling is creamy and sweet. The peanut butter balances out the sweetness in the best way. I used salted peanut butter because I love a little saltiness mixed in with my sweets.
Homemade Oreos with peanut butter oozing out the side are a VERY good thing. Trust me! Peanut butter maybe a simple ingredient, but it takes these Oreos to a whole new level. And since Josh is allergic to peanut butter, I made him a few regular Oreos. I just hid in the corner with my jar of peanut butter and slathered it on my cookies:)
Homemade Oreos with Peanut Butter are SO much better than store bought cookies. It's amazing what a little peanut butter can do to a classic cookie. Thanks Tieghan for the recipe! You can find step-by-step photos and the recipe on Tasty Kitchen. Enjoy!