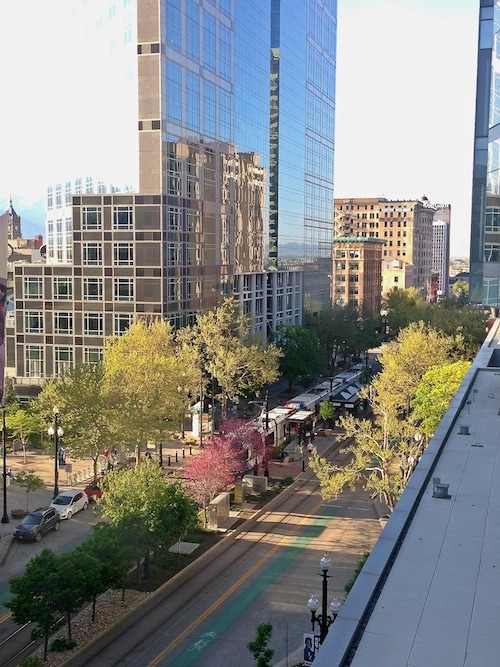 Last weekend I surprised Josh with a night away at the fabulous Hotel Monaco in downtown Salt Lake City for his birthday. I told Josh we had a blog dinner to attend, I had to make sure he got ready for date night:) Our good friend, Janette, came over to babysit Caleb and I packed an overnight bag and hid it in the trunk. I love being sneaky:)
When we showed up at the hotel, I told the valet we were checking in and told Josh to get the bag from the trunk. He was so confused. He said I thought we were going to a blogging dinner? Nope! Surprise! He was very surprised!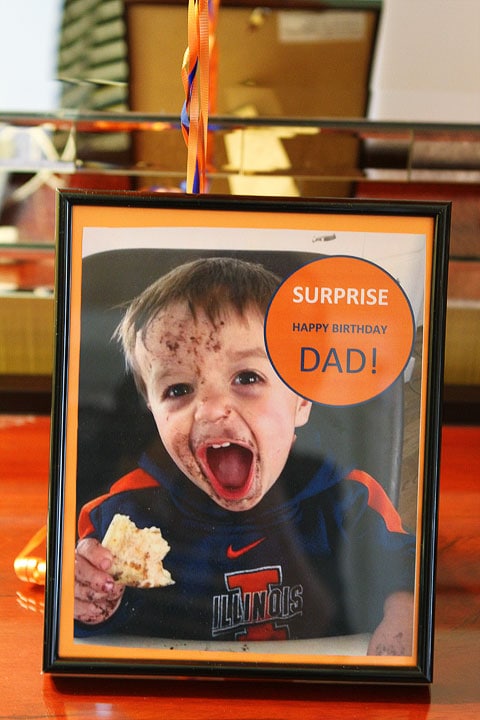 When we opened the door to our room, there was another surprise, Caleb! Hotel Monaco welcomed Josh with birthday balloons and a framed picture of Caleb. We loved it!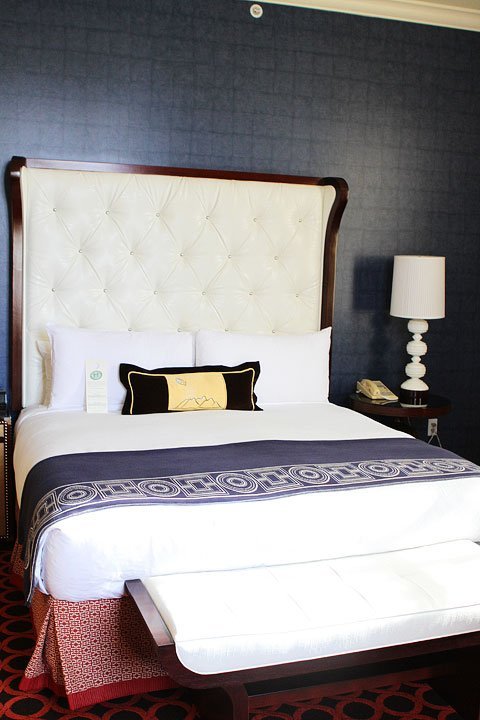 We love Hotel Monaco's style. The decor is chic, hip, and so fun! Our king-size bed had the coolest headboard.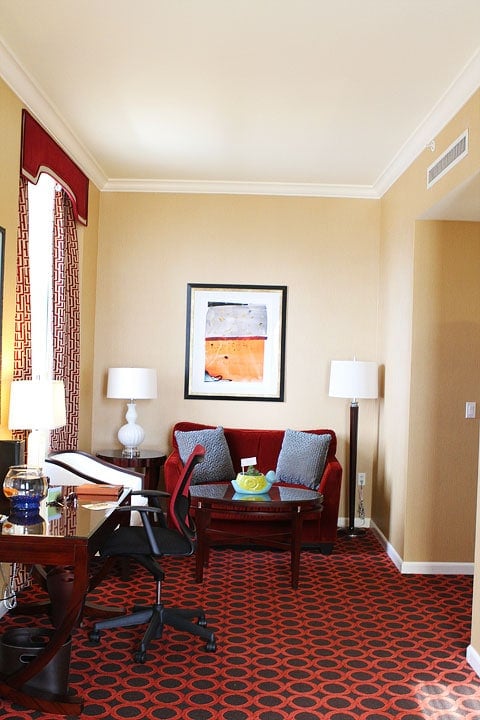 Our room had a spacious living area. Cool carpet, huh?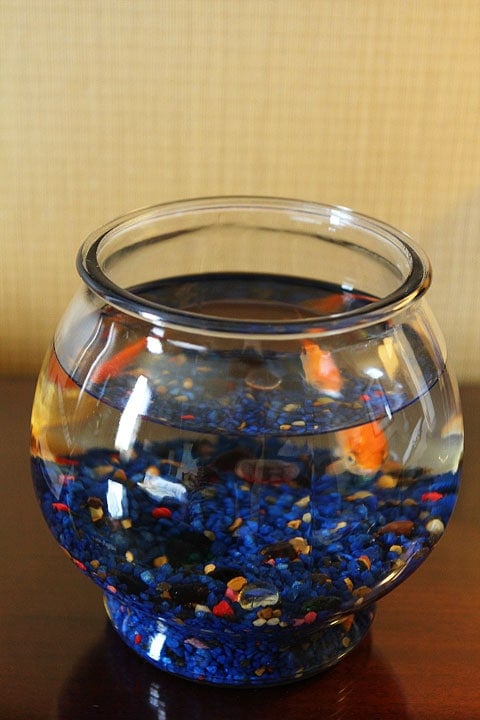 Kimpton Hotels always go above and beyond when it comes to service. They brought us goldfish to enjoy during our stay. I also loved the plush animal-print bathrobes. They also provide complimentary yoga mats in every room.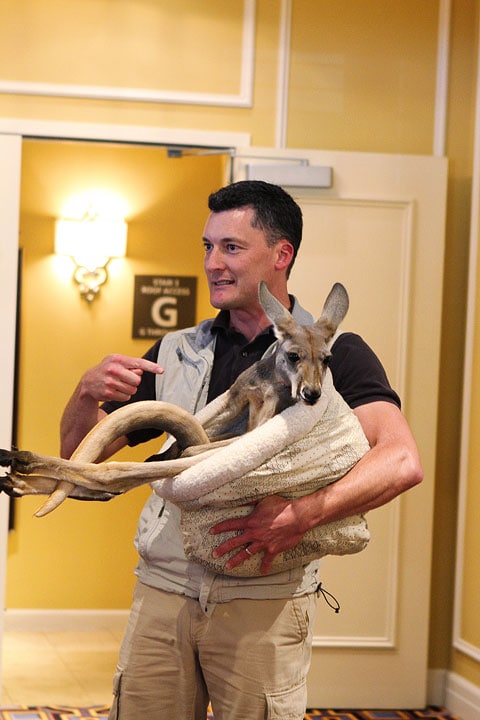 After we got settled, we headed down to the lobby because the San Diego Zoo was putting on a special show. There were kangaroos in the lobby! How fun! I told Josh they brought the zoo to Utah just for him! The kangaroos were so cute and so friendly!
Every evening Hotel Monaco also provides a complimentary wine reception in the lobby! It was the place to be!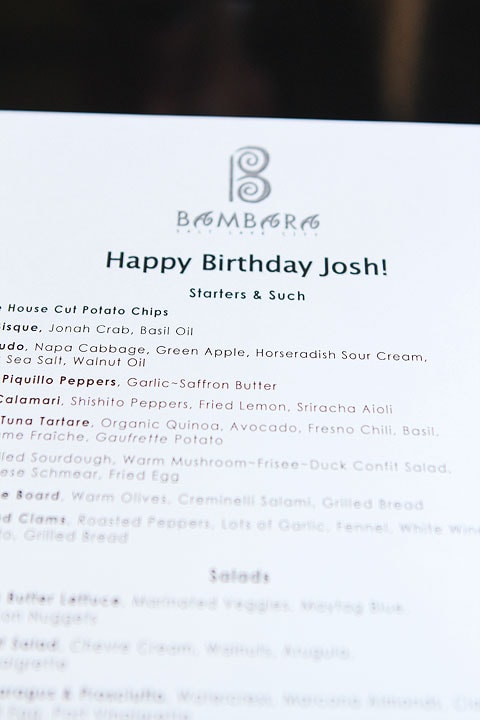 After the kangaroo show, we went to dinner at Bambara Restaurant. Bambara is an award winning restaurant and has been on our "must try" list for quite some time. We were very excited for dinner. Bambara made Josh a special birthday menu! So fun!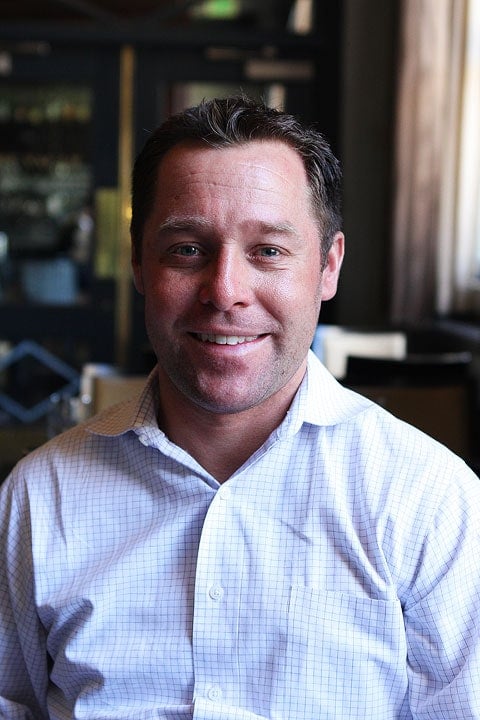 My handsome date and birthday boy!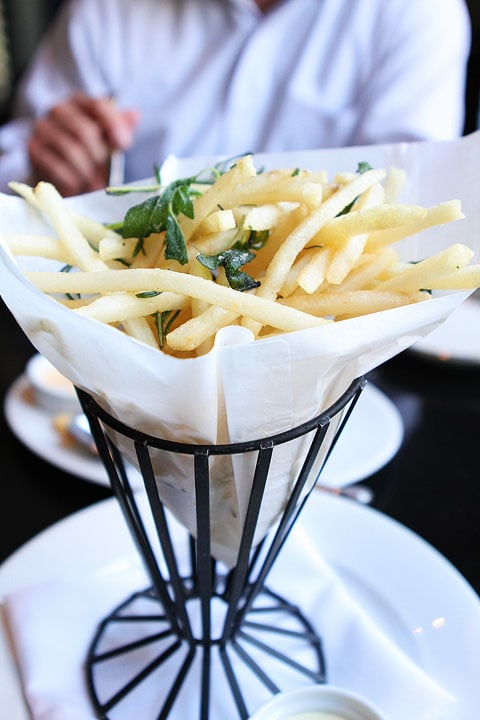 We started our meal with Herbed Frites. The crispy herbs were so good with the salty fries!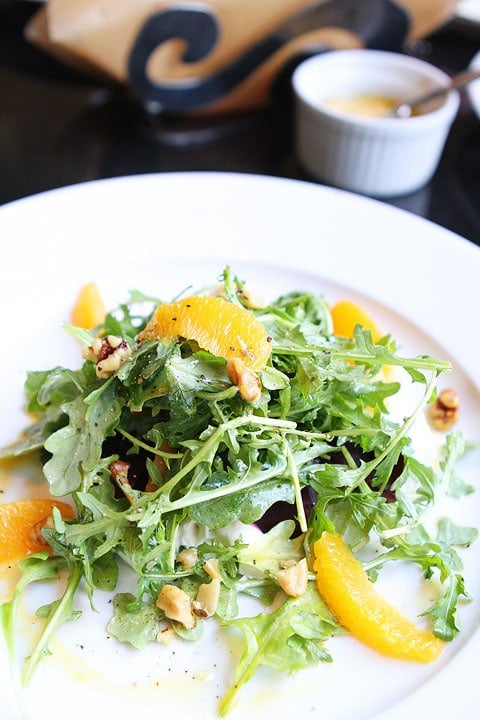 I enjoyed the Ruby & Golden Beet Salad with Chevre Cream, Walnuts, Arugula, and an Orange-Walnut Vinaigrette. So fresh and tasty!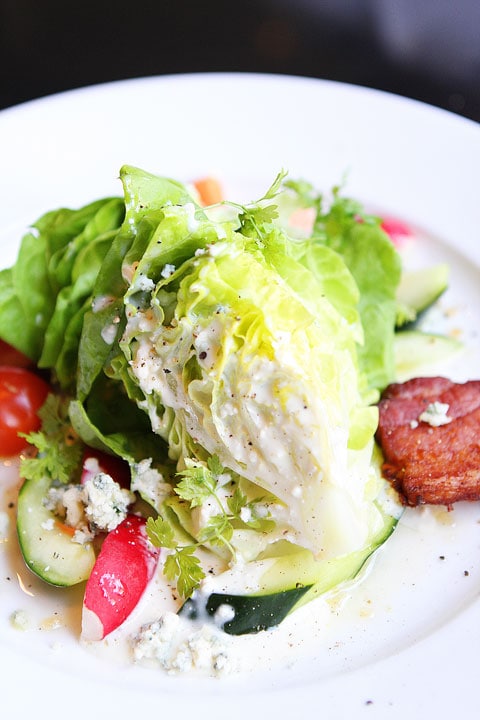 Josh had the Wedges of Boston Butter Lettuce with Marinated Vegetables, Blue Cheese, and Smoky Bacon Nuggets. He loved the bacon nuggets:)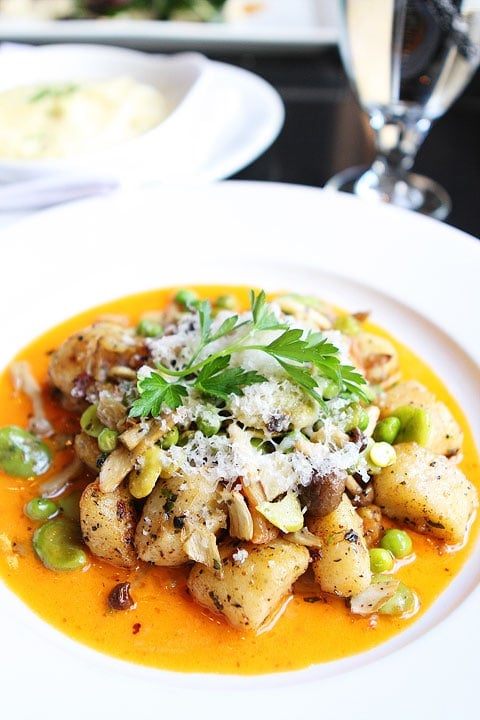 I ordered the Potato Gnocchi with Fava Beans, Spring Vegetable Ragout, Parmesan, and Red Pepper Coulis. I love gnocchi, it is one of my all-time favorite meals, but I am very picky when it comes to gnocchi. You can either have really good gnocchi or really bad gnocchi. Well, Bambara does it right. The gnocchi was perfect! I loved everything about this dish!
Josh chose the Grilled Pork Tenderloin with Baby Kale, Crispy Prosciutto, Portobello Mushrooms, Horseradish Mashed Potatoes, and Fennel Seed Butter. Josh said the pork was grilled to perfection! He devoured his meal!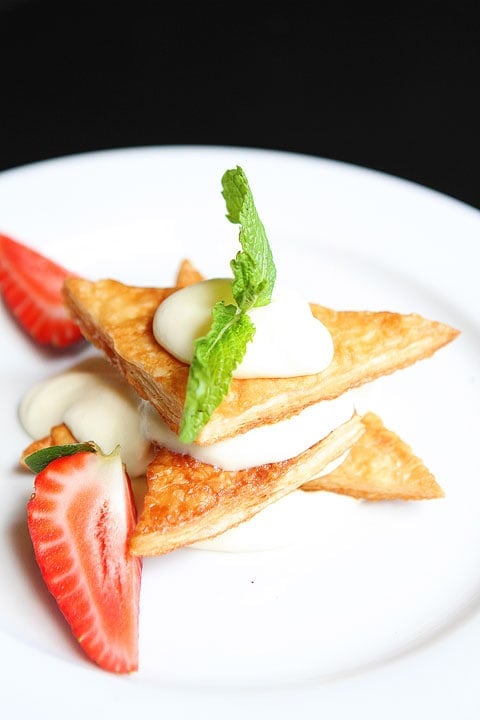 We were celebrating Josh's birthday so we had to get dessert:) Josh ordered the Napoleon with Lemon Curd. He loves citrus desserts, so this was right up his alley! He said it was light and refreshing. I didn't get a taste and that is ok, because I ordered my own dessert:)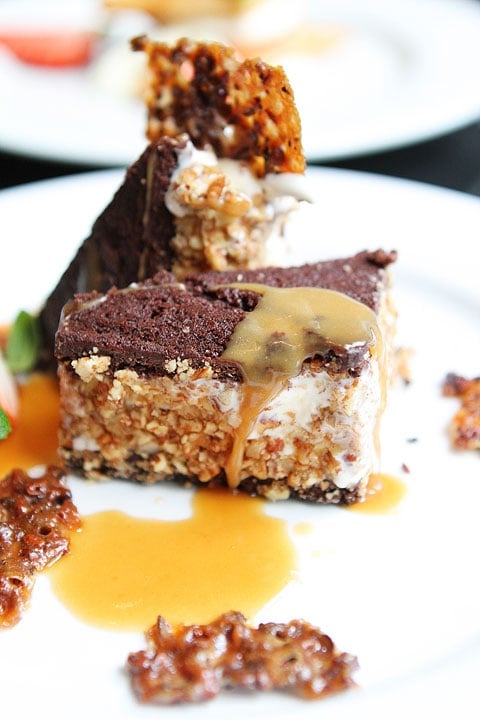 I chose the Turtle Ice Cream Sandwich which was out of this world! Pecan Crusted Dark Chocolate Cookie with Vanilla Bean Ice Cream, Salted Caramel Sauce, and Cocoa Nib Crackle. This was the best dessert I have had in a long time…and I never skip dessert:) It was heavenly! I am a little worried I know this dessert exists now. I might need to visit Bambara weekly:)
Thanks Bambara for an amazing dinner!
After dinner, we went back to our room to relax. It was our first night away from Caleb since he was born so of course we kept checking in. He was having a great time with Janette and didn't even miss us. Hotel Monaco gave Josh a free birthday movie so we watched a flick and enjoyed some quiet time! It was the perfect night!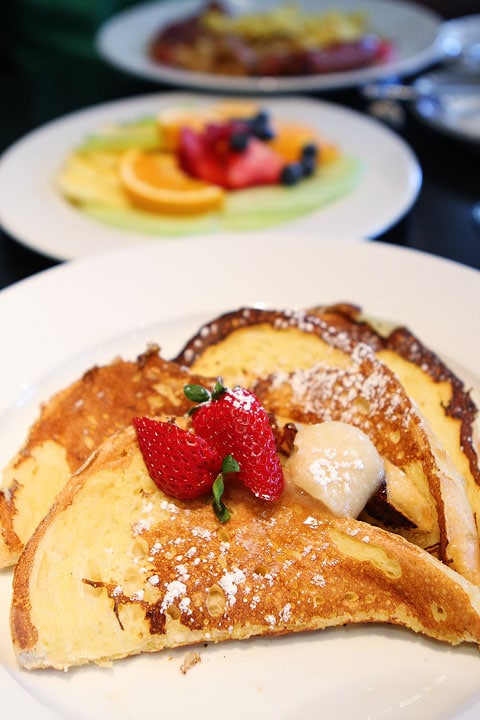 On Saturday morning, we went back to Bambara for breakfast. I was feeling fruity so I ordered the fruit plate and Sourdough French toast. I was still pretty full from our dinner the night before so Josh helped me eat the French toast:) He also ordered eggs and bacon! A great way to start the weekend!
Thanks Hotel Monaco Salt Lake City and Bambara for making Josh's birthday extra special! We really enjoyed our stay! It was the perfect celebration!
For more information about Hotel Monaco, visit their website.
Disclosure: Hotel Monaco SLC and Bambara graciously hosted us, but our opinions are our own.