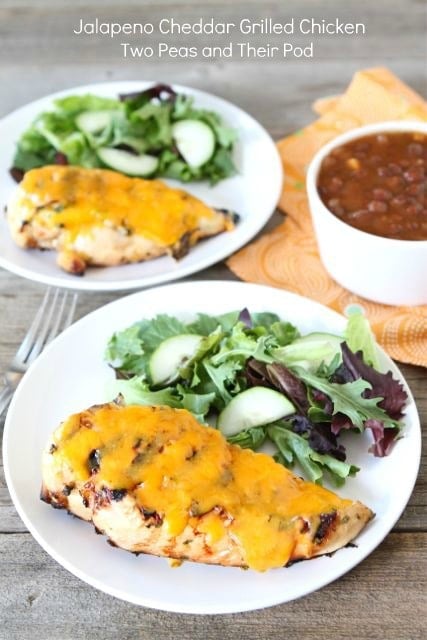 How is it August already? This summer is going by way too quickly. I still have things to cross off my summer bucket list. For example, going on a picnic in the mountains, reading a fun summer novel, and making homemade jam. I also want to fire up the grill every day in August. Ok, maybe we will give the grill a little break, but just a nap. There will be no sleeping in or extended vacations for our grill. I love cooking and dining outside during the summer and since the summer days are dwindling, we have to grill as much as we can.
And you need to fire up your grill too, because you have to try this Jalapeño Cheddar Grilled Chicken. It is a winner winner chicken dinner:)

This grilled chicken is a Josh creation. He marinates the chicken in a cilantro lime marinade and stuffs it with jalapeños, cilantro, and cheddar cheese. He grills the chicken until tender and juicy and adds cheddar cheese on top. The chicken breasts hangout on the grill just until the cheese starts to melt and ooze all over the top.
When you cut into the chicken, you will find more cheese and a little heat from the jalapeño. This Jalapeño Cheddar Grilled Chicken is packed with flavor and cheesy goodness. Josh likes to serve Bush's Black Bean Fiesta Grillin' Beans on the side. The black beans simmered in chipotle sauce with corn and red peppers go perfectly with the Jalapeño Cheddar Grilled Chicken.
Don't let August pass you by. Get out your grill this weekend and make Jalapeño Cheddar Grilled Chicken. We've got to enjoy the beautiful summer days while we can!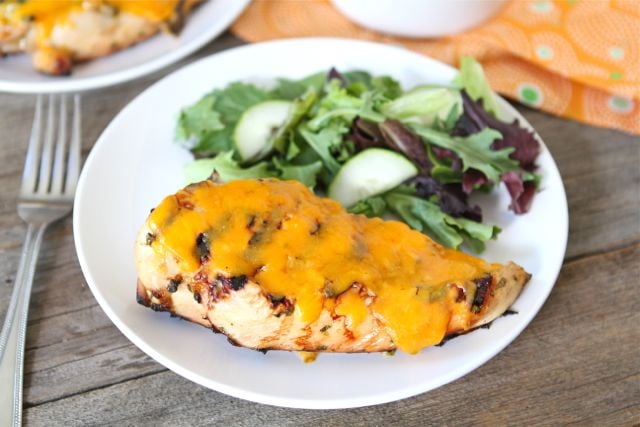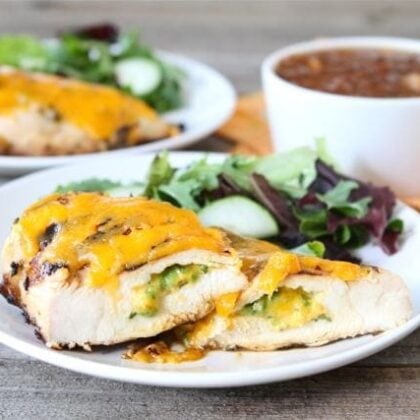 Jalapeño Cheddar Grilled Chicken
This Jalapeño Cheddar Grilled Chicken is perfect for any summer BBQ. The chicken breast is stuffed with cheddar, jalapeño, cilantro, and is topped off with more cheese!
Ingredients
For the marinade:
1/2

cup

fresh lime juice

Zest of 1 lime

2

tablespoons

chopped cilantro

1/2

teaspoon

salt

1/4

teaspoon

ground black pepper

1

tablespoon

granulated sugar

2

boneless skinless chicken breasts

1

cup

shredded cheddar cheese

divided

2

teaspoons

diced jalapeño

2

tablespoons

chopped cilantro

Olive oil

for brushing the grill
Instructions
1. Cut a horizontal slit along the thin, long edge of each chicken breast, nearly through to the opposite side. In a small bowl, whisk together lime juice, zest, cilantro, salt, pepper, and sugar. Put chicken breasts and marinade in a large Ziploc bag and seal. Squish the bag around until breasts are well coated. Place the chicken in the refrigerator for at least 1 hour (up to 12 hours).

2. Remove the chicken breasts from the marinade and discard marinade. Open up the slits and stuff each breast with 2 tablespoons shredded cheddar cheese, 1 teaspoon jalapeño, and 1 tablespoon chopped cilantro.

3. Preheat the grill to medium-high heat. Brush the grill lightly with olive oil. Grill chicken until cooked through, about 7 minutes per side. Remove from direct heat and sprinkle remaining shredded cheddar cheese on top of each breast. Cook until cheese is melted. Remove from heat and serve.
Have you tried this recipe?
Leave a comment below and share a photo on Instagram. Tag @twopeasandpod and hashtag it with #twopeasandtheirpod
If you like this Jalapeño Cheddar Grilled Chicken, you might also like: