Easter is on Sunday and I am pretty excited. I have always enjoyed the holiday. When I was a little girl, I would wake up super early to try and find the Easter bunny. I never found him, but my dad always did a great job at hiding the eggs and baskets filled with candy and toys. I also loved getting all dolled up for church. My sister and I always picked out frilly Easter dresses with bonnets, gloves, lacey socks, and cute shoes.
We would also celebrate by eating a special Easter brunch. My dad usually made French toast or his famous cinnamon rolls. I don't think I will wear a bonnet this year or go on an egg hunt, but we will make Easter brunch. Josh requested Lemon Cottage Cheese Pancakes with Strawberries-they are his favorite. I am sharing the recipe today in case you want to make them for your Easter brunch.
The pancakes are easy to make, so if you are having company over, don't worry. You can whip these pancakes together in no time. The cottage cheese keeps the pancakes moist, but not dense, they are light and delicate. The lemon zest and juice adds a nice burst of spring to the pancakes. I love that these pancakes are good for you too-an added bonus. I use whole wheat flour, egg whites, and the cottage cheese is a great source of protein. There is no butter or oil involved, but you will never know. These pancakes are a real treat.
Don't forget to top the pancakes off with fresh strawberries. I like to cut up the strawberries and dress them with fresh lemon zest and juice. It brings out the lemon flavor even more. If you want to splurge a little-go ahead and add whipped cream too.
I am looking forward to lemon cottage cheese pancakes on Sunday. I hope you will be making them too.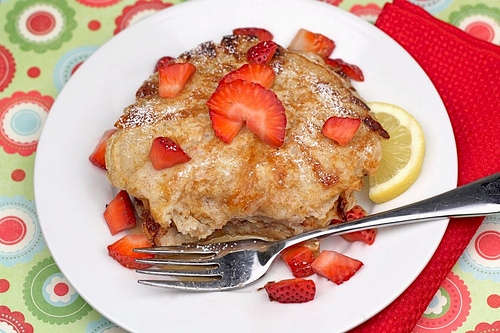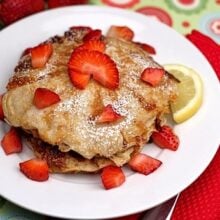 Lemon Cottage Cheese Pancakes with Strawberries
Instructions
1. In a large bowl, whisk together the flours, baking powder, baking soda, and salt.

2. In a small bowl, mix together the sugar and lemon zest with your fingers. This will bring out the lemon flavor. Add the sugar and lemon to the dry ingredients. Whisk again.

3. In a small bowl, add the milk, cottage cheese, egg whites, vanilla extract, and fresh lemon juice. Whisk until smooth. The cottage cheese will still be somewhat lumpy and that is ok. Add this mixture to the dry ingredients. Stir until combined. The batter will be a lumpy.

4. Heat a large nonstick skillet or griddle. When the pan is heated to medium spray well with cooking spray. Add about a ¼ cup of batter to the pan. Cook for a couple of minutes. You want to see bubbles all over the pancake. Flip and cook the other side for a couple of minutes. Repeat until batter is gone. Make sure you spray the pan in between each pancake.

5. Combine fresh cut strawberries, lemon zest, and a squeeze of fresh lemon juice. Stir.

6. Serve pancakes hot with fresh strawberries. You can also use syrup and a little powdered sugar.

You can freeze these pancakes. Let cool and wrap well. I like to put parchment paper in between the pancakes so they don't get stuck. Place in freezer.
Have you tried this recipe?
Leave a comment below and share a photo on Instagram. Tag @twopeasandpod and hashtag it with #twopeasandtheirpod
If you like these pancakes, you might also like:
Blueberry Buckwheat Pancakes from Two Peas and Their Pod
Oven Berry Pancakes from Two Peas and Their Pod
Blueberry Buttermilk Pancakes from Two Peas and Their Pod
Banana Pancakes from My Baking Addiction
Baked German Apple Pancake from Cookin' Canuck
Carrot Cake Pancakes from Picky Cook