jump to recipe
Lemon Poppy Seed Muffins
Lemon Poppy Seed Muffins with a Lemon Glaze-these muffins are sure to brighten your day!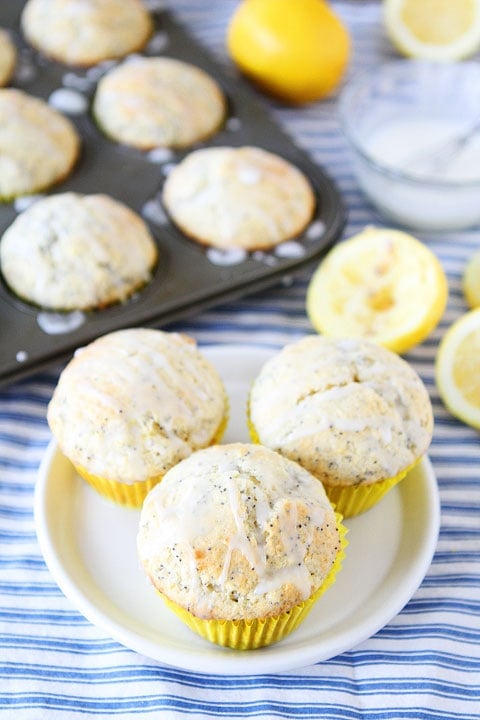 My carb cravings are still going strong. Last week I made Whole Wheat Banana Muffins and they really hit the spot. I ate the  entire dozen. Ok, maybe I shared with Caleb, but I tried to hide them so he wouldn't ask for more. I know, I am selfish mom, but the muffins were SO good!
This week Josh asked me if he could make me breakfast. All I could think about were muffins. Josh asked if he could make our favorite Lemon Poppy Seed Muffins and I loved the idea. The recipe comes from my favorite cookbook, Baking: From My Home To Yours, by the fabulous Dorie Greenspan. We started making these muffins when were dating and we are still making them today.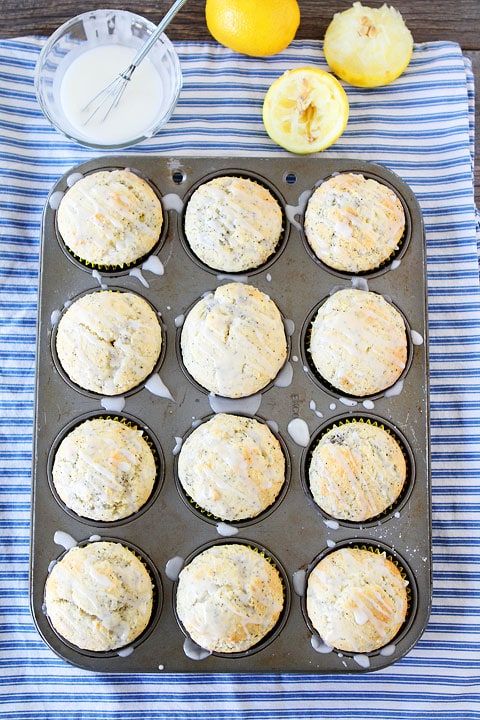 OTHER RECIPES
The muffins are perfection! We've probably made them a hundred times and every time I bite into one I fall in love all over again!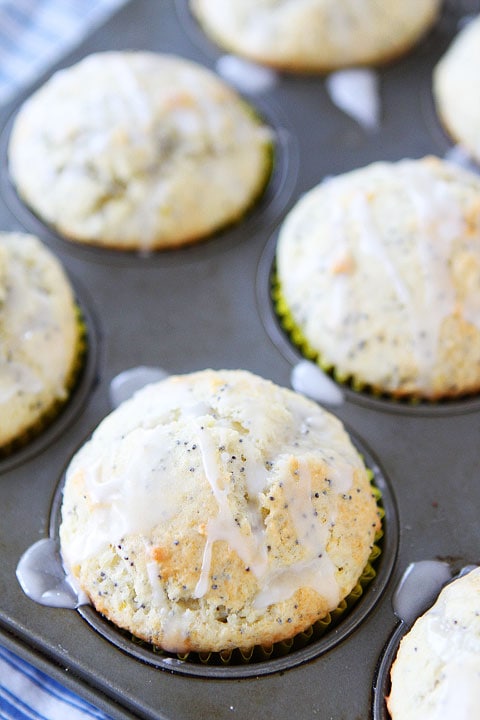 There is fresh lemon juice and lemon zest in the muffin batter. The muffins also get drizzled with a sweet lemon glaze. These muffins are lemonicious!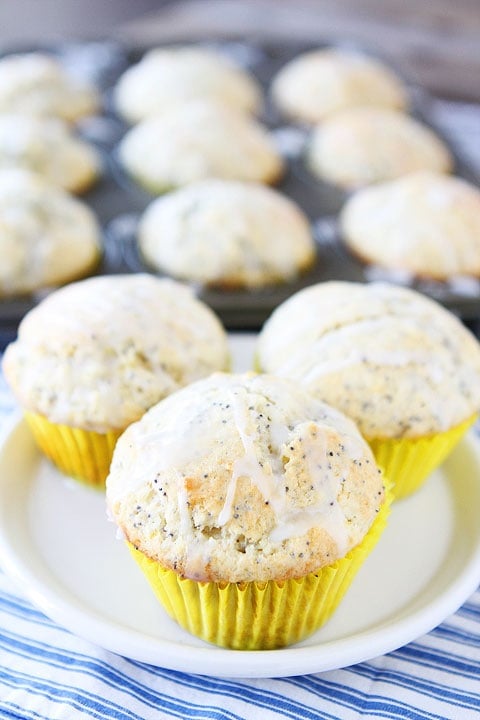 I love the slight texture the poppy seeds add too! Dorie uses sour cream, but Josh used Greek yogurt since our fridge is full of it. Both ingredients work well in this recipe.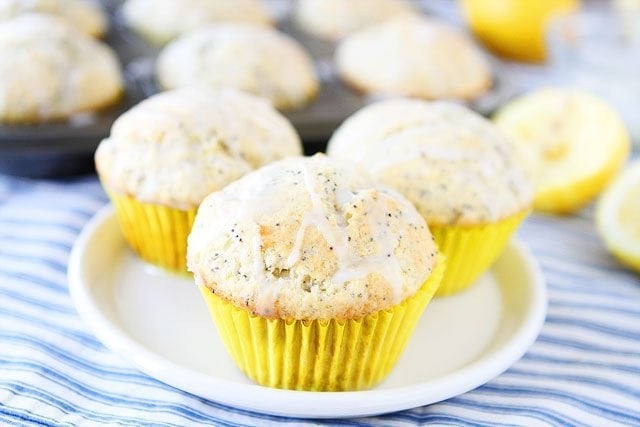 Lemon Poppy Seed Muffins are sure to brighten your day! They certainly made my day! I ate one for breakfast…and one for a mid-morning snack…and one for dessert later that night. They taste good any time of the day! Make a batch this weekend, you will not be disappointed!
Lemon Poppy Seed Muffins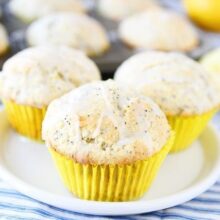 Lemon lovers will fall in love with these Lemon Poppy Seed Muffins! They are perfect for breakfast, brunch, or snack time!
Yield: 12 muffins
Prep Time: 10 minutes
Cook Time: 18-20 minutes
Total Time: 30 minutes
Ingredients:
For the Muffins:
2/3 cup sugar
Grated zest and juice of 1 lemon
2 cups all-purpose flour
2 teaspoons baking powder
1/4 teaspoon baking soda
1/4 teaspoon salt
3/4 cup sour cream or plain Greek yogurt
2 large eggs
1 teaspoon pure vanilla extract
1 stick unsalted butter, melted and cooled
2 tablespoons poppy seeds
For the Icing:
1 cup confectioners' sugar, sifted
2-3 tablespoons fresh lemon juice
Directions:
To Make the Muffins: Center a rack in the oven and preheat the oven to 400 degrees F. Butter or spray the 12 molds in a regular-size muffin pan or fit the molds with paper muffin cups.
In a large bowl, rub the sugar and the lemon zest together with your fingertips until the sugar is moist and the fragrance of the lemon is strong. Whisk in the flour, baking powder, baking soda and salt. In a small bowl, whisk the sour cream or Greek yogurt, eggs, vanilla, lemon juice and melted butter together until well blended.
Pour the liquid ingredients over the dry ingredients and gently stir to blend. Don't overmix. Stir in the poppy seeds. Divide the batter evenly among the muffin cups.
Bake for 18 to 20 minutes, or until the tops are golden and a thin knife inserted into the center of the muffins comes out clean. Transfer the pan to a rack and cool for 5 minutes before carefully removing each muffin from its mold. Cool the muffins completely on the rack before icing them.
To Make the Icing: Put the confectioners' sugar in a small bowl and add about 1 1/2 tablespoons of the lemon juice. Stir with a spoon to moisten the sugar, then add enough additional lemon juice, a dribble at a time, to get an icing that is thin enough to drizzle from the tip of the spoon. Drizzle glaze over the muffins. Serve.
Recipe from Baking: From My Home To Yours by Dorie Greenspan
All images and text © .
Follow twopeasandpod on Instagram and show us what recipes you are making from our blog! Use the hashtag #twopeasandtheirpod! We want to see what you are making in your kitchen!