Lemon Sugar Cookie Bars
Lemon Sugar Cookie Bars-soft and chewy lemon sugar cookie bars topped with lemon cream cheese frosting! Perfect bars for parties and entertaining!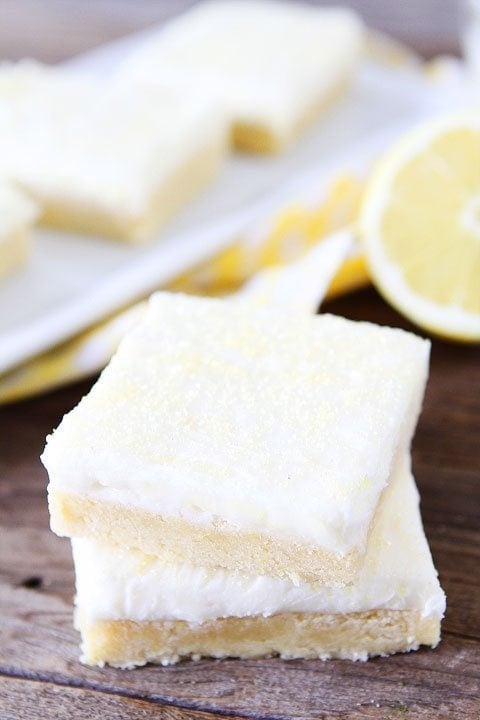 I don't know about you, but our summers are always filled with BBQ's, picnics, and pool parties! Most of these events are potluck style and our friends and family usually ask me to bring a dessert. I think the word has gotten out that I like to bake:) One of my favorite desserts to take to summer potlucks are Lemon Sugar Cookie Bars with Lemon Cream Cheese Frosting. They are easy to make and feed a crowd! Plus, they are always a hit! I never have cookie bars to bring home…which is good and bad. Good so I won't eat them and bad because I want to eat them:)

OTHER RECIPES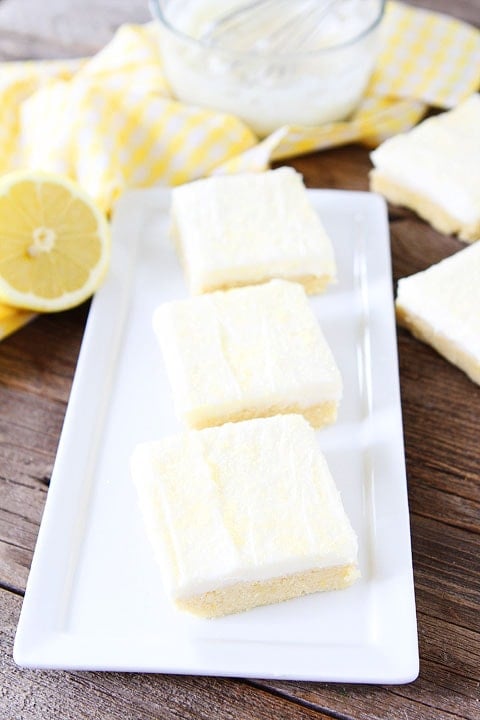 The sugar cookie dough is easy to mix up and the best part? You don't have to get out the cookie cutters! There is no chilling, rolling, or cutting involved! You just press the cookie dough into a 9×13 pan and put them in the oven to bake. These bars are super simple to make!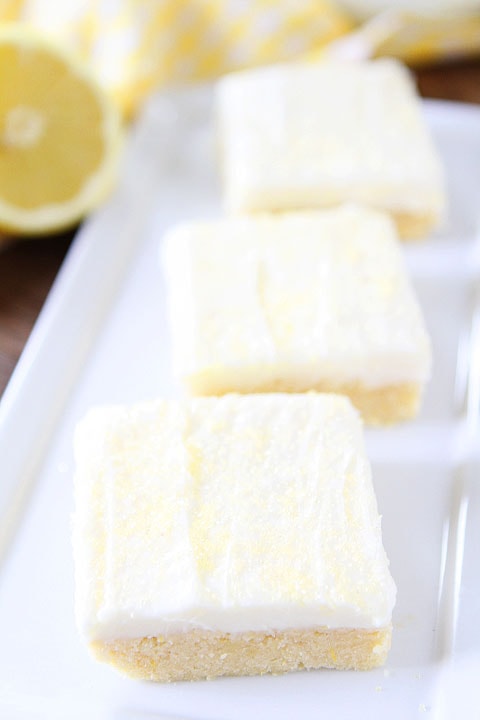 The sugar cookie bars are soft and chewy with a hint of lemon. I put lemon zest and fresh lemon juice in the cookie dough. When the bars are cooled, I frost them with a sweet lemon cream cheese frosting that really brings out the lemon flavor. If you are a lemon lover, these bars will make you do a happy dance! They are delightful!
I like to add colored yellow sugar or sprinkles to decorate the bars. It helps cover up my poor frosting skills:) I cut the bars into squares, put them on a big platter and my work is done! Lemon Sugar Cookie Bars are my "go to" summer dessert recipe!
If you are looking for a fool proof dessert recipe to take to your summer potlucks, you have to try our Lemon Sugar Cookie Bars with Lemon Cream Cheese Frosting. I promise they will be the talk of the party. Well, maybe people won't be talking about them because they will be too busy eating them…and we all know it isn't polite to talk with your mouth full of cookies:)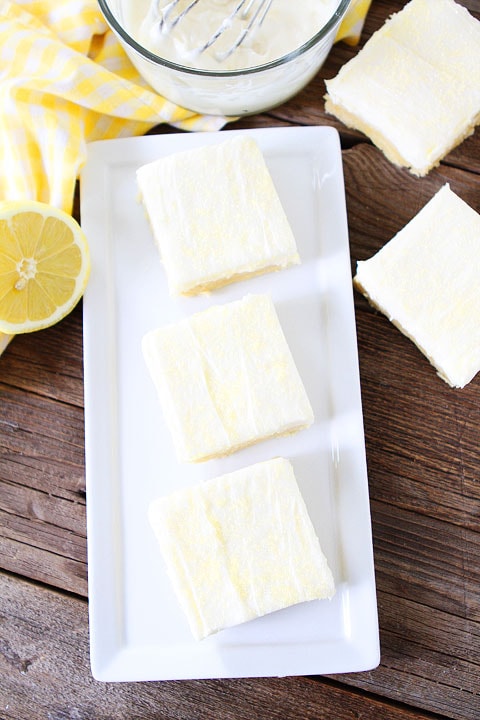 Lemon Sugar Cookie Bars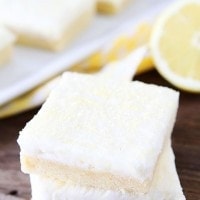 Lemon Sugar Cookie Bars with Lemon Cream Cheese Frosting are one of my "go to" dessert recipes! They are perfect for parties and potlucks!
Yield: 16-24 bars
Prep Time: 20 minutes
Cook Time: 14 minutes
Total Time: 35 minutes
Ingredients:
For the bars:
2 1/4 cups all-purpose flour
1 teaspoon baking powder
1/2 teaspoon salt
3/4 cup granulated sugar
Zest of 1 large lemon
3/4 cup butter, at room temperature
1/4 cup powdered sugar
2 large eggs
1 tablespoon fresh lemon juice
1/2 teaspoon vanilla extract
For the lemon cream cheese frosting:
1/2 cup unsalted butter, at room temperature
8 ounce package cream cheese, at room temperature
Zest of 2 lemons
2 tablespoons fresh lemon juice
5 cups powdered sugar
Colored sugar or sprinkles, optional
Directions:
Preheat oven to 375 degrees F. Spray a 9×13 pan (I use a glass Pyrex dish) with cooking spray and set aside.
In a medium bowl, whisk together flour, baking powder, and salt. Set aside.
In a small bowl, combine granulated sugar and lemon zest. Rub together with your fingers until fragrant.
In the bowl of a stand mixer, beat butter and and lemon sugar mixture together until combined. Slowly add the powdered sugar and beat until light and fluffy, about 3 minutes. Add in the eggs, lemon juice, and vanilla. Beat until smooth. Slowly add the flour mixture and beat until just combined.
Evenly spread the cookie dough into the prepared pan with a spatula. Bake for 12-14 minutes, or until the bars are slightly set in the middle. You don't want the bars to brown. Remove from the oven and let the bars cool completely.
While the bars are cooling, make the lemon cream cheese frosting. In the bowl of a stand mixer, beat the butter and cream cheese until smooth. Add the lemon zest and lemon juice. Slowly add the powdered sugar, 1 cup at a time. Mix until smooth.
Frost the cooled cookie bars with lemon cream cheese frosting. I always have a little frosting leftover, but use as much as you like! Decorate with colored sugar or sprinkles, if desired. Cut the bars into squares and serve.
Note-store bars in an air tight container in the fridge for up to 2 days.
All images and text ©
.
Follow twopeasandpod on Instagram and show us what recipes you are making from our blog! Use the hashtag #twopeasandtheirpod! We want to see what you are making in your kitchen!