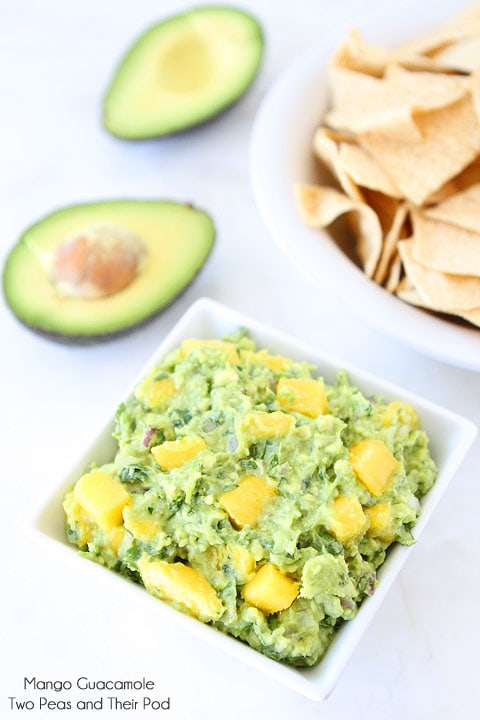 It's Friday and we are celebrating with Mango Guacamole AND a giveaway for Gaby's new book, Absolutely Avocados.
Gaby is one of my best blogging buds. I think we are long lost sisters. We are both planners-like the annoying type of planners who always have to know what is going on WAY in advance. We are also both head over heels in love with Tim Riggins. It's usually not a good idea for friends to have the same crush, but I am happy to share Riggins with Gaby. We both have Tim Riggins shirts and wear them with pride. Texas forever!
Gaby and I also have food obsessions. I am obsessed with cookies and Gaby is obsessed with avocados. I wrote a book all about cookies and Gaby wrote a book all about avocados. I am pretty obsessed with avocados too, but Gaby is the avocado queen:)
Absolutely Avocados is filled with 80 avocado recipes. I am absolutely loving it! I am thrilled to say my friend wrote this book because it is genius! Everyone needs this book and everyone needs to try this Mango & Cilantro Guacamole because holy guacamole is it good!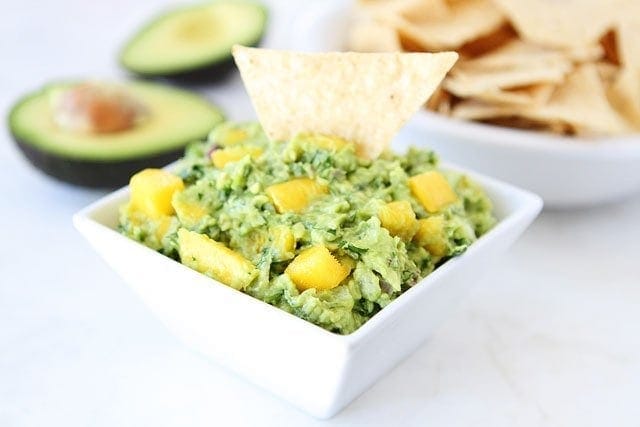 I have already bookmarked about every recipe in Absolutely Avocados. I want to make them all! Since I can't make decisions and didn't know which recipe to start with, I asked the one and only Gaby for suggestions. She agreed it was a tough choice, but helped me narrow it down to Mango & Cilantro Guacamole. You can never go wrong with guacamole!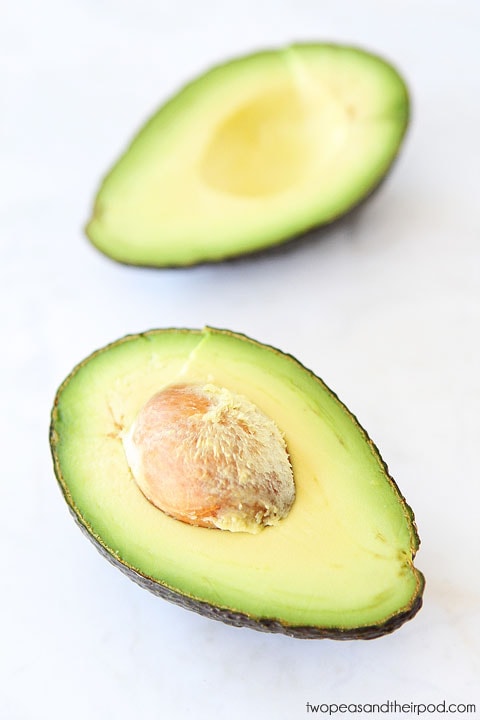 I am a little jealous Gaby lives in California and can find awesome avocados all of the time. Luckily, it is avocado season and I have been finding some great California avocados at the stores in Utah. Good guacamole starts with ripe avocados! Mmm! Look at that beauty! And guess what I am hanging out with Gaby this weekend! Yahoo! We are in California for the Big Traveling Potluck. I might have to fill my suitcase with avocados:)
Caleb calls avocados AVA! I have to fight with him to look at Gaby's book because he loves carrying it around to look at the gorgeous pictures by Matt Armendariz. He yells BITE and tries to eat the avocados in the book:)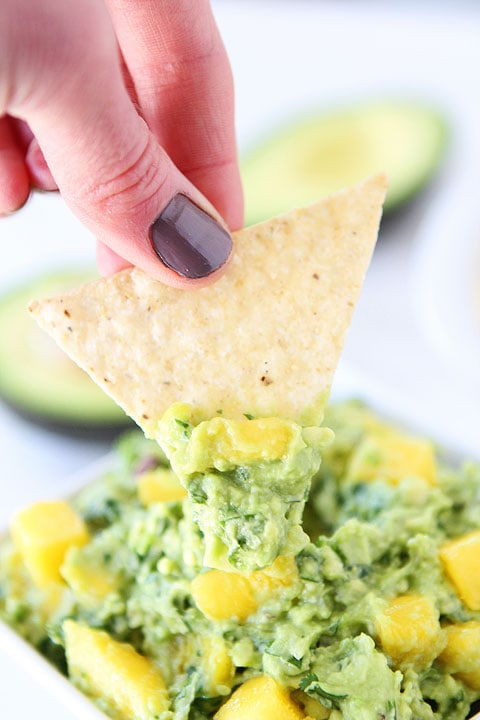 Mango & Cilantro Guacamole only takes 10 minutes to make and probably 2 minutes to eat. I couldn't even finish taking the pictures before getting my dip on. I HAD to have a taste! I love the chunks of juicy mango!
This simple guacamole is perfect for spring, summer, and Cinco de Mayo. It goes well with fish, grilled chicken, enchiladas, tostadas, or any Mexican meal. And you can't go wrong with just opening a bag of chips and devouring the whole bowl. That is what I did:) Perfection!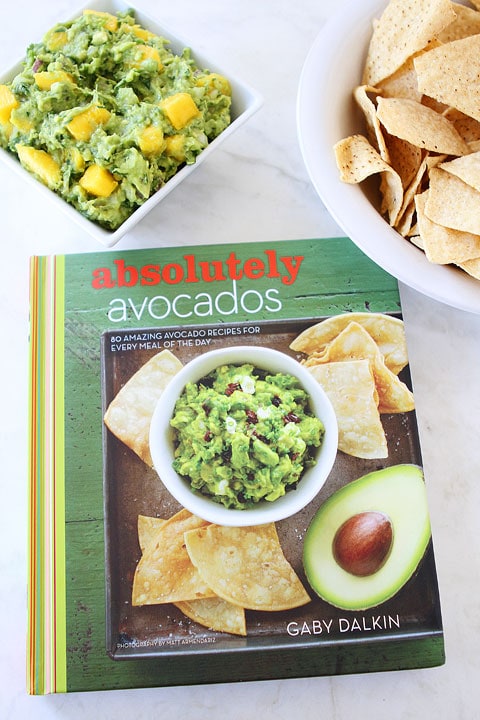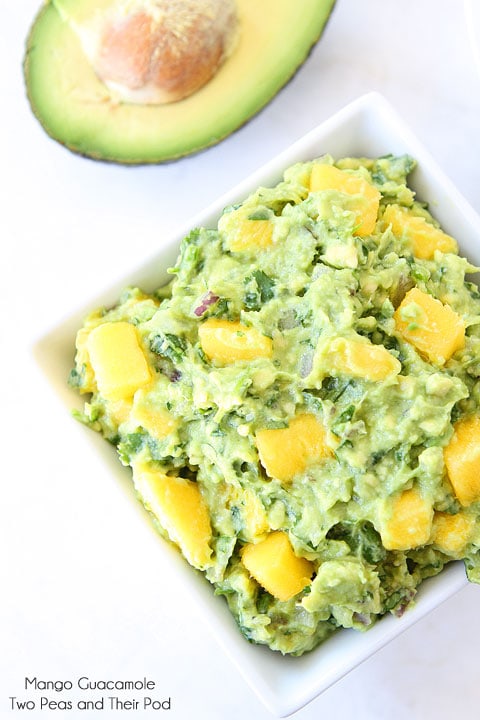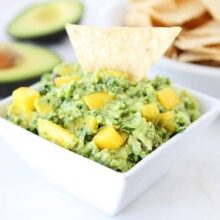 Mango & Cilantro Guacamole
The mango brightens up the guacamole and adds a hint of sweetness! This easy guacamole is perfect for any party!
Ingredients
3

Hass avocados

1

ripe mango

1/3

cup

chopped fresh cilantro

1/3

cup

chopped red onion

1

serrano chile pepper

seeded and finely chopped

1

tablespoon

fresh lime juice

Coarse salt and freshly ground pepper

to taste

Tortila chips

for serving
Instructions
Cut each avocado in half lengthwise. Remove the pit from the avocado and discard. Remove the avocado from the skin, and place the avocado flesh in a bowl.

Using a vegetable peeler, remove the skin of the mango. Using a sharp knife, slice the wide flat part of the fruit off one side of the pit. Repeat this process for the other side of the mango. Transfer the 2 mango slices to a cutting board and cut into 1/2-inch pieces.

Add the mango, cilantro, red onion, chile, lime juice, salt, and pepper to the bowl. Mash with a fork until half smooth and half chunky. Taste and add more salt and pepper if desired. Serve immediately with tortilla chips.
Have you tried this recipe?
Leave a comment below and share a photo on Instagram. Tag @twopeasandpod and hashtag it with #twopeasandtheirpod
Disclosure-Houghton Mifflin Harcourt is providing the book for this giveaway, our opinions are our own. This post contains affiliate links.