I have been to France twice and each visit was amazing. I loved every second-touring Paris, visiting the beautiful countryside, indulging in fine foods, and learning about history and art. When I heard my favorite author, Dorie Greenspan, was coming out with a French cookbook, I was beyond excited. Well, the cookbook is out and it has exceeded my expectations by far. Around My French Table, is a collection of recipes from Dorie's time in France. The book is filled with outstanding savory and sweet dishes. Today I am sharing an apple cake recipe from the book-of course I started with a sweet recipe:)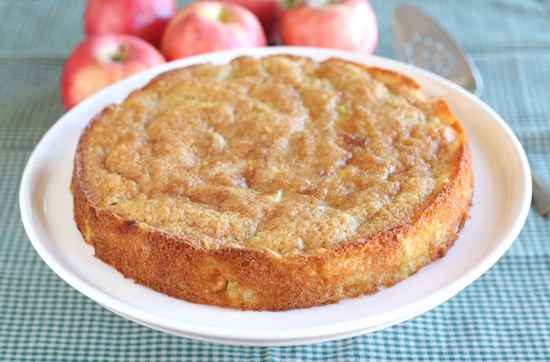 When Dorie's book arrived in the mail, I gave it a big hug. I was thrilled to have her latest book in my possession. Since that moment, I can't put the book down. I keep it by my bed and read from it each night. Dorie shares a special story with each recipe. I love reading about her time in France and why certain recipes are dear to her. This apple cake recipe comes from Dorie's friend, Marie-Helene, who is the type of cook who doesn't like to measure ingredients. Dorie fell in love with her apple cake and asked for the recipe, but her friend couldn't give her the exact measurements. Dorie played around in the kitchen and figured out the recipe on her own.
I am grateful for Marie-Helene and Dorie for sharing this apple cake recipe. It is delicious and extremely simple to make. The cake is loaded with chunks of apples. There are almost more apples than cake, which I love. Dorie highly recommends using four different apple varieties so you get a little bit of everything-sweet, tart, crisp, and soft. I used Honeycrisp, Gala, Fuji, and Granny Smith apples. The cake is moist and can be served with vanilla ice cream or whipped cream. It is also good plain for breakfast-not that I would know:)
I am excited to cook and bake my way though Around My French Table. If French cooking intimidates you, don't worry, Dorie will be with you every step of the way. Her recipes are very easy to understand and she shares numerous helpful hints along the way. Get ready to impress your family and friends with the finest French cuisine-right in your own home.
I hope to go back to France someday, but until then, I will cherish my memories and bring France home through Around My French Table.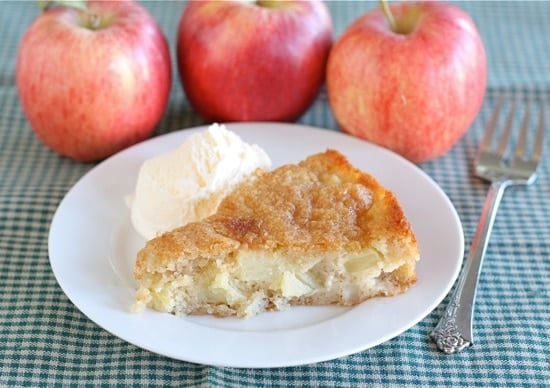 Marie Helene's Apple Cake
Instructions
1. Preheat the oven to 350 degrees F and center a rack in the oven. Butter an 8 inch springform pan. Line a baking sheet with a silicone baking mat or parchment paper and put the springform pan on it. Set aside.

2. Whisk the flour, baking powder, and salt together in a small bowl.

3. Peel the apples, cut them in half, and remove the cores. Cut the apples into 1 to 2 inch chunks.

4. In a medium bowl, beat the eggs with a whisk until foamy. Pour in the sugar and whisk until smooth. Whisk in the rum and vanilla. Whisk in half of the flour mixture, when it's incorporated, add half of the melted butter, followed by the remaining flour mixture and butter. Mix in between additions so you have a smooth, thick batter.

5. Fold in the apples with a rubber spatula. Pour batter into prepared pan. Spread with spatula so the batter is somewhat even.

6. Slide the pan in the oven and bake 50-60 minutes, or until the top of the cake is golden brown and a knife inserted in the center comes out clean. Transfer to a cooling rack and cool for five minutes.

7. Run a knife around the edges of the cake and remove from the pan. Cool cake until slightly warm or at room temperature. If you want to remove the cake from the pan, wait until the cake is completely cooled. Slide a long spatula between the cake and pan, cover the top of the cake with a piece of parchment or wax paper, and invert it onto a rack. Carefully remove the bottom of the pan and turn the cake over onto a serving platter.

*Note-you can serve the cake with vanilla ice cream or whipped cream. Dorie suggests not covering the cake because it is so moist. Just press a piece of plastic wrap against the cut surfaces of the cake.
Have you tried this recipe?
Leave a comment below and share a photo on Instagram. Tag @twopeasandpod and hashtag it with #twopeasandtheirpod
If you like this apple cake, you might also like:
Apple Buttermilk Cake from Two Peas and Their Pod
Spiced Apple Cake from Joy the Baker
Maple Apple Ginger Cake from Baking Bites
Almond Apple Cake from Dragon's Kitchen