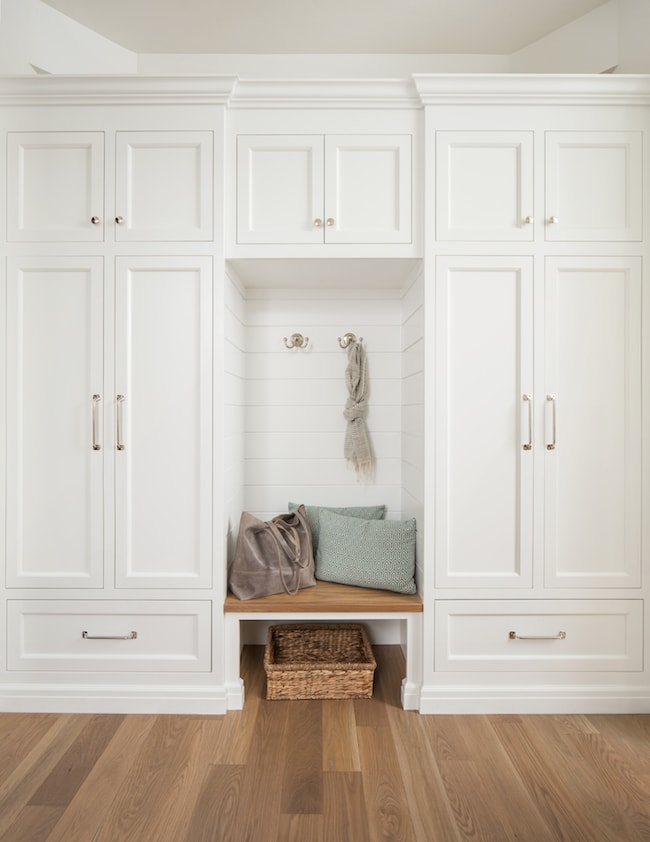 Pillows from World Market, Bag from fashionABLE, Scarf from fashionABLE
Hello, hello and happy Sunday! I am popping in today to share a few more photos of our house. Thank you for all of your kind comments on our house tour so far. I am glad you are enjoying the sneak peek into our home. We wish we could have you all over for a big dinner party…maybe someday:)
Today, we are sharing a look into our mudroom and laundry room. I told Josh our new house HAD to have a mudroom. It was on the 100% MUST list. The mudroom is right off of our garage. Everyone has their own locker. I told the boys I don't care how messy their lockers are, but all of their STUFF has to go in their locker. I don't want to see piles of shoes, school bags, coats, gloves, balls, etc. on the floor. So far, so good! I won't show you the inside because they are messy, but again, I told them I don't care. It looks clean from the outside and that is the important part:)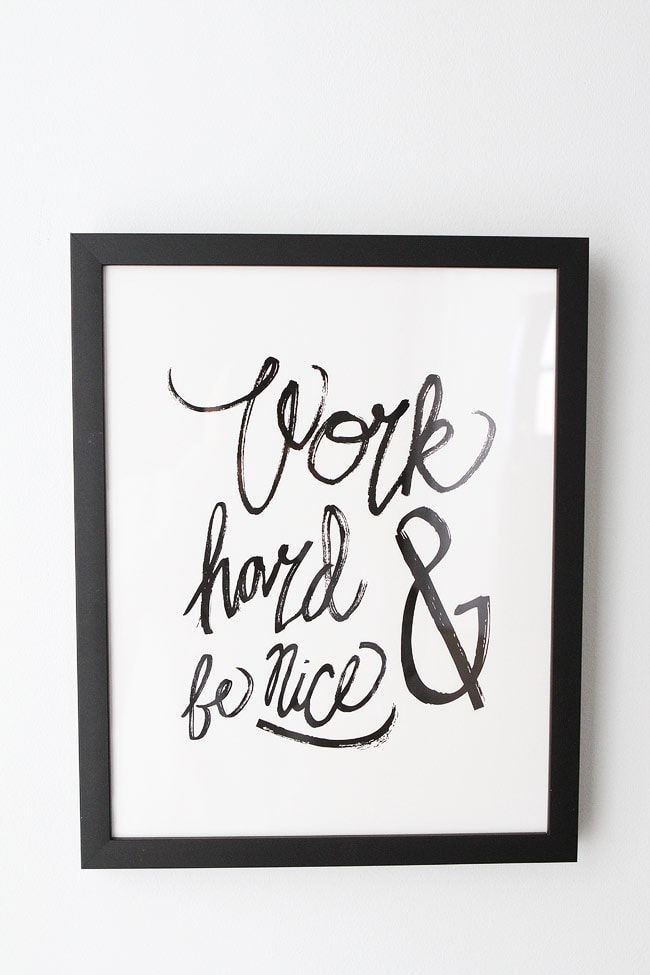 Our family motto is work hard and be nice so when I saw this print at Minted I had to buy it for the house. It hangs on the wall in the mudroom so we can see it when we walk out the back door. The boys love yelling, "work hard and be nice." It's a good reminder every day.
Wallpaper from Hygge & West, Sink from Kohler, Faucet from Kohler, Basket from World Market, Countertops by Caesarstone
Our mudroom and laundry room are connected, but I wanted the rooms to feel separate so I did a fun birdie wallpaper in the laundry room. The wallpaper is by Hygge & West and I love it. It makes me so happy. I never thought a laundry room could make me this happy:)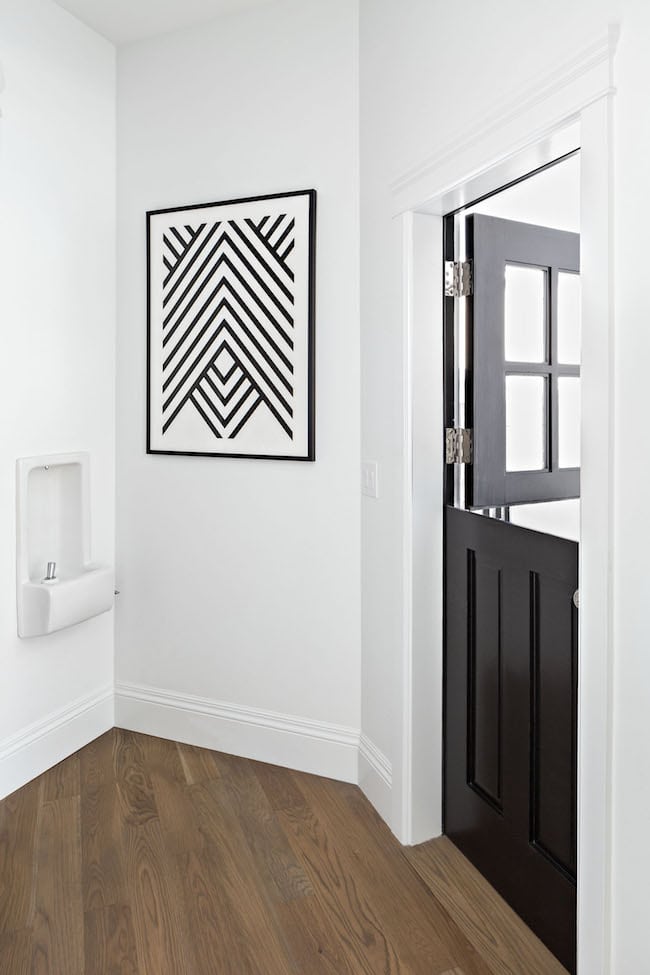 Drinking fountain from Kohler, Art from Minted, Door from Rejuvenation
By our back door, outside the laundry room, we have a drinking fountain for the boys and a Dutch door. I love Dutch doors and it was another MUST on my list:) The door color is Tricorn Black by Sherwin-Williams, my favorite black. All of our interior and exterior doors are this color. I am SO glad we went with black inside and out! All of the white paint is Extra White by Sherwin-Williams.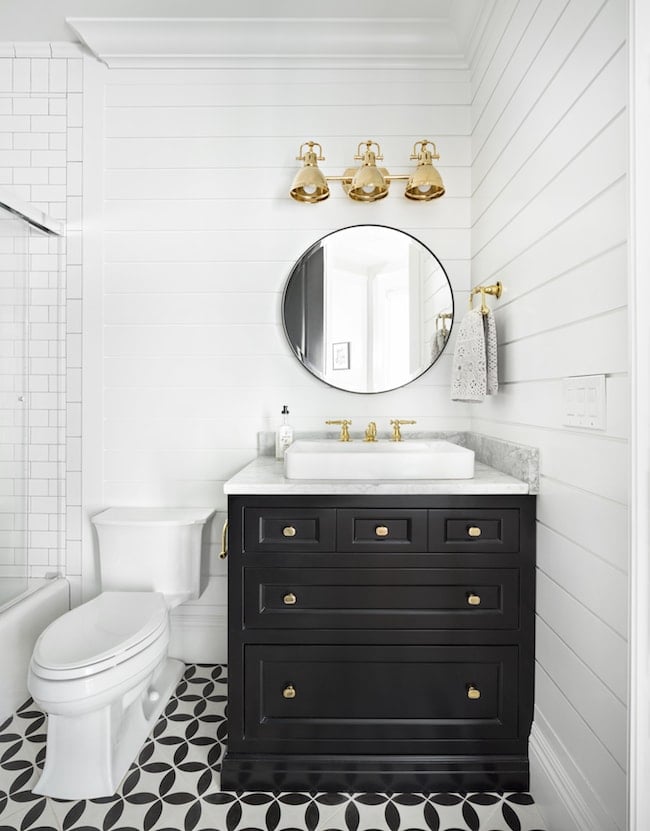 Sink from Kohler, Mirror from Joss & Main, Tile from Cement Tile Shop, Towel from World Market
It might be a little weird to show you our bathroom, but we are all friends here. I have nothing to hide:) I love how our guest bathroom turned out. The black and white tile from Cement Tile Shop is my favorite and I love the brass accents with the black.
That's it for today friends! Thanks for going on another tour with us. Enjoy the rest of your weekend!
You can view our complete house tour here.
House built by The Fox Group. Thank you to the following brands who partnered with us on our house: Kohler, World Market, Minted, Sherwin-Williams, and Hygge & West. This post contains some affiliate links!